This Easy Kale Soup with Echinacea is filled with immunity-boosting ingredients. It is a creamy and thick vegan soup that is delicious with crusty bread or any of your favorite toppings.
I've partnered with Sprouts on this recipe for Easy Kale Soup with Echinacea. All opinions herein are my own. Thank you for supporting the brands that keep this blog spinning.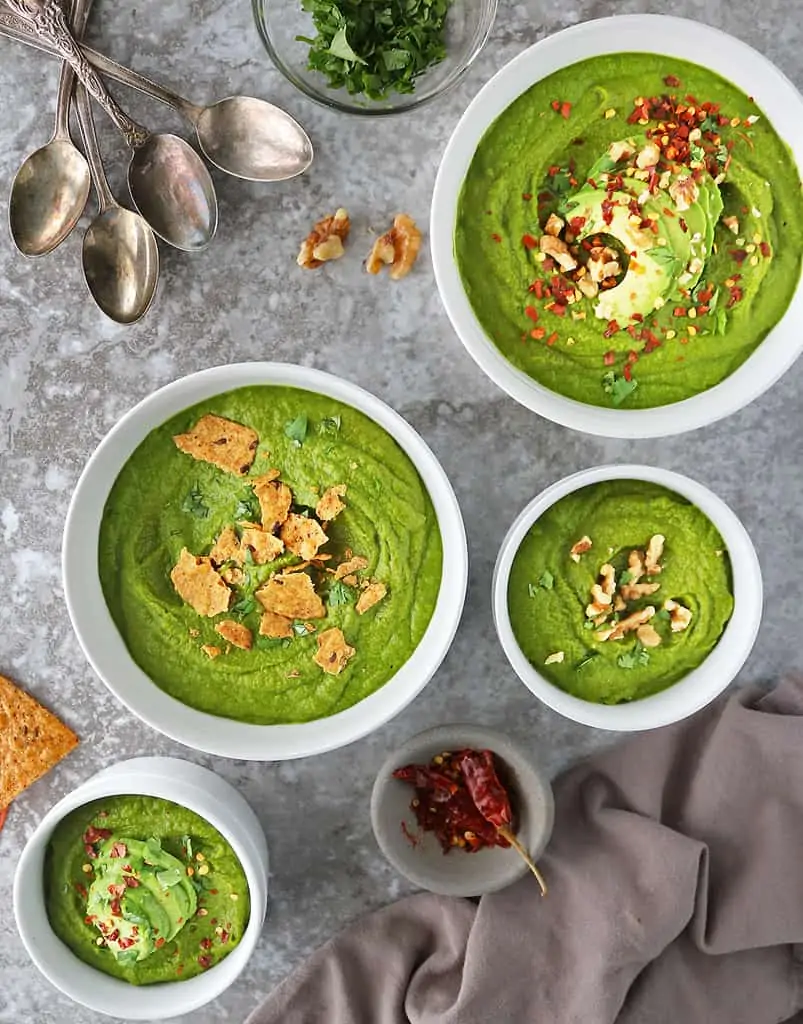 Here in Georgia, Fall seems to be as indecisive as I get when having to pick between cake or cookies for dessert.
Fall in Georgia usually starts off with a couple of cool days. Then it decides to leave us and let summer move back in. This pattern seems to repeat itself until one day summer moves away and winter moves in to stay. All these fluctuations in temperatures tend to give me the sniffles.
How I deal with sniffles…
When I tend to start sniffling and sneezing, I love to start spiking my drinks and soups with immunity-boosting supplements.
Last year I shared this spiced citrus mulled juice which was spiked with Sprouts Brand Fizzy Cs. This year, I have this creamy, thick, and easy kale soup spiked with echinacea.
Team Kale Yeah vs Team Oh Kale No…
Kale always seems to conjure up strong feelings. There's team "kale yeah" and team "Oh kale no"! And, I am not trying to change anyone's feelings about kale. However, I will say that there isn't a strong kale taste to this soup.
It might just be because the flavors of sauteed onion, ginger, garlic, and spices like coriander, turmeric, and cayenne balance out the kale-ness of this soup. When celery and cannellini beans are added in and everything is blended up ~ all you have is one creamy, thick, spicy, tasty, immunity-boosting, soup!
Does this easy kale soup have to be so thick?
I love to make my soups extra thick so I can easily scoop some of it up with a chip or some crusty bread. But, it doesn't have to be this thick. In fact, it is just as tasty thinned down a bit. You can thin this kale soup out with some vegetable stock. You can also use some coconut milk. Or, a combination of the two.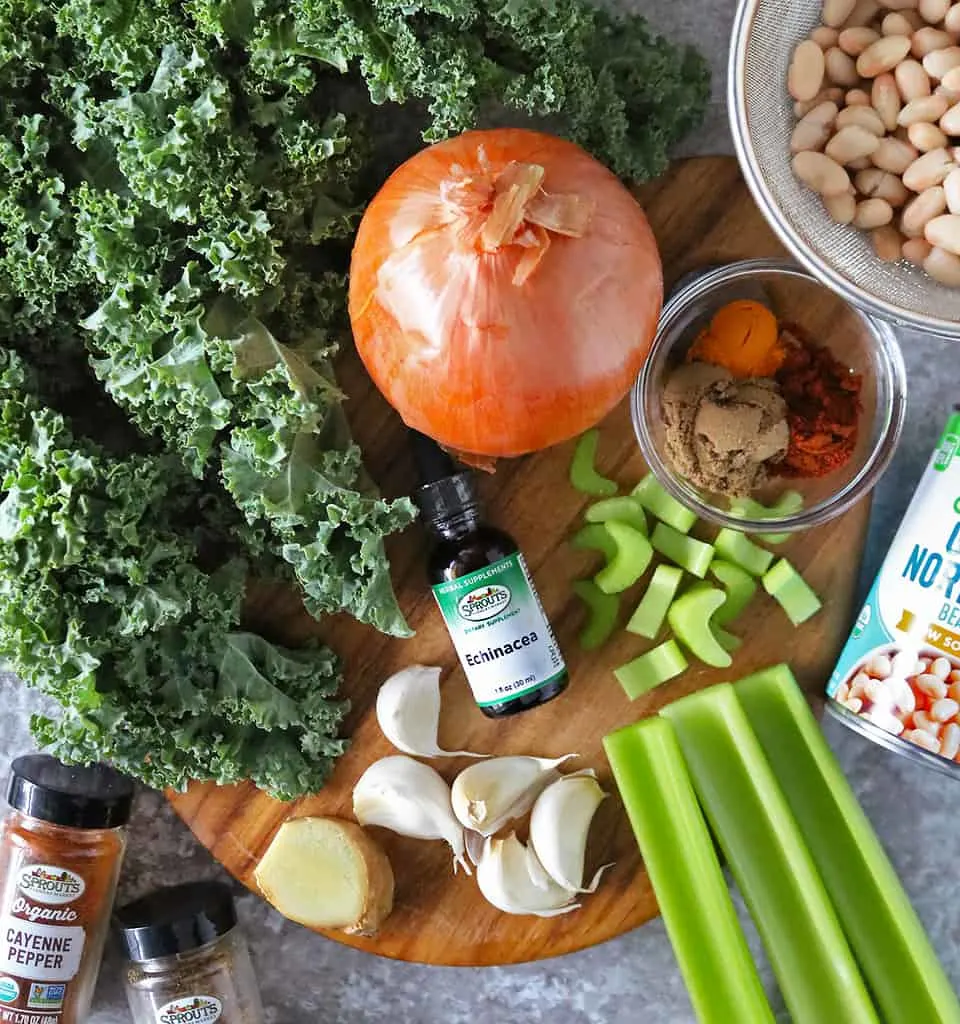 What are the ingredients in this Easy Kale Soup with Echinacea?
In addition to olive oil, salt, and pepper, this soup can be made with the following 10 ingredients:
yellow onion
Garlic
Ginger
Coriander
Cayenne
turmeric
Water, vegetable stock, or coconut milk
Celery
cannellini beans
Echinacea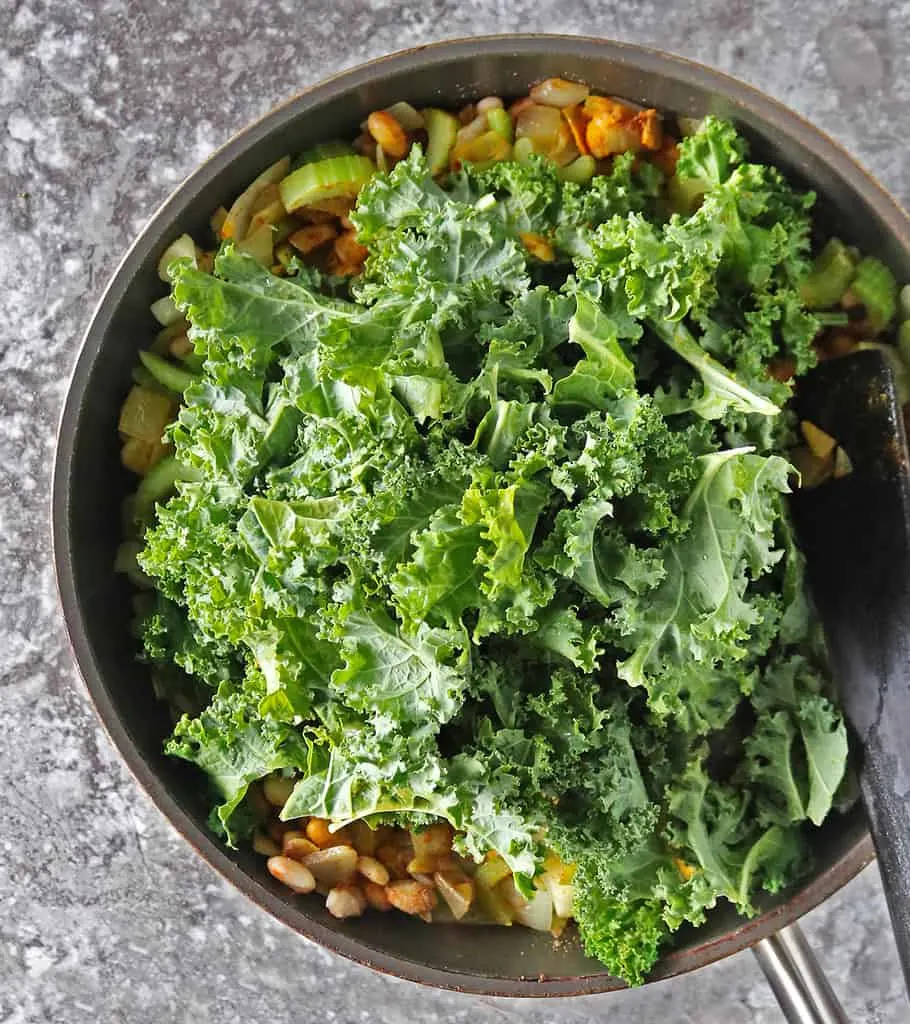 Tips when making this soup:
• Sauteing the onion, ginger, and garlic together for about 10 minutes adds so much flavor to this soup than using them raw.

• When chopping up the onion, ginger, garlic, and celery, you do not have to chop them up very fine as you will be blending these.

• I used water to thin this soup. But, vegetable stock and coconut milk work well too. Vegetable stock adds a good bit of flavor. If you use salted vegetable stock, you won't need to add too much salt in when seasoning it. If you use coconut milk to thin this soup, this soup will have undertones of coconut. Which is something to keep in mind if you do not like coconut. The resulting soup will also be more indulgent and rich with coconut milk like this spinach soup turned out.

• Fresh kale works best in this recipe. But you can also use frozen. When using fresh kale, make sure to remove the kale leaves off of the thick stalk and discard the stalk. If you use frozen kale, you will only need about 1 cup, but the good thing is most frozen kale does not have the thicker parts of the stalk in the packages.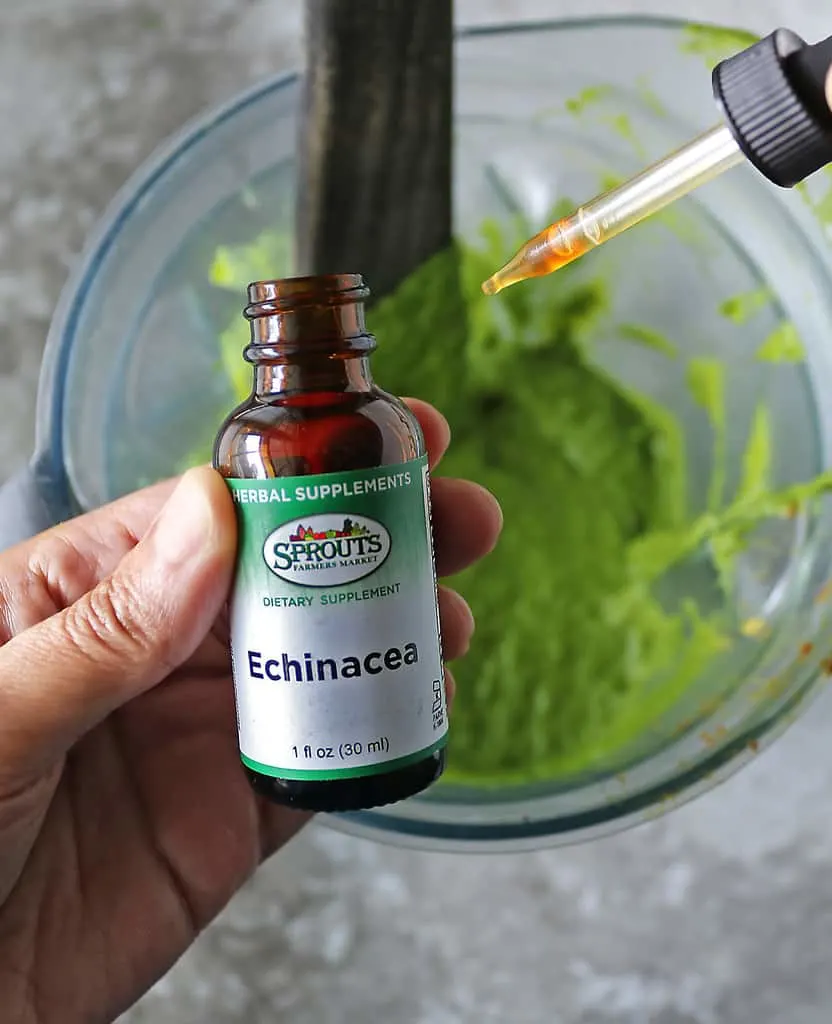 By the way, I purchased all my ingredients from Sprouts. Sprouts is my favorite place to shop at for quality produce, fun and healthy frozen foods, unique, seasonal products, as well as vitamins, and supplements.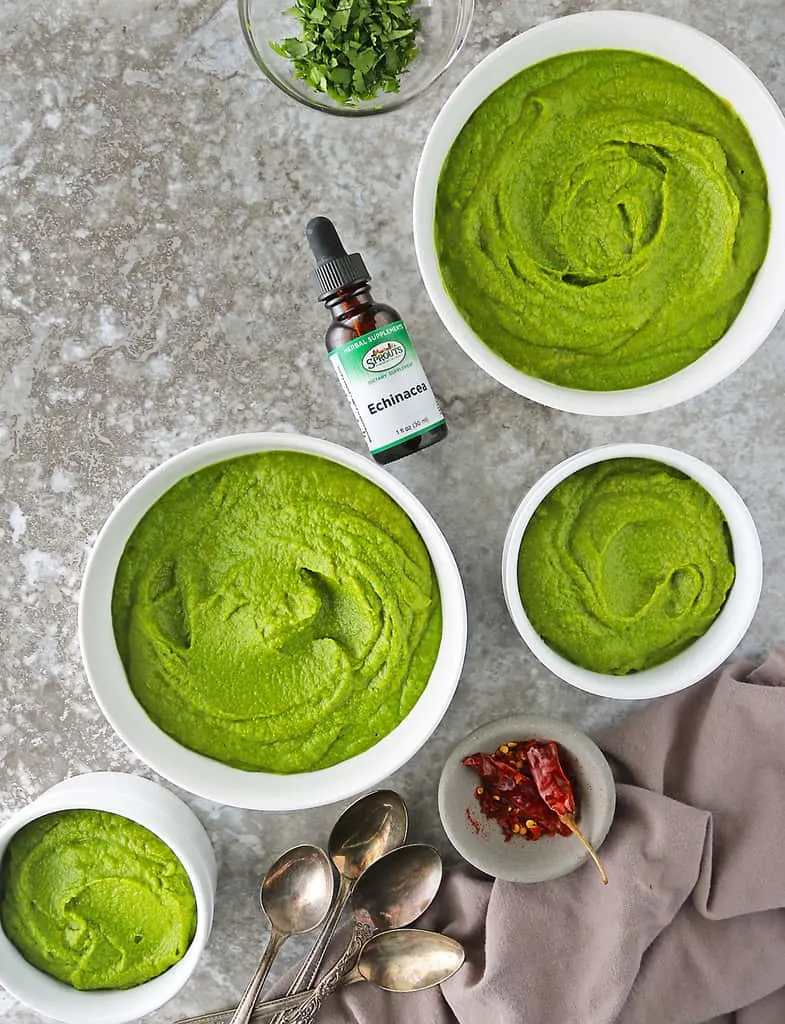 Speaking of supplements, I added in some Sprouts brand echinacea to this soup. True, the ingredients in this soup are immunity-boosting, but echinacea adds in just another layer of immune-boosting goodness.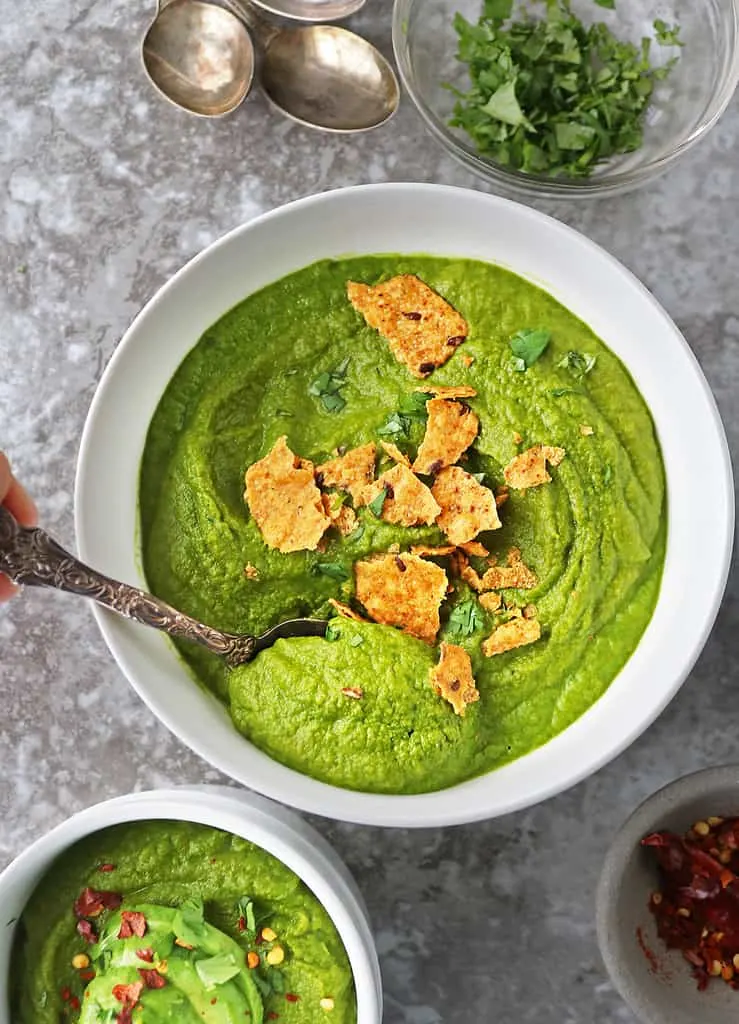 What is echinacea?
Echinacea refers to a group of plants that are in the daisy family. Echinacea helps release chemicals in our bodies that decrease inflammation and increase the efficacy of our body's immune system.
If you are looking to boost your immune system, naturally, with vitamins and supplements, make sure you stop by your closest Sprouts. Sprouts offers wellness when you need it most! Also, when you are there, grab the handful of ingredients needed to make this soup – because (for some of us at least) soup season is here!