I've partnered with Smithfield to bring y'all this picnic-friendly, dairy free, Potato Bacon Avocado Salad! Thank you so much for supporting the brands that keep this Blog Spinning!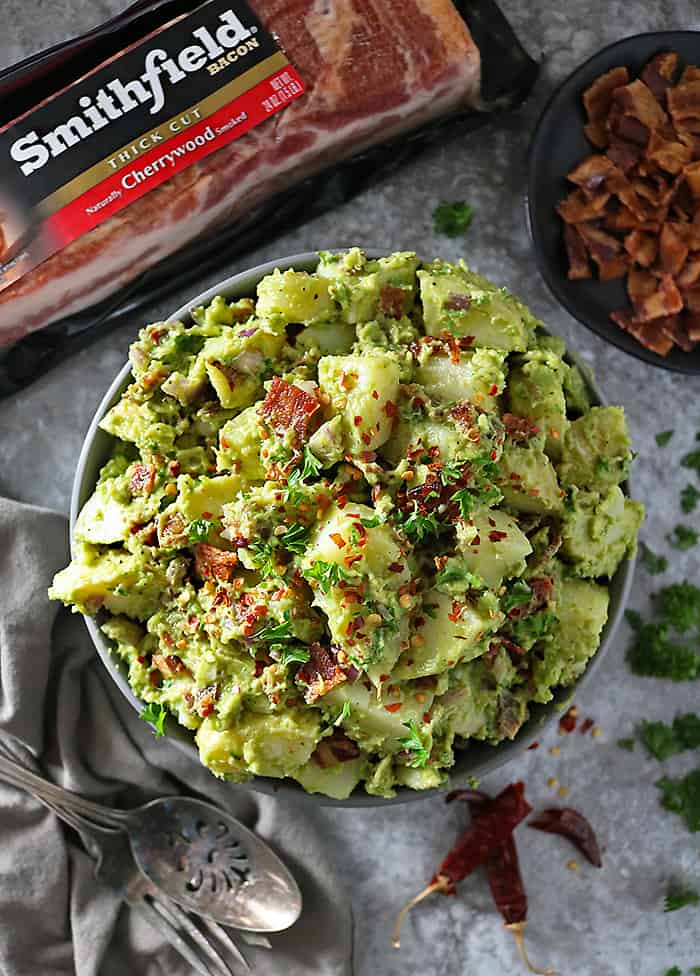 Large bodies of water simply fascinate me! They make me wanna stop and stare at them or simply walk next to them for hours on end.
Last month, my daughter and I got to drive down the Oregon coast, stopping to spend a day each at Cannon Beach, Hug Point, Short Sands, Manzanita, and Newport. At each of these spots we spent hours hiking along the beach.
Very often we would start our day, aimlessly wandering along the beach for miles, then when our bellies started grumbling, we'd stop for coffee and breakfast and keep on going. It wasn't unusual for us to cover 18 to 20 miles in a day, and, the best part was, unlike walking around bustling cities, walking by the water rarely left us exhausted.
Unfortunately, from where we live in Athens, GA, the closest beach is about a 4 hour drive, so, my daughter and I opt to hike near large bodies of water.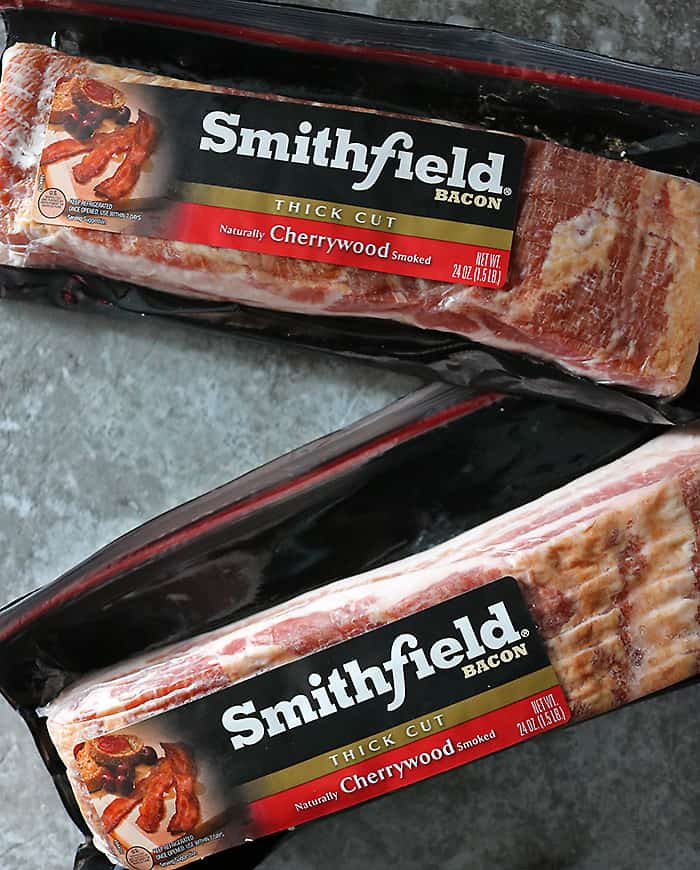 Very often, I pack a small picnic lunch like this Potato Bacon Avocado Salad (made with Smithfield Thick Cut Cherrywood Bacon) for us to enjoy midway through our hike or after we are done, because the last time I didn't pack a picnic lunch, we came home and almost finished a whole pan of this eggplant curry!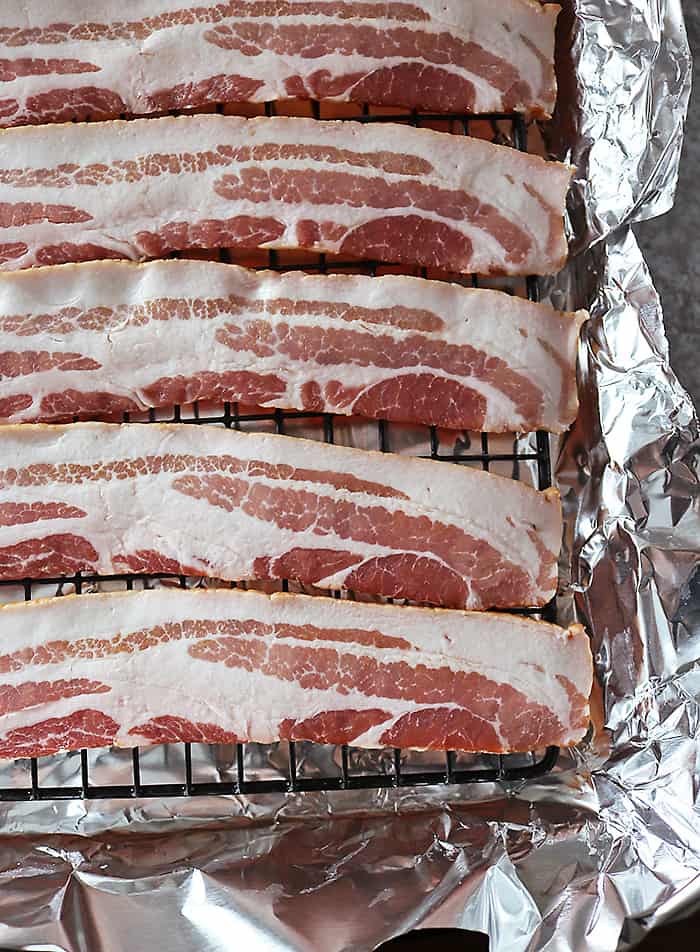 Oven Baking Bacon Makes For Easy Clean Up!
Getting back to this Potato Bacon Avocado Salad, I prepped this salad in stages to take with us when we went on and off the trail hike at one of our favorite parks in Gwinnett County, Little Mulberry Park. The night before our little sojourn, I baked the potatoes and the Smithfield Thick Cut Cherrywood Bacon. Talk about easy clean up!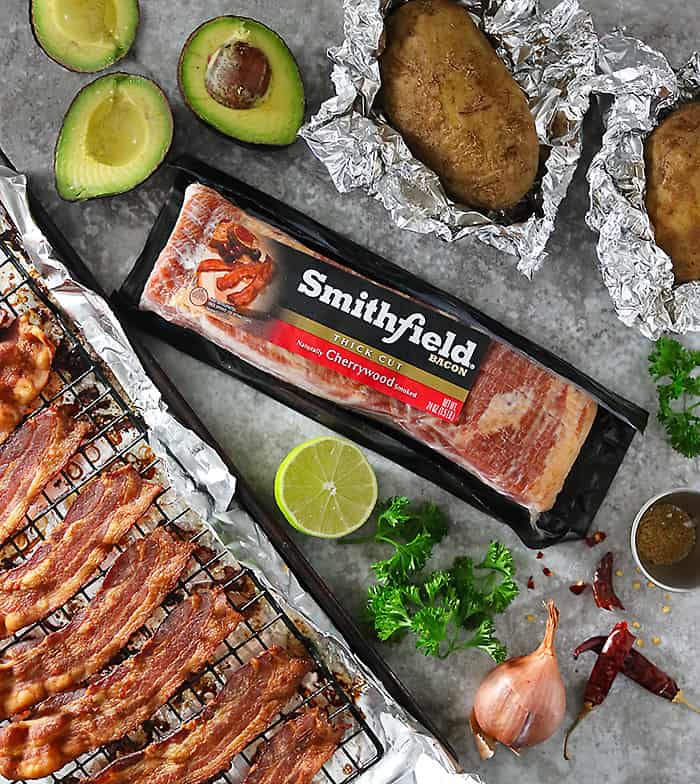 Now, there are many recipes out there that detail how to oven bake bacon and mine is no different – with only one exception. While most recipes call for baking bacon for 15 to 20 minutes, I like to bake mine for 30 minutes on a wire rack (placed on a baking tray covered with foil) to get them crispy.
Now, not all ovens are the same and 30 minutes might result in some burned-to-a-crisp bacon for some, but, for me, 30 minutes at 375 degrees works perfectly.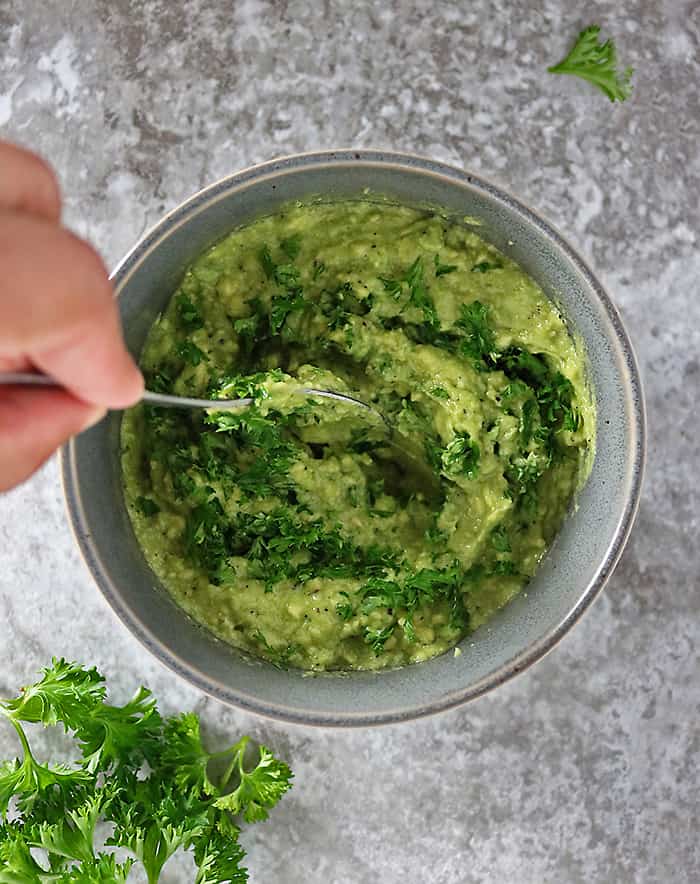 This Potato Bacon Salad is So Easy to Make!
Well, when the potatoes and bacon were done baking, I let them cool and then refrigerated them.
The next morning, I cut up the potatoes (I left some of the skin on for a nutritional boost, but feel free to take it off if you prefer). I then whipped up this easy avocado dressing with avocados, lime, coconut oil, coriander, parsley, and salt and pepper, and then used it to dress up the potatoes, the bacon and a chopped shallot which I threw in last minute for some extra flavor.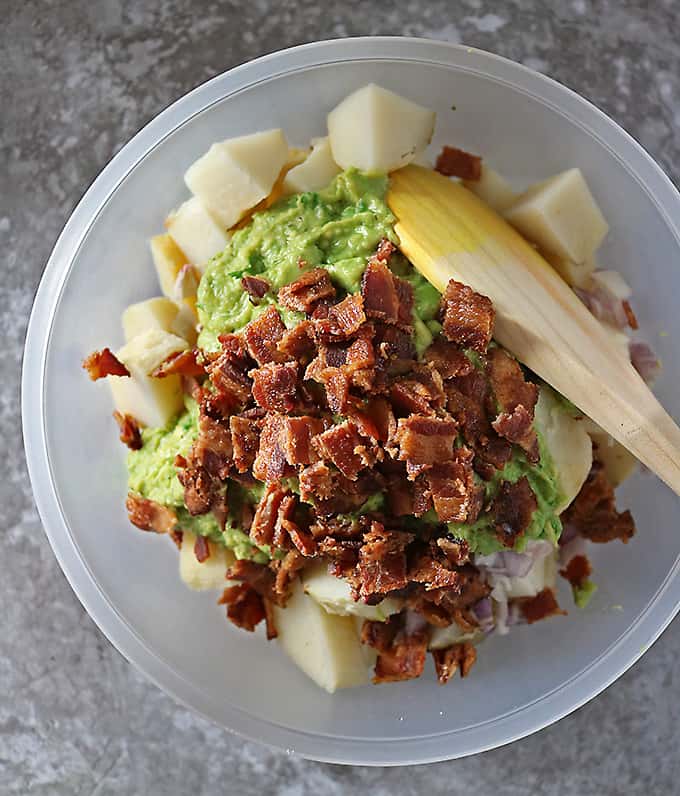 If you don't have shallots, then feel free to use a small red onion, but, it will result in a much sharper taste to the Potato Bacon Avocado Salad.
We also garnished the salad with chili flakes because I like my food hot and spicy, but that's a totally optional add-in.
I packed some of this potato salad for my daughter and I to dig into after our hike. I was worried that the avocado might brown up some, but, even though the salad stayed packed in a small cooler lunch tote for about 4 hours, there was no browning (as you can see in the photo below).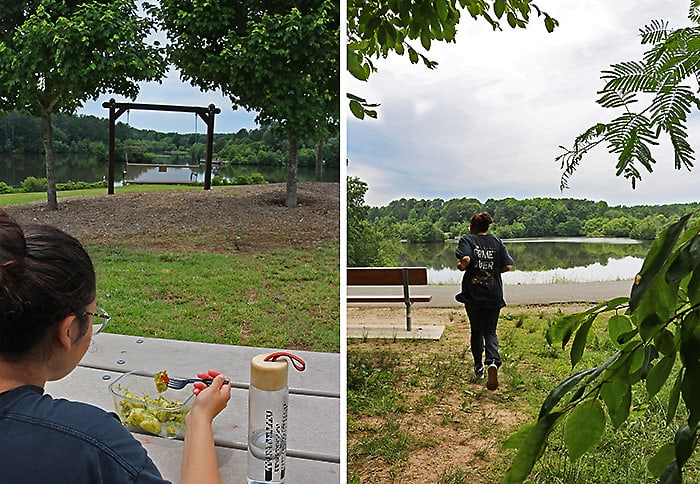 As this salad doesn't use any dairy, it would make a delicious side dish for your summer picnics or get togethers or long walks by large bodies of water, as it holds up beautifully! And, y'all, this salad is simply delicious, so please do go ahead and give this a try!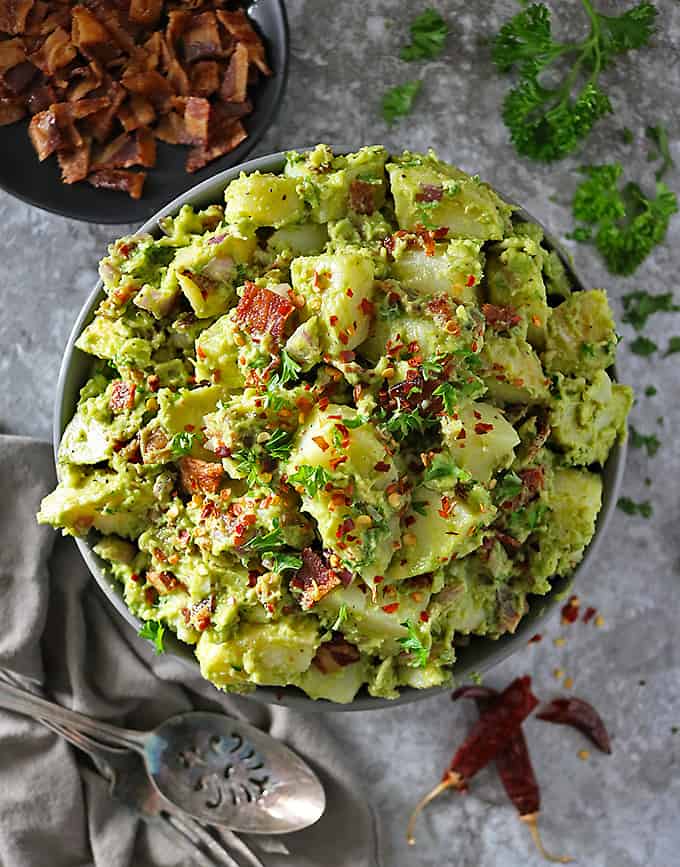 As seen around this little space of mine, I am a huge fan of Smithfield! This summer, Smithfield wants you to celebrate simple, yet memorable moments outdoors with your family and friends. So, whether you are spending a day playing and picnic-ing in the park or a night hosting a backyard BBQ or movie night, bring home some Smithfield Bacon, whip up this Potato Bacon Avocado Salad and make some memorable memories!
And, seeing that everything is better with bacon (isn't that how the saying goes?), why not whip up some Smithfield Bacon to enjoy with your weekend breakfast too! Smithfield Bacon is available in a wide array of flavors and cuts, like Cherrywood, Thick Cut and the classic Hometown Original, and is known for being smoked and cured to perfection.
If you happen to fancy this recipe, let me know what you think by leaving a comment and rating below. If you make this recipe, please post a pic on INSTAGRAM -tagging @savoryspin so I can see! For more recipes and ramblings, like us on FACEBOOK and follow along on PINTEREST!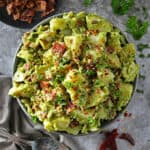 Print Recipe
Potato Bacon Avocado Salad
This delightful Potato Bacon Salad is picnic-friendly and with an avocado "dressing," it also happens to be dairy free - perfect if you are looking for a delicious and dairy-free potato bacon salad to share with family and friends.
Ingredients
4

yellow potatoes

1

shallot

2

avocadoes

2

tbsp

lime juice

1 lime

2

tbsp

coconut oil

melted

½

tsp

coriander

½

tsp

salt

½

tsp

pepper

2

tbsp

parsley
Instructions
Cover a baking tray with foil and let the foil overlap the ends of the baking tray so you can fold the foil over (to catch any spills and avoid any oven sparks). Place a wire rack on top of the foil and place strips of bacon on top of it single file. Place the tray with bacon in the oven set at 375 degrees for 30 minutes.

Wrap the potatoes in foil and toss them in the 375 degree oven and let them bake for 30 minutes as well (or more till tender)

Remove the tray with the bacon from the oven and set it aside to come to room temperature (or set in refrigerator to cool if preparing dish the next day). Similarly, remove the potatoes (when they are tender) from the oven and let them come to room temp (or set in refrigerator to cool if preparing dish the next day).

Cut up potatoes and place in a bowl. You can remove the potato skin if you so desire or leave it on like I did.

Cut up the shallot and add it to the bowl with the potato.

In another bowl, add the scooped out avocado flesh, lime juice and coconut oil and mash up together.

Add in the parsley, coriander, salt and pepper and mix well. Add the avocado "dressing" to potato shallot mix.

Cut up the bacon strips and add them to the same bowl.

Using a spoon/spatula, gently mix all the ingredients together so avocado dressing coats the potatoes and bacon.
Nutrition
Calories:
487
kcal
|
Carbohydrates:
15.3
g
|
Protein:
25.4
g
|
Fat:
36.6
g
|
Saturated Fat:
12.6
g
|
Cholesterol:
70
mg
|
Sodium:
1638
mg
|
Fiber:
4
g
|
Sugar:
0.7
g
This is a sponsored post written by me on behalf of Smithfield.