These tasty Tuna Potato Puffs are made with puff pastry that is stuffed with a spiced Wild Selections Solid White Albacore Tuna and potato hash.
Thank you Wild Selections® for sponsoring this post. For a more sustainable meal, be sure to check out Wild Selections® premium seafood — it's always healthy, always Marine Stewardship Council certified, and always delicious!
Over the years, I've been a vegetarian, a pescatarian, gone gluten-free, and I've even gone sugar-free. I've found that I am happiest somewhere in the middle – with my gluten and sugar, eggs, chicken, salmon and tuna!
Speaking of tuna, once upon a time during my pescatarian days, I accompanied my parents and sister on a visit to London to see my uncle and aunt.
On our trip there, my mom also made plans to meet up with an old high school friend of hers. Her friend invited us to dinner one night and when we sat down to a scrumptious spread of baked potatoes and chili, my mom mentioned that it be best that I just stick with the potato.
Well, one of my mom's friend's sons (tongue twister there -eh?) excused himself and hustled off to the kitchen. When he returned, he had a big bowl of freshly made tuna salad with him.
He insisted that tuna salad slathered on a baked potato was one heck of a delicious experience. While I hadn't ever tried that combo before, I dug in. And, I have been hooked on the combo since.
In fact, during my college years, tuna and a baked potato was a staple for me. Not only did it keep my budget on track, but, it was one darn tasty and nutritious combo that powered me through many late nite study sessions!
These days, the combo of tuna and potatoes are still a staple around our home. Some nights, my daughter and I still enjoy a baked potato with tuna salad slathered on it. Some nights we enjoy a warm tuna salad (like you will find in the Savory Spin recipe archives).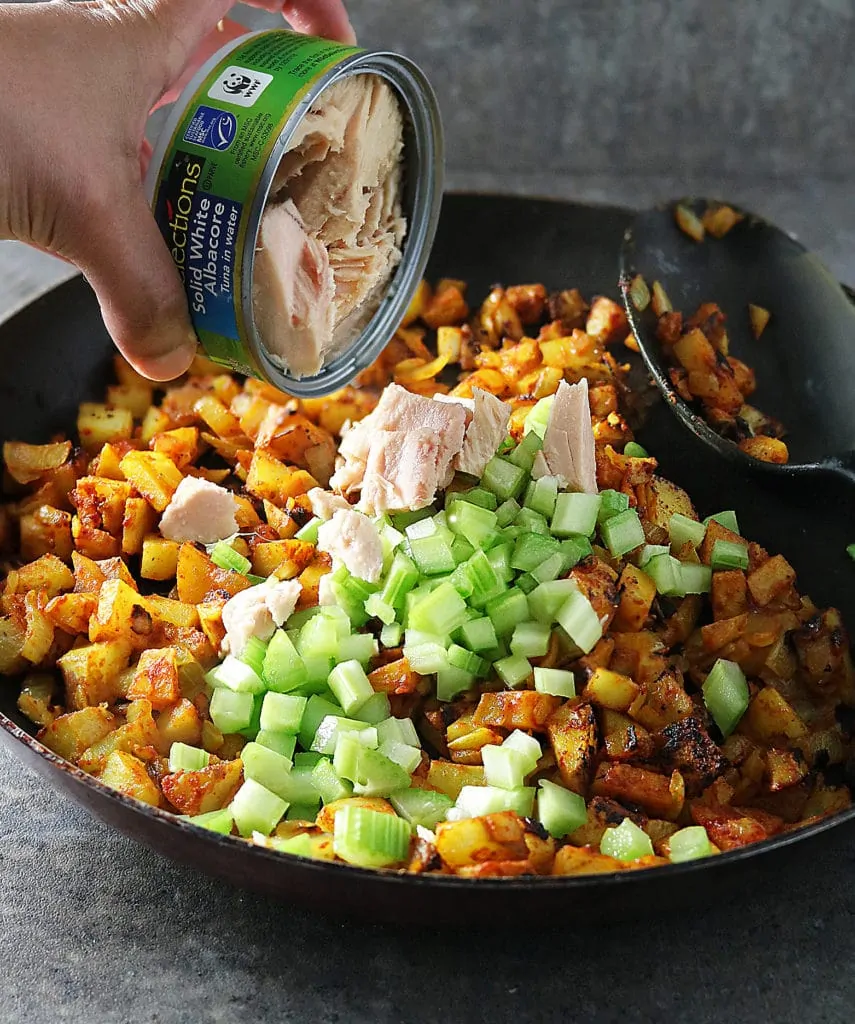 On yet other nights we enjoy a tuna and potato saute – almost like a hash. And, sometimes, we take that warm tuna and potato saute and fancy it up a tad bit by serving it in puff pastry baskets – like you see here!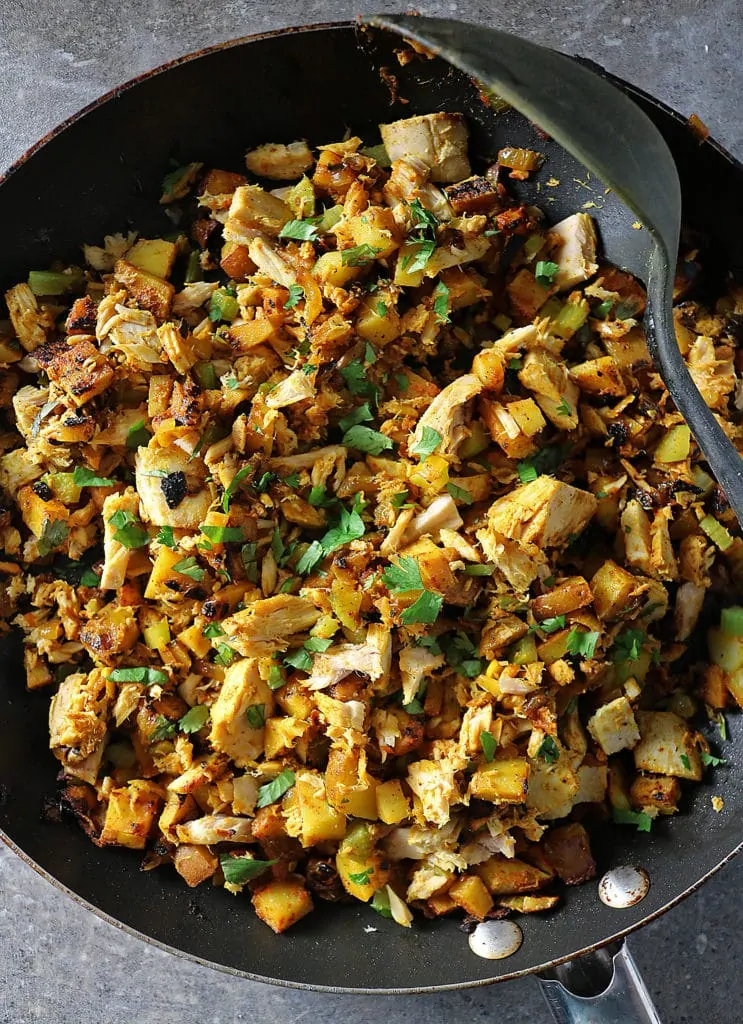 I used a can of Wild Selections Solid White Albacore Tuna in Water to make these Tuna Potato Puffs.
This canned tuna was so incredibly flaky! I dug a bit and found out that Wild Selections only sources its wild-caught seafood from ocean areas that have been certified sustainable to the Marine Stewardship Council (MSC) Standard – the world's leading certification program for wild-caught, sustainable seafood for the past 20 years.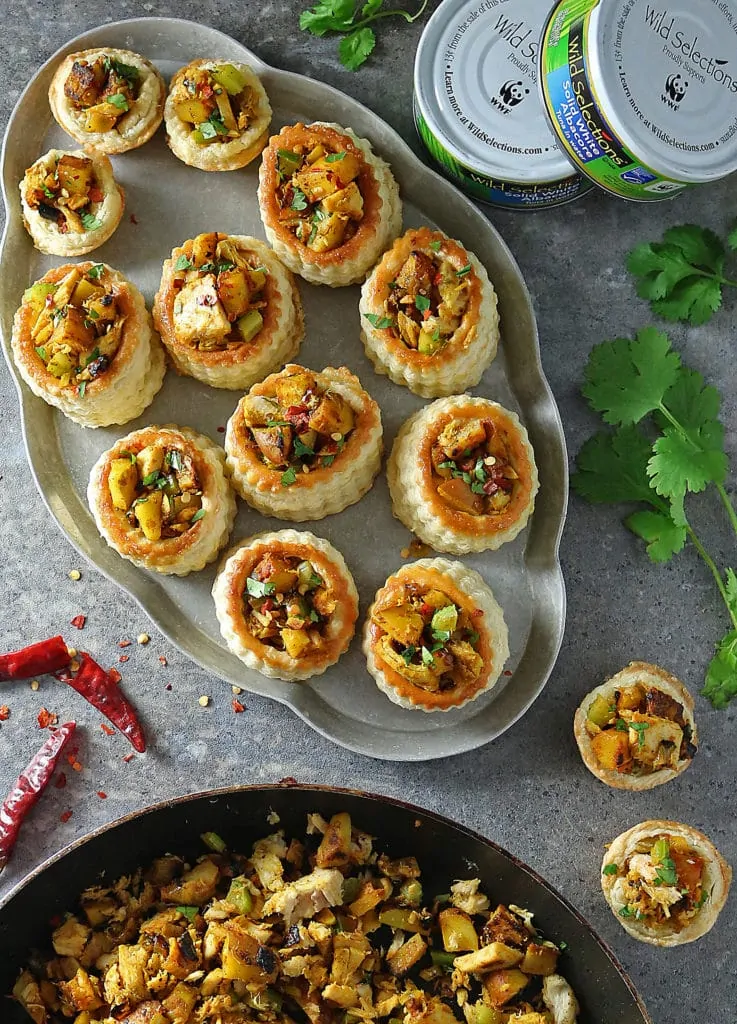 This assessment and certification of oceans areas by MSC ensures that fish stocks are healthy, well managed and plentiful. Wild Selections also donates 13 cents from the sale of each can to support World Wildlife Fund's efforts to protect marine life and expand sustainable fishing practices, up to $1 million by the end of this year!
Wild Selections comes in:
• Wild Selections Solid White Albacore Tuna in Water, and
• Wild Selections Solid White Albacore Tuna in Olive Oil
Check out delicious recipe ideas and inspiration using Wild Selections Solid White Albacore Tuna here and by following them on Facebook, Instagram, Pinterest, and Twitter.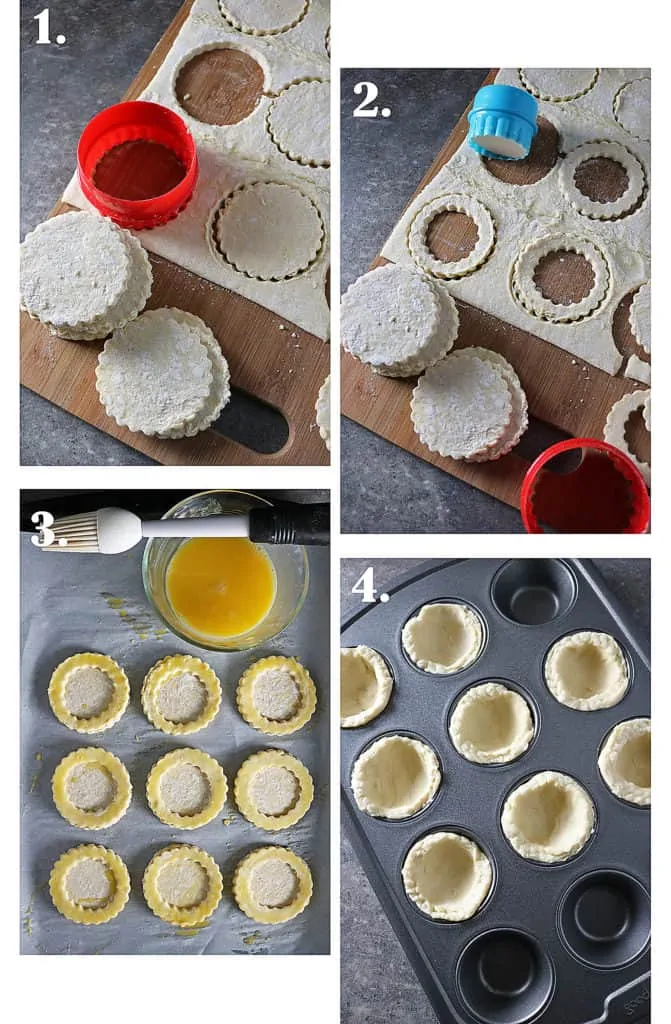 While these Tuna Potato Puffs look fancy, the puff pastry baskets are really easy to pull together. I used two defrosted but still cold sheets of puff pastry. I used two similar cookie cutters of different sizes to cut the base and the walls. I used the larger cookie cutter to cut out the base out of one sheet of puff pastry.
And, on the second, I used the large one to first cut out a shape and then the smaller one to cut out the middle of it. On a side note, you can save the middle bits, season with cinnamon sugar and bake and enjoy – especially good with ice cream.
If you find the baskets intimidating, then you can use a muffin tin and simply cut out circle of puff pastry and use them to line the muffin pans and bake and stuff with the tuna and potato hash.
With Mother's Day and Summer get togethers on the horizon, these Tuna Potato Puffs would make an interesting and tasty treat for your friends and family. If you happen to make them, please do tag #savoryspin on Instagram so I can reshare it. Thanks so much y'all!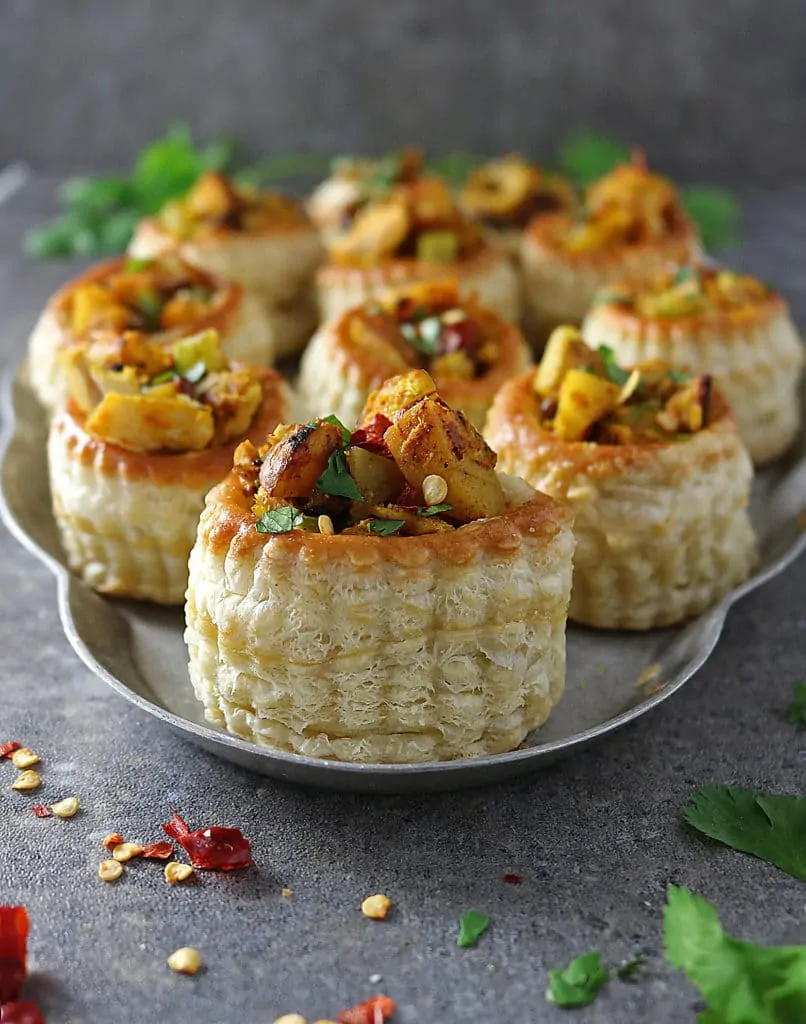 I was selected for this opportunity as a member of CLEVER and the content and opinions expressed here are all my own.