This shop has been compensated by Collective Bias, Inc. and its advertiser. All opinions are mine alone. The following content is intended for readers who are 21 or older. #CelebratorySips #CelebrateWithSol #CollectiveBias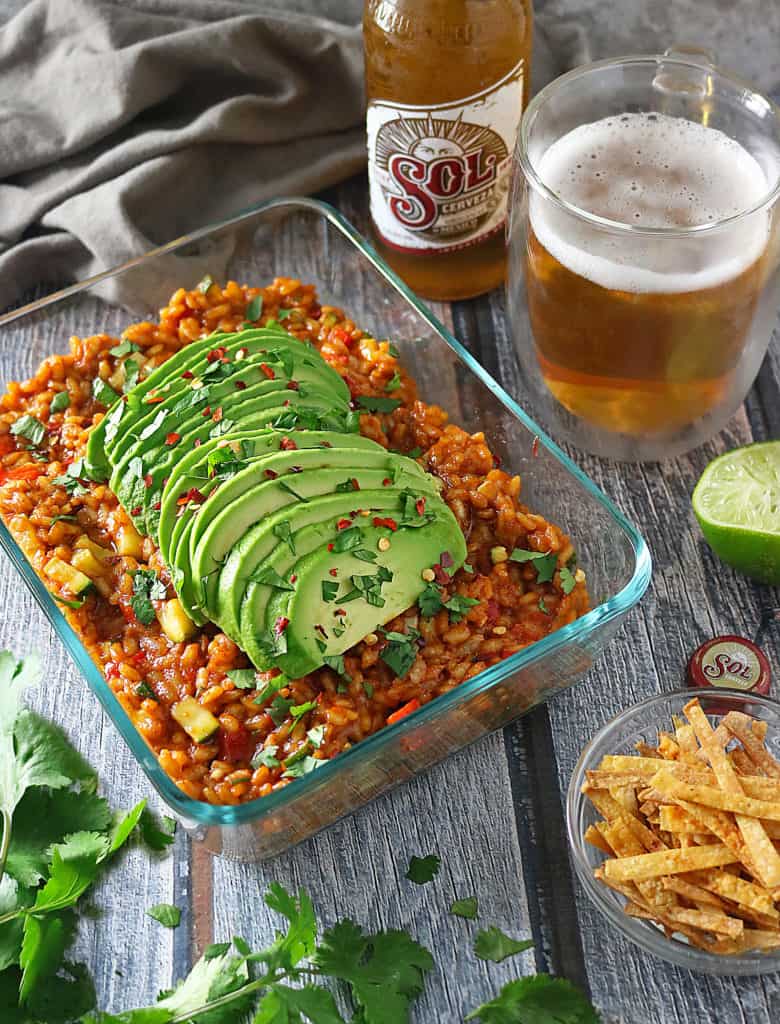 My daughter used to attend a high school that catered to the culturally diverse population around it by hosting an annual International Night. During International Night, parents would set up booths in the cafeteria where they would prep and share their favorite dishes with everyone.
I remember the last International Night I attended with my daughter. I walked around enjoying a plate that held saag paneer, jerk chicken tacos, bakso, mac and cheese, yorkshire pudding, kimchi tostadas and a piece of injera. The unity of culturally diverse flavors is one of my favorite ways of enjoying foods. Just say "Tandoori Chicken Tostadas" or "Jerk Chicken Tacos" and the salivary glands in the back of my mouth ping into action!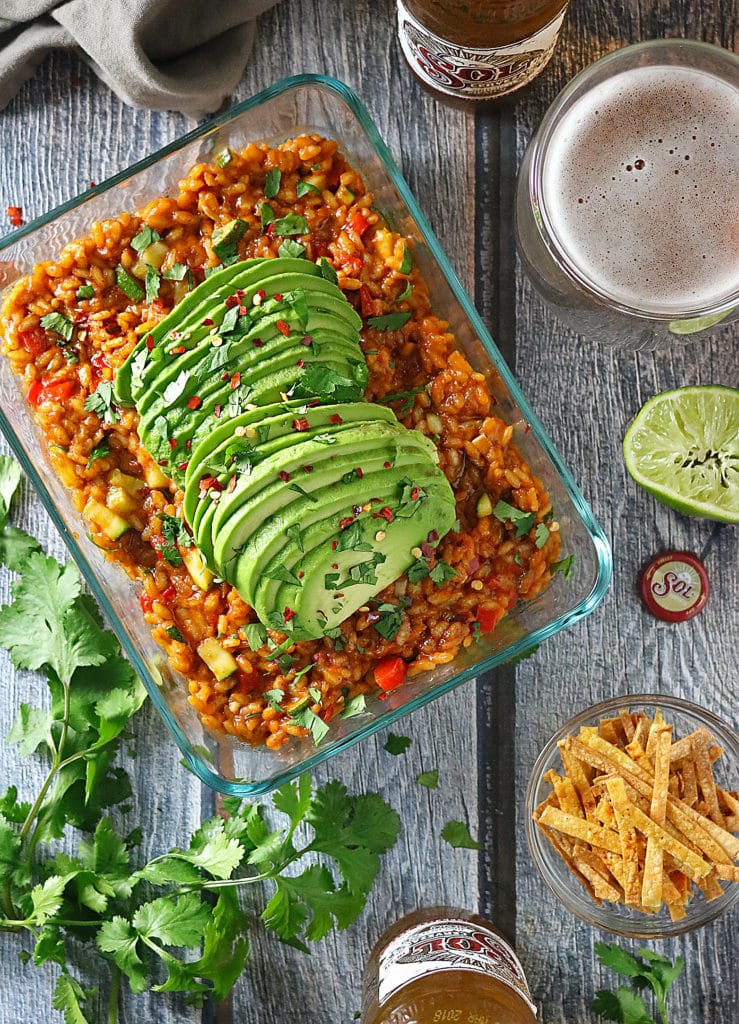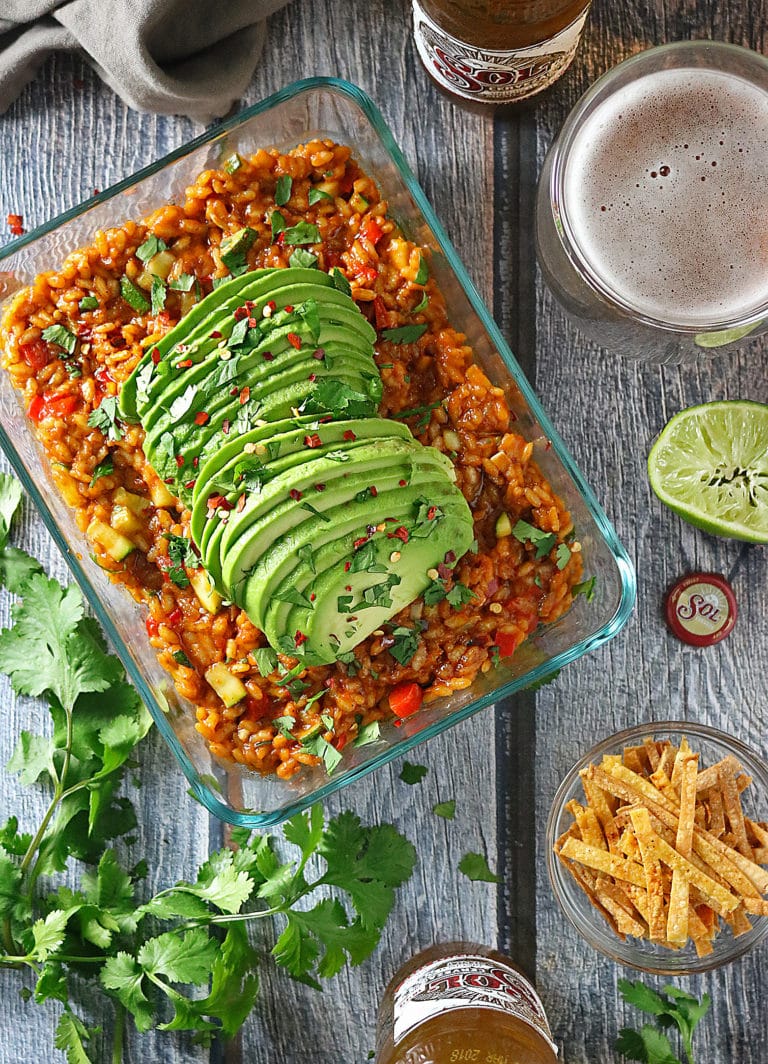 Today, keeping with my love for fusion foods, I have this Veggie Enchilada Risotto to share with y'all. It incorporates the unity of the technique behind Italian Risotto with Mexican Red Enchilada Sauce and Sol in the ingredient list.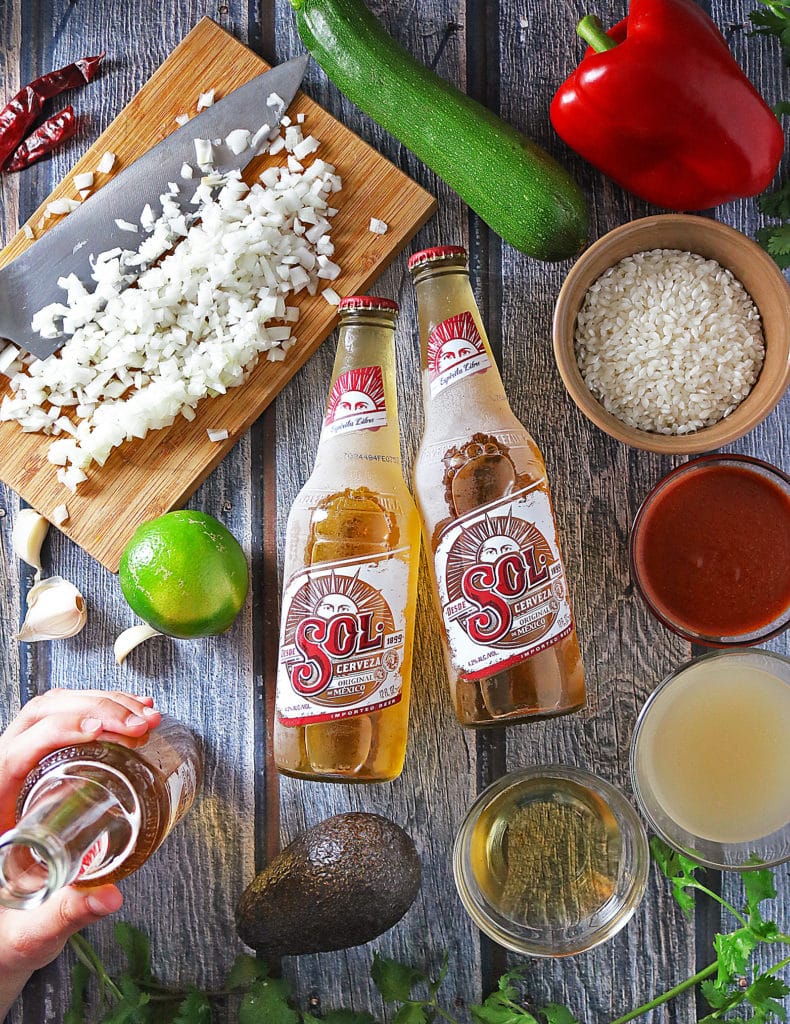 Have y'all tried Sol yet?
Sol is an imported Mexican beer with an optimistic spirit and a crisp, refreshing taste. Sol had its humble beginnings in Mexico City in 1899. It is said that the brewmaster behind Sol took inspiration from a ray of sunlight shining through a hole in the brewery's roof, and then proudly named his new beer Sol, which translates to the Sun. These days, Sol is brewed using a technique that preserves the beer's freshness. Even when it is displayed in a clear bottle, it has the ultimate quality and taste fresh from Mexico.
While an uber cold Sol pairs so well with this dish, I also used it in this Veggie Enchilada Risotto. I started off this Veggie Enchilada Risotto by sauteing onion and arborio rice in a pan, much like traditional risotto begins. Instead of using white wine to deglaze the pan, I used Sol. Then, instead of slowly adding in ladles of hot broth to the rice and onion mixture, I used a broth and enchilada mixture and added that in slowly. At the very end, I added in some sauteed zucchini, red bell pepper and stirred in some cheddar cheese instead of parmesan as I feel cheddar paired better with the flavors of Sol and the enchilada sauce. This dish would not only make a tasty side dish at any of your summer get-togethers and parties, it can even be enjoyed as a date night meal. Don't forget to pick up a 6 or 12 pack of Sol and savor every sip of it, paired with this Veggie Enchilada Risotto.
By the way, Sol is going through a graphic refresh of its packaging. The bottles you see in this post showcase it's old packaging. The new packaging/labeling is noticeably different. Even the new bottles are taller and have a slightly different look. You can find out more about Sol here.
I sure hope you enjoy fusion cuisine as much as I do and get to try this Veggie Enchilada Risotto soon!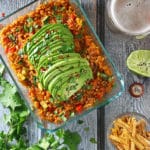 Print Recipe
VEGGIE ENCHILADA RISOTTO
This dish is a delicious fusion of Italian risotto and Mexican enchilada in one flavor packed, creamy concoction!
Ingredients
3.5

cups

chicken or vegetable broth

1

cup

red enchilada sauce

2 + 2

tsp

oil

1

zucchini diced

½

a red bell pepper diced

1

small yellow onion or half a large one chopped

3

cloves

garlic smashed and chopped

1

cup

arborio rice

½

cup

Sol Mexican Beer

¼

cup

shredded mild cheddar cheese

Salt and pepper to taste

totally optional - in fact, I didn't use any added salt

Cilantro

avocado, tortilla strips to garnish with.
Instructions
Add the chicken/vegetable broth to a pan along with the enchilada sauce and bring it to a simmer. When it is simmering, turn the stove off.

In another pan, add 2 tsps oil and the chopped zucchini and red bell pepper and saute about 5 minutes over medium/high heat. Then, spoon this veggie mix into a plate/bowl and set aside.

Add the other 2 tsps of oil to the pan and also add in the onion. Saute the onion for about 5 minutes and then add in the arborio rice and saute, stirring throughout. When the rice begins to pop, add in the Sol beer to deglaze the pan with.

Then, add in a ladle of the hot broth and enchilada sauce mixture and stir well. Keep adding ladles of the broth to the rice mixture and stirring often, for the next 11 minutes. After 11 minutes, check the rice for firmness. I kept stirring and adding ladles of the broth/enchilada mix for another 8 minutes (total cooking time 19 minutes, but this will vary depending on the heat of your stove.) Turn off the stove at this point but leave the pan on it.

Then, stir in the cheddar cheese. Add in the zucchini and red bell pepper. Season with salt and pepper if needed. Garnish with cilantro and serve with avocado, tortilla chips and a cold Sol beer!
Notes
*Nutrition info is only for the Enchilada Risotto and does not include the avocado, tortilla chips and any other toppings.
Nutrition
Calories:
335
kcal
|
Carbohydrates:
48.2
g
|
Protein:
10.6
g
|
Fat:
9.4
g
|
Saturated Fat:
2.5
g
|
Cholesterol:
7
mg
|
Sodium:
1118
mg
|
Potassium:
426
mg
|
Fiber:
2.9
g
|
Sugar:
3.6
g