You need only 12 ingredients and about 30 minutes to make this healthy-ish and delicious, Creamy Sun-Dried Tomato Chicken recipe. It is an easy, comforting side dish that pairs well with everything from a chunk of crusty bread to rice to pasta.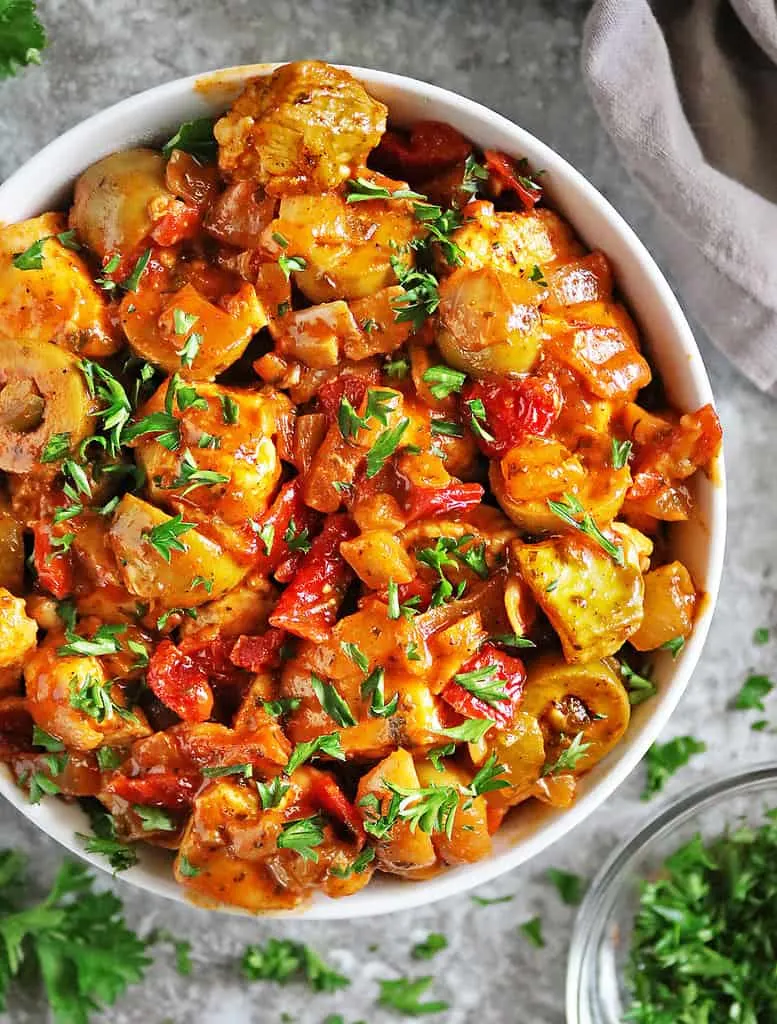 This Creamy Sun-Dried Tomato Chicken dish is packed with flavor, thanks to a delicious sauce made with sun-dried tomatoes, olives, and a handful of spices.
While this chicken dinner is creamy, it is completely dairy-free, making it a good and safe option for anyone who might be lactose intolerant.
This Creamy Sun-Dried Tomato Chicken recipe was inspired by the many recipes for Marry Me Chicken I encountered when I made a vegetarian version, titled "Marry Me Tofu" earlier this year.
I used skinless chicken breasts in this recipe, instead of chicken thighs, to cut down on a bit of the fat content. I also used smoked paprika, oregano, and a tad bit of cayenne, as I like my food spicy and hot. The base of this dish is what my mom refers to as the holy trinity of Sri Lankan cooking: onion, ginger, and garlic.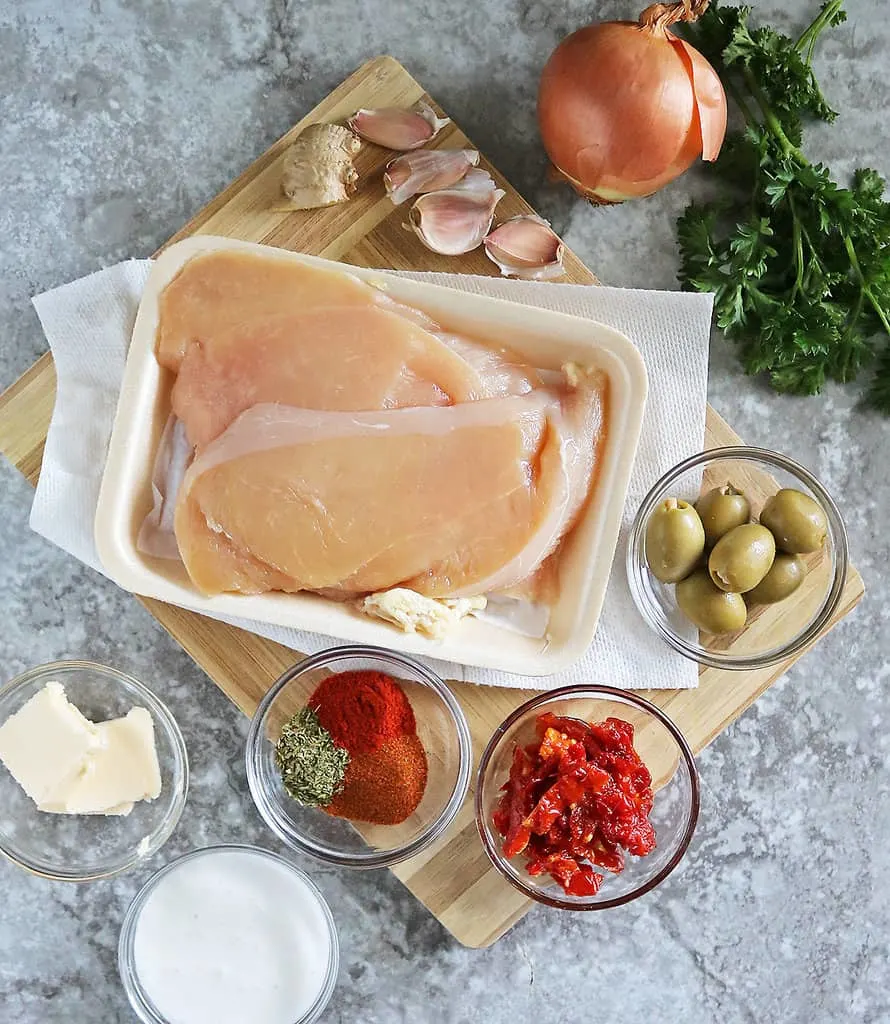 What are the ingredients needed to make this Creamy Sun-Dried Tomato Chicken?
You will need the following 12 ingredients to make this easy dish, and they are:
Butter
The only butter I have on hand is Earth Balance Vegan Sticks, so I used some of that. But, please feel free to use whatever butter you may have on hand. You can also use olive oil if you prefer, but it will make a difference in the flavor of this dish.

Onion
Yellow or red, it doesn't really matter what onion you use. In fact, if you do not want to labor over cutting onions, then grab one of those containers with pre-cut onions in it and use some of that instead.

Ginger
When it comes to cooking savory dishes, I am always partial to fresh ginger and not ground ginger. You can also use some of the peeled and chopped ginger most grocery stores sell in their produce section.

Garlic
Just as with ginger, fresh garlic is a must for this dish. And, just like I mentioned with the onion and ginger, you can use some of the peeled and chopped garlic they sell in the produce section of most stores.

Chicken
Boneless, skinless chicken breasts were my preference for this dish.

Olives
I had a jar of garlic and jalapeño stuffed olives that were hanging out in my fridge, and I used some of those. If you have black olives or plain green olives on hand, feel free to use those instead.

Smoked paprika
I love the flavor ground smoked paprika adds to this chicken dish and would urge you to not leave it out.

Oregano
I used dried oregano in this dish.

Cayenne
This is probably the only optional ingredient on the list – unless you love a bit of heat to your food.

Sun-dried Tomatoes
These add so much flavor to this dish.

Coconut milk
I used some full-fat coconut milk in this dish to make it so creamy. Now, if you prefer milk instead, please feel free to substitute it.

Parsley
I used fresh parsley as a garnish for this dish.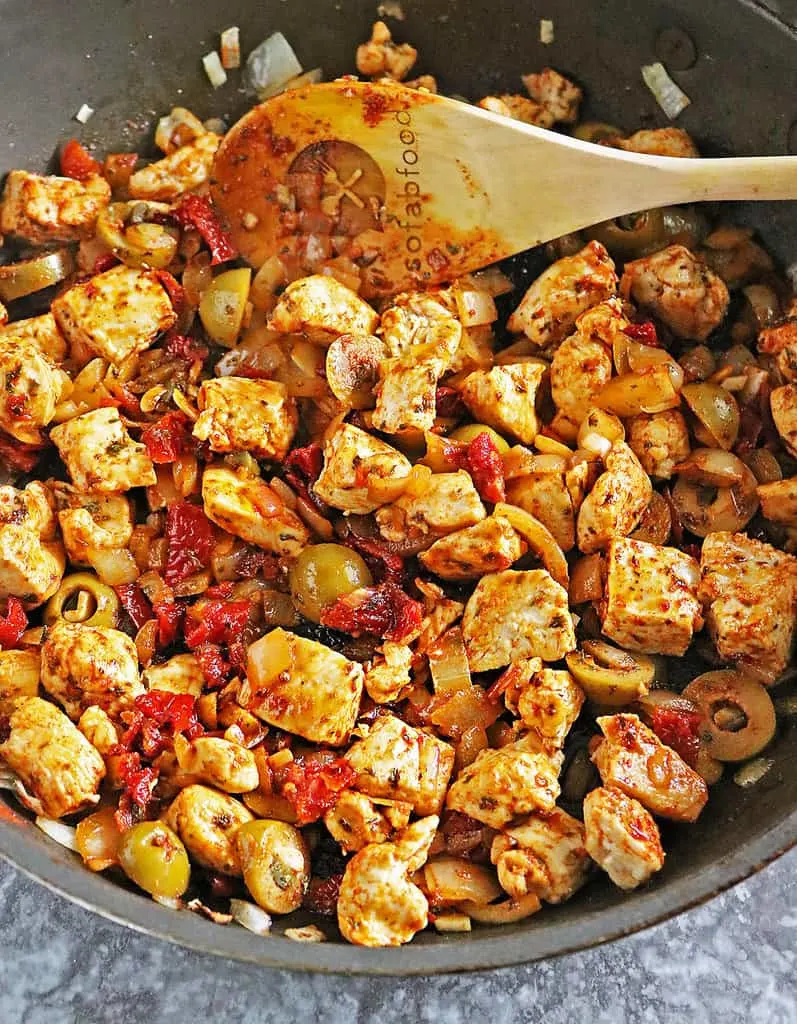 A few tips when making this dish:
I chose to cut the chicken breasts into bite-sized pieces to cut down on cooking time as well as to get them thoroughly coated with the creamy sun-dried tomato sauce.

Prepping and cooking simultaneously work well for me while making this. And, this helps cut down on the cooking time. For example, I started off by adding the onions, garlic, and ginger I peeled and chopped into a large pan, with the butter. While these were cooking, I chopped the chicken. Then, after I added the chicken to the pan, I set about chopping the olives and sun-dried tomatoes. This system helped me have this dish ready in about 30 minutes.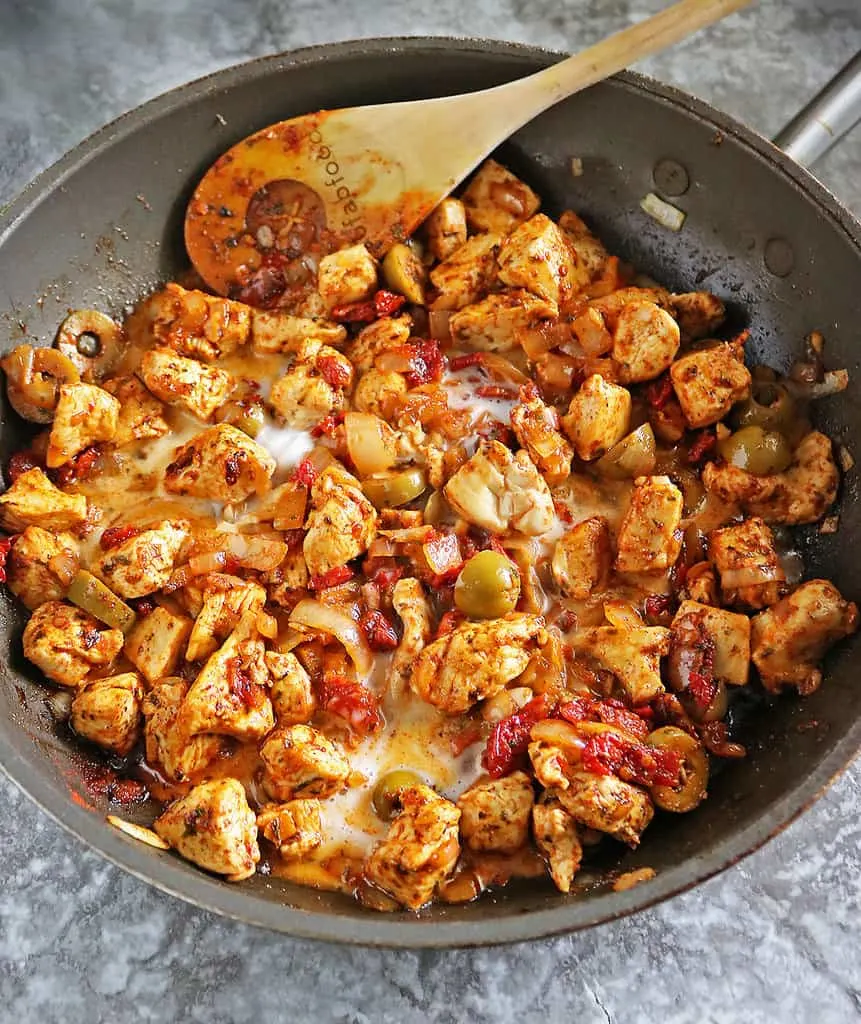 As you are working with chicken, make sure to sanitize cutting boards between cutting chicken and veggies. Or, use a separate board if you have an extra one on hand.

The quantities for this Creamy Sun-Dried Tomato Chicken do not have to be exact. Feel free to experiment and add in more olives or sun-dried tomatoes to suit your preference. The most important part is to enjoy the process of cooking and experimenting as you go along.

Add the coconut milk at the very end for maximum creaminess. I have noticed that when certain brands of coconut milk are added in at the early part of making a curry, the coconut milk tends to lose a bit of its creaminess, but that is just my 2 cents.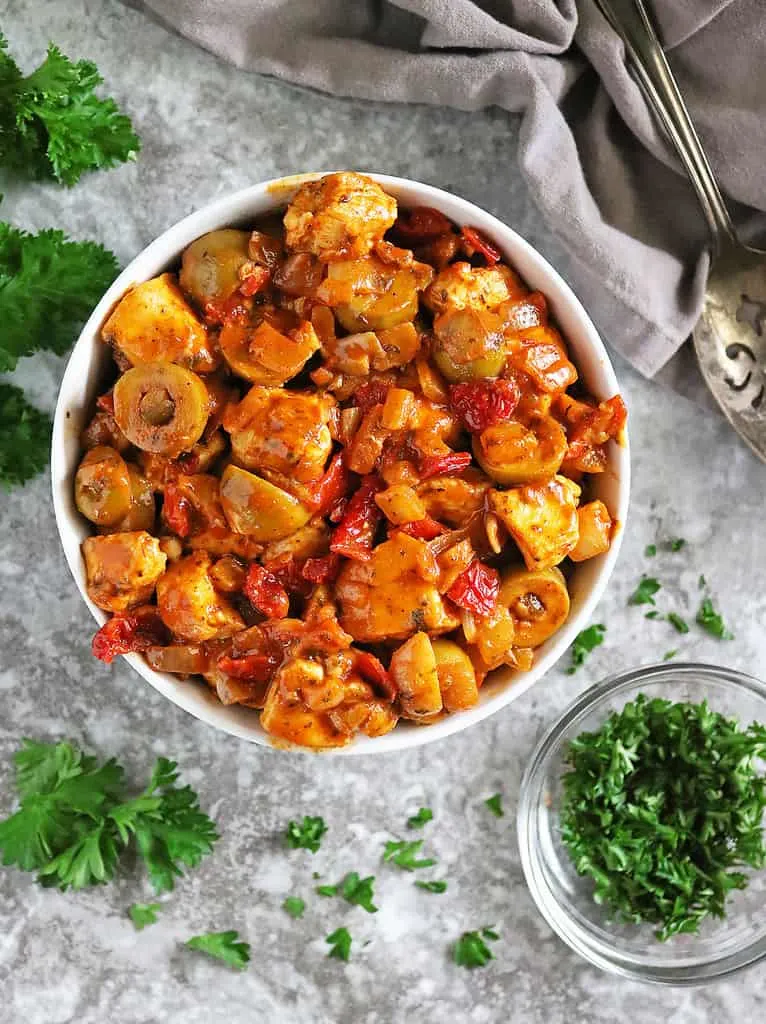 What do you serve this creamy sun-dried tomato chicken with?
You can serve this Creamy Sun-Dried Tomato Chicken with some quinoa, like this Lemon Za'atar Quinoa, or some rice like this Yellow Rice, or some crusty bread or rolls like these Parker House Rolls. Add in a small salad, or some Asparagus, or steamed broccoli, or any of your favorite veggies, and you have one tasty and healthy meal!
How Long Can You Store this dish?
If this Creamy Sun-dried Tomato Chicken is stored in an airtight container in your refrigerator, it should be good for up to 5–7 days.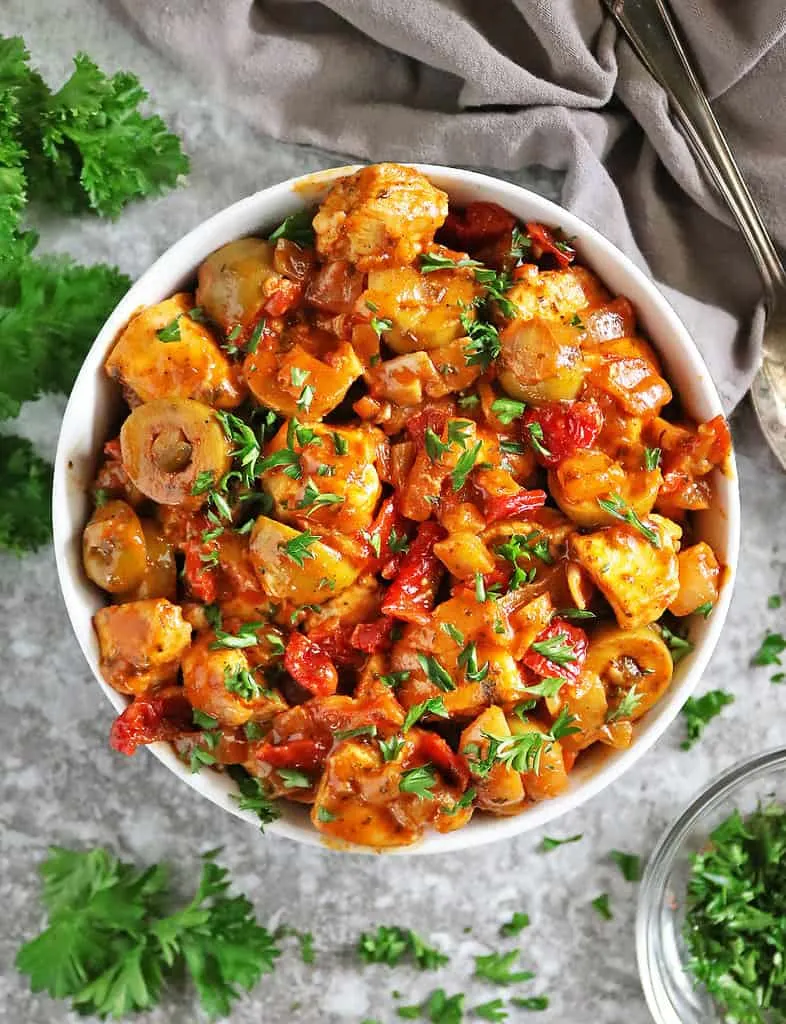 Thanks so much for stopping by. If you make this recipe, please let me know in the comments below what you think of it. For more fusion, spice-filled, recipe ideas, please subscribe and follow me on Instagram, Mastodon, and/or Pinterest!