This 3-ingredient, super Easy Garlic Asparagus Recipe with Maple and Chili makes eating-in so easy, no matter how busy life gets.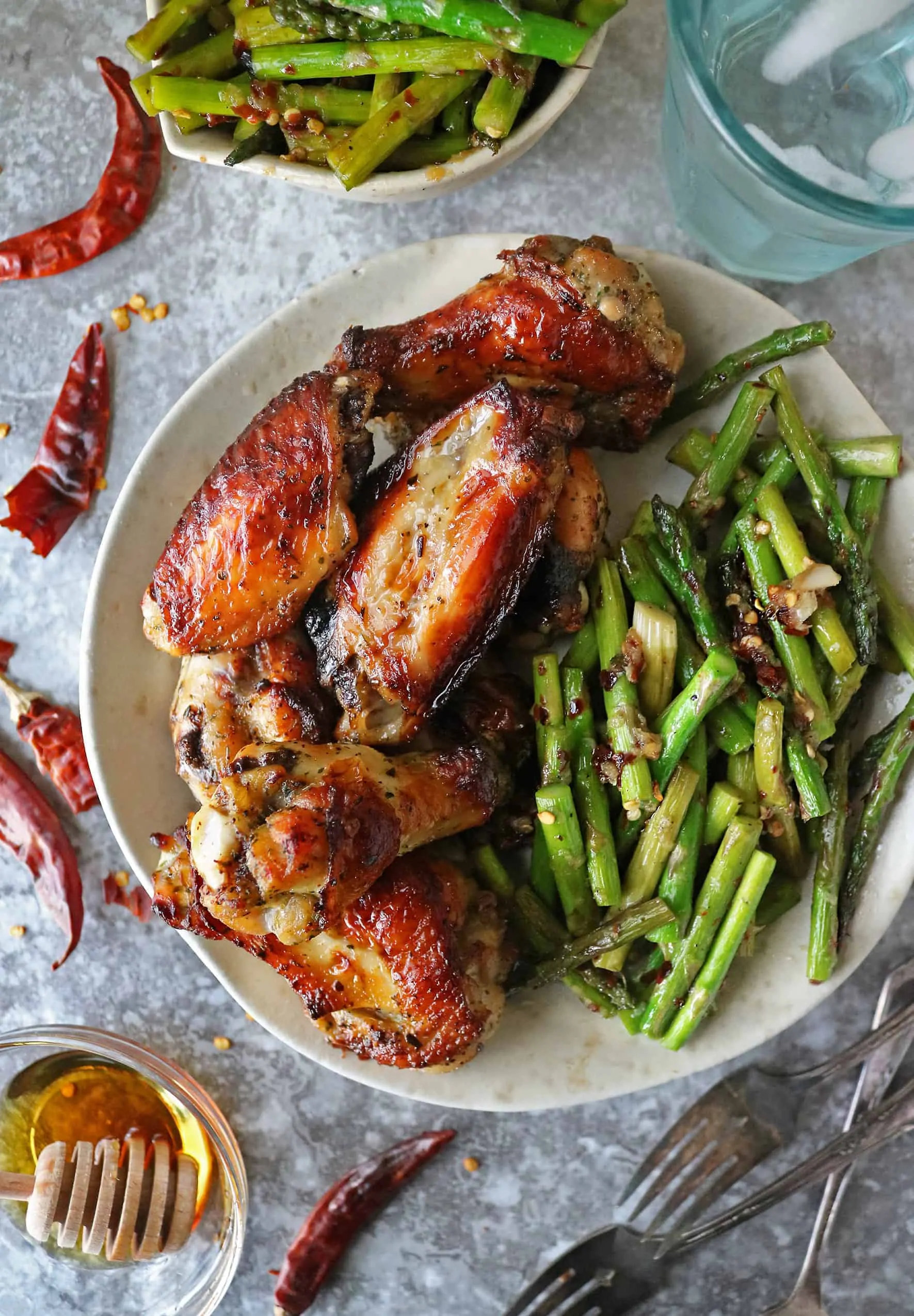 This recipe is an uncomplicated one – you probably have some chili, garlic and maple hanging out in your fridge, so grab those and a bunch of asparagus. And, with the help of one pan, you can have this dish on your table in less than 10 minutes.
How long do you pan cook asparagus?
Asparagus cooks quick. Super quick in fact.
In order to have crisp asparagus, you might want to keep a close eye on your clock and pan saute the asparagus with the garlic, maple syrup and chili flakes for no more than 3-4 minutes.
Any longer and the asparagus might be more limp than crisp.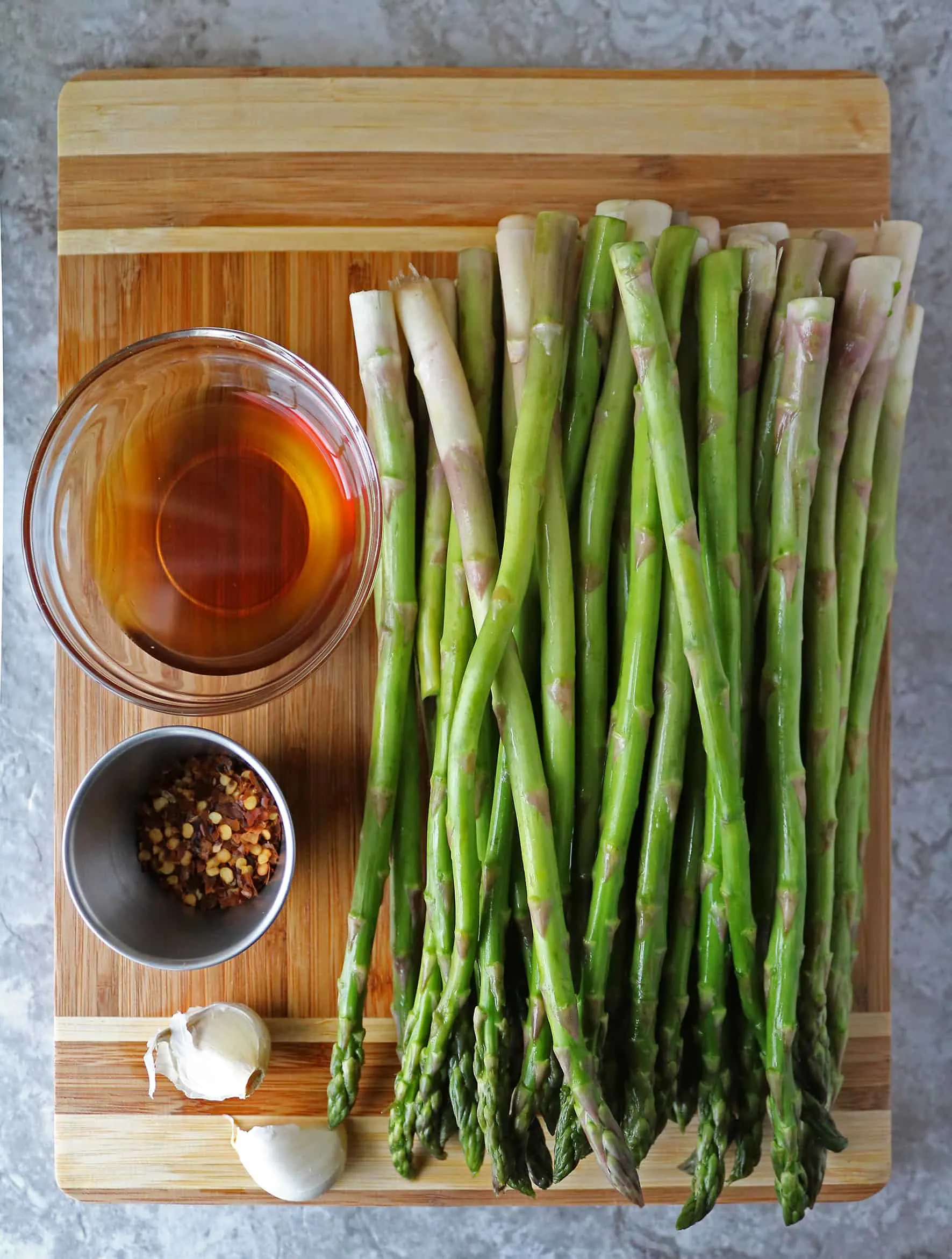 While the recipe I have below shows exact measurements, you don't have to stick to them.
If you would like to use less garlic, and less maple, go for it. Want to add more chili flakes (my hats off to you), then go ahead.
This Easy Garlic Asparagus Recipe with Maple and Chili is one of my favorite ways to enjoy asparagus, followed by this Sautéed Asparagus Egg Salad.
And they both pair so well with PERDUE® Herbed Olive Oil Seasoned Wings.
PERDUE® Herbed Olive Oil Seasoned Wings do not need to be thawed, they can be baked frozen, right out of the package, and are a tasty way to save tons of time during busy seasons. They are a tasty option no matter if you are preparing a meal for one, a meal for a family or a meal for a party.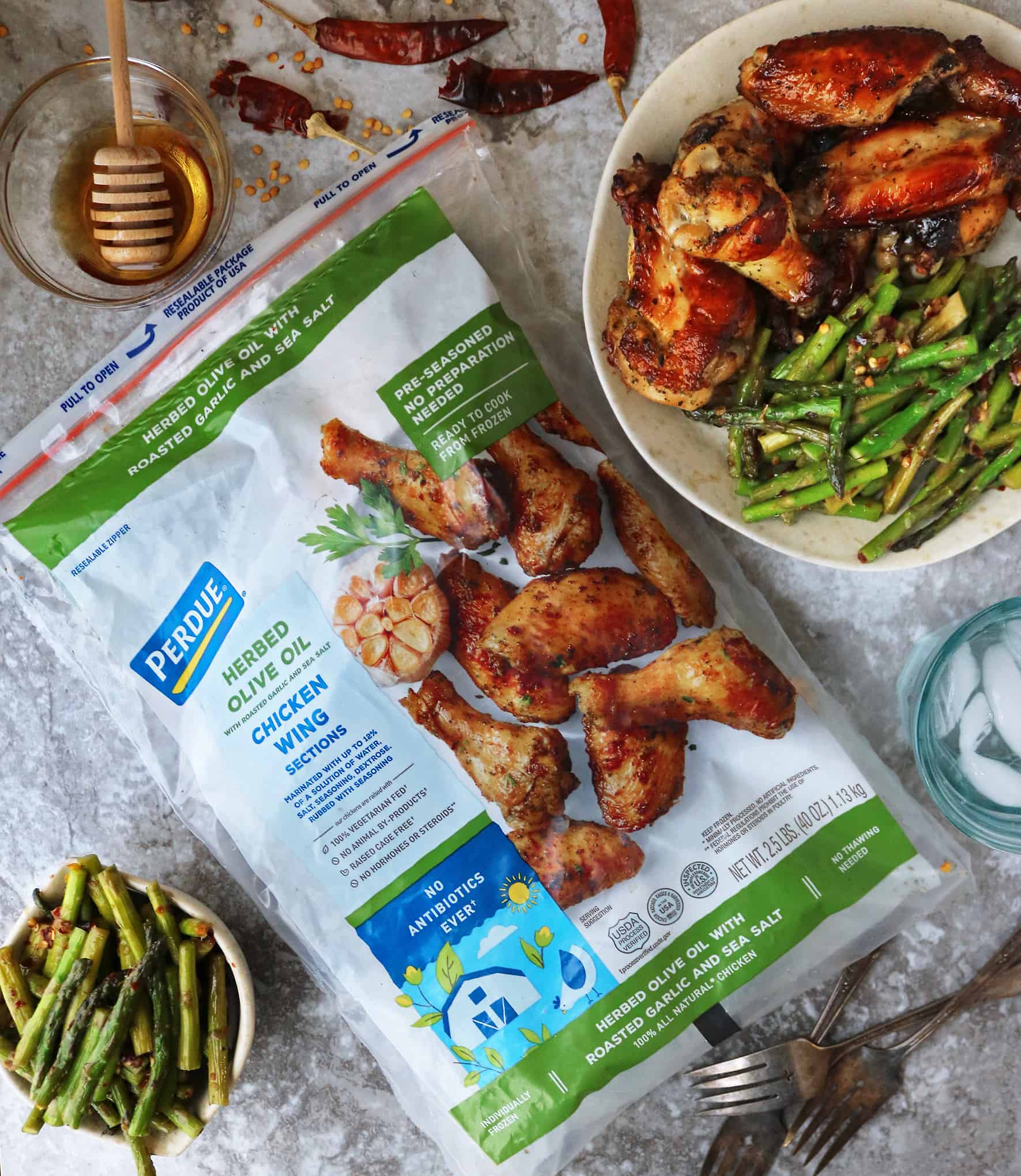 By the way, did you know that Perdue Farms is more than just Perdue chicken?
Over the last 10 years, Perdue Farms has transitioned from conventional chicken & turkey production to becoming the #1 supplier in the U.S. for Organic Chicken as well as a leader in premium Beef, Pork, Lamb, Pasture Raised, Grass-fed, Heritage Breed, Antibiotic Free (No Antibiotics Ever), Non-GMO, Ever, Certified Humane, GAP & more.*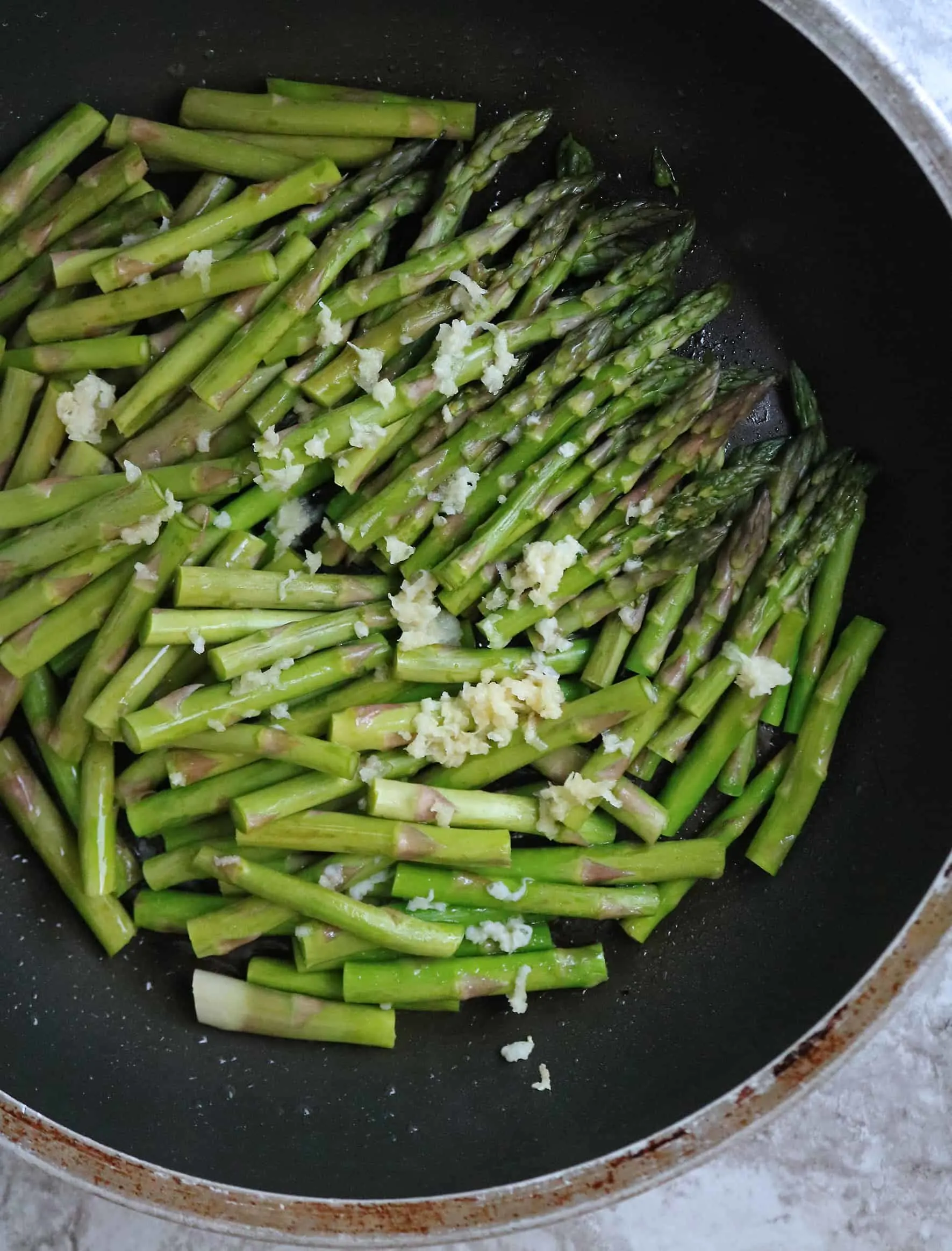 Perdue Farms has been around for almost 100 years.
In fact, Perdue Farms will be celebrating their 100-year anniversary in 2020. For these past 100 years, Purdue Farms has been working directly with small family farmers to raise animals with care and deliver premium proteins directly to your door.
Exciting News From Perdue Farms
And, now, Perdue Farms is on an exciting journey to becoming the most trusted name in premium proteins and is launching a direct-to-consumer website where you will be able to purchase products such as this bag of PERDUE® Herbed Olive Oil Seasoned Wings.
Also on the website will be premium protein products from brands including Niman Ranch, Coleman Natural, Perdue Chicken, Perdue Harvestland, Panorama Meats, Spot Farms, Full Moon and more.
DEAL ALERT
On your first order, you will receive
10% Off + FREE Perdue Harvestland Diced Chicken Breasts!
You can pick and choose any of the Perdue Farms products • If purchasing the curated bundles, you will save 25% • Also Enjoy FREE Shipping on orders about $119.00
Being thoughtful stewards of the environment and to lessen their carbon footprint, Perdue Farms is taking the following steps with every shipment:
• Make a donation to the Arbor Day Foundation.
• Design shipping boxes with sustainability in mind.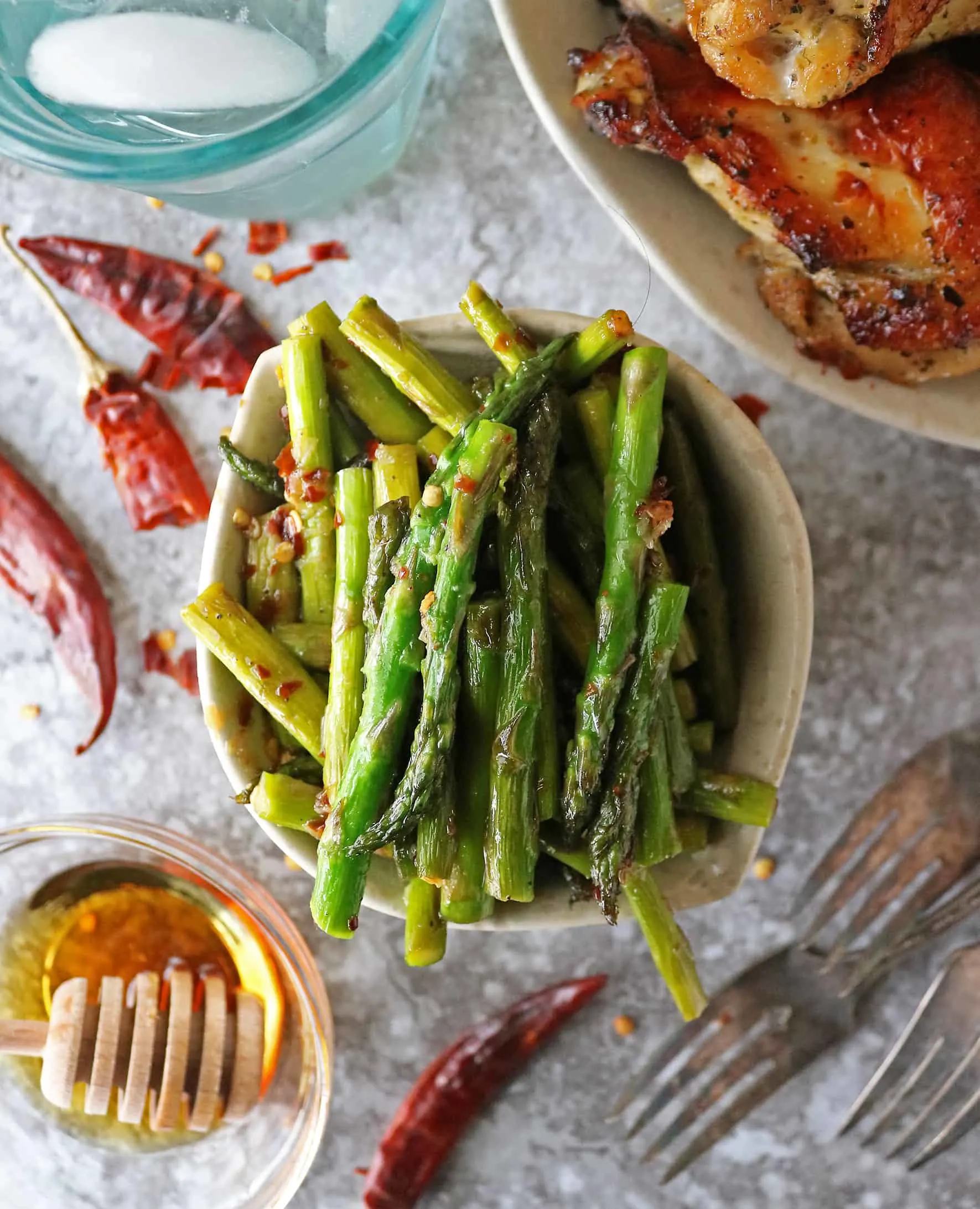 Every box will be made from 100 percent recyclable cardboard and insulated with Green Cell Foam®. Green Cell Foam® is eco-friendly packaging and is biodegradable, compostable, and made from high-grade non-GMO cornstarch that is dissolvable in water. A reusable and recyclable grocery bag and pollinator seed packet will be included in each shipment.
*Learn more about the progress Perdue Farms has made in the areas of food, environment, animal care, people, and community at perduefarms.com/responsibility.
You can also learn more about the direct-to-consumer initiative and place your first order at https://www.perduefarms.com.
Keep up with new products and initiative by Perdue Farms by following them on:
Facebook • Instagram • Twitter • Pinterest