These 7 ingredient Harissa Jackfruit Balls are spiced just right! Enjoy them as a tasty snack or smother them with some sauce and enjoy they as a plant-based meatball alternative with pasta.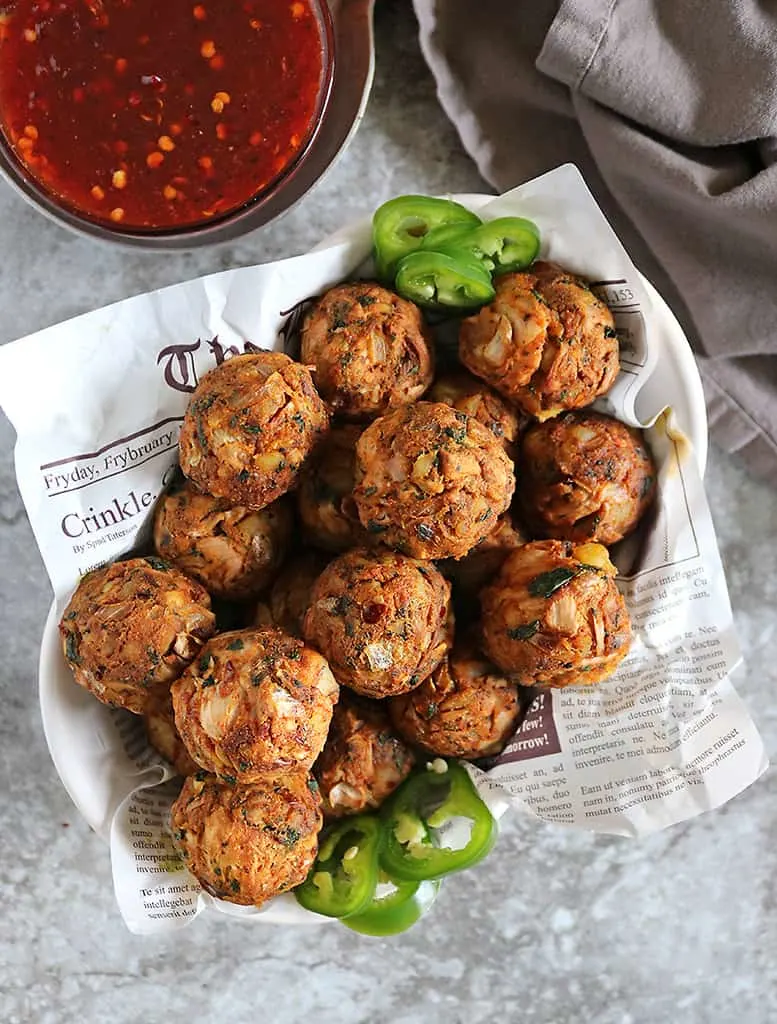 So far this year, I haven't been very successful at getting my hands on fresh jackfruit. I simply love munching on ripe and juicy jackfruit pods and using them in smoothies and popsicles.
Thankfully, the canned jackfruit supply has been plentiful! While canned jackfruit is good at absorbing the flavors it is introduced to, it isn't sweet like ripe, fresh jackfruit. As a result I rarely eat it raw or use it in smoothies.
I do, however, enjoy canned young jackfruit in curries, tacos, and cakes (like fish cakes), and now in these Harissa Jackfruit Balls.
My daughter and I love these jackfruit balls because they are:
☑️ so incredibly easy to make
☑️ so delicious
☑️ so versatile
☑️ are plant based
☑️ can be made with 7 pantry-staple ingredients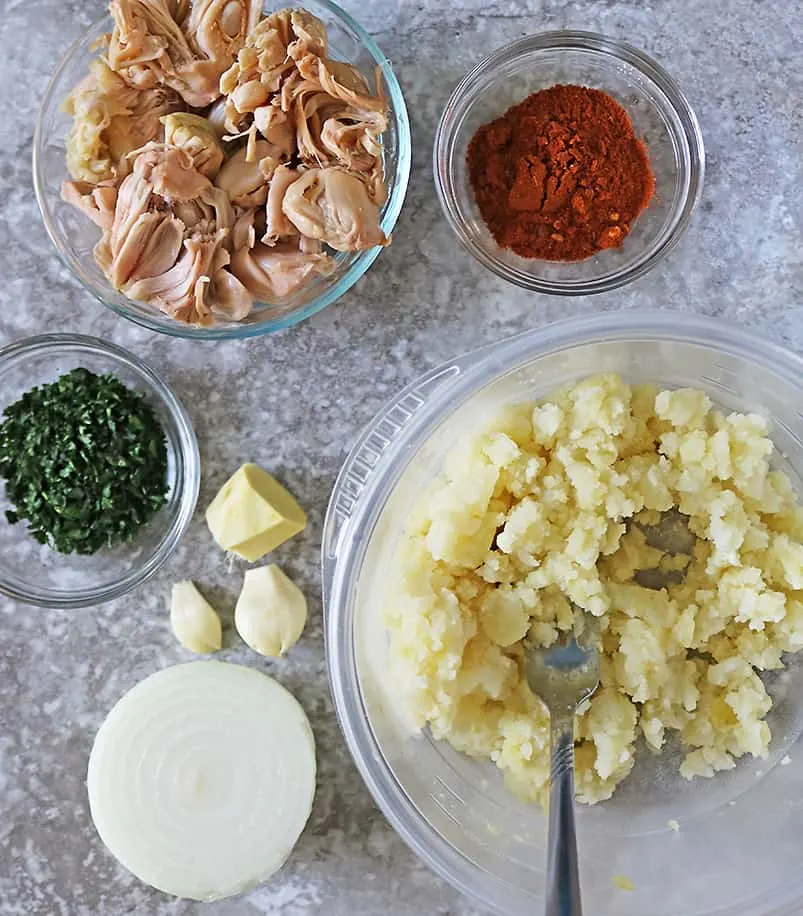 The 7 ingredients in these plant based balls (in order of usage) are:
Onion,
Ginger,
Garlic,
Potato,
Canned jackfruit,
Harissa, and
Cilantro.
Along with a smidge of oil to sauté the ingredients together and salt and pepper to taste.
If you would like to tone down the heat, then half or quarter the amount of harissa I use in this recipe. Instead of 4 teaspoons, use 2 or 1. But, do keep in mind that you would also be loosing a bit of the flavor that harissa lends to a dish.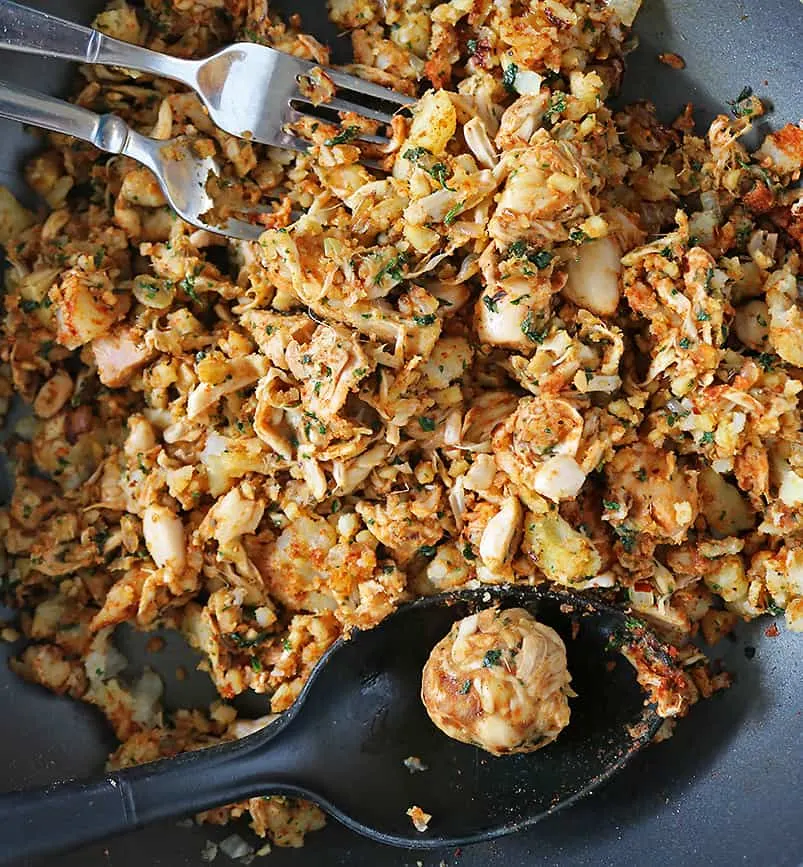 Harissa, a popular Tunisian spice, is usually a blend of other spices such as smoked paprika, cumin, coriander, garlic, onion, and spearmint in addition to chili powder. So, if you do choose to use 1 teaspoon of harissa, then add in at least 2 tsp of coriander, 2 tsp smoked paprika, and 1 tsp cumin. I've bought harissa from many different places and I must say, no 2 varieties of harissa are alike. But, no matter where it's from, harissa lends a deliciously smoky, almost lemony, flavor to these jackfruit balls.
If you boil, bake, or microwave your potato first, this recipe is a quick one. Simply sauté the onion a bit. Add in the ginger and garlic and sauté. Then mash the potato and drain the jackfruit and add them along with the harissa to the onion, garlic, ginger mix and sauté a bit. Let the mixture cool so it can be handled – and then merely form into balls, bake them, and enjoy!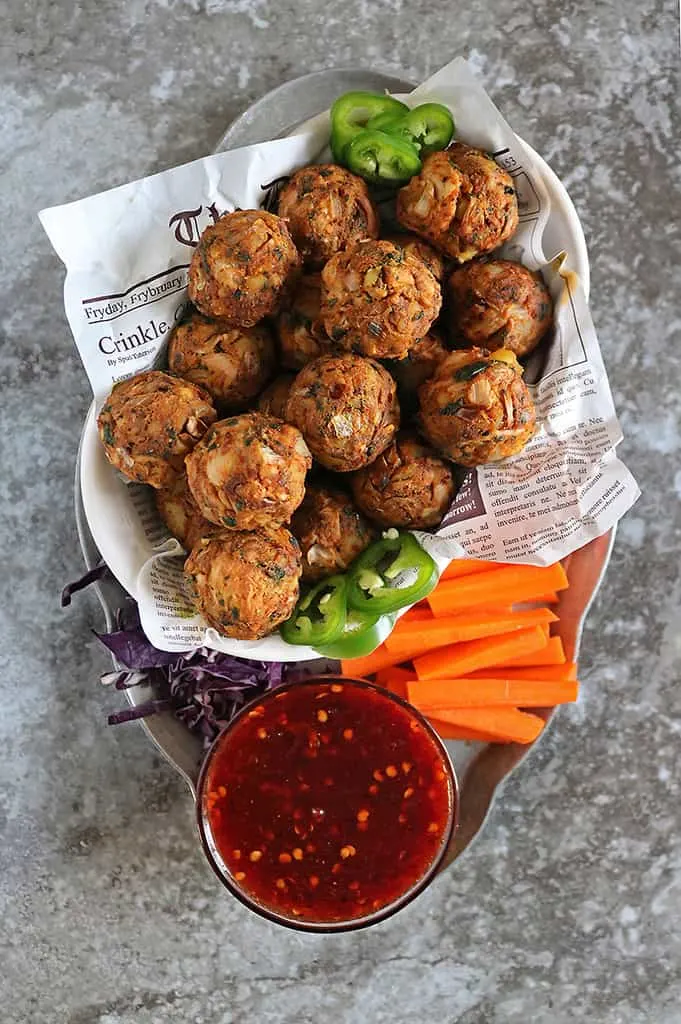 I've made these balls quite a few times. Most times, I also make some sweet chili sauce or some mango chutney. And we dip these jackfruit balls into them and enjoy them as a snack. The harissa in the jackfruit balls is complemented beautifully by the sweet and spicy flavors in both the sauce and chutney.
There have been a couple of times when we dunked these harissa jackfruit balls into a vat of creamy butternut squash sauce along with some pasta for an immensely enjoyable dinner!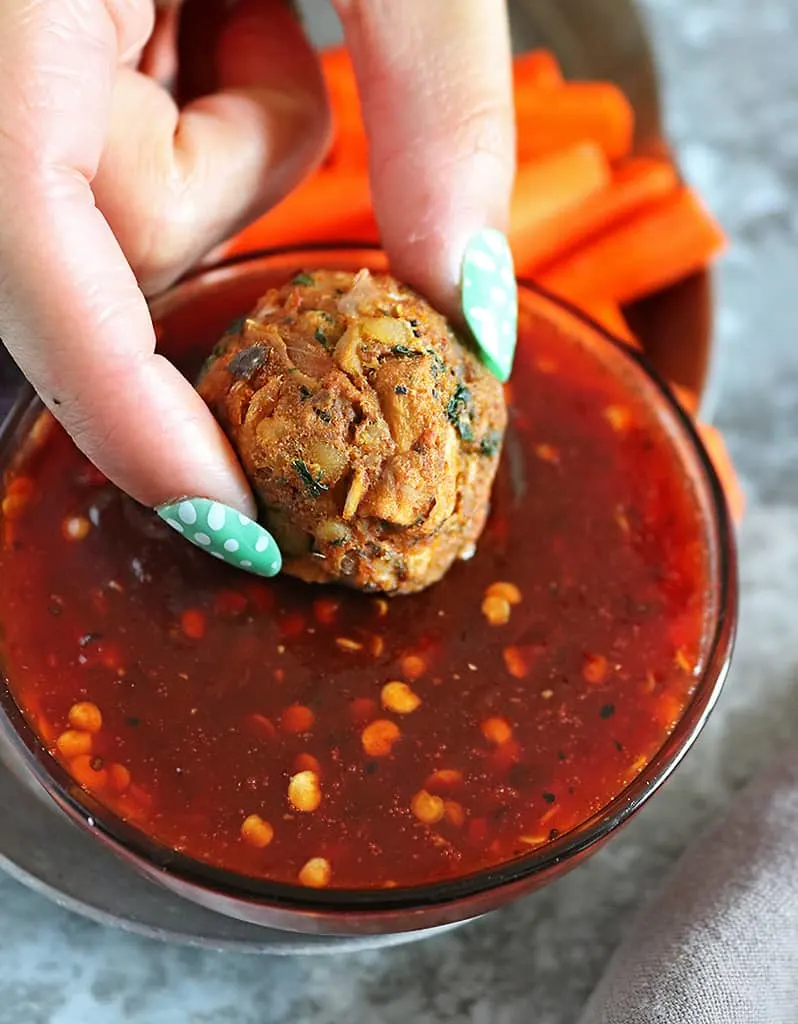 You can find canned jackfruit as well as harissa online at many retailers like Sprouts, Trader Joe's, and Walmart.
So, please do grab a can of young green jackfruit and some harissa and make these harissa jackfruit balls. Then come back and please do let me know your thoughts on these plant-based balls/ meatless balls.