This Easy Homemade Mincemeat recipe is a vegetarian version made with a variety of fresh, dried, and candied fruits, coconut oil, brown sugar, brandy, citrus zest and juice, and ground spices.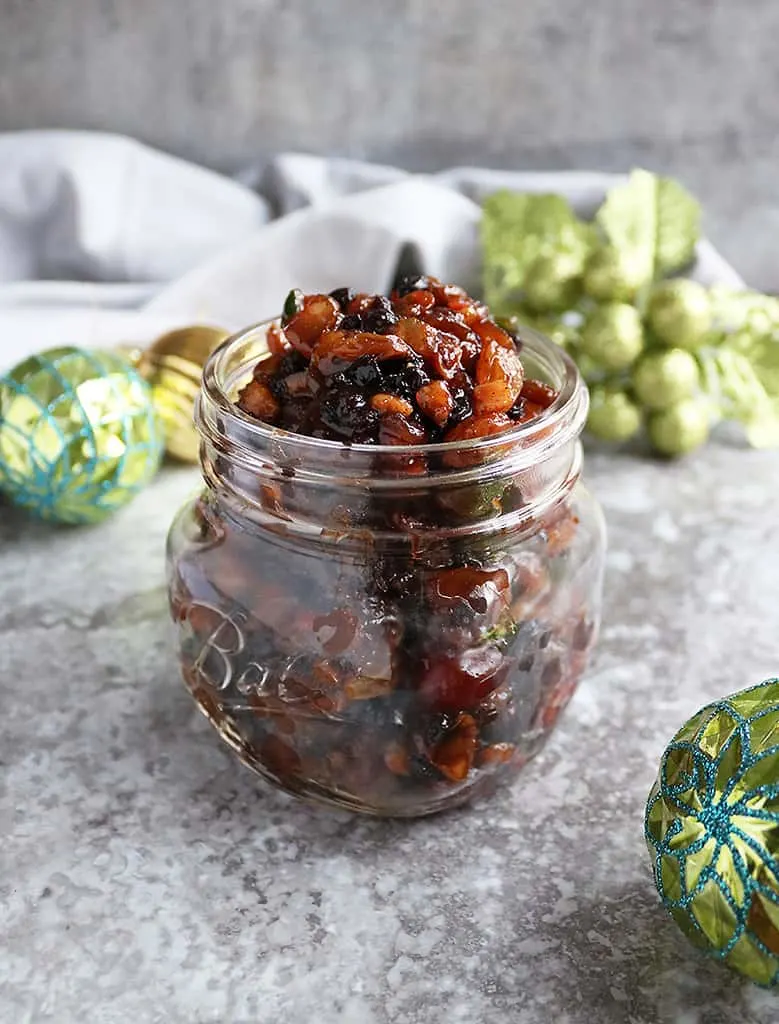 When my sister and I were younger, Christmas meant midnight mass, a sparkly Christmas tree, my mom's Sri Lankan Christmas Cake, and Mincemeat Pies. Since those latter treats only made an appearance during Christmas, they were so coveted. I might have hidden 1 (or 3) just so I had more to enjoy.
The mincemeat my mom and dad used to make those mincemeat pies with were of the brandy-soaked fruit and nut variety.
On Christmas eve, we got to have one small mincemeat pie and a slice of Christmas cake for dessert. Then, on Christmas day, we got to have them for dessert after a breakfast of kiribath (milk rice).
As with many traditional recipes, mincemeat pies are steeped with tradition and history.
When mincemeat pies made their debut in the middle ages, they were not intended for dessert. They began as large meat pies that were made with a combination of minced meat (such as mutton, beef, rabbit, or pork), chopped up fruit, and a preserving liquid.
Today's mincemeat pies have steered toward the sweet side of their early beginnings. With mincemeat today consisting mostly of dried and candied fruits, apples, spices, brandy and/or rum, and suet.
As I incorporated the tradition of mincemeat pies into Christmas with my daughter, I often turned to doctoring up store-bought mincemeat for our mincemeat pies ~ as I did when I made these mincemeat pies.
However, this year I decided I would try my hand at making my own. After a couple of attempts, I ended up with a vegetarian mincemeat recipe that is a lot tastier and more flavorful than store-bought mincemeat.
This mincemeat is so delicious I had to hide it from my daughter because she kept eating spoonfuls of it every time she walked by it.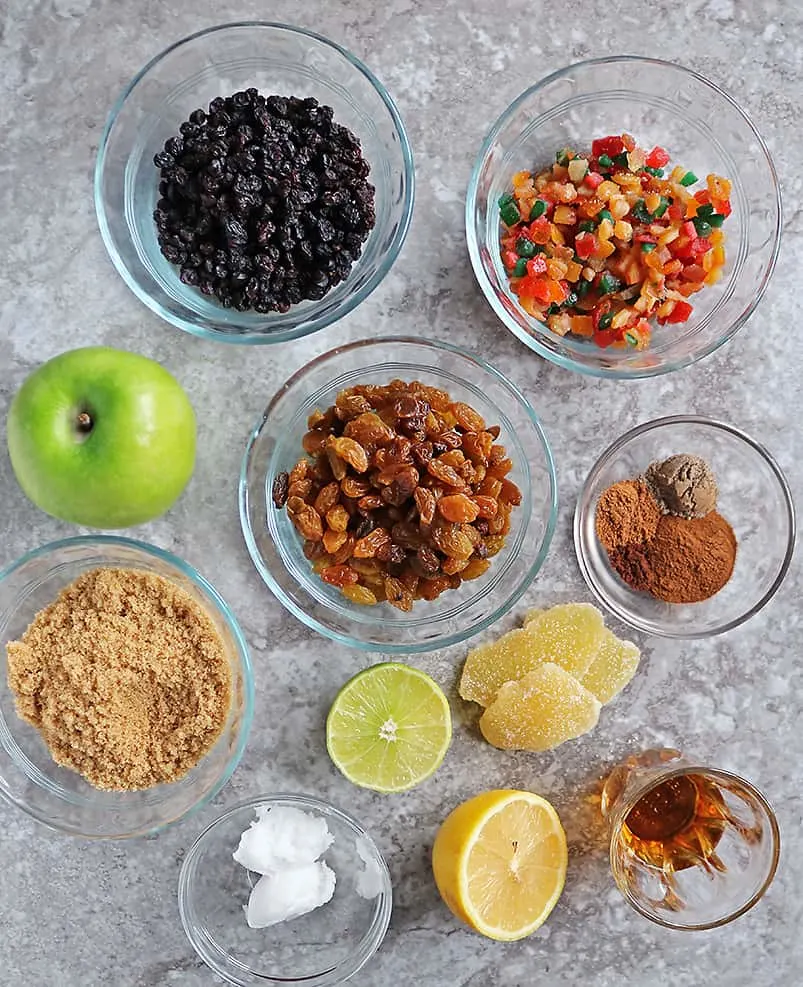 What are the ingredients in this vegetarian mincemeat recipe?
The ingredients I used in this mincemeat recipe are:
currants
golden raisins
candied mixed peel
candied ginger
apple
brown sugar
lemon zest and juice
lime zest and juice
cinnamon
cloves
cardamom
nutmeg
coconut butter, and
brandy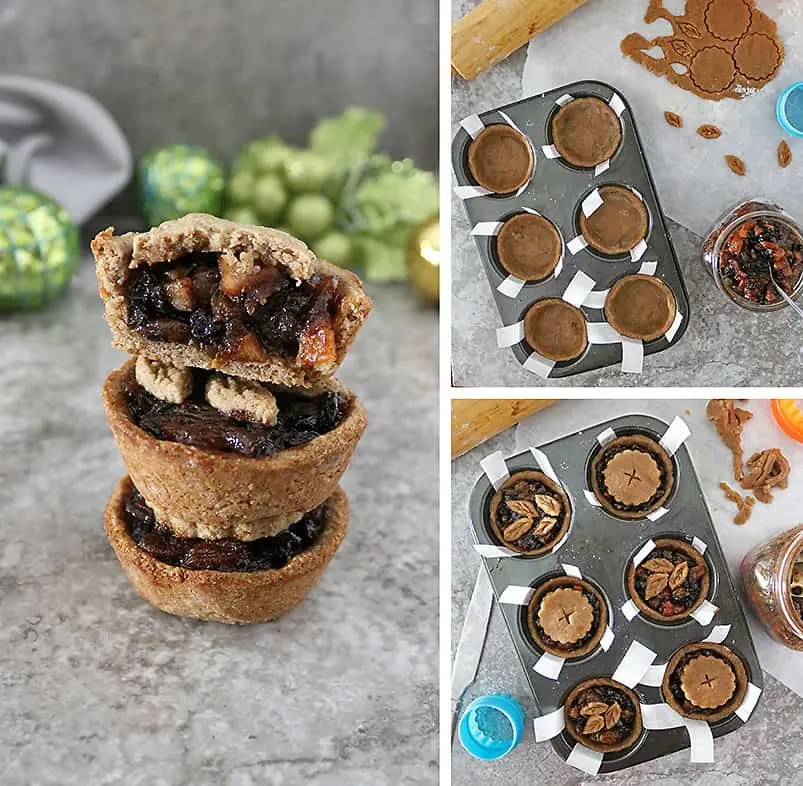 This easy homemade mincemeat recipe involves slowly cooking the apples, dried fruits, spices, some of the brandy, and citrus juices together. Doing so plumps up the dried currants and raisins and helps in the absorption of all the juices and spices. Flavors are so much more intensified this way – and your kitchen smells like Christmas!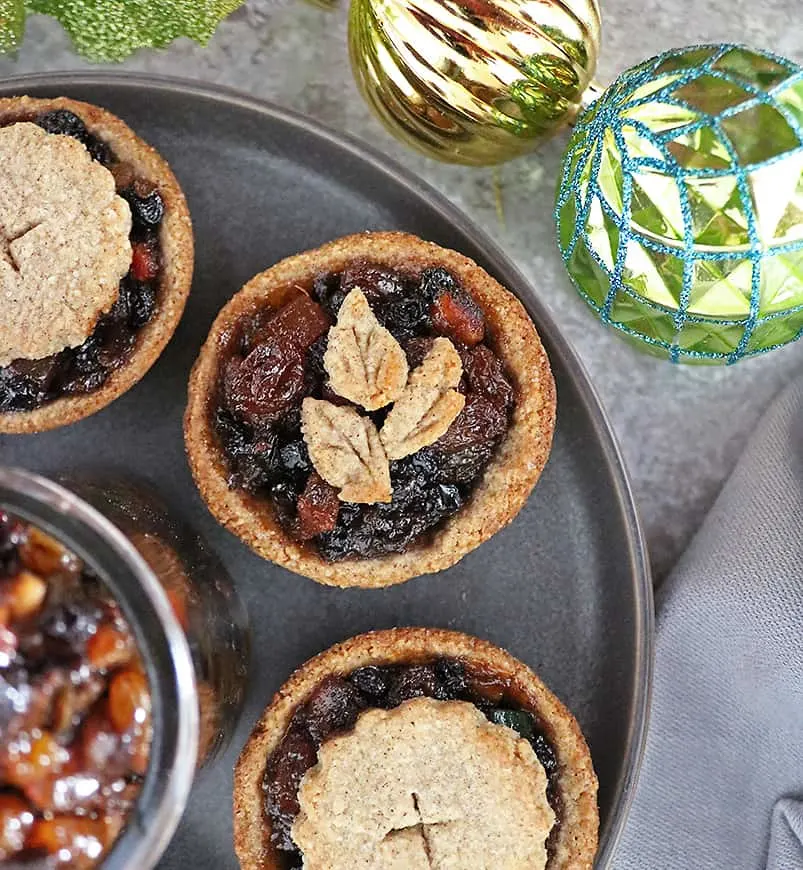 After that, the rest of the brandy is added in and the mixture is packed away in air-tight glass jars. As this mincemeat ages, it only gets better.
We love this mincemeat recipe because it:
• Is so flavorful,
• Smells heavenly,
• Is vegetarian,
• And, is gluten free!
After you make the mincemeat, you can use it to make mincemeat pies like the ones you see here. I used the same pie crust I used to make these custard pies, except I added in a pinch more cinnamon to it.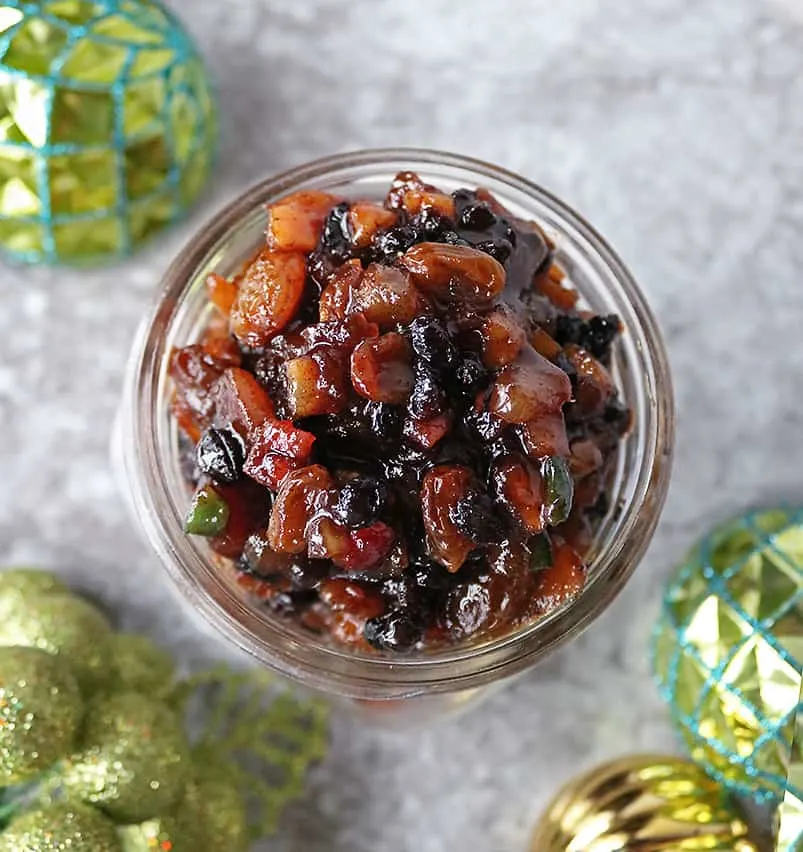 However, if you are not using it immediately, you can refrigerate this mincemeat for up to a month. You can add a bit of mincemeat to muffin recipes or quick breads or even enjoy it with some brie and salty crackers.