Za'atar flavored roasted veggies are piled onto deliciously crunchy crackers, along with some apple chutney and cheese for a snack your whole family is sure to love.
This shop has been compensated by Inmar Intelligence and its advertiser. All opinions are mine alone. #MasterOfCrunch #Charcuterie
Za'atar Roasted Veggie Appetizers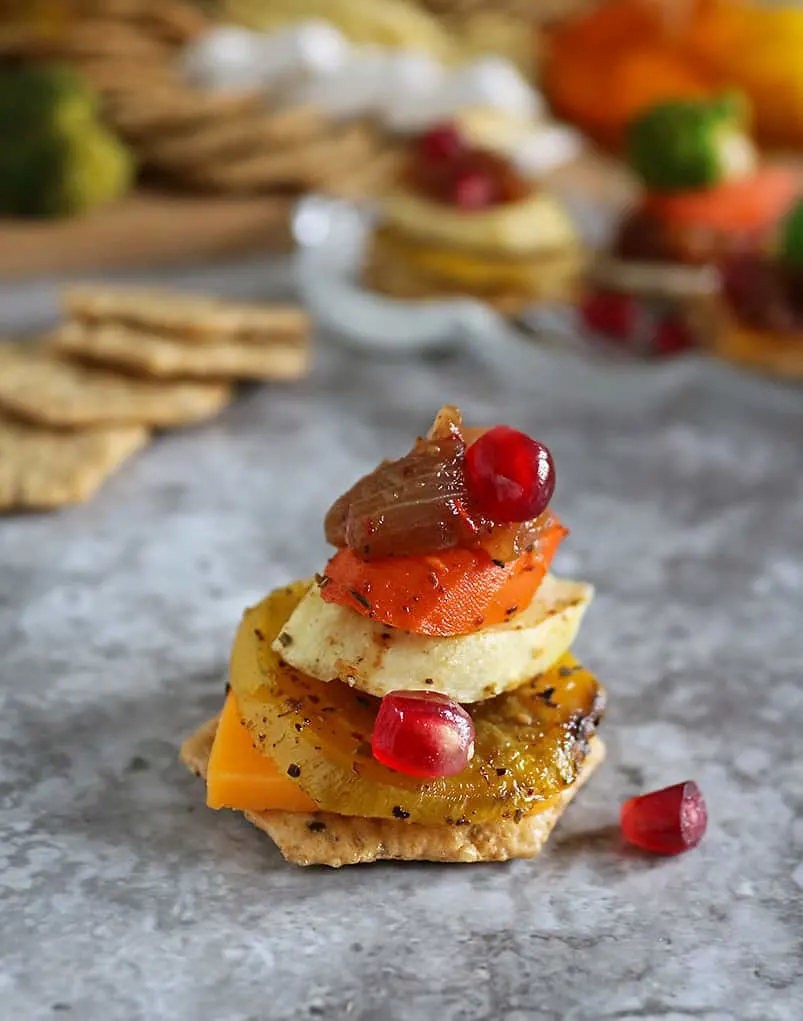 Every New Year's Eve my daughter and I have a little tradition. We set out two snack platters. One, holding a variety of cookies and cake slices, and another loaded with crackers, veggies of some sort, a few kinds of cheese, some nuts, and a chutney or two.
I usually try to keep the savory platter on the nutritious side so as to balance off the dessert platter. One of the ways I do this is by making my own crackers. But, sometimes, life gets in the way and a huge cracker baking session isn't in the cards.
This year is one of those years.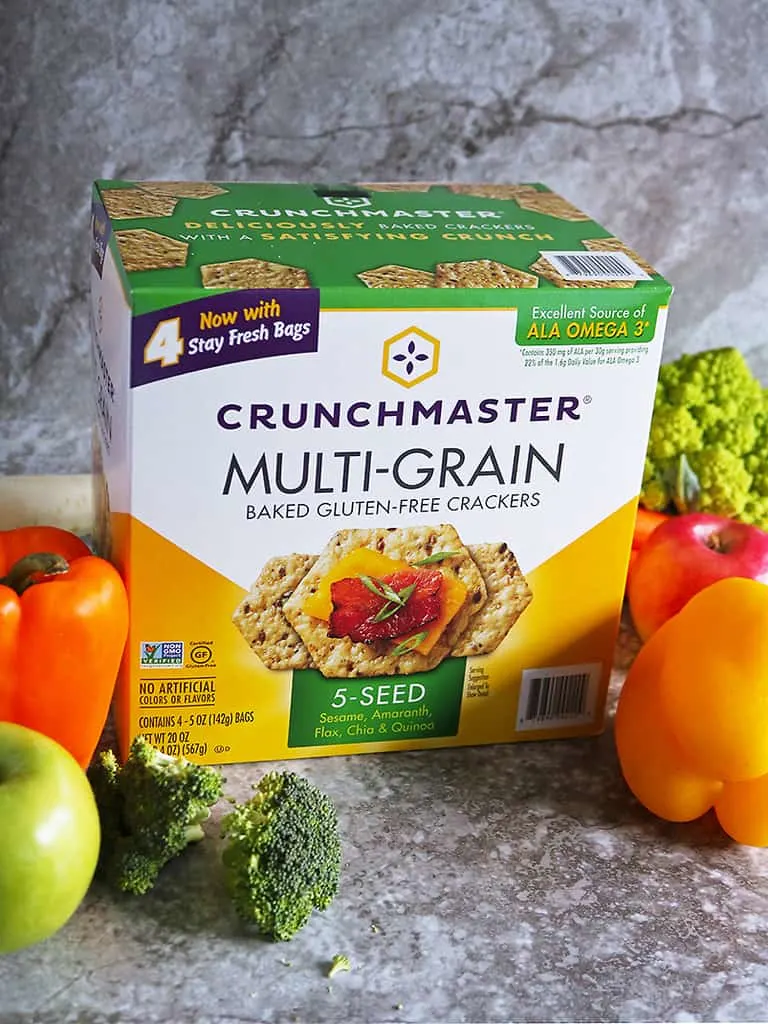 So, I'm delighted to have stumbled on Crunchmaster® Multi-Grain 5-Seed crackers on a recent shopping excursion to Sam's Club. Check out this link for how you can save $1.00 on any ONE (1) Crunchmaster® product!
These Crunchmaster® Multi-Grain 5-Seed crackers have some seriously delicious crunch. I initially bought them for a few little celebrations we have coming up in December.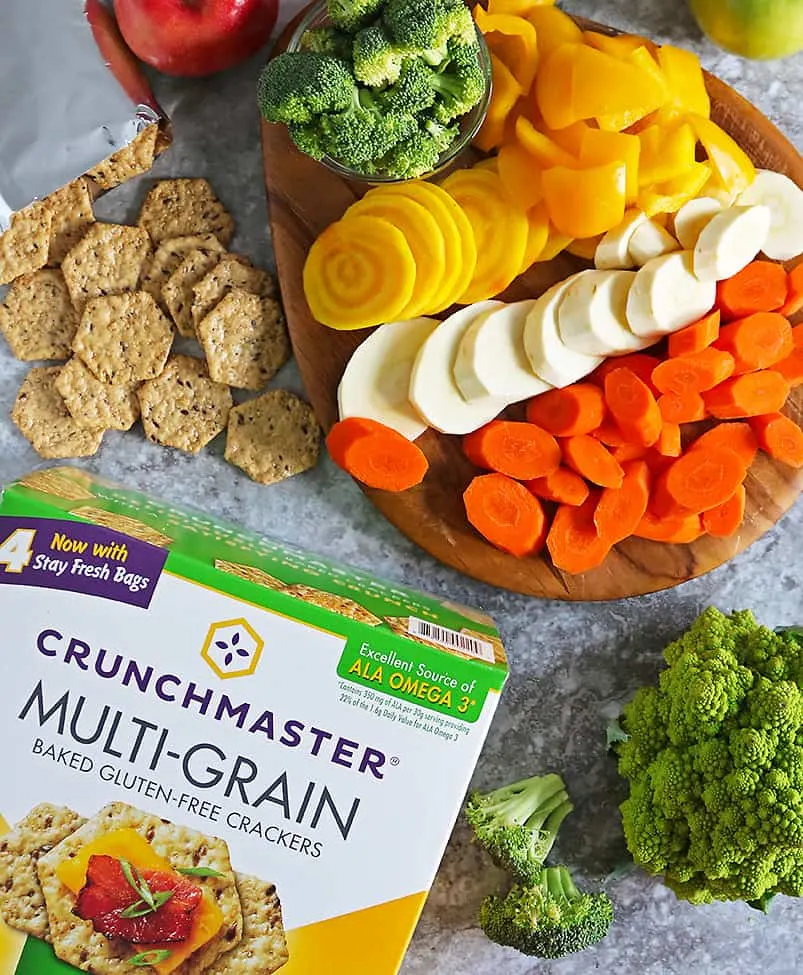 My daughter graduates from college this month – in two weeks to be exact. Well, the night she graduated I was going to set out a snack platter. Then again for Christmas eve and for our traditional New Year's Eve shenanigans, I was going to incorporate Crunchmaster® snacks into snacking platters.
But, I don't think I can set these aside until then. These Crunchmaster® Multi-Grain 5-Seed crackers help me snack smarter while I work from home.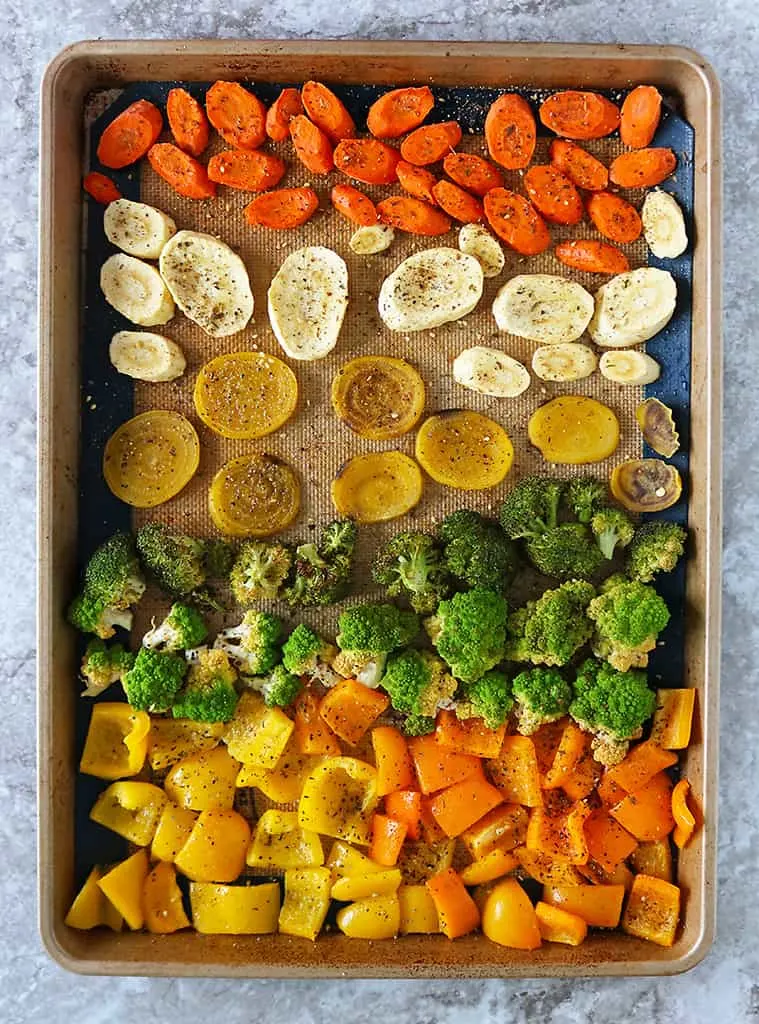 Crunchmaster® crackers are downright delicious, super crunchy, and gluten-free.
Made with rice, quinoa, and flax, they are gluten-free fuel for healthy living!
Crunchmaster® offers a variety of wholesome snacks such as Protein Brownie Thins, Protein Snack Crackers, Multi-Seed, Grain-Free, and Tuscan Peasant crackers in addition to Crunchmaster® Multi-Grain 5-Seed crackers. Fusing the traditions of the East with savory flavors of the West, Crunchmaster® snacks are geared to curb cravings and pair with any meal plan.
And, from now through 12/31/20 (or while supplies last), you can save $1.25 on any ONE crunchy Crunchmaster® product at Sam's Club!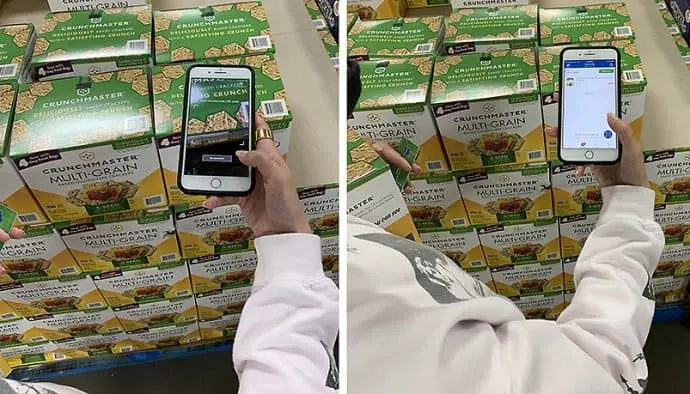 By the way, have you shopped at Sam's Club recently? This was our first time going into a Sam's Club and my daughter was delighted to learn about their app. Using the Sam's Club app, she got to scan the codes on items we purchased. She paid for the items through the app. And, when the transaction was completed, she was given a QR code that she showed the Sam's Club employees on our way out.
No standing in line. No touching payment consoles. Just scan, pay, and go!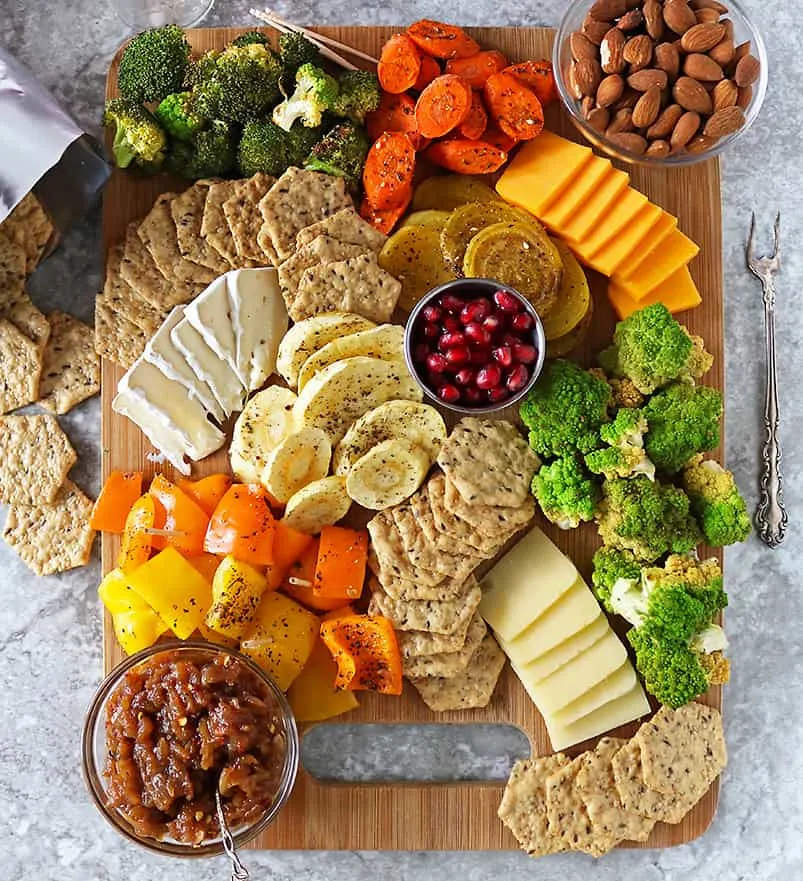 Now, getting back to our latest snacking sensation: Crunchmaster® Multi-Grain 5-Seed crackers. When we brought these home, I set them out on a snack platter along with some Za'atar roasted veggies, some apple chutney, some brie, some swiss cheese and cheddar cheese, and pomegranate arils.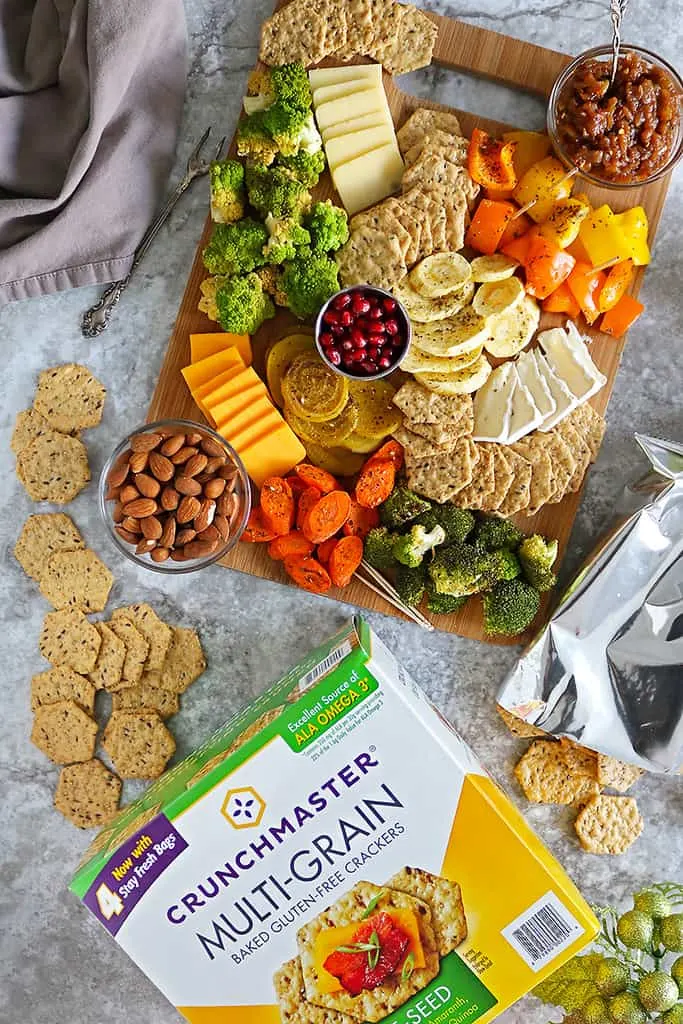 Za'atar is a herb and spice blend that usually consists of dried oregano, thyme, marjoram, sumac, and toasted sesame seeds. There are other ingredients added in depending on what part of the Middle East it is from.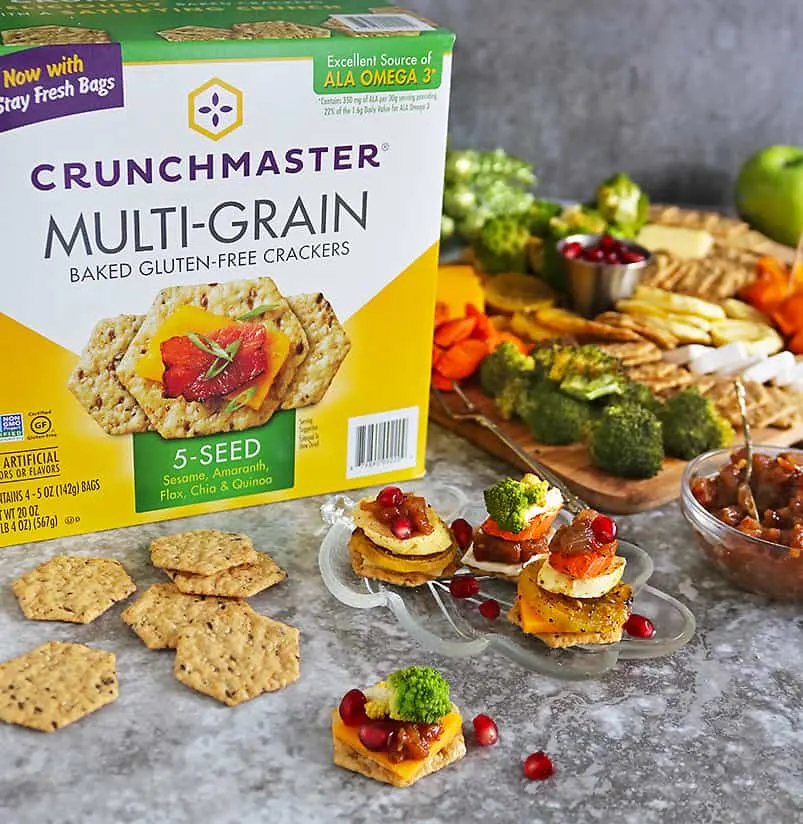 In our home, it adds so much flavor to roti, pasta, and simple roasted veggies. When these za'atar roasted veggies are paired with some spicy and tangy apple chutney, a slice of cheese, a couple of pomegranate arils, sitting on a Crunchmaster® Multi-Grain 5-Seed cracker, it is a combination that is delightfully delicious!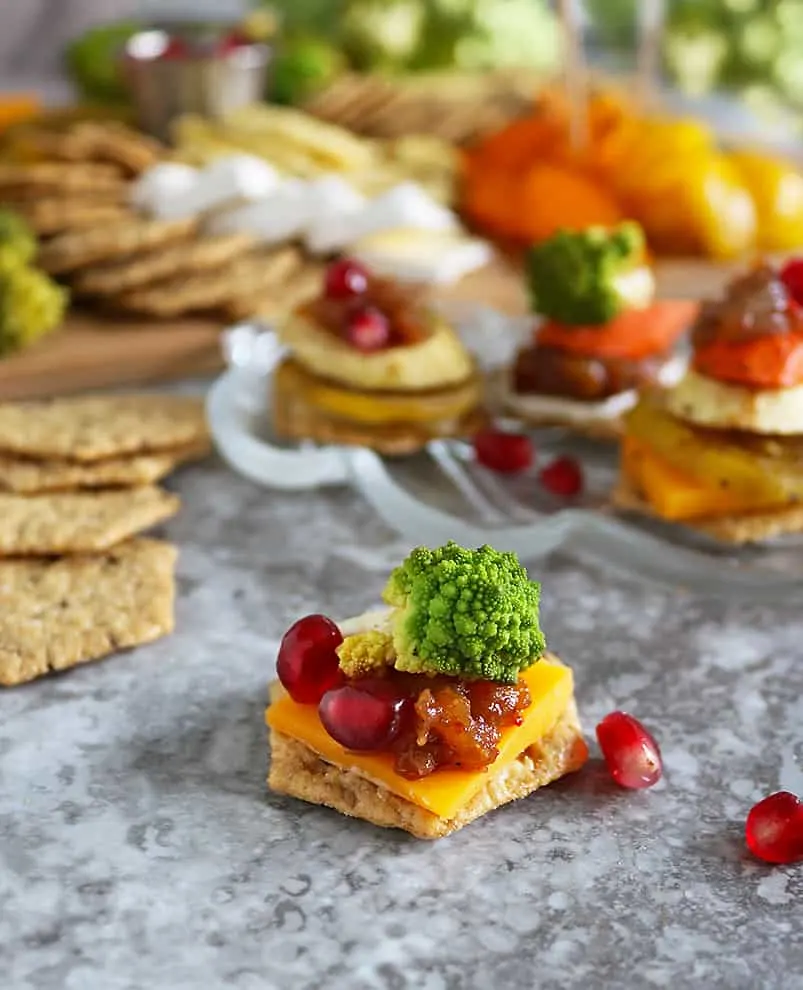 Crunchmaster® Multi-Grain 5-Seed crackers are some of my favorite snacking crackers, and my daughter loves Crunchmaster® Multi-Seed Roasted Garlic crackers ~ pick your favorite here.