A simple and delicious Sautéed Kale And Chickpea Salad that can be enjoyed two ways – yes, you are starting to love leftovers now – right? 🙂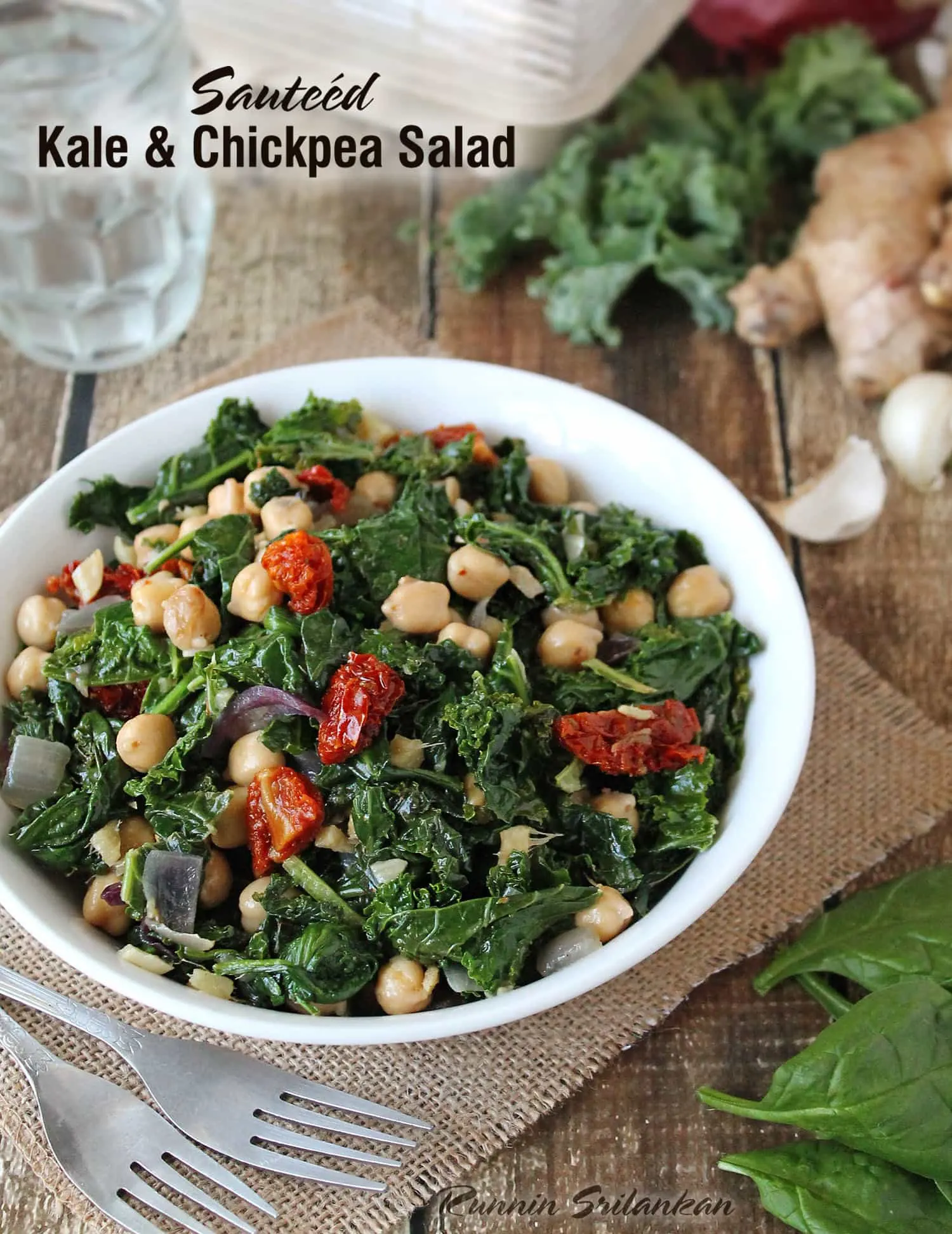 Last year when just about everyone was challenging each other to the Ice Bucket challenge, my dentist challenged me to eat out more in Atlanta and to #HeatAndEat less!
You see, my dentist loves to talk food – just like I do. However, he loves to talk about the food he and his wife eat at restaurants, while I love to talk about the food I cook up at home for my daughter and I.
So, he felt the need to challenge me to try a new restaurant, at least every 6 months. Well, my six months are almost up and I have been gormandizing on this sautéed kale and chickpea salad instead.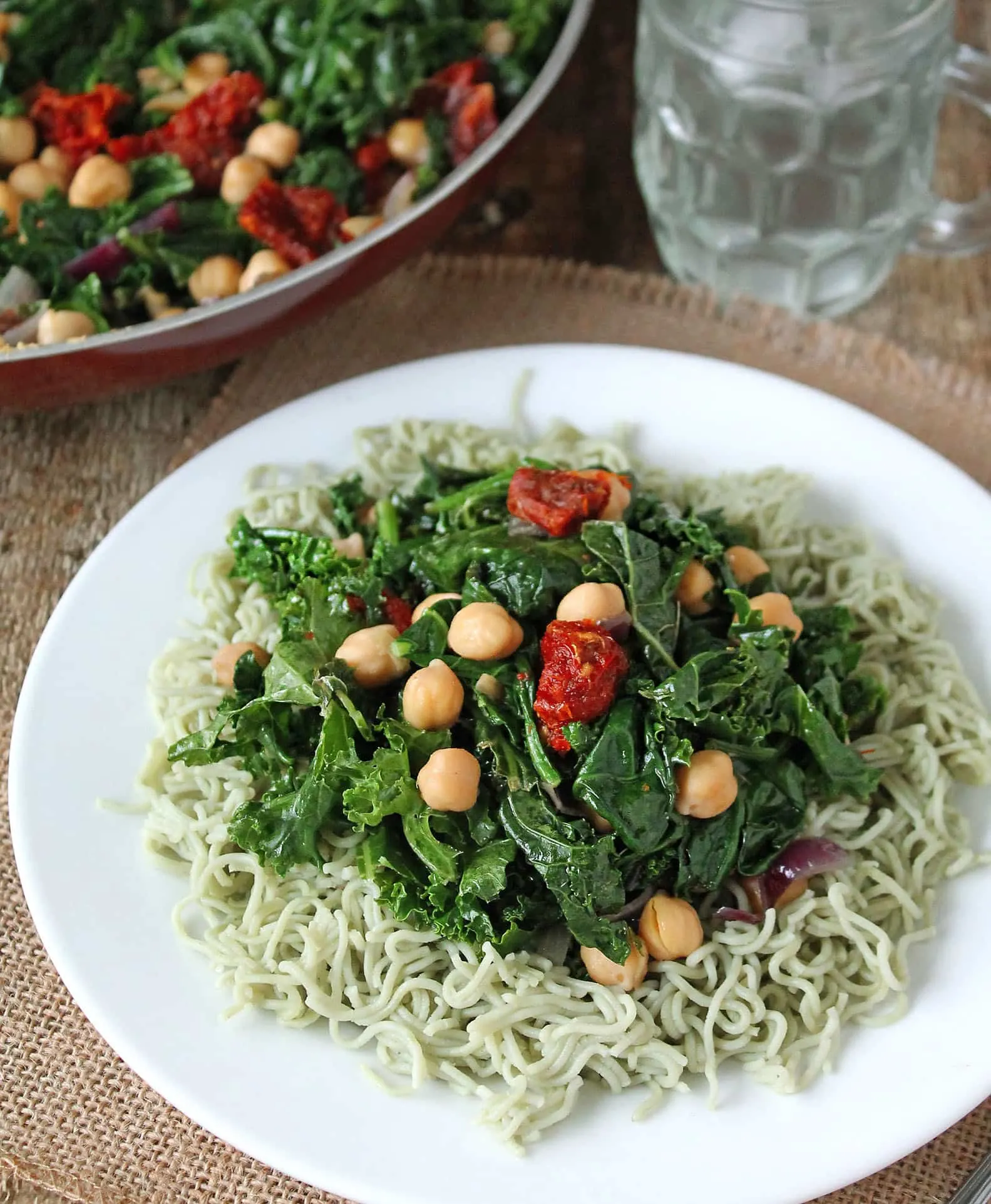 Now, when I am out of the Atlanta Metro Area, I am all about eating out; heck, when I drive south 3 hours to Savannah I'm eating out all day. But, while I am close to my stove and oven, I'd much rather cook up a big batch of something my daughter and I love and reheat it for lunches and dinners throughout the week.
I have been having a hard time letting go of summer, so I am still eating salads – only they are warm! Sometimes, I throw in chicken or fish or bacon, sometimes it's just a bunch of veggies – either way, it's a whole lot of deliciousness!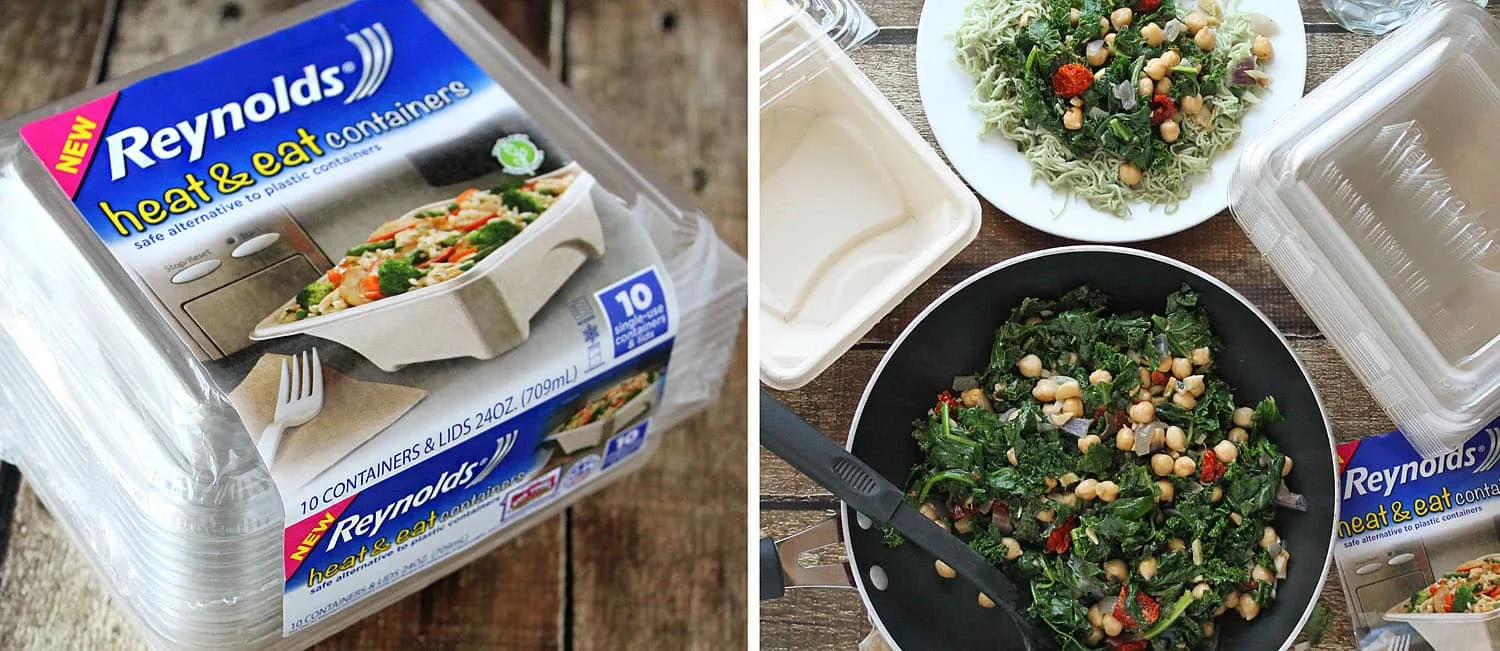 There's a Target across the street from my day job so, very often when I run in to pick up dinner supplies, I grab a coffee and sit in their little restaurant and eat my lunch too. The one inconvenience about eating my lunch there was having to haul back my dirty lunch container.
However, when I was at Target recently, I came across Reynolds™ heat & eat disposable containers and decided to bring a pack home. These single use Reynolds™ heat & eat disposable containers are ideal for re-heating leftovers in the microwave and are a safe alternative to plastic containers. Reynolds™ containers happen to be heat/leak/stain/odor resistant as well as lightweight and totally recyclable. Reynolds™ containers also come with a BPA-free, recyclable plastic lid that snaps shut to help prevent messy leaks (should be removed while microwaving).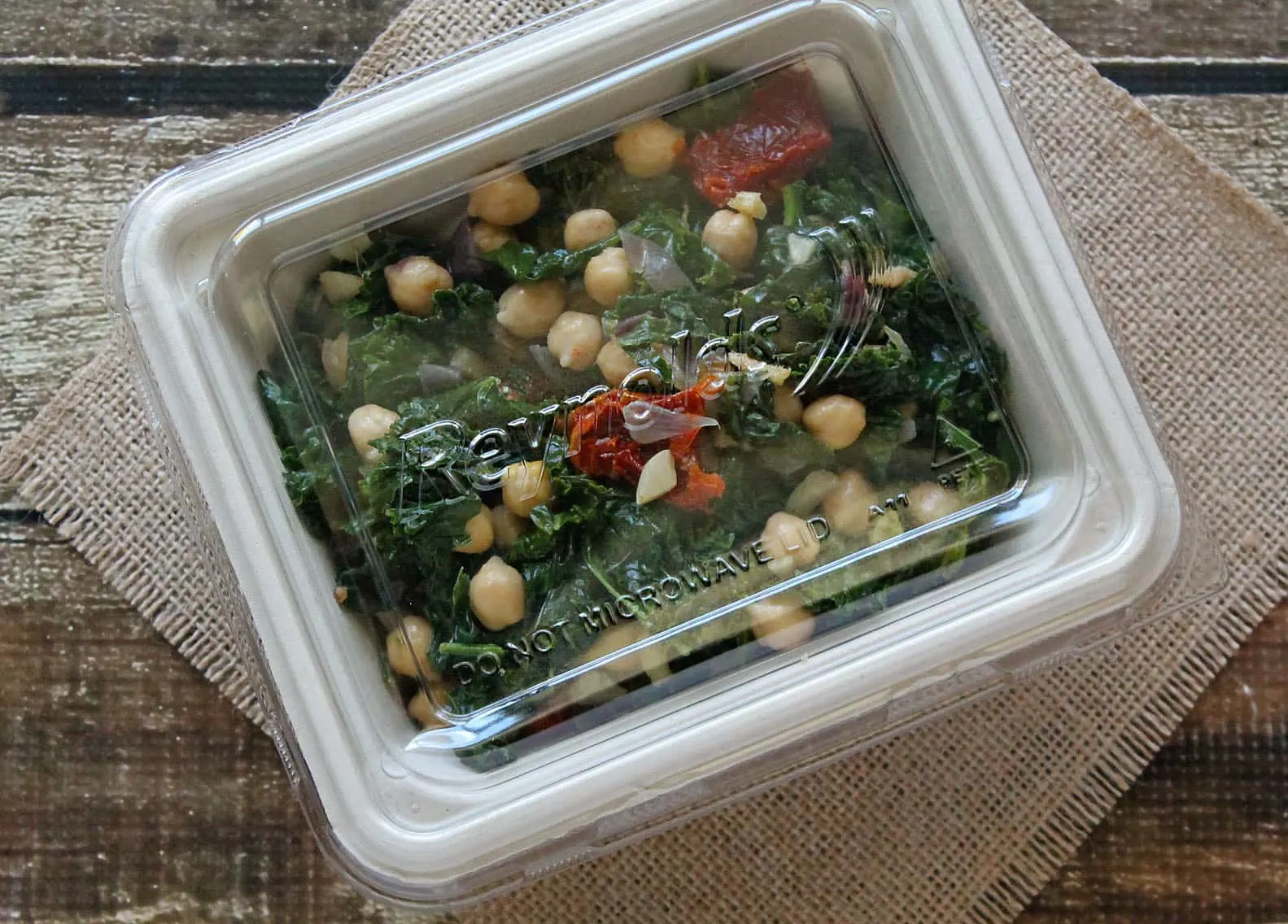 6 ingredient Sautéed Kale & Chickpea Salad
2 ways!
• I started by sautéing 1 chopped onion, 4 chopped cloves of garlic and a chopped 2 inch piece of ginger together in about 2 tablespoons of extra virgin olive oil
• After about 10 minutes, I added in 5 cups of kale (hard stem removed) and 3 cups of spinach and a quarter cup of sundried tomatoes (not the dried kind) and stirred everything up well.
• When the kale and lettuce begin to wilt, I seasoned with a tad bit of salt and pepper
For dinner, we enjoyed this sautéed salad with some gluten-free rice ramen noodles.
And for lunch the next day, I packed a couple of Reynolds™ containers with the sautéed salad for my daughter and I. The next day, I reheated the Reynolds™ containers for about 2 minutes in the microwave -without the lid on. Then I enjoyed my salad topped with some diced avocado, a diced boiled egg, and chili flakes.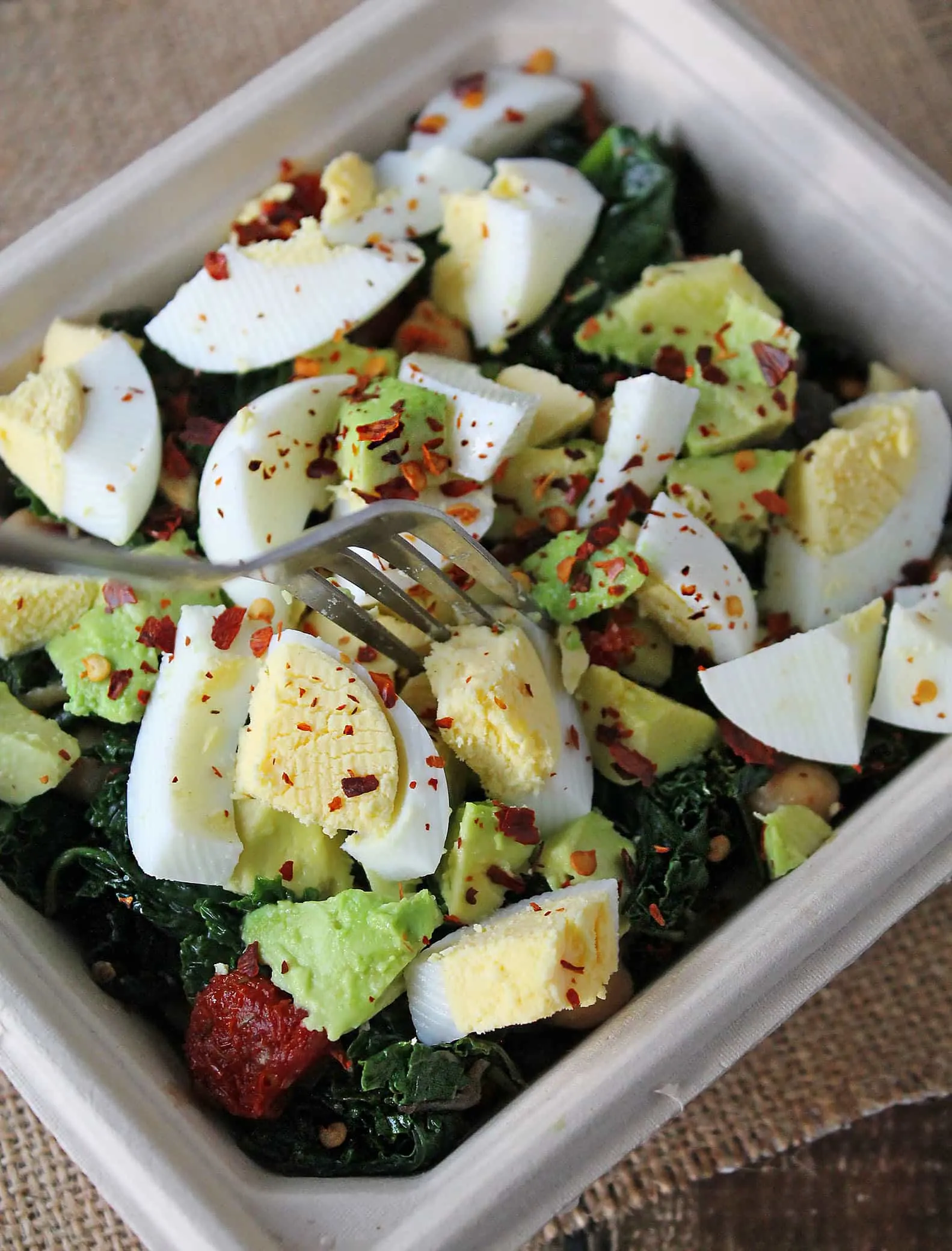 I'm thinking I need to pack up a Reynolds™ container with some of this salad and challenge my dentist to #HeatAndEat more! What do you think?
Are you a fan of leftovers? What's one meal that you were happy to be gormandizing on the leftovers for days!
Want more lunch leftover recipe ideas? Then please check out Reynolds™ recipes!