This Slow Cooker Three Bean Stew is one heck of a hearty stew with clean-out-your-pantry ingredients like canned tomatoes and canned beans uniting in a spice and cocoa flavored broth!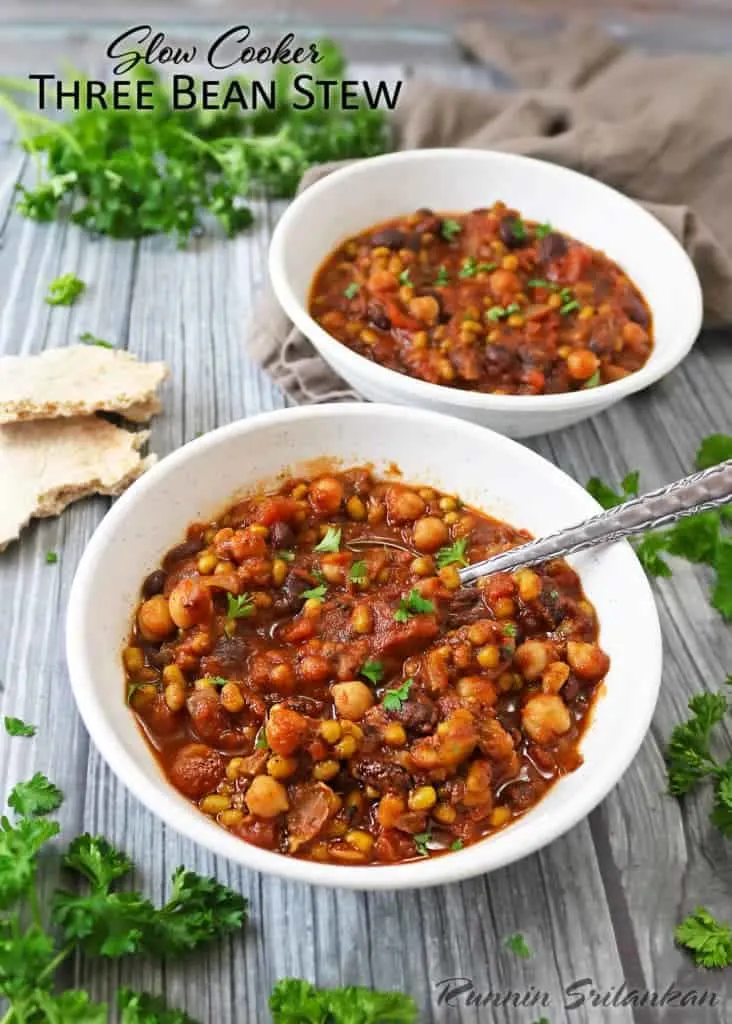 Twenty years ago if you had told me I could have chocolate for dinner, I would have rushed to the store to get myself a Cadbury bar! But, today, my idea of chocolate for dinner is a tad bit different.
With the popularity of mole sauces and chocolate rubbed meats, chocolate for dinner isn't what it used to be. A few years ago, I stumbled on a chili recipe by Emeril Lagasse that made use of a dark ale and dark chocolate. The combination of the dark ale and dark chocolate resulted in an unforgettable chili with such a delightfully deep layering of flavors that it convinced me to add cocoa and/or an ale of sorts to an otherwise dull recipe to give it some much needed oomph! And, that's how this Slow Cooker Three Bean Stew With Cocoa made it's way onto this little space of mine.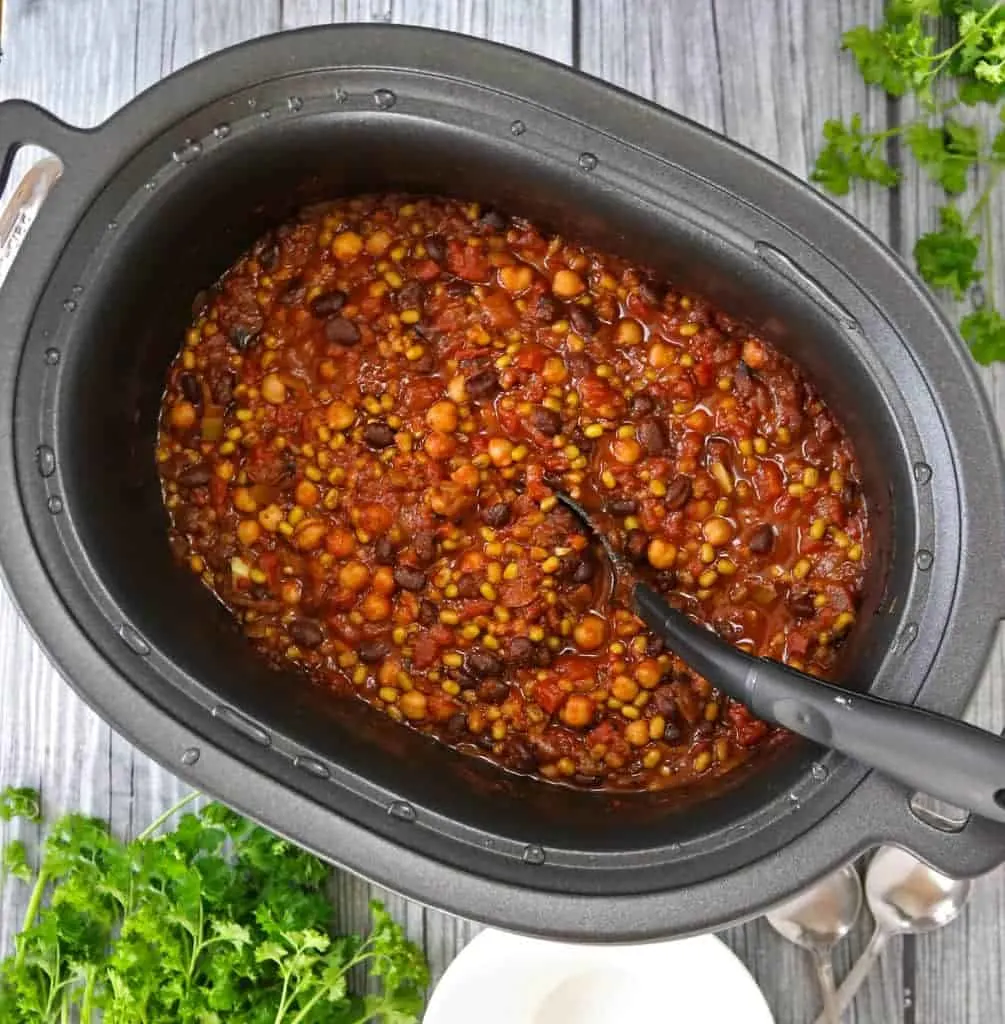 Last Monday I was on the cusp of what was going to be a busy week so I figured I would make some sort of slow cooker stew that would leave my daughter and I with leftovers for the entire week. As I also needed to clean out my pantry, I figured I would just toss all the stuff that was close to expiry into this stew. I rummaged around and ended up with a can of fire roasted tomatoes, a can of diced tomatoes and chilies, a can of chickpeas, a can of black beans, a canister of vegetable stock, some mung beans and a can of tomato paste – that all ended up in my slow cooker.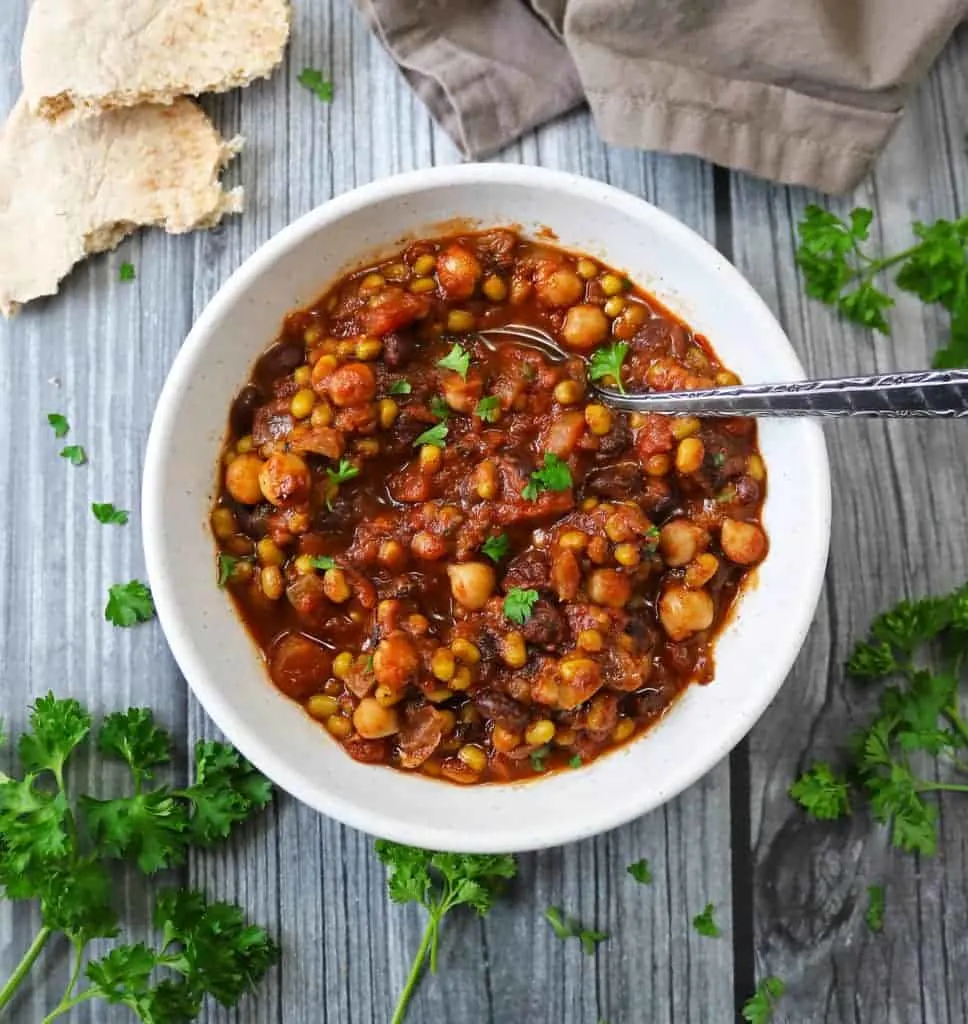 Now, I am a huge fan of "a lotta spice is always nice," so I decided to dry roast some garam masala and add it to the contents of the slow cooker. But, I really wanted to oomph up the flavor of the beans and tomatoes even more, so, I also caramelized some onions (in the same pan that I dry roasted the garam masala in) and threw them into the slow cooker as well. At this point I felt a couple of teaspoons of cocoa would mesh well with the garam masala and tomatoes and added that in too and didn't mess with this stew for the rest of the afternoon. I am no expert, but I have found that with cocoa (just like with salt) a little can go along way in adding a smooth, rich, creamy, delightful layer of flavor to any savory dish it is used in.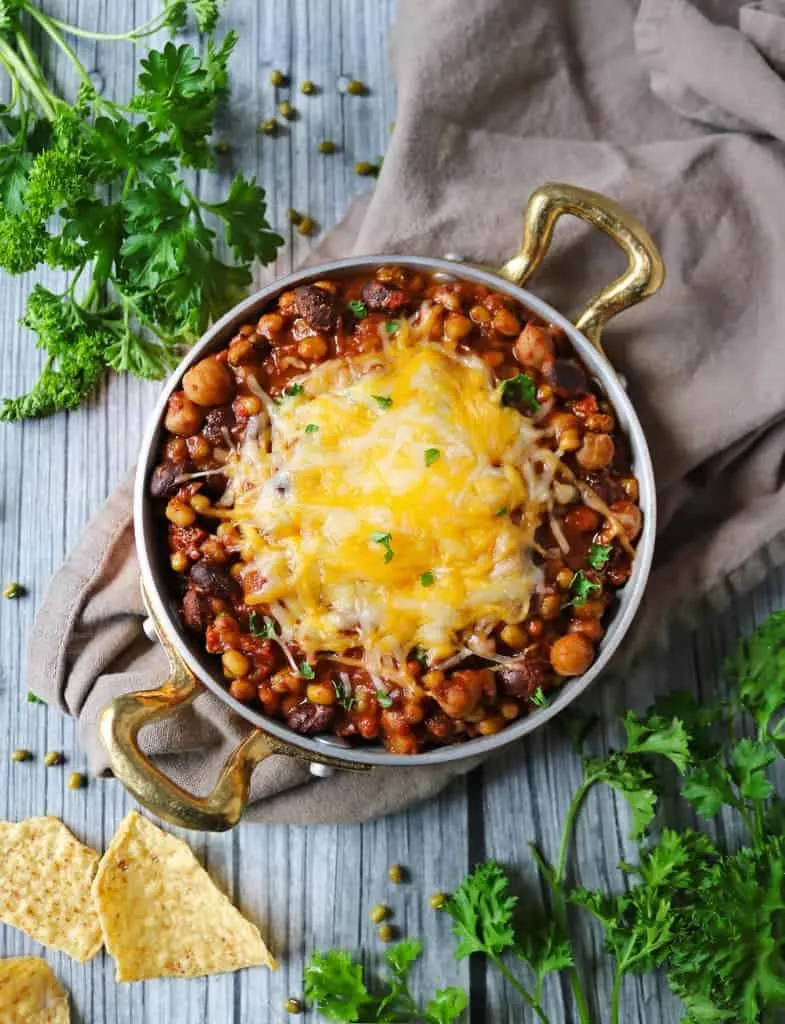 Later that evening, my daughter lifted the lid off this Slow Cooker Three Bean Stew and the aroma was intoxicating! We enjoyed bowlfuls of that stew that first night and the second and the third and the forth, with crispy bread on some nights and rice on others. When we were down to the last bit of this stew, my daughter suggested we pile a mound of Monterey jack cheese and cheddar cheese on it, bake it, and enjoy it as a dip with nachos – and enjoy it we did!
So, what are your thoughts on chocolate for dinner?
[Tweet "Gotta try this Slow Cooker Three Bean Stew w/ Cocoa 4 #dinner 2nite"]