PB-Chocolate lovers unite as I have a treat for you! Get your spoons out and let's dig into this Peanut Butter Chocolate Cookie Trifle with layers of creamy peanut butter whipped topping, strawberries, blueberries, chocolate sauce and gluten-free peanut butter chocolate cookies!
This post is by the National Peanut Board. I received compensation, but all opinions and content are my sponsored own.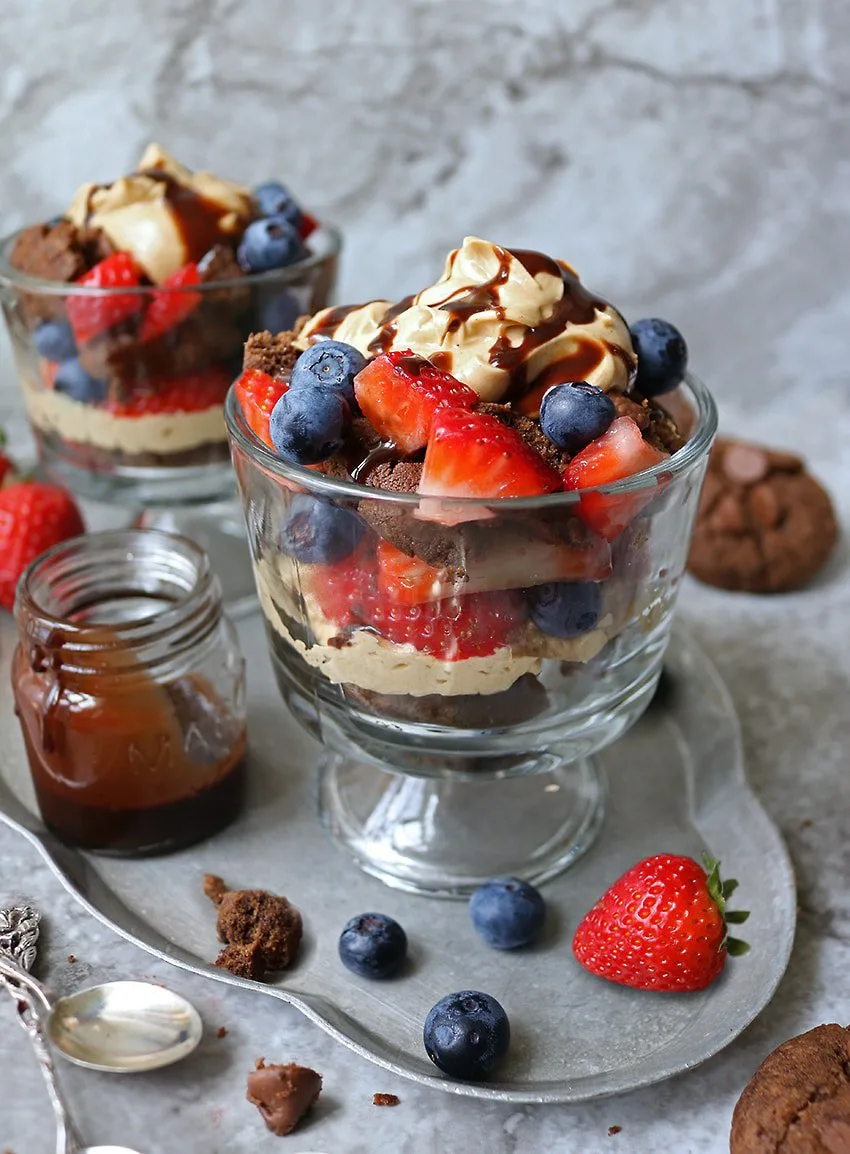 When it comes to mealtime, the most popular question normally is "what's for dinner?" However, in our little family, the most asked question is, "mom, what's for dessert?"
Recently, there have been nights, when I pull into our driveway, pondering what am I going to cook ~ only to walk in and find my daughter has already thrown together a scrumptious supper. And, this child of mine has mad-dinner-making skills. However, baking isn't her forte – at least not yet.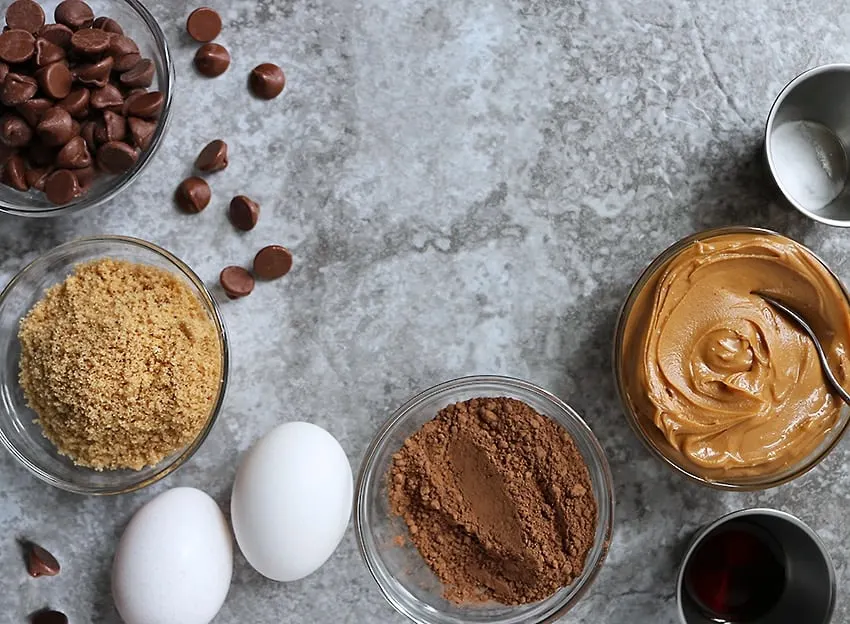 So, until that day when my daughter takes over the oven too, desserts are mine to mull -over and make. Most nights, desserts are gluten-free, peanut butter chocolate chip cookies. Versions of these cookies are all over the interwebs so these aren't my concoction. These cookies usually consist of peanut butter, eggs, brown sugar, chocolate chips and vanilla. They are super easy to make and super easy to enjoy for dessert.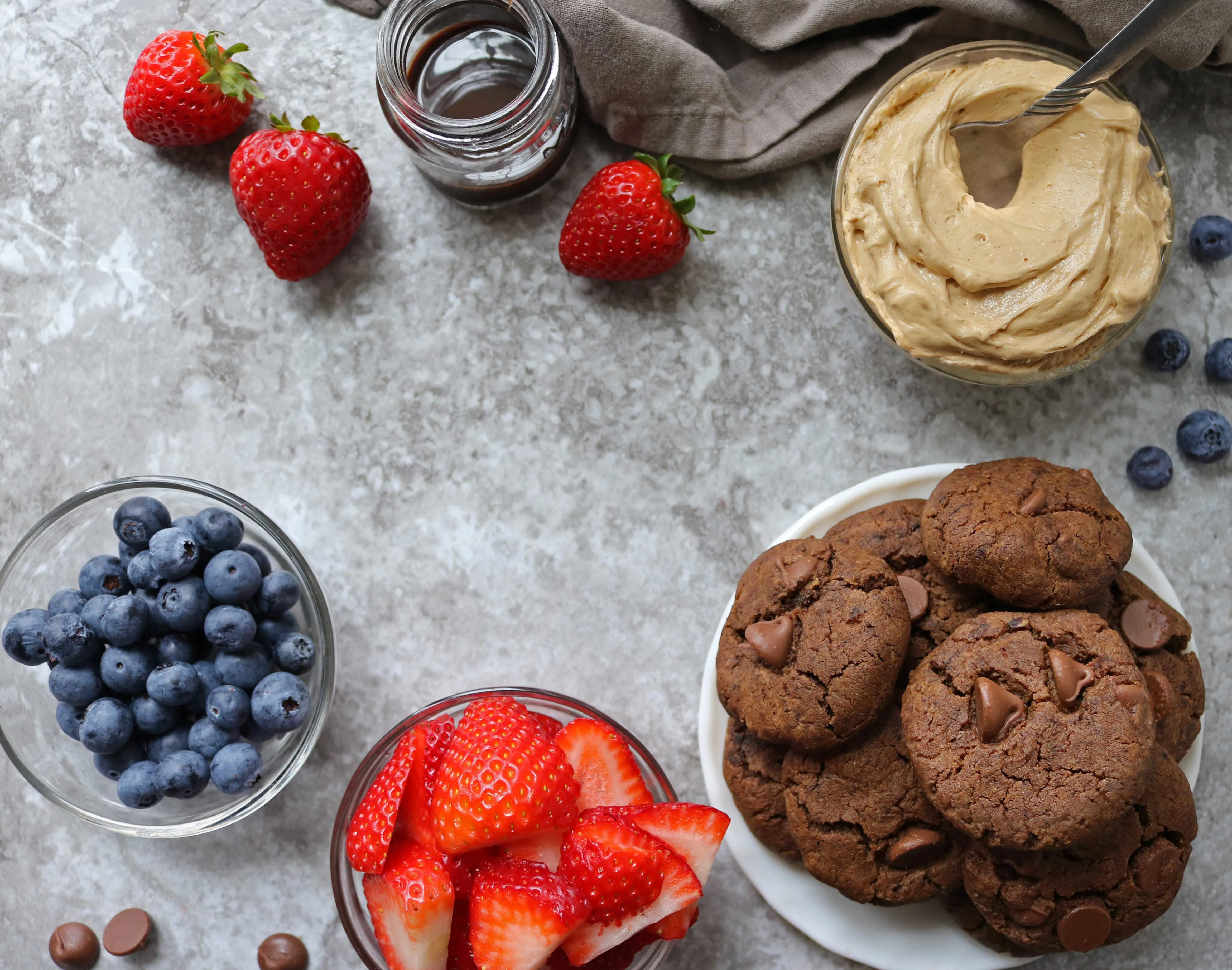 However, sometimes, I doctor up those peanut butter chocolate cookies. Sometimes I add in some beets and make these Peanut Butter Chocolate Chip Beet Cookies. Sometimes, I throw in a plethora of ingredients and make a big batch of these Chocolate Peanut Butter Pecan Cookies.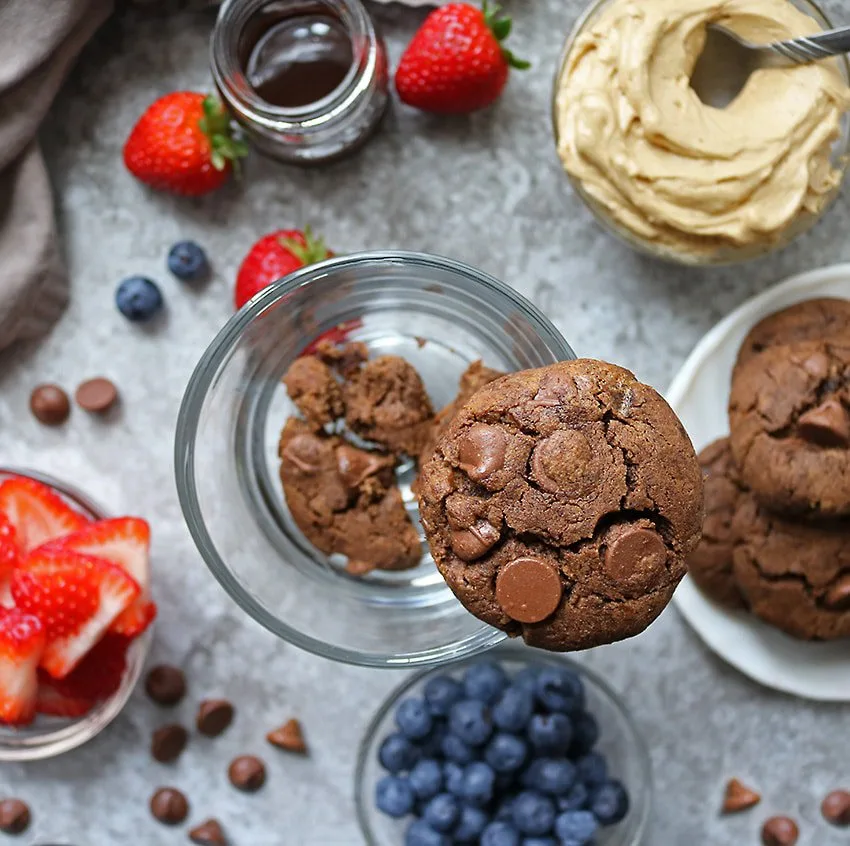 And, then there are other times when I throw in some cocoa and bake a batch of these Peanut Butter Double Chocolate Cookies. Then, there are other nights when we decide to jazz things up a bit and make a dessert more suited for a hot summer evening. On those times we whip up some peanut butter whipped topping and layer it with crumbled up bits of these Peanut Butter Double Chocolate Cookies, berries and some chocolate sauce to make this delicious Peanut Butter Chocolate Cookie Trifle ~ a treat not to be trifled with! Oooh – my corny side is showing!
On a serious note, in our home we are so grateful we get to enjoy peanut butter in everything from desserts to breakfast to lunches like these Savory Peanut Chicken Stuffed Buns and everything in-between. Peanut butter is a versatile and affordable ingredient that can be added to meals and snacks for a delicious and nutritious boost. No matter how you choose to enjoy peanut butter, you'll get eight powerful grams of protein, two grams of filling fiber and 12 grams of unsaturated fat in each two-tablespoon serving.

Now that you have heard about my PB love, please do tell me – #HowDoYouPB ? Head here for more peanut butter recipes for any occasion.