Easy and so totally delicious, these little 7-ingredient Ginger Carrot Tartlets are a healthyish treat. They can easily be made vegan and are sure to be a hit with your friends and family ~ especially around the holiday season.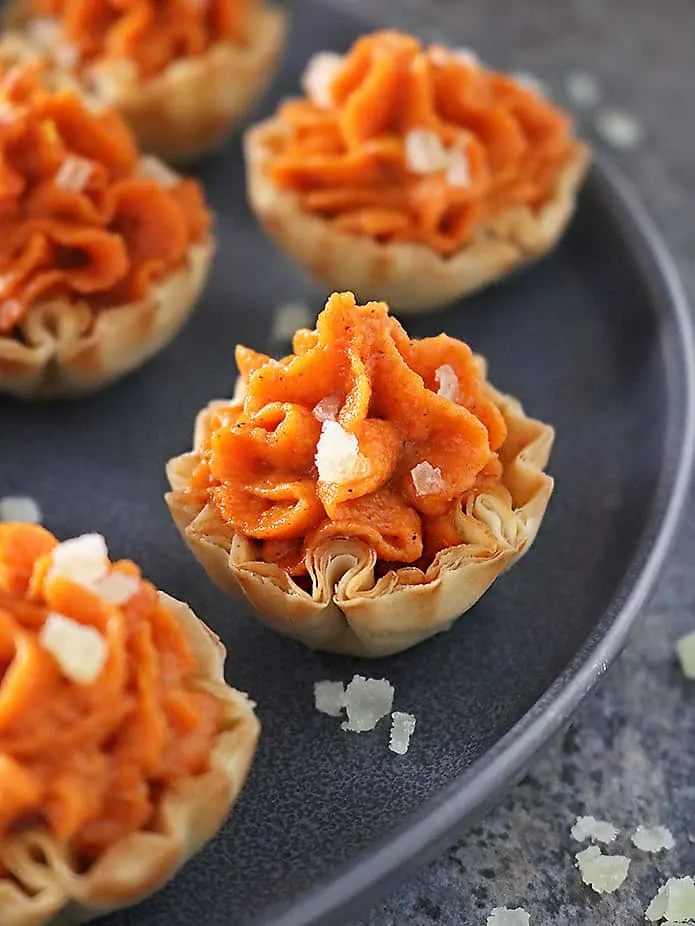 Today is a special Friday, even though most Fridays are special because they are followed by Saturdays…
But, I digress…
Today is special because it is the day I am attending a virtual baby shower for my sweet friend, Erin, of The Speckled Plate, along with several other fellow bloggers!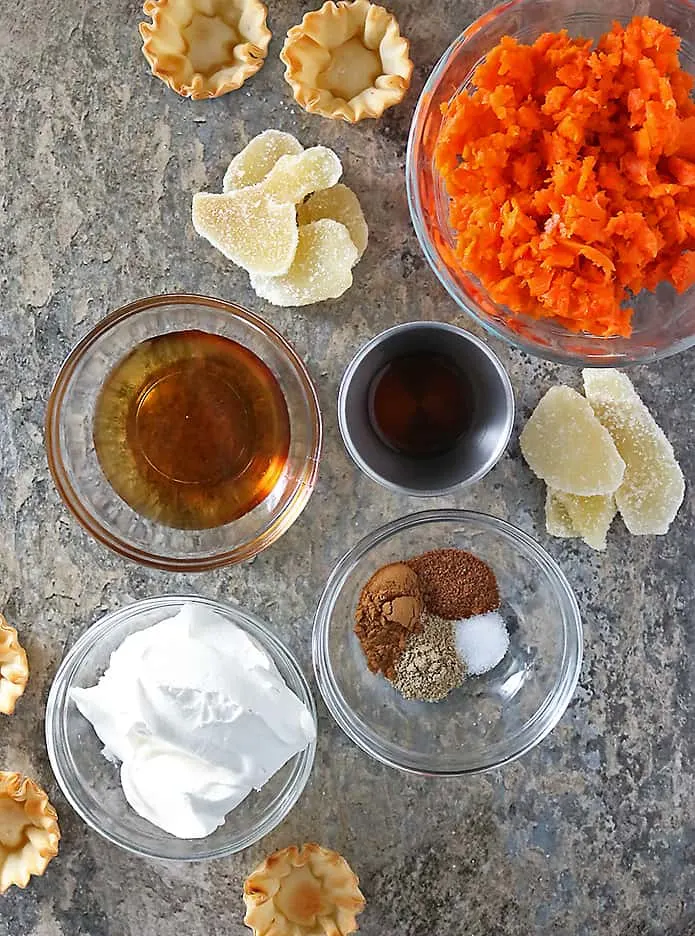 I was lucky to finally meet Erin in person at the Sprouts blogger shindig last year as well as at The Everything Food Conference this year. Erin, her hubs, and daughter, will be welcoming a new little baby girl (aka Baby Speckle) any day now! So, when Madison of Joyfully Mad Kitchen invited me to this virtual baby shower, I figured I would whip up these healthy-ish Ginger Carrot Tartlets to bring!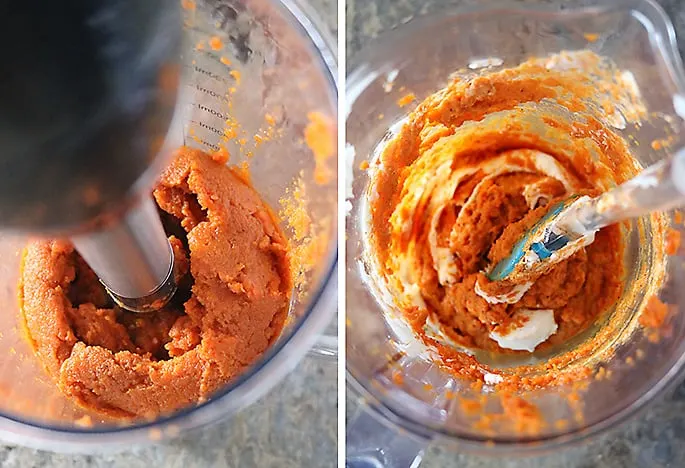 These Ginger Carrot Tartlets are so darn easy to whip up. I am thinking that the hardest part of making these little tartlets for me was bending down and contorting myself to reach into the cabinet under my sink to pull out my immersion blender.
All that's involved in making these Ginger Carrot Tartlets is:
• Peel and boil the carrots.
• Let carrots cool (I mashed them up to speed up the cooling process).
• Add carrots to a deep bowl along with some cinnamon, cardamom, ginger, nutmeg, salt and maple syrup.
• Use an immersion blender (or handheld mixer) to blend up the carrots and spices.
• Using a spatula, fold some whipped cream (or, coconut whipped topping if you are following a vegan diet) into the spiced carrot mixture.
• Spoon carrot mixture into a plastic bag with a nozzle attached and pipe it into mini ready made phyllo dough tarts (which are already vegan).
• Sprinkle some chopped up candied ginger onto the tarts and enjoy.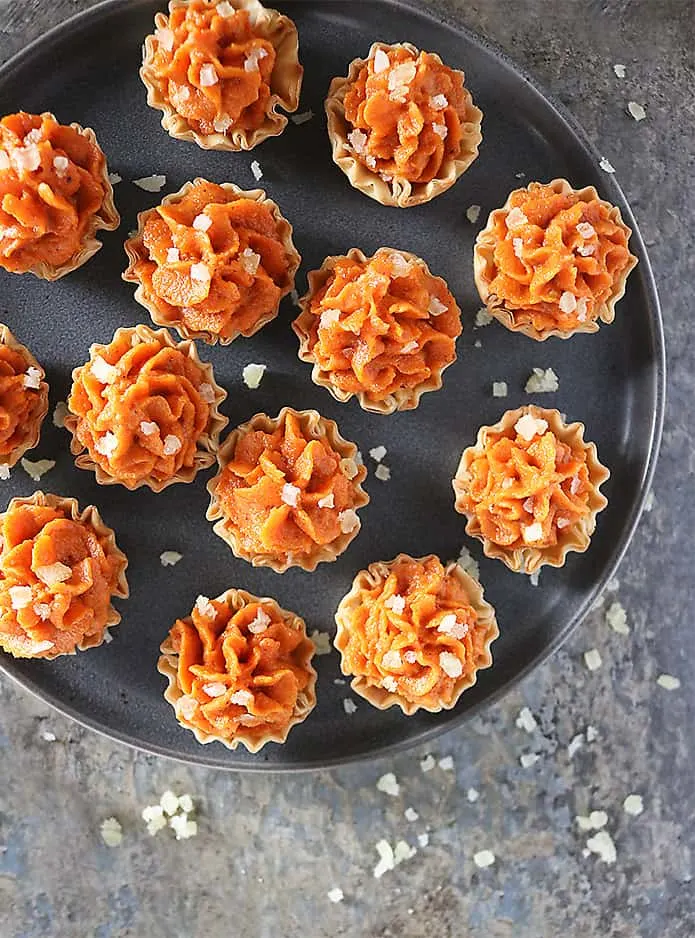 These tarts can be made the night before and stored in an airtight container until ready to eat the next day, and, these tarts are best served chilled. Also, y'all gotta check out what else is being served up at this virtual baby shower!
Moscato Cupcakes from A Joyfully Mad Kitchen
Lemon Lime Cake from I Dig Pinterest
Chocolate Peanut Butter Dip from A Savory Feast
Chocolate Chunk Strawberry Ice Cream Sandwiches from Ciao Chow Bambina
Mini Six-Inch Strawberry Cake from The Emotional Baker
Blackberry Peach Bourbon Smash from The Crumby Kitchen
Butter Mints from Pastry Chef Online
Blackberry Coffee Cake from Love & Flour
Chocolate Zucchini Cupcakes with Coconut Whip from Crumb Top Baking
S'mores Rice Krispy Treats from Feast + West
After drooling over all those cakes, cupcakes, dips, and goodies, I am kinda wishing this wasn't a virtual baby shower but an in-person one as I'd LOVE to pile my plate sky high with all those treats!
Happy Friday y'all! Hoping this long weekend is wonderful for y'all!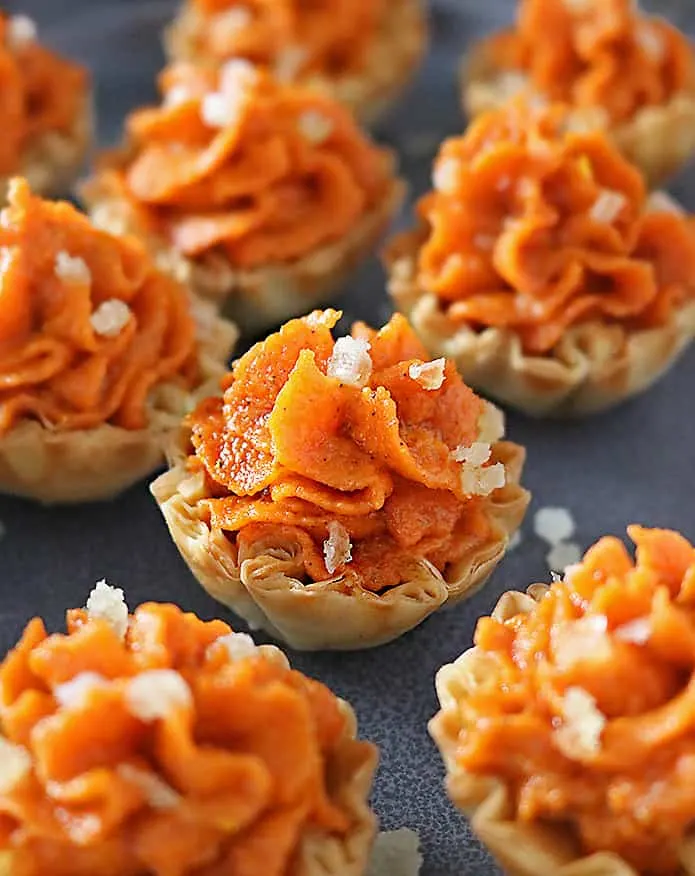 Check out the super easy recipe below and if y'all do try this, please do tag @savoryspin and #savoryspin on INSTAGRAM and let me know what you think! For more recipes and ramblings, like us on FACEBOOK and follow along on PINTEREST too! Thanks Y'all!