Comforting and hearty, this Chicken Lasagna Soup is made by simmering ground chicken, a smorgasbord of vegetables, and spices in a rich and flavorful tomato broth. Finished off with a touch of coconut milk, this is a dairy-free soup that is perfect for cold evenings.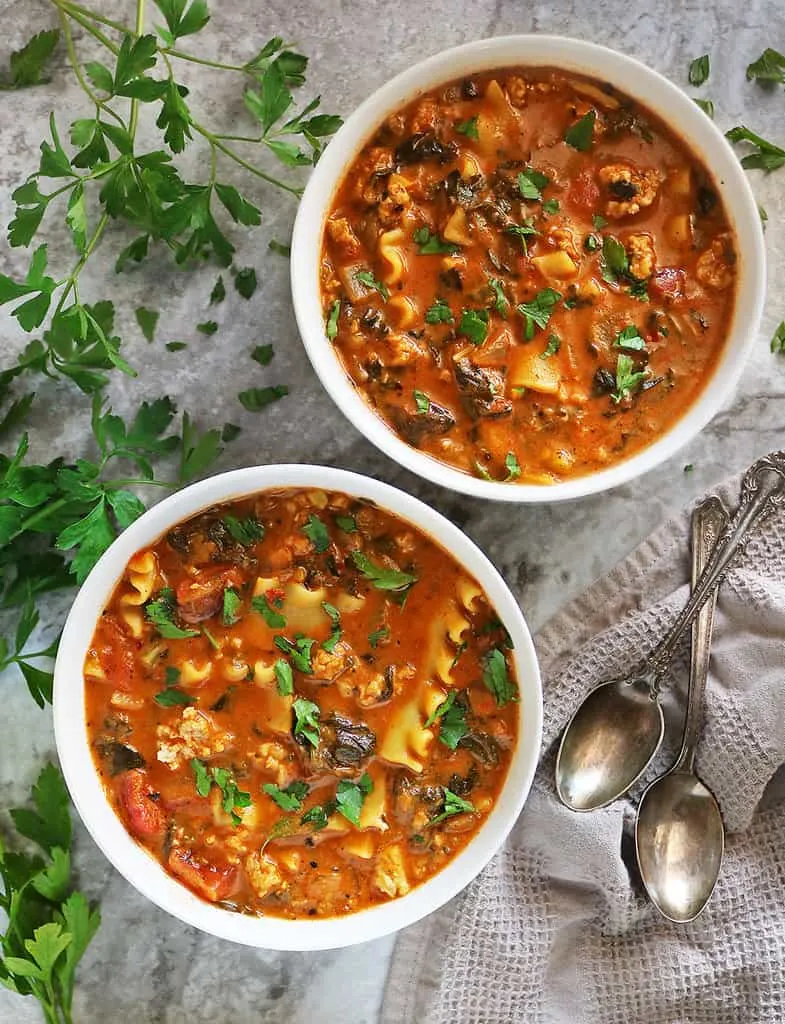 While recipes for lasagna soup have been around for a while, it was TikToker, @dannylovespasta who resurrected this versatile soup with his viral recipe earlier this year.
Ever since there have been so many versions of this lasagna soup circulating around the interwebs. There are instant pot versions, creamy white chicken versions with heavy cream, and even vegan versions.
So, I decided to jump on the lasagna soup bandwagon with my spin on this hearty and humble soup.
I think you might love this chicken lasagna soup because…
The chicken lasagna soup you see here is a dairy-free, healthy, and hearty version.
It is a quick and easy one pot meal that comes together in about 30 minutes.
This recipe is made with ground chicken, a plethora of spices, and veggies including frozen spinach, fresh garlic, and ginger. These are all simmered in a delicious and comforting tomato broth, with a touch of coconut milk to add extra richness.
This soup is perfect for a weeknight meal on a cold evening. It is healthy comfort food that is filling and so tasty.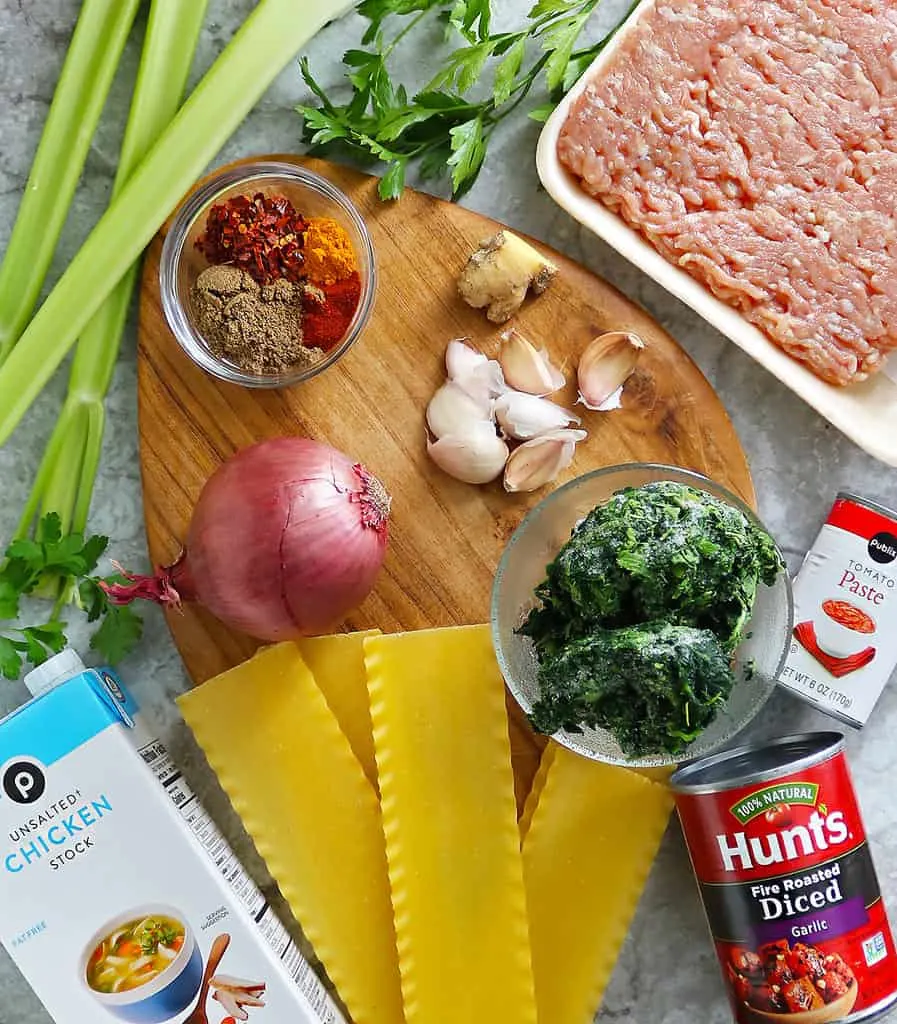 What are the ingredients needed to make this chicken lasagna soup?
You will need the following 16 main ingredients to make this tasty soup:
Ground chicken,
Red onion,
Fresh garlic cloves,
Fresh ginger,
Celery stalks,
Chicken stock or chicken broth
Canned fire-roasted tomatoes,
Canned tomato paste,
Water,
Coriander,
Cumin,
Smoked paprika,
Turmeric,
Chili pepper flakes,
Frozen baby spinach,
Lasagna pasta sheets.
And season with salt and black pepper to taste.
Optional Ingredients for this creamy soup…
I added in some coconut milk to this lasagna soup to add yet another layer of richness to it.
I also garnished bowls of this soup with parsley before serving.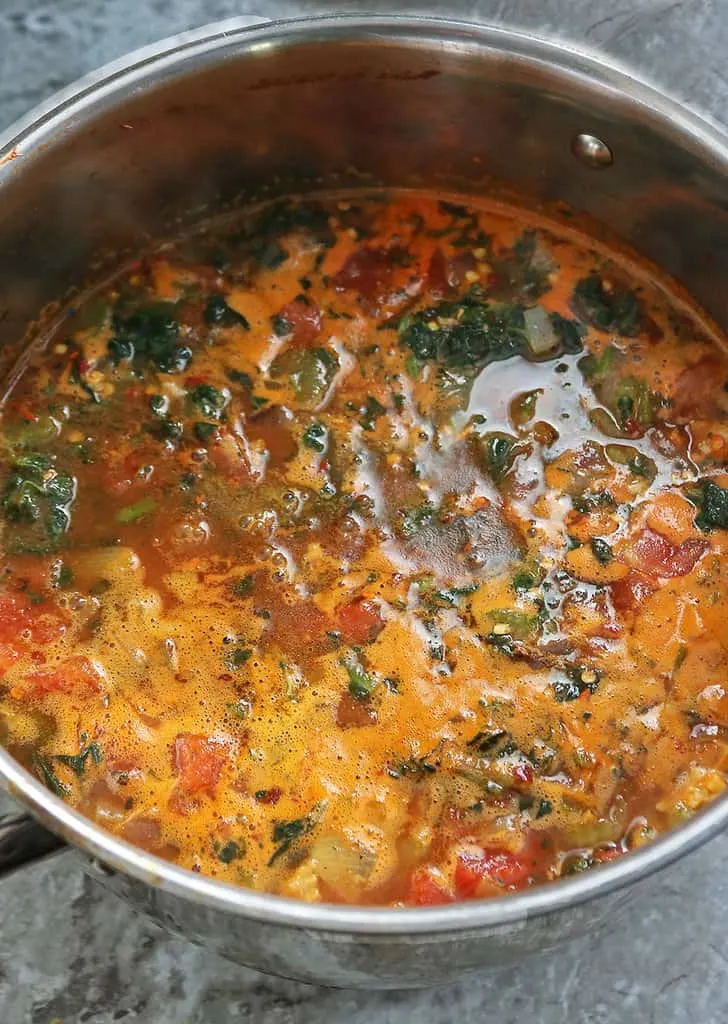 Tips for making this Lasagna Soup with Chicken
I work through this recipe while prepping and cooking ingredients simultaneously to save time. What I mean by that is that I cook the ground chicken in a large pan over medium heat while I peel and chop the onion, ginger, and garlic. Then, I remove the chicken from the pan and add in the onion, ginger, and garlic. While these are sautéing, I prep the celery and open the canned tomatoes and fire-roasted tomatoes.

Sautéing the onion, ginger, and garlic for a few minutes, until the onions are translucent, adds so much flavor to this dish.

I used lasagna pasta sheets that I broke up into bits. However, you could use any pasta you prefer.

This soup is thick and creamy – without any cheese or heavy cream, I may add. And, as it sits, it gets thicker and creamier as the noodles seem to absorb the liquid. So, you could do one of 2 things. One, cook the pasta separately and add it only to the bowl you will be eating. Or, two, add in more liquid every time you reheat this up. Also, if you would rather the soup be thinner, use 1 cup of chicken stock.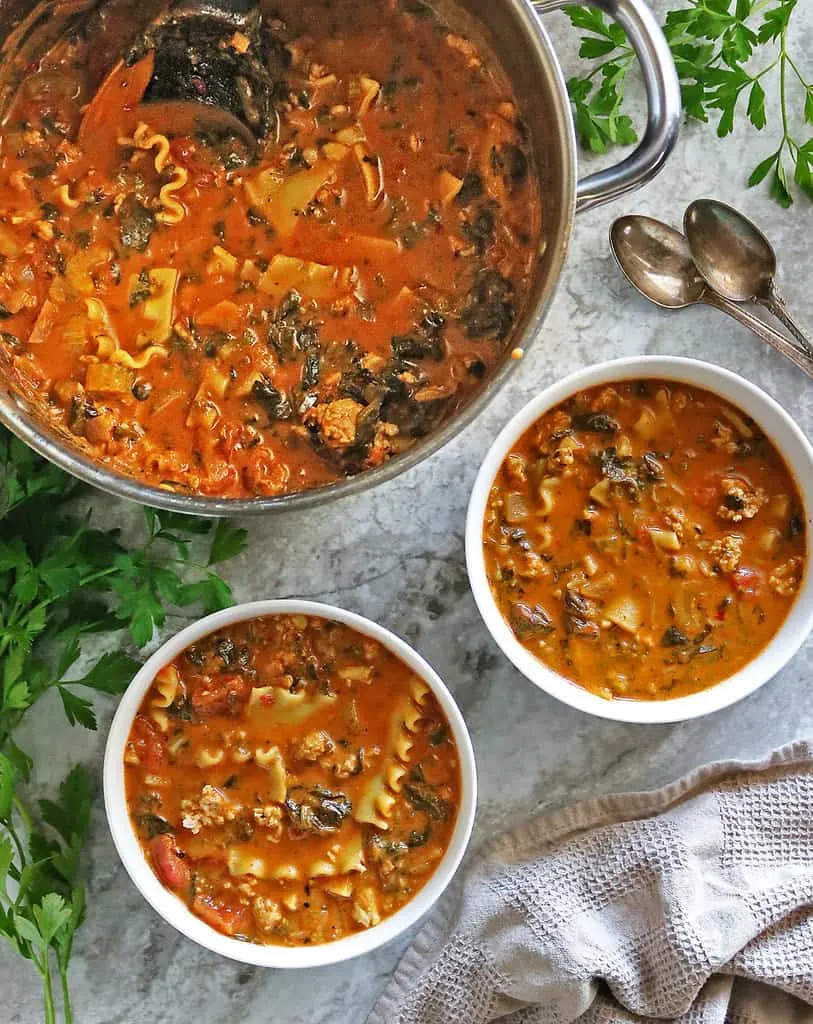 Substitutions
Instead of ground chicken, ground turkey or even vegan crumbles could be used. You could also use chopped-up white meat chicken.

I have been using grapeseed oil in high-heat sautéing. However, if you have olive oil or hand or any other oil, please use that instead.

If you do not have any coriander, cumin, smoked paprika, or turmeric on hand, then feel free to use Italian seasoning or any combination of your favorite seasonings. While I have only tried this recipe with the ingredients listed, substitutions, (within reason) can be made and enjoyed.

If you are gluten-free, you can use any gluten-free pasta instead of the lasagna pasta sheets I used.

While I used coconut milk, if you are not trying to avoid dairy, then use heavy cream instead of coconut milk.
How to Serve this Lasagna Soup with Chicken
I served this nutritious soup garnished with some parsley. As this soup is full of chicken, veggies, and pasta, I didn't want to add too many toppings to it.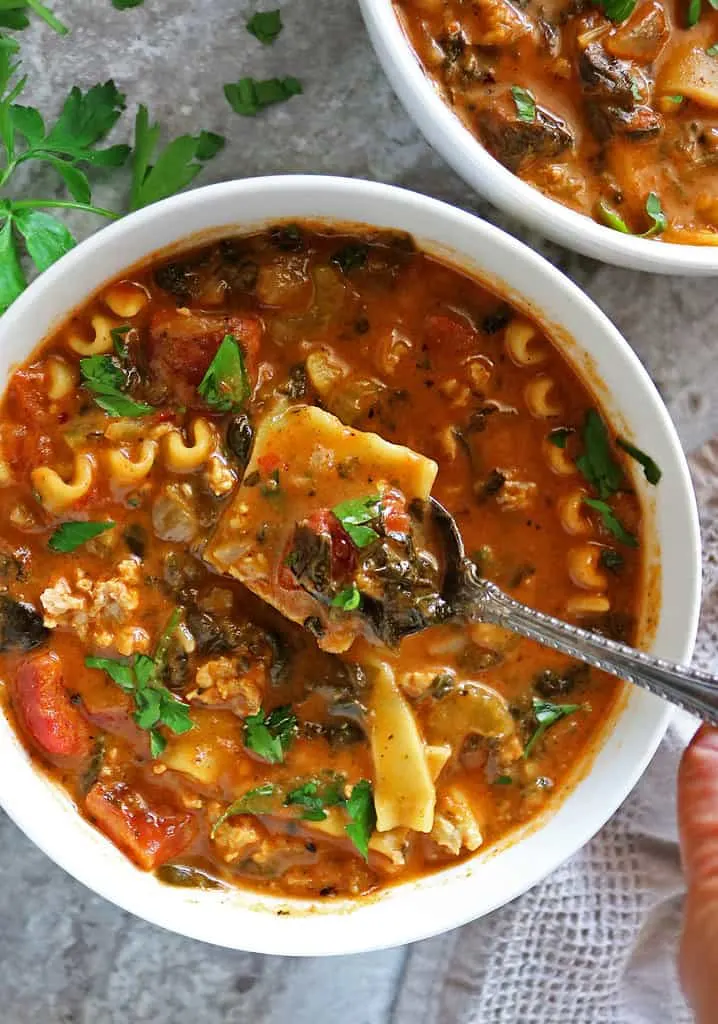 How to store and reheat leftovers of this soup?
Leftovers of this chicken lasagna soup can be stored in an airtight container in the fridge for up to a week. When you need to reheat a bowl of this comforting soup, serve what you need into a microwave safe dish and microwave for 2–3 minutes, in 30 second increments, testing that it isn't too hot, between each increment.