Cozy up with a big bowl of this creamy, thick, and delicious Vegan Celery Soup. Ready in less than 20 minutes, this is a comforting, convenient, budget-friendly, and wholesome soup recipe.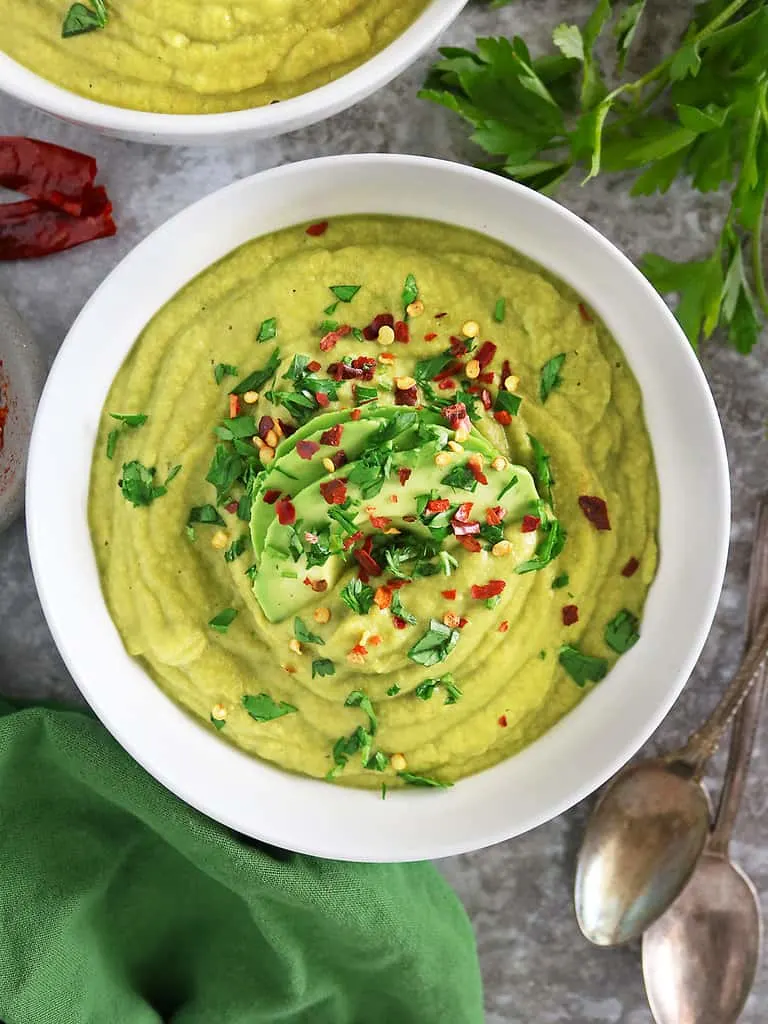 Let's be honest, celery soup, let alone a vegan celery soup, doesn't sound quite appetizing. In fact, look at it long enough and you might think it resembles something the dog regurgitated – right?
But, if you could just smell this and taste a spoonful of it (maybe blindfolded?), you will be hooked. This celery soup is so delicious. So delicious that I am willing to bet I could eat my way out of a tub filled with it!
I like my soups thick and healthy, and this vegan celery soup is just that. It is super thick, creamy, and filled with nutritious ingredients. You could thin it down with some vegetable stock – but why? I kid! I kid!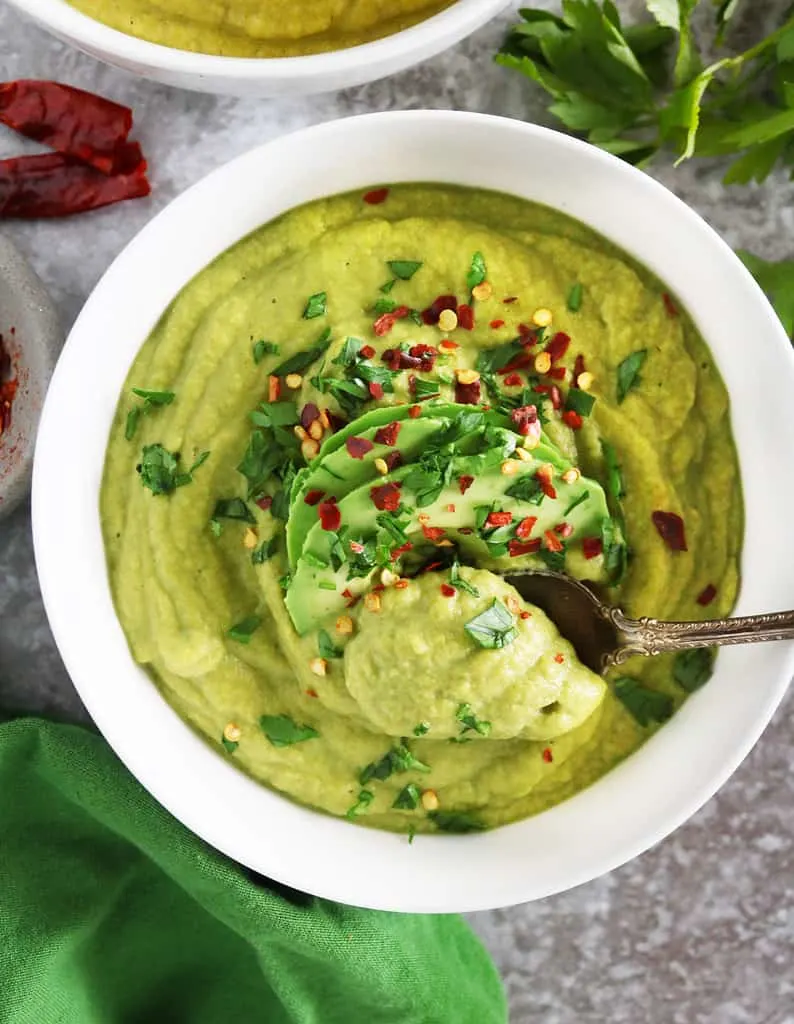 Seriously, if you prefer a soup that is not as thick, you could add in 1/2 a cup or 1 cup of vegetable stock.
Also seriously, I used a whole bunch of celery in this. I got one of those packs from the grocery store that have 2 bunches of celery in them. I discarded the bottom and top parts and chopped up the rest – which amounted to about 3 to 3 1/4 cups approximately.
I flavored this soup with ever so lightly browned onions, ginger, and garlic. I also added in a smattering of powdered cloves, turmeric, and coriander. Which brings us to…
What are the ingredients in this vegan celery soup?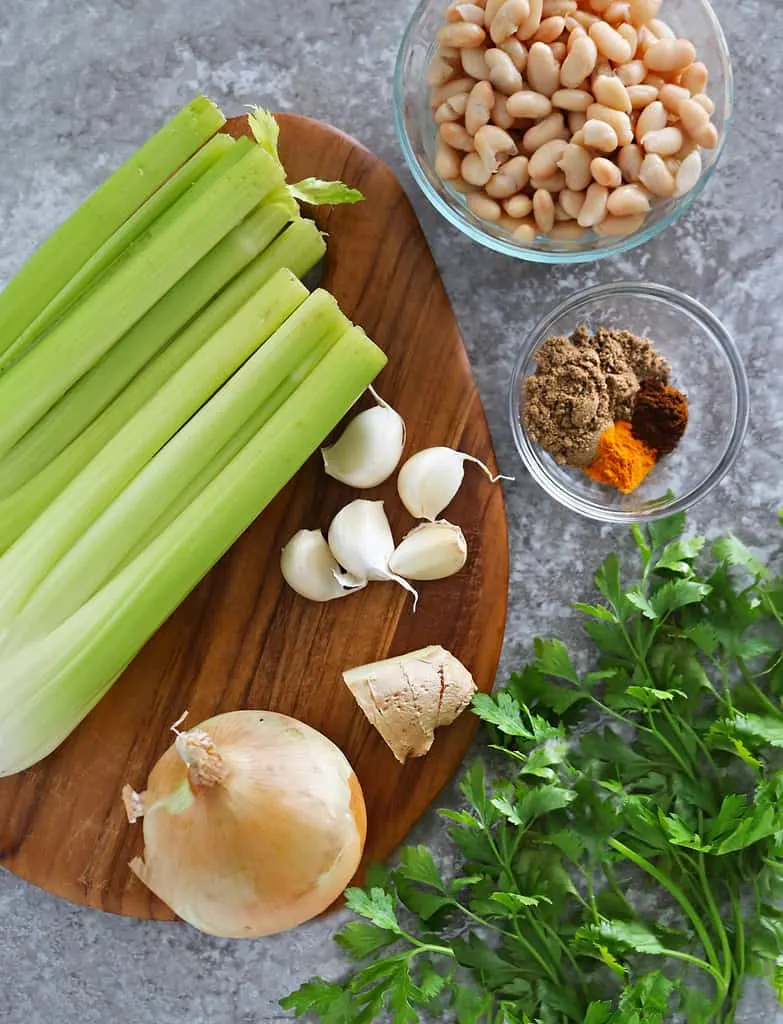 This soup is made with only 10 ingredients plus extra virgin olive oil and a smidge of salt and pepper. And those 10 ingredients are:
celery,
onion,
garlic,
ginger,
powdered cloves,
powdered turmeric,
powdered coriander,
cannellini beans,
fresh parsely, and
fresh cilantro.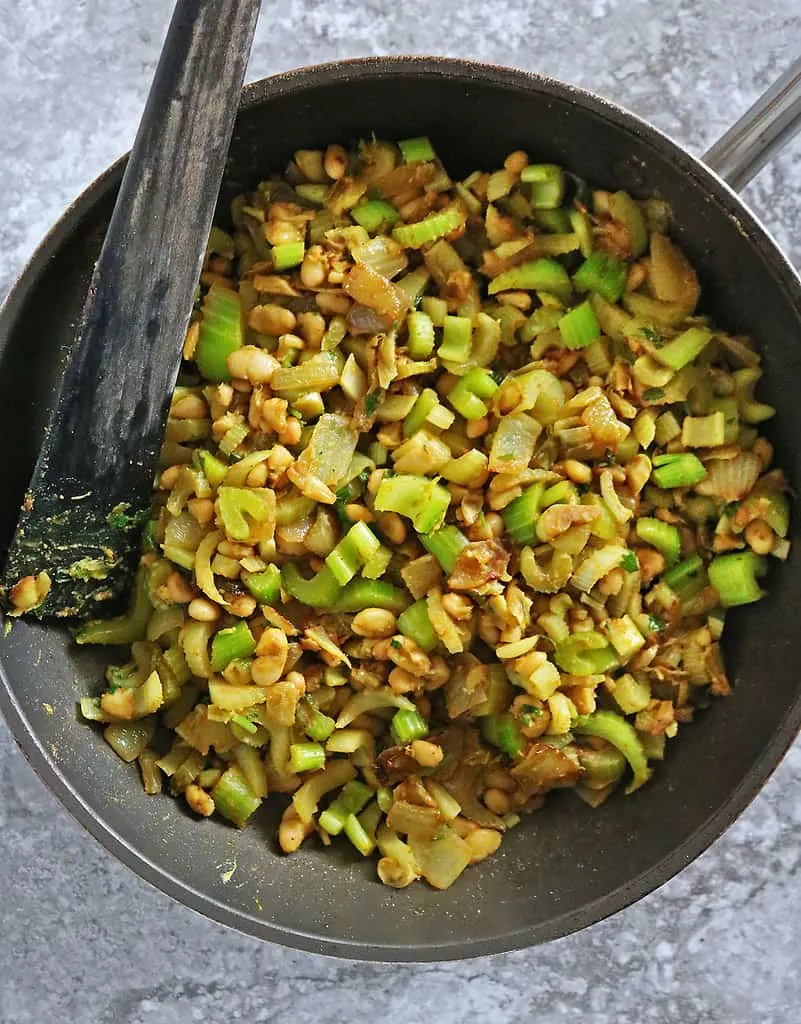 How is this soup so creamy?
This celery soup gets its creamy and thick texture from a can of cannellini beans. No cream or any sort of milk. After sauteing all the ingredients together, I added them to a blender. After a few whirls, this creamy, thick soup was the result.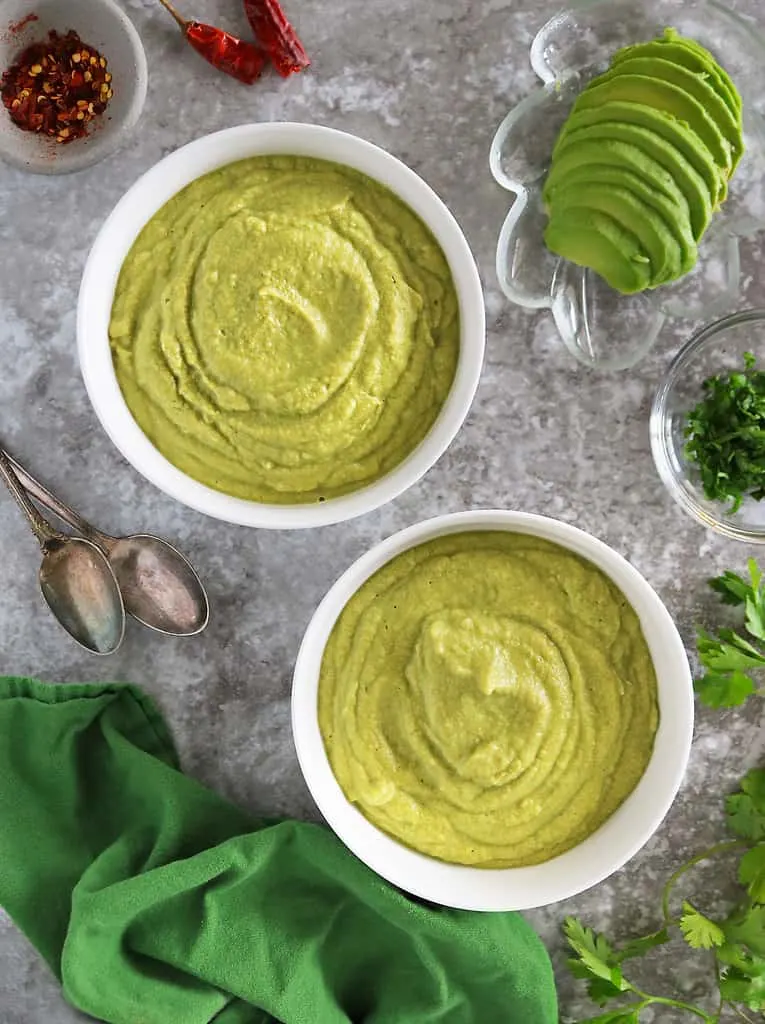 This week, temperatures are supposed to drop into the upper 40s here in Covington, Georgia. Which makes it the perfect time to dig out the thick sweaters and enjoy big bowls of this vegan celery soup. Though, if I am going to be honest, I started making soup when the lows dropped down into the 70s…
Do keep in mind that celery and beans are filled with fiber. So, balancing a bowl of this soup off with some roti, naan, or crusty bread would help cushion the effects of all that fiber.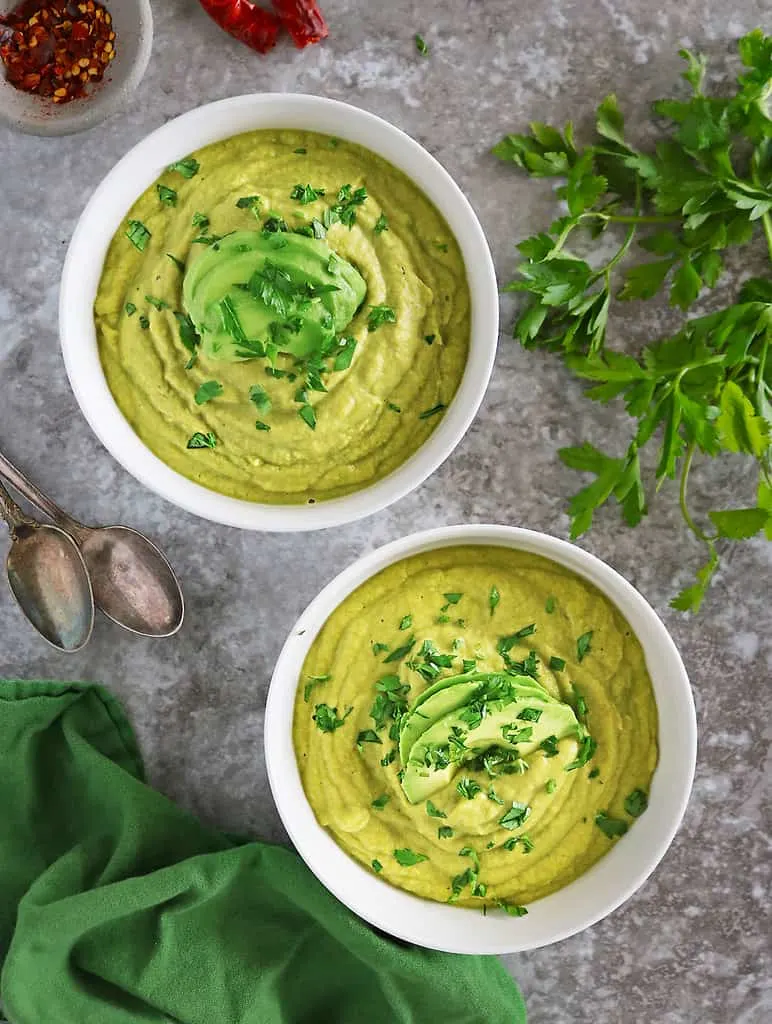 I have made this celery soup with potatoes and some cashew milk instead of beans. However, in my humble opinion, I prefer the taste of this soup with beans. Cannellini beans are mild and let the taste of the celery and other ingredients shine through.
A few tips to help you pick fresh celery for this soup:
• Make sure that the celery has sturdy, upright stalks. The stalks should snap easily when you pull them and not bend.
• The leaves on the celery stalks should be crisp, fresh. and green – not yellow or brown.
• Make sure to wait until you need to use the celery to chop it up. Celery loses nutrients the longer it sits after it is chopped, so best wait. With that said, try to use up celery that you bring home from the store, within 5-7 days.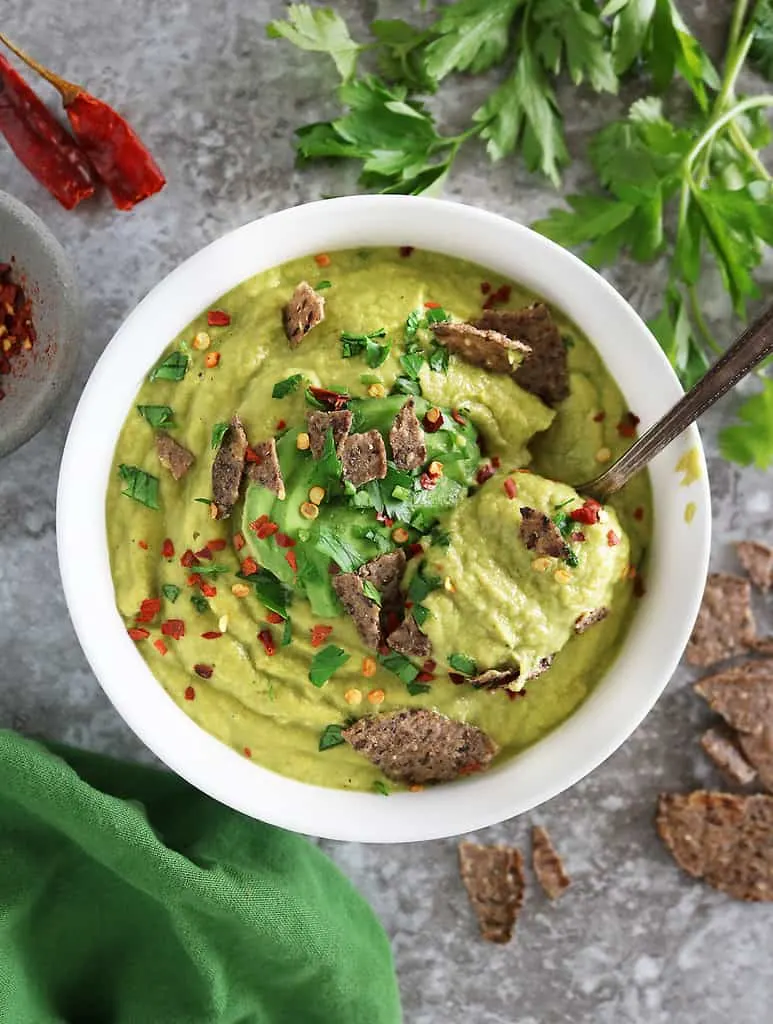 I made another batch of this soup yesterday evening and I found myself licking the bowl and spoon clean as it is so scrumptious! But, don't take my word on this – just grab the 10 ingredients, whip up a batch of this vegan celery soup and see for yourself!
Wondering what you can make with a lot of celery?
Well, a batch or two of this creamy, comforting, budget-friendly, and scrumptious vegan celery soup.
Is this celery soup healthy?
The star of this soup: celery, is packed with vitamins and minerals that help in digestion, reduce inflammation, and help keep blood sugar levels consistent, among other things. This celery soup is also made with other nutritious ingredients like ginger, garlic, onion, cloves, turmeric, coriander, and cannellini beans.
How can you store this soup?
Yes, you can store this celery soup for 4-5 days as long as it is in an air-tight container that is placed in a fridge.