This Spicy Curried Shrimp Spinach Bowl with Sprouts Ancient Grains Blends makes for a quick, easy, delicious and better for ya meal, especially during those busy back to school nights!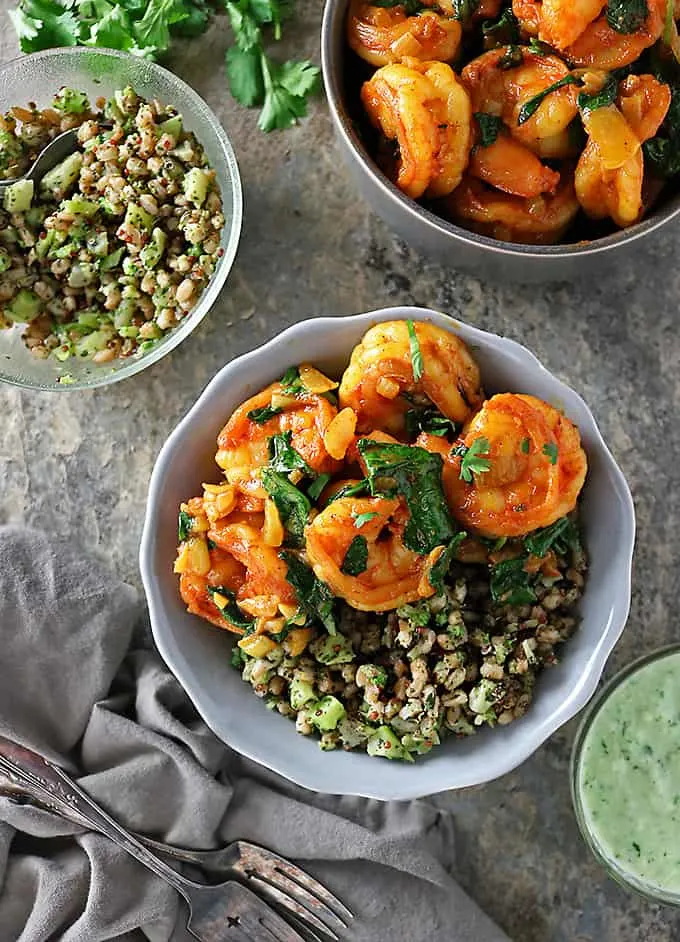 This Monday morning, kiddos in the largest school district in Metro Atlanta are back in school!
Yup, summer break is over in Gwinnett County, GA (my old neck of the woods). This morning, my Facebook feed is overflowing with first-day-at-school photos of friends and old neighbors' kiddos.As my daughter prepares to start her sophomore year of college next week, I cannot help but lament on how quickly this year is going by. I know I said that last year too … maybe am getting older and slowing down more? I dunno…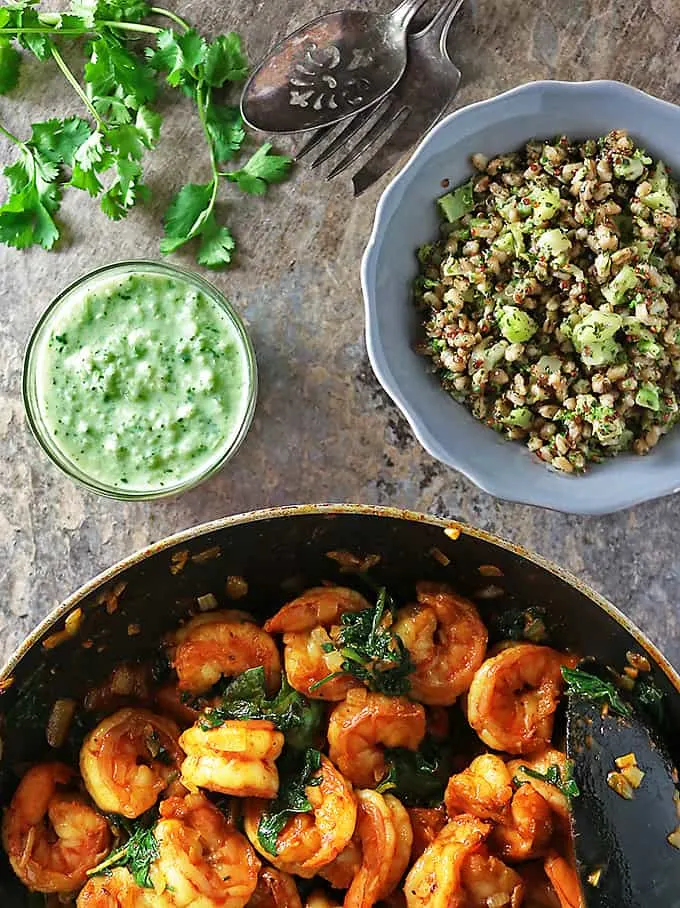 All I do know is that before I know it, Christmas is going to be here! Most of my friends and old neighbors have school-aged kids and, over this summer, they have loved sharing stories about football and soccer practice and how they are so looking forward to starting back with their teams after summer break. And, most of their parents sigh when ruminating over dinner-time during those practice and game nights. And, I cannot help but interject that they need to stop by Sprouts Farmers Market for dinner-time help!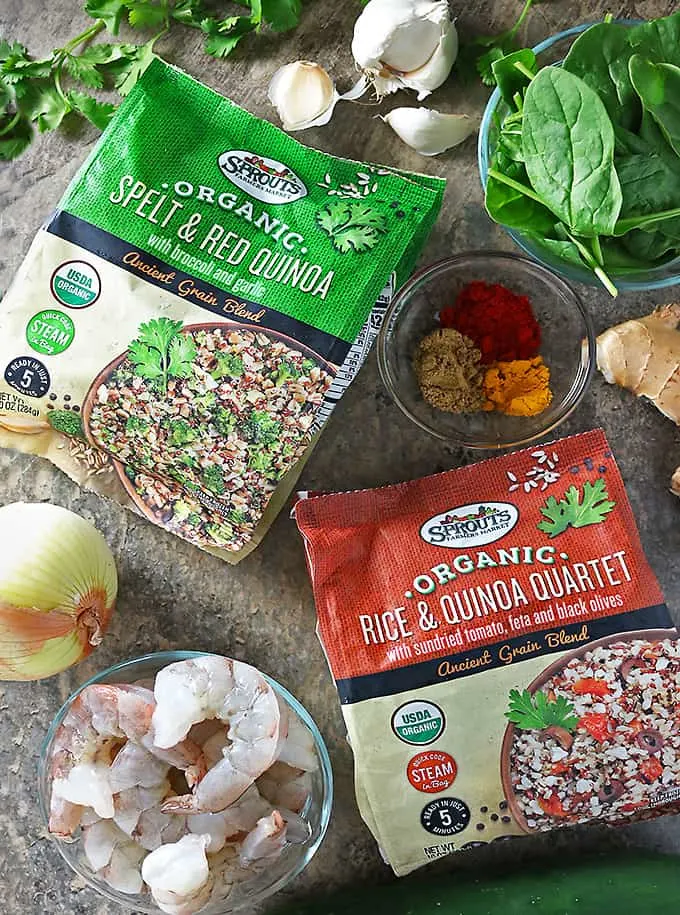 Just grab one of the four new flavors of Sprouts Ancient Grain Blends, pair it with a salad and rotisserie from their deli and boom – dinner is ready! If you have a few more minutes to spare, then just pair one of those Sprouts Ancient Grain Blends with some curried Jumbo Shrimp (which are on sale at Sprouts, BTW) and spinach. Serve it with a cool and refreshing cucumber sauce (like you see here in these Spicy Curried Shrimp Spinach Bowls) for a delicious and better for you dinner choice.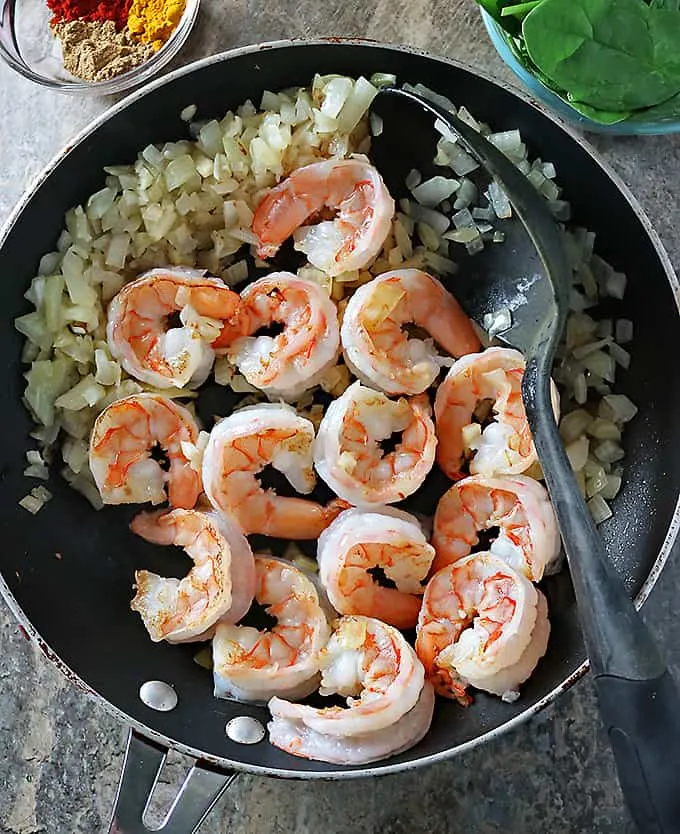 Last week I planned on a quick stop by the Sprouts Bakery section to grab some of their new chocolate stuffed beignets to take to a friends house, only to end up spending an hour there. In my defense, my nostrils were assailed by the aroma of ripe cherries and passion fruit! And, then I got side tracked trying to find one of those Sprouts t-shirts to buy. You see, Sprouts employee's walk around with t-shirts that say "…Every Meal is a Choice..." and they sure make it easy for me to make the choice to skip on eating out – so it makes sense I should have one – right?! 🙂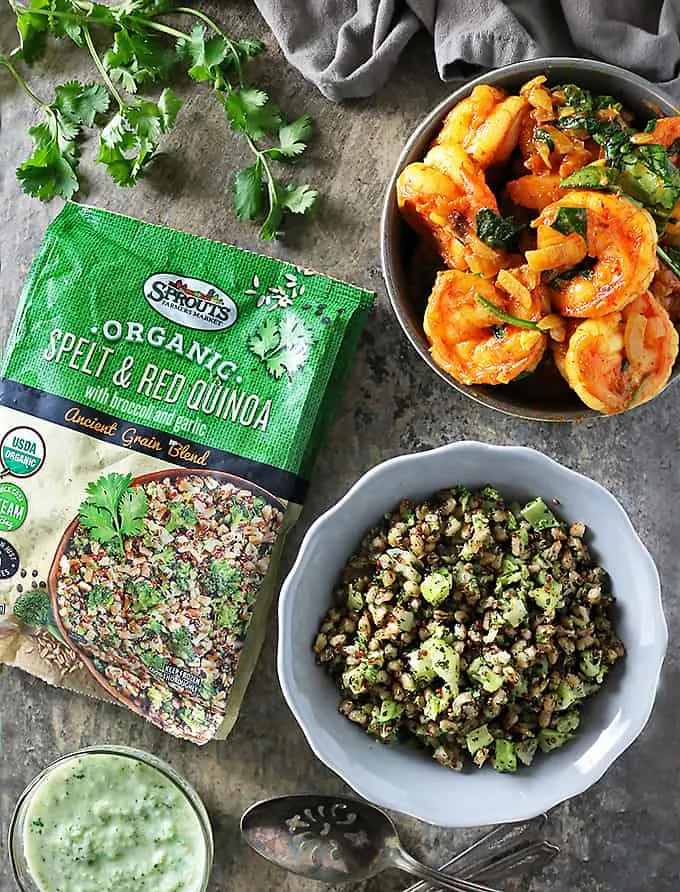 While I was lost wandering the aisles at Sprouts, I ended up finding some Jumbo shrimp that were on sale and decided to bring them home to make into a curry. Only, when I spotted the new Sprouts Ancient Grains blends in their frozen department by the produce, I figured I'd grab some of those and some spinach and and make these Curried Shrimp Spinach Bowls instead. The cucumber sauce I made to accompany these Spicy Curried Shrimp Spinach Bowls was a last minute add on. But, it balanced out the spicy curried shrimp so well.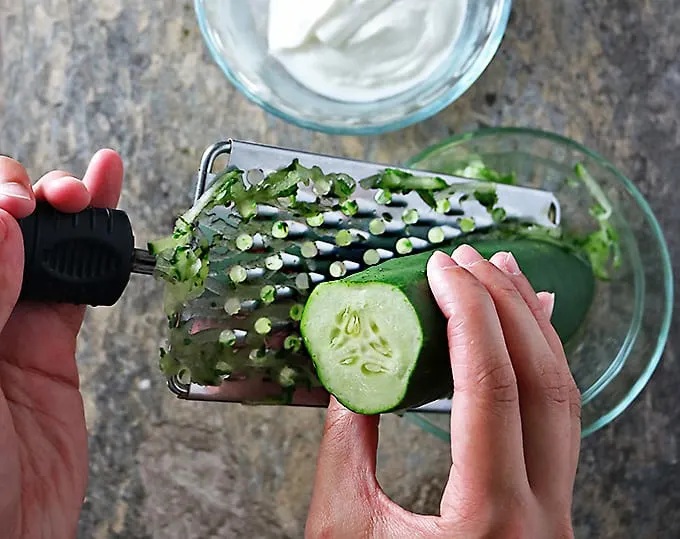 If you are fortunate enough to have a Sprouts near by, or, are in the range for delivery, please do check out their four new flavors of Ancient Grain Blends. On those nights after school and practice sessions or a cramming session for a college class or a rough day at the office, they are perfect for a quick, easy, delicious and nutritious meal!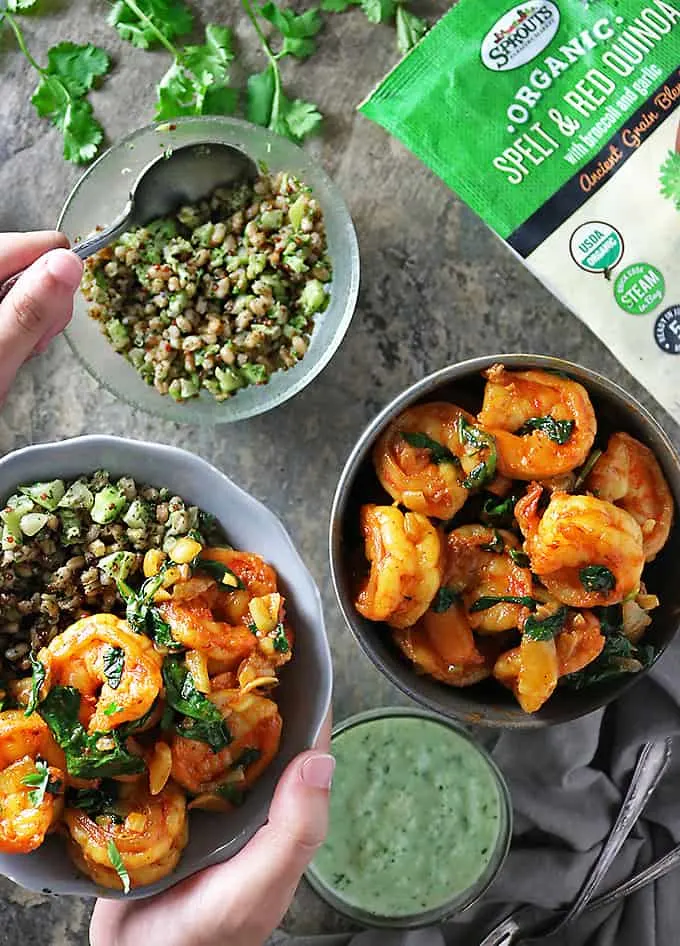 If you happen to fancy these Spicy Curried Shrimp Spinach Bowls, let me know what you think by leaving a comment and rating below. If you make this recipe, please post a pic on INSTAGRAM -tagging @savoryspin so I can see! For more recipes and ramblings, like us on FACEBOOK and follow along on PINTEREST!