This shop has been compensated by Collective Bias, Inc. and its advertiser.
All opinions are mine alone.#MixMatchMunch #CollectiveBias
These little Sweet Salty Tangy Goldfish® Snack Clusters with dried fruit, nuts and melted yogurt chips, would make one heck of a pick-me-up after school or after work!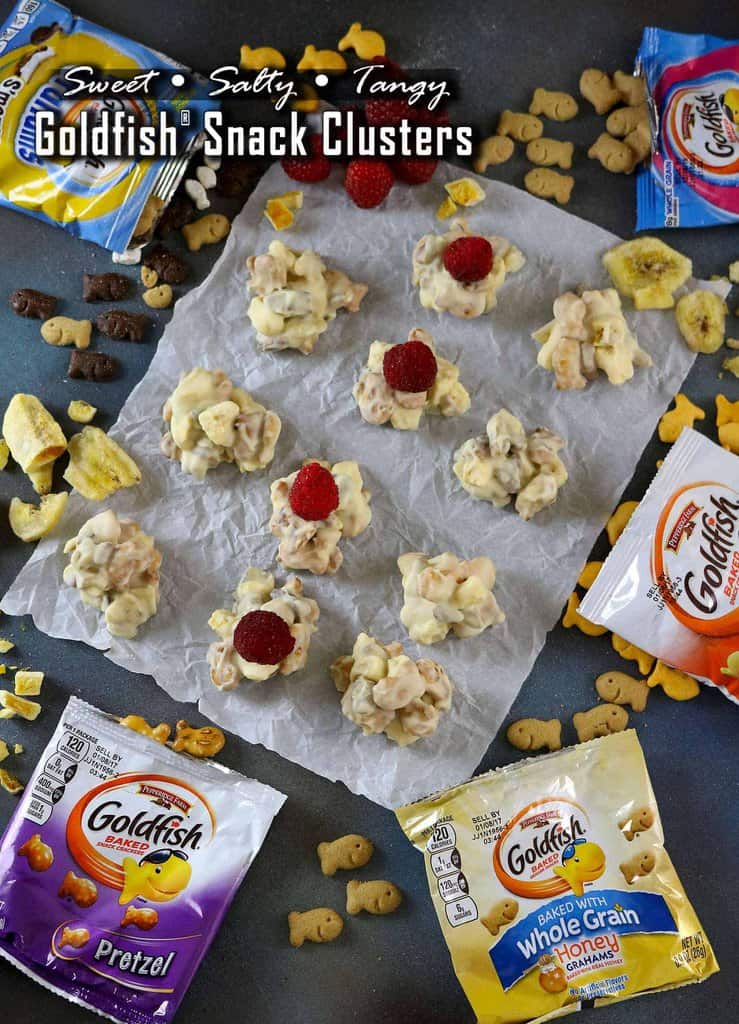 If you told me that I could only pick one food item and one beverage item to enjoy for the rest of my life, why, chocolate and coffee would be no brainers! So, imagine my dismay when my daughter told me that she was taking a break from chocolate.
"Mom," she said (and I wondered what happened to mommy, well, at least it wasn't mother, not yet anyway) "I think my tastebuds have graduated from chocolate adoration!"
Wait – "graduated?" what does that say about me with my ongoing love affair with chocolate?
"I think salty is my new best friend," she said, "with a teensy, tiny bit of tart and sweet!"
Of course, I suggested my lemon blueberry cookies.
To which she turned up her nose and said – "hmmm, white chocolate is still chocolate, Mom!"
Ok, ok – I guess I had that coming.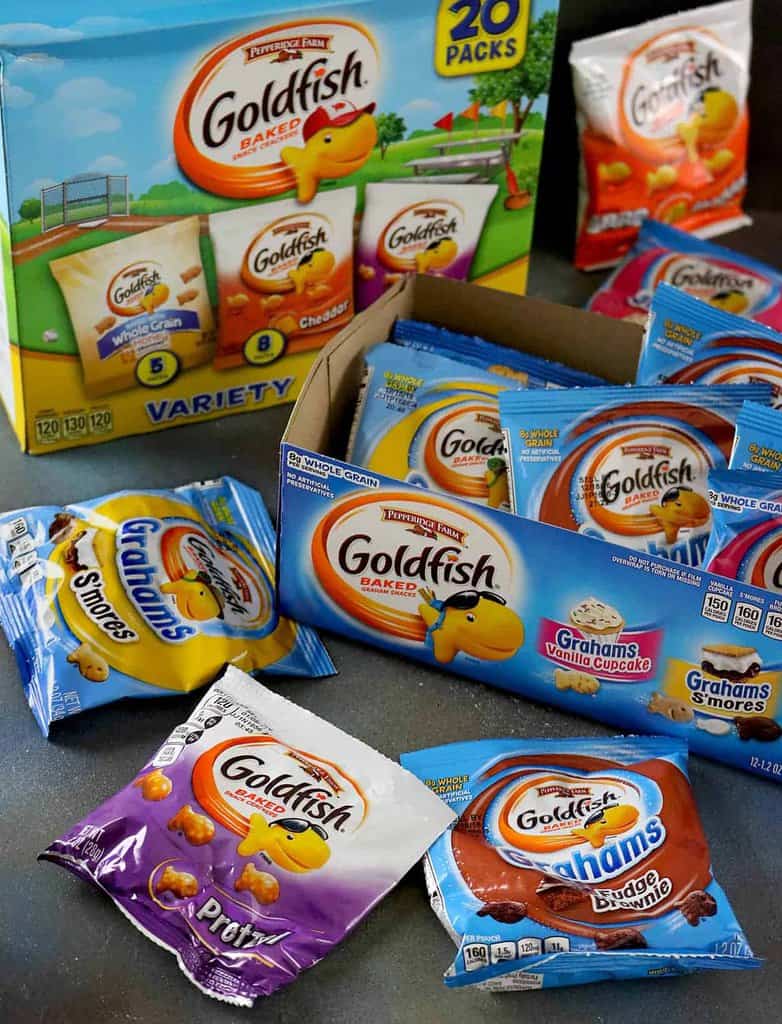 As we sat there in the kitchen, trying to brainstorm snacking choices… (or rather, she brainstormed snacking choices and I sat there dreaming about the fact that my chocolate bar won't disappear from the refrigerator anymore) she began munching on a bag of Pretzel Goldfish® Crackers I had picked up from my neighborhood Walmart when I was out doing my weekly produce and snack shopping.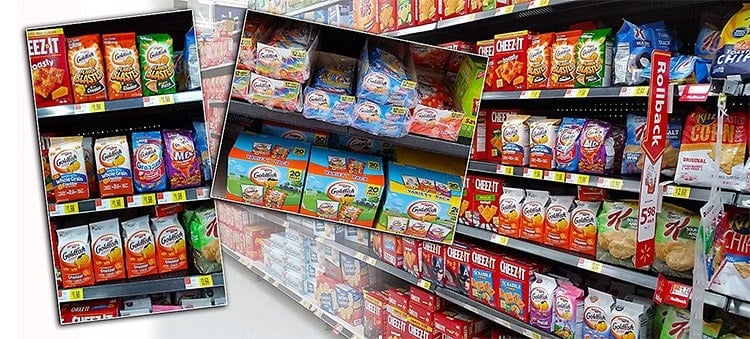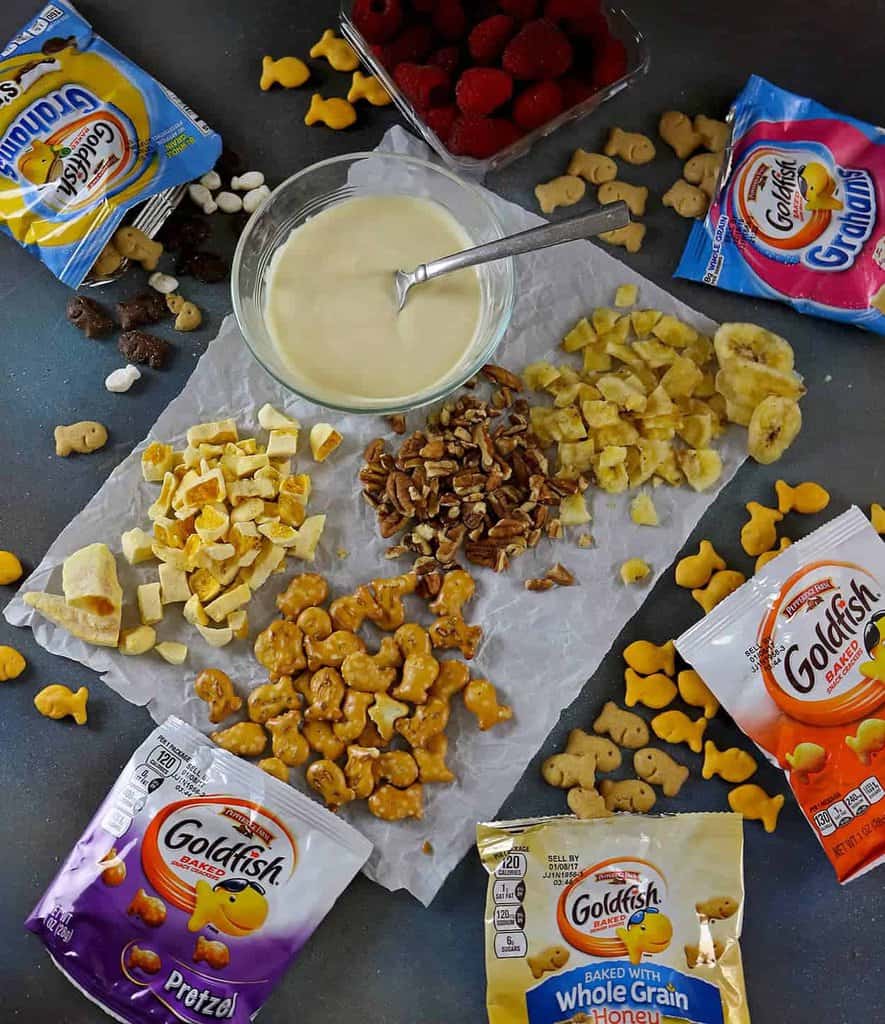 All of a sudden, she stopped mid-munch and yanked open the pantry door and pulled out some banana chips from it. She then ran to the refrigerator and grabbed some raspberries and threw all three ingredients in a bowl. "Now if only these would all stick together somehow, I'd have a one-handed treat to enjoy after school when I am working on my homework."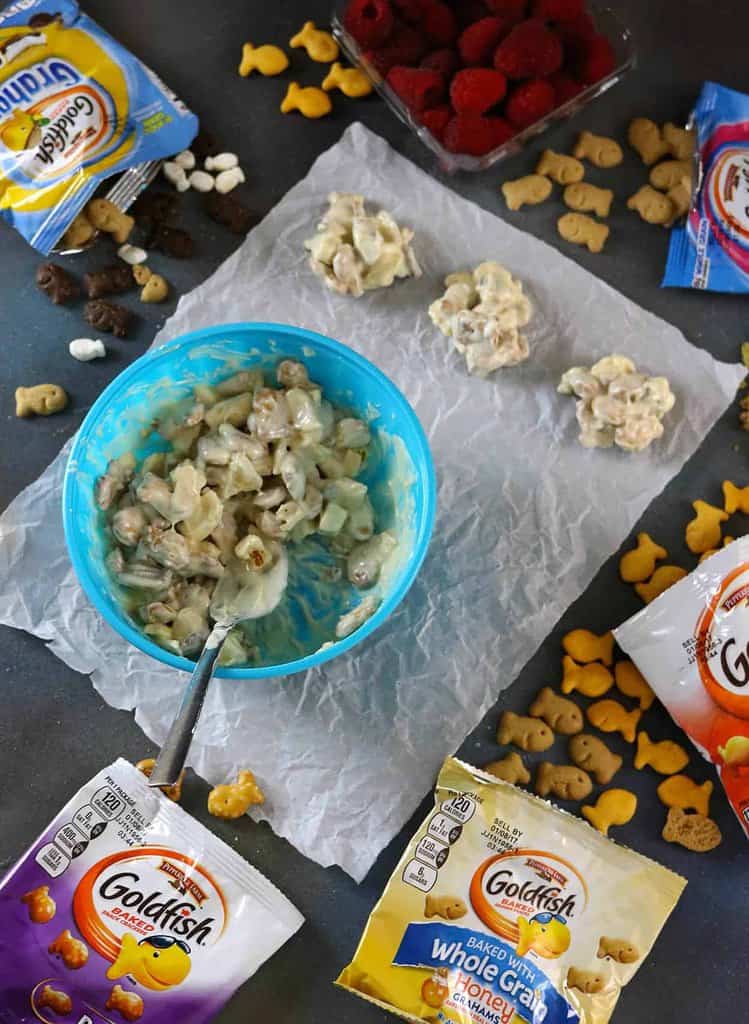 Hmmm… well, seeing I had some yogurt chips also in my pantry, I melted them hoping they'd act as the "glue" to hold my daughter's concoction together. As I also happened to have some dried mangoes and pecan pieces hanging out in our pantry, I figured I would add them to the bowl too – the more the merrier – right?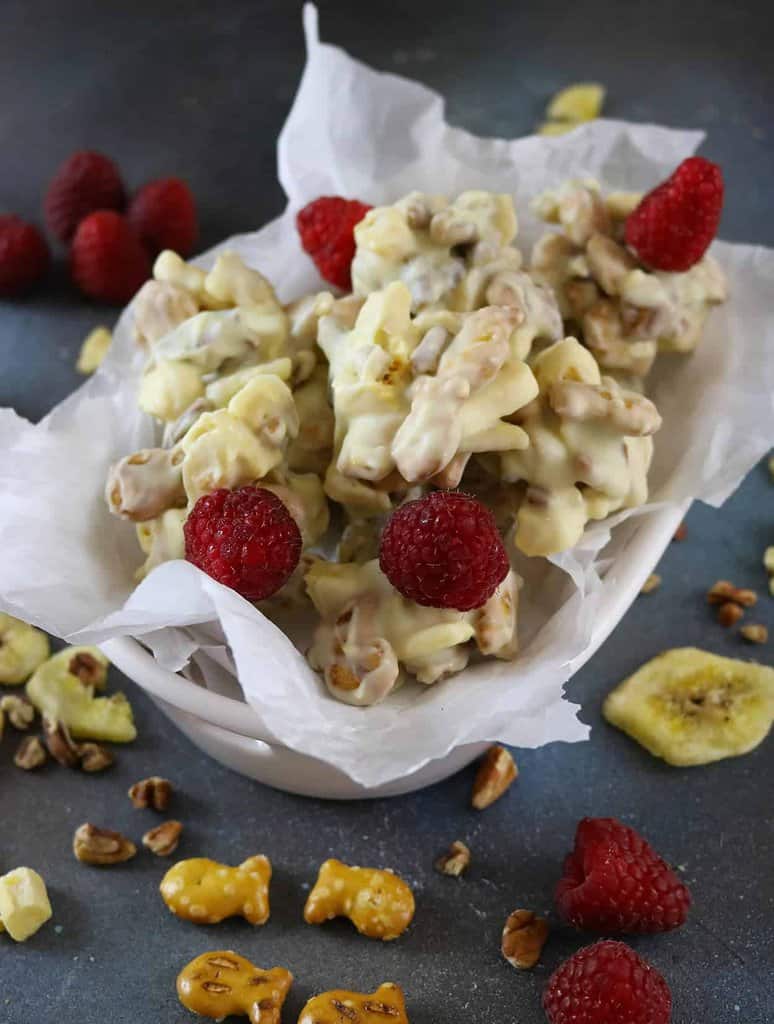 I must say, my daughter has come up with some weird-sounding combinations – that surprisingly have blown my tastebuds away (I once succumbed to her persuasions and tried baked potato chips and vanilla ice cream and have been enamored with the combination since) and knew that this combination would be a good one. But, I was wrong – this combination is a GREAT one! When your mouth is filled with a chunk of yogurt covered salty Pretzel Goldfish® Crackers, pecans, tart dried mangoes, crunchy-sweet mango chips and sweet raspberries, it is pure joy indeed!
[Tweet "Sweet Salty Tangy Goldfish® Snack Clusters #MixMatchMunch #ad @Walmart"]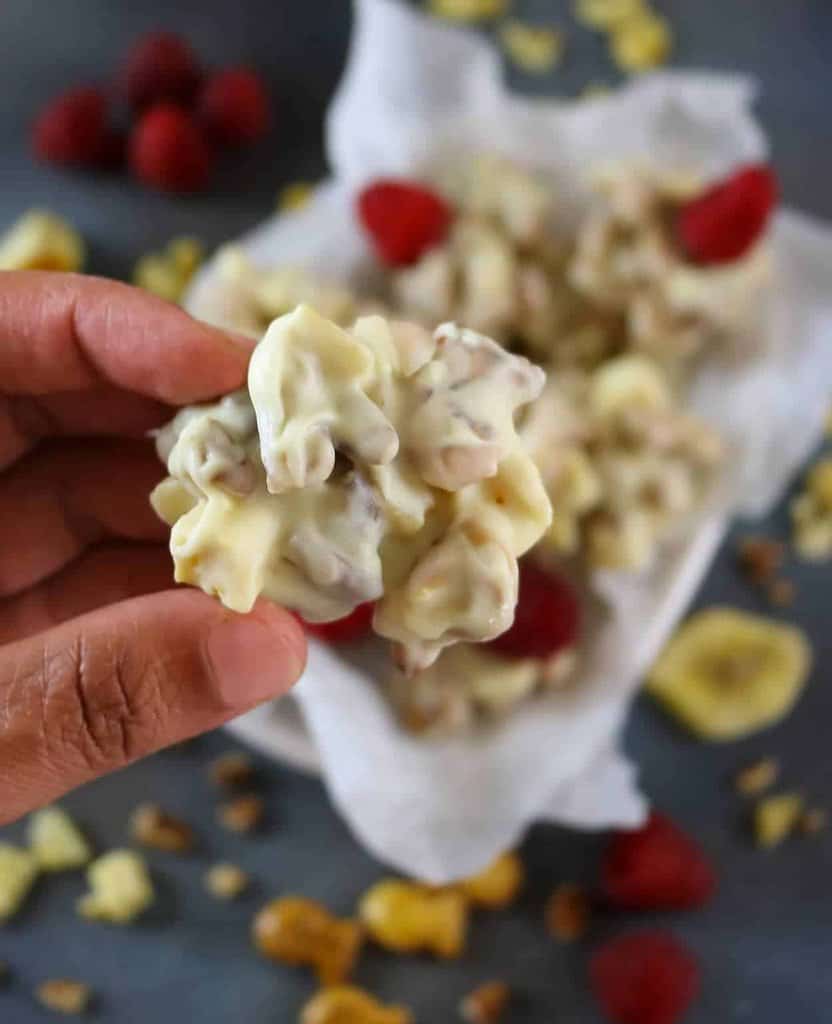 Right now, in select Walmart stores, you can Save $1.00 on any ONE (1) Bolthouse Farms® 10 oz. Baby Carrots or Bolthouse Farms® 11 oz. juice when you buy any ONE (1) Pepperidge Farm® Goldfish® crackers 30 oz. or larger!