Sweet, savory, tart, and spicy, this apple chutney combines a gamut of flavors in every delicious spoonful! It a tasty, refined sugar free accompaniment to a cheese board as well as roast meats.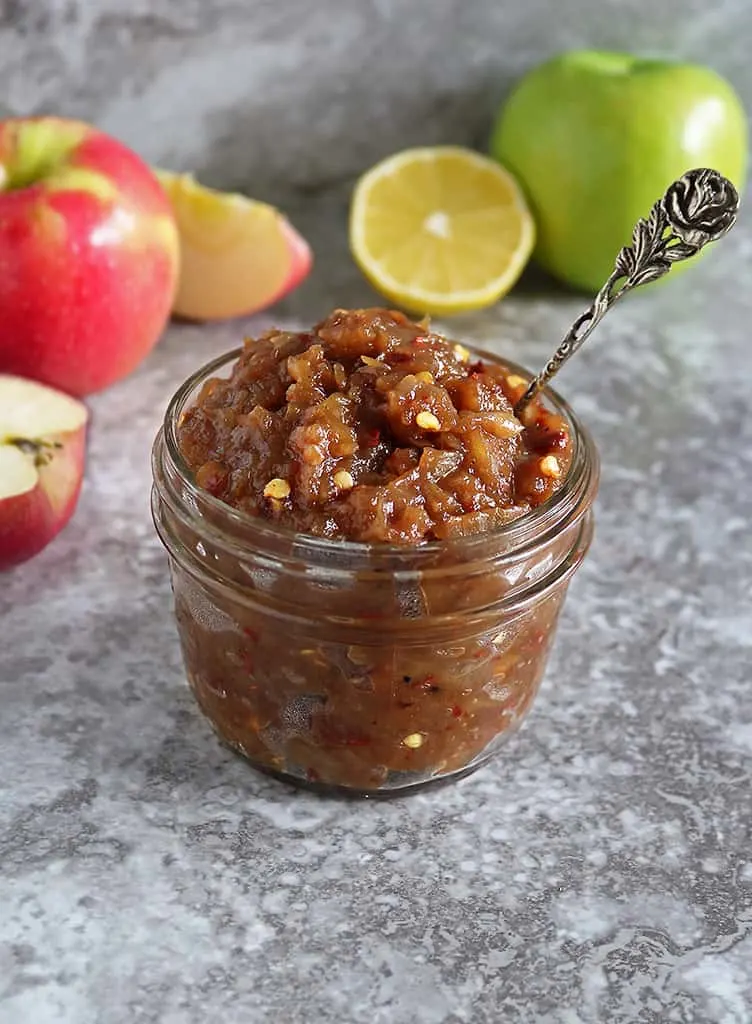 Whenever I used to have a hankering for chutney, I would not think twice about stopping by a grocery store I was passing by, to grab some.
But, in recent years, I've been trying to reduce the amount of refined sugar filled products I consume. So, I've been making chutneys from scratch.
Making chutney from scratch has given me the opportunity to replace white or brown sugar (that is very often the key ingredient in chutney recipes) with honey or maple syrup.
As a result, I like to think that the resulting chutney is a bit on the healthy-ish side. And, I can tailor the taste of the chutney so it pleases all tastebuds.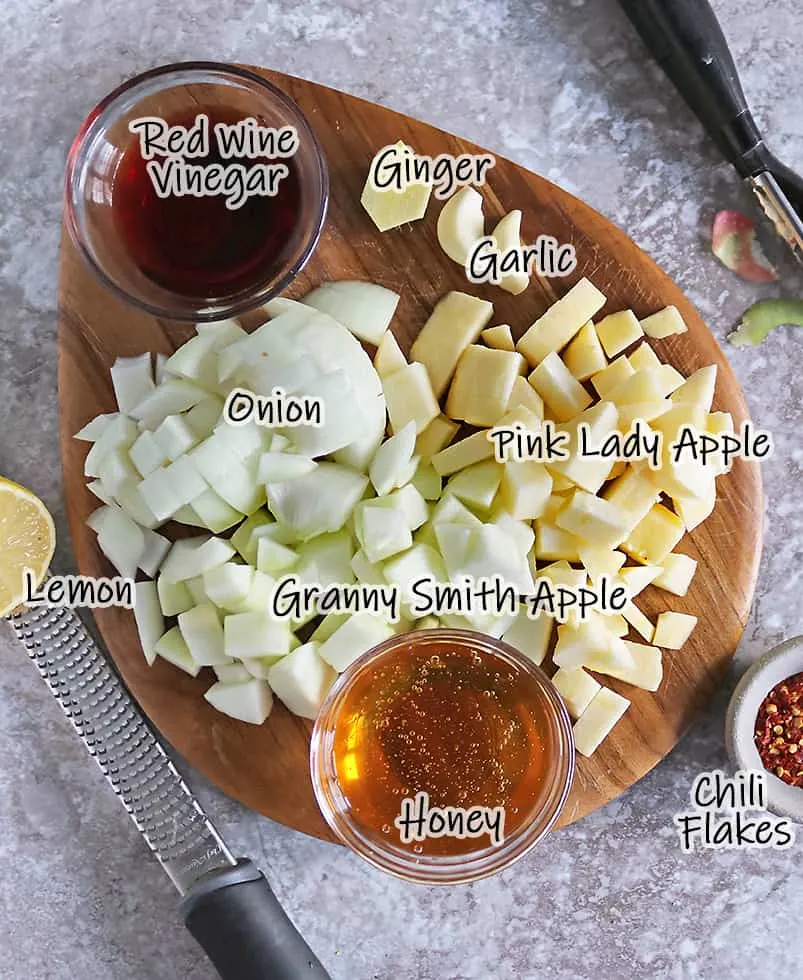 What are the ingredients needed to make this apple chutney?
This apple chutney recipe is an easy one. Start off by gathering your ingredients such as:
apples
red wine vinegar
honey (or maple syrup)
yellow onion
garlic
ginger
lemon
chili flakes
coriander, and
salt & pepper
Vinegar is an integral component of this chutney because its acidity very effectively puts a kibosh on the actions of unwanted micro-organisms. If you want to cut down on the taste of vinegar, add in a pinch (and no more than a pinch/1/8 tsp) of baking soda.
The honey or maple syrup balances off the vinegar and also plays a part as a preservative.
I love using onions + ginger + garlic in my chutneys as they add such a lovely variety and depth of flavor. And the coriander simply rounds off all the flavors. All of the ingredients in this apple chutney, no matter how small a quantity, play an important art in making this chutney so tasty!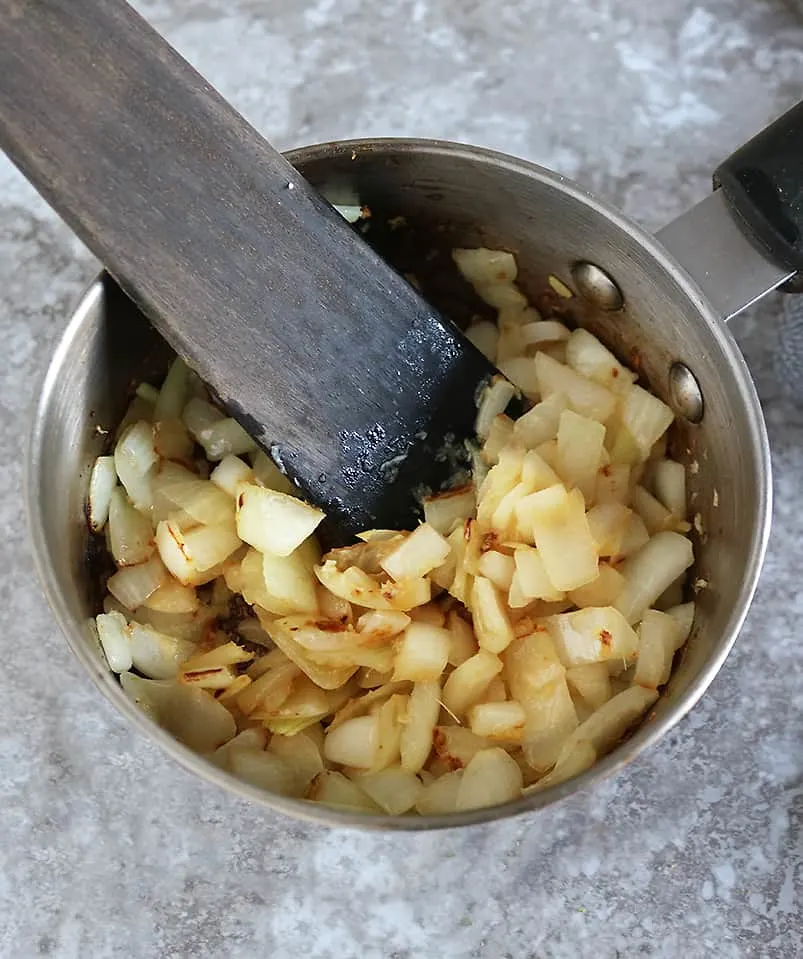 How to make this easy apple chutney?
After you gather all the ingredients, then peel and chop the apples, onion, garlic, and ginger. Place all the ingredients – except for the chili flakes, salt, and pepper, in a heavy-bottomed pan. Set the pan over low heat and let all the ingredients jive and jam around for about 15 minutes. During this time, the mixture needs to be stirred often.
When the apple chutney is done cooking, It's just a matter of removing the pan from the heat, adding in the chili flakes, and seasoning it with salt and pepper to taste.
As I had big chunks of apple in the pan, I used a fork and mashed it down so this chutney wasn't too chunky. This chutney can be enjoyed immediately or placed in an air tight container to enjoy later.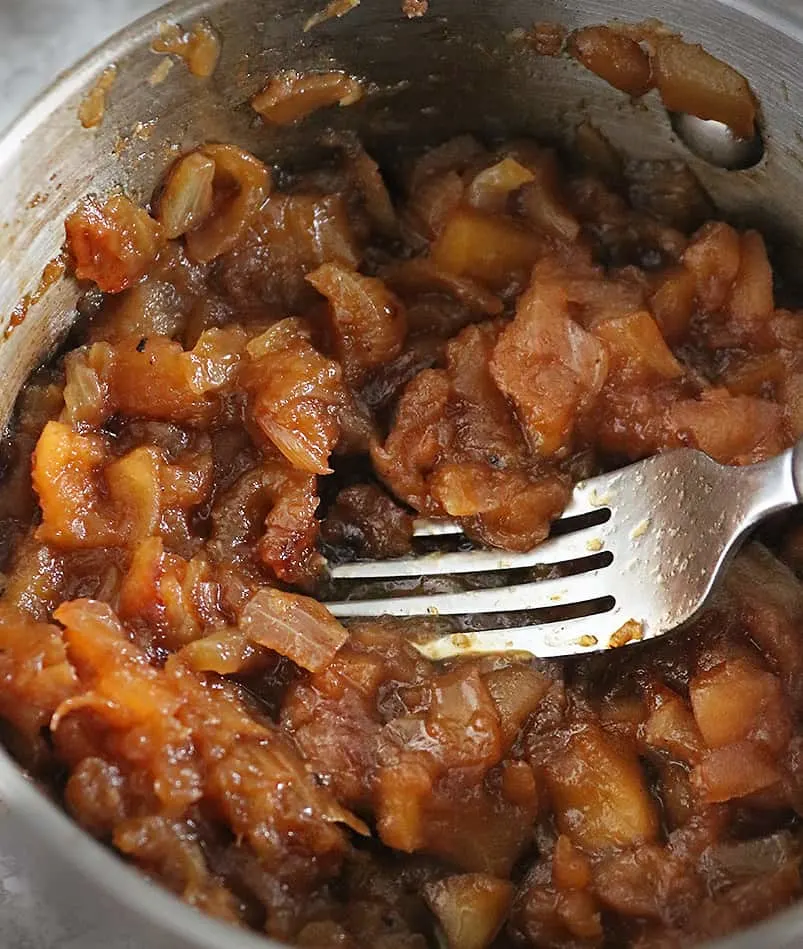 We love this apple chutney as it is:
✔ so tasty
✔ so easy
✔ refined sugar free
✔ so versatile
What to eat with this chutney?
Much like this mango chutney, this apple chutney is delicious as a dip to everything from air fried salmon balls to chicken fingers. It pairs beautifully with roast meats like pork or chicken. And it is an absolute delight with crackers and cheese.
My daughter and I recently threw together a cheese board for her birthday, and this apple chutney did not lost long – paired with brie, crackers, and roasted veggies.