Is it a curry? Or, is it a stir fry? Why, Yes and yes – it is a curry and a stir fry together! I'm hoping you enjoy this aromatic, gluten free, cumin and garam masala spiced, creamy Coconut Curry Stir Fry as much as my daughter and I did!
---
"By posting this recipe I am entering a recipe contest sponsored by JSL Foods and am eligible to win prizes associated with the contest. While I was not compensated for my time, I did receive free product samples. As always, all opinions are my own."
---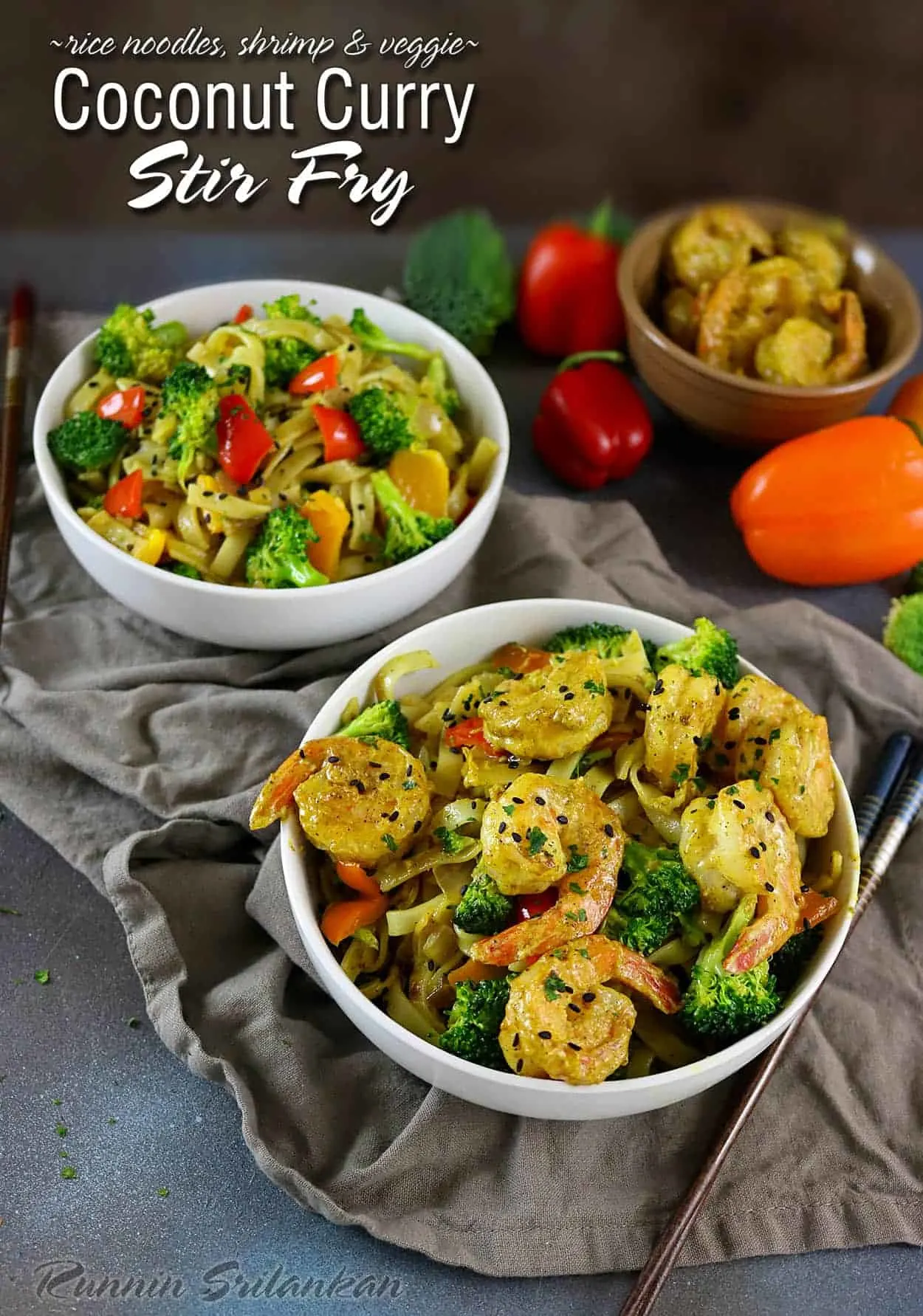 With just under 300 calories per serving, this is a tasty and filling meal that is packed with layers of flavor.
It is an easy dish that is a must try.
---
Currently, I am in the middle of having the exterior of my house painted by some of the sweetest, kindest, most humble painting crew I've met.
Ok – so, I've only met 3 painting crews – but these chaps are always so obliging – it makes me think twice everytime I have to go in and out of an entryway that they are working on.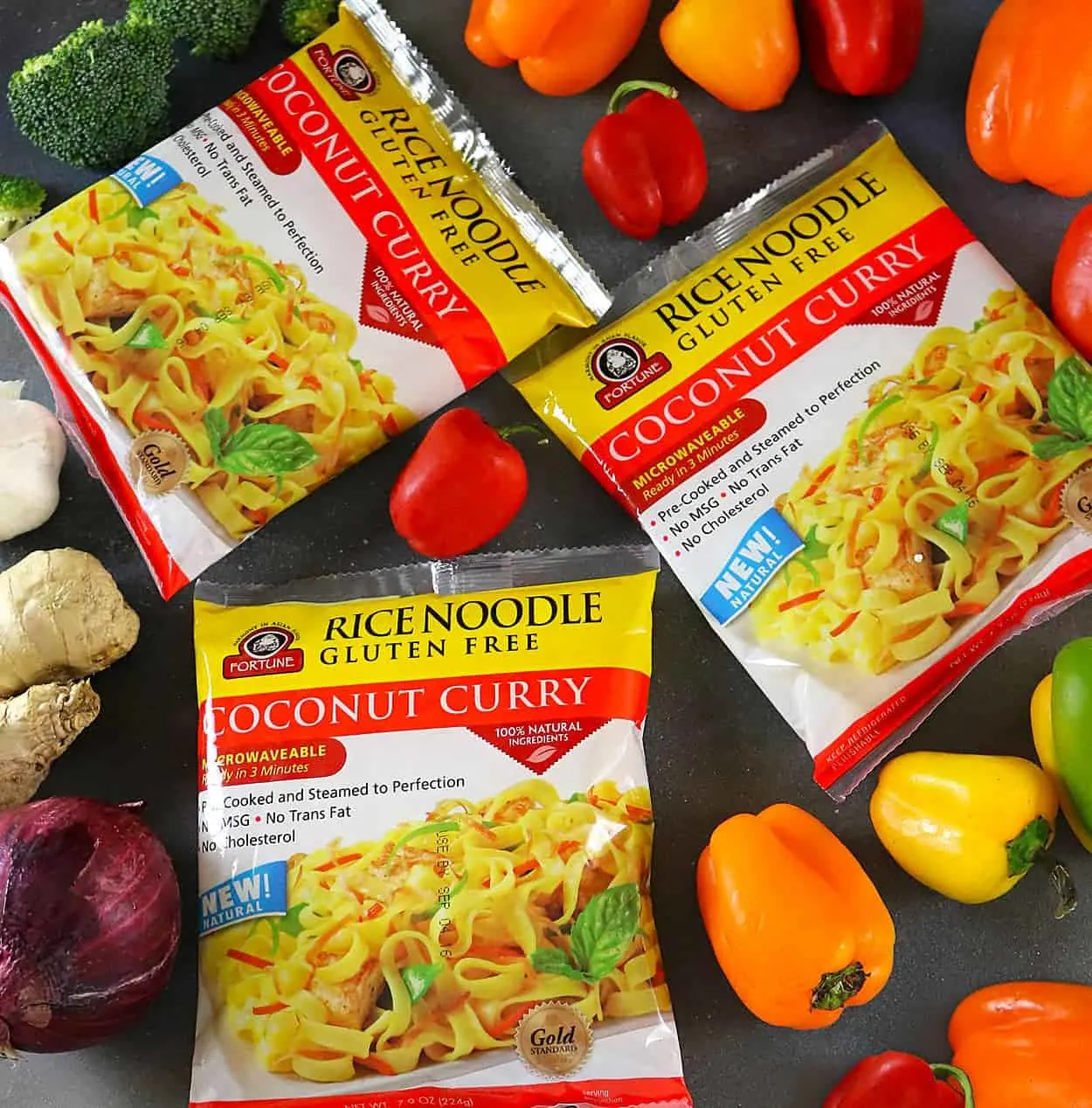 Yesterday evening when my daughter and I got home after visiting some friends, the crew had our front and back doors draped up.
Now, I'm sure they would have stopped and let us go in but my guilty conscience got the better of me…so my daughter and I figured we would go grab dinner from Chipotle, hoping they'd be done with that area by the time we got home.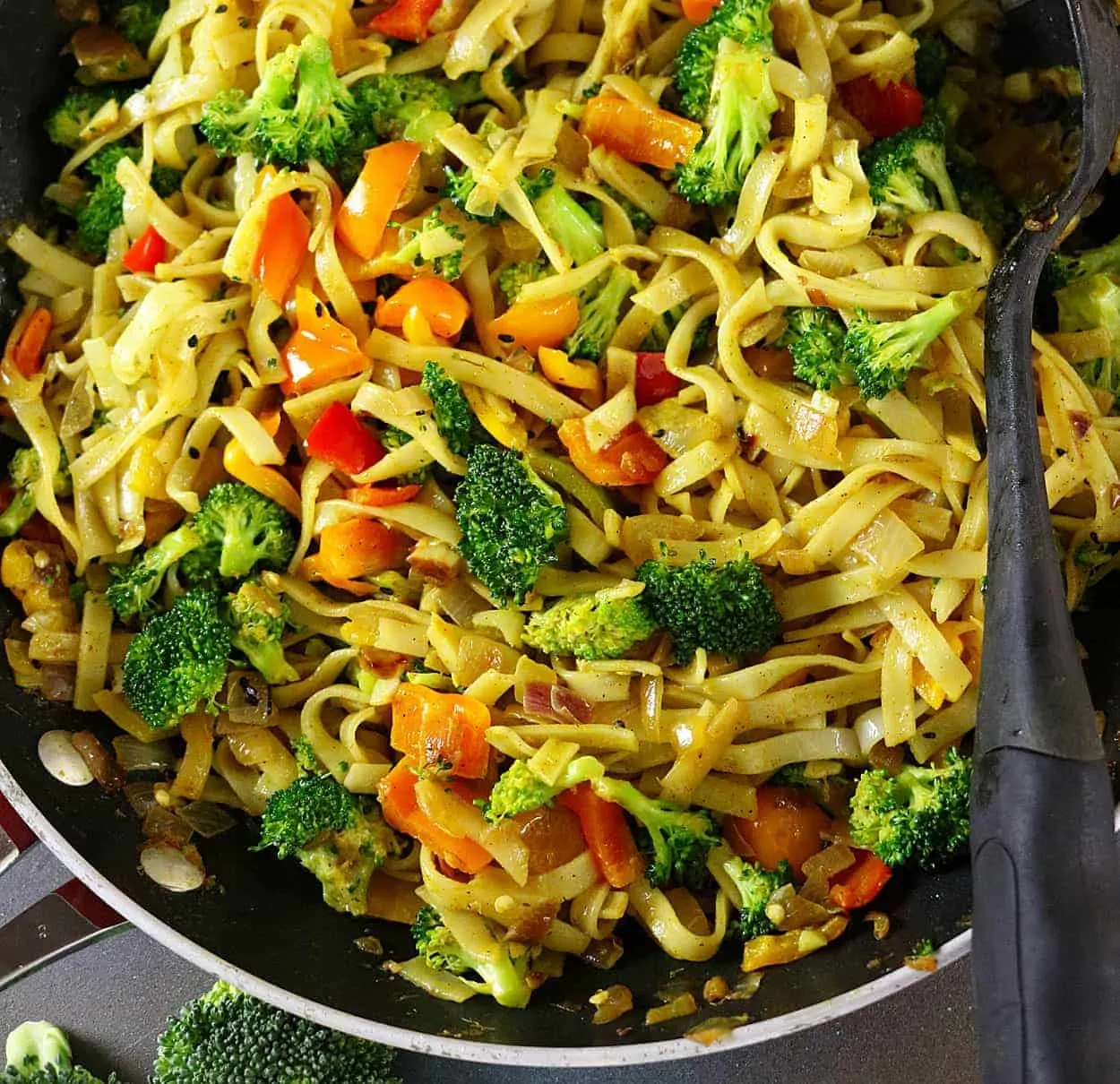 However, we were almost getting ready to pull into the Chipotle parking lot when my daughter turned to me and said: "mom, are you really feeling like Chipotle tonight?" … I thought for a second and, nope, nope I wasn't.
So, we did a donut and figured we'd cruise around till we could decide on some other place.
After debating and driving for a bit, I remembered that I had some gluten free, pre-cooked, rice noodles that JSL Foods had sent me, as well as some veggies and shrimp at home and my daughter agreed that we might as well head home and cook dinner instead of trying to eat out #storyofourlives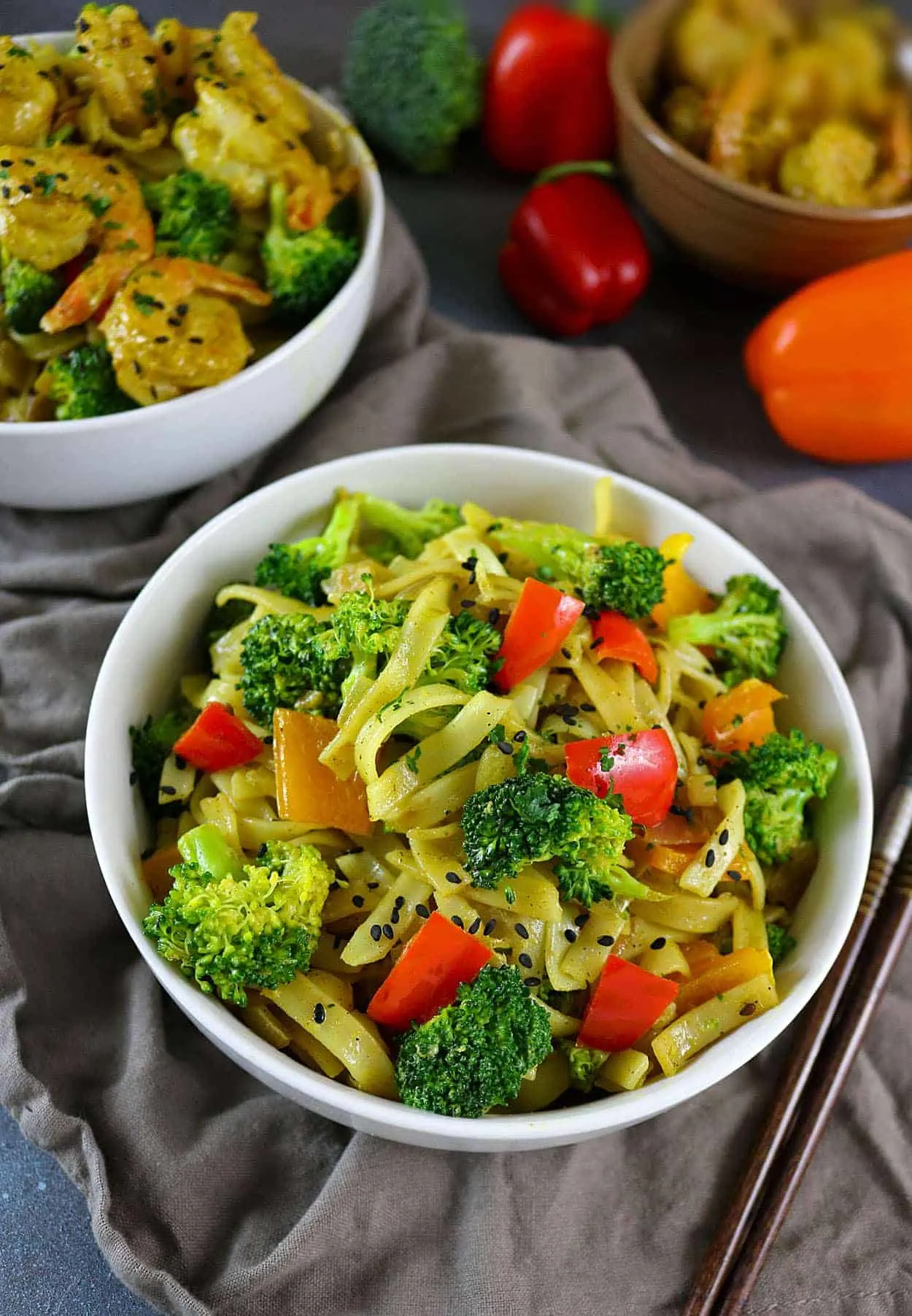 When we got home, our doorway was undraped!
And, when I pulled out those rice noodles, I was delighted to find that they could be heated up in just a minute. So while my daughter zapped two packets of them in the microwave, I chopped up some onions, garlic, ginger, and veggies, washed some shrimp and got to work sauteing and stir frying.
Now, I cooked the veggies and noodles separately from the shrimp but feel free to combine the two if you'd like to. Just before I tossed the noodles into the pan, I added some coconut milk with some garam masala, turmeric, and cumin and voila – creamy, spicy, daughter-pan-licked-and-approved, Coconut Curry Stir Fry – in 20 minutes!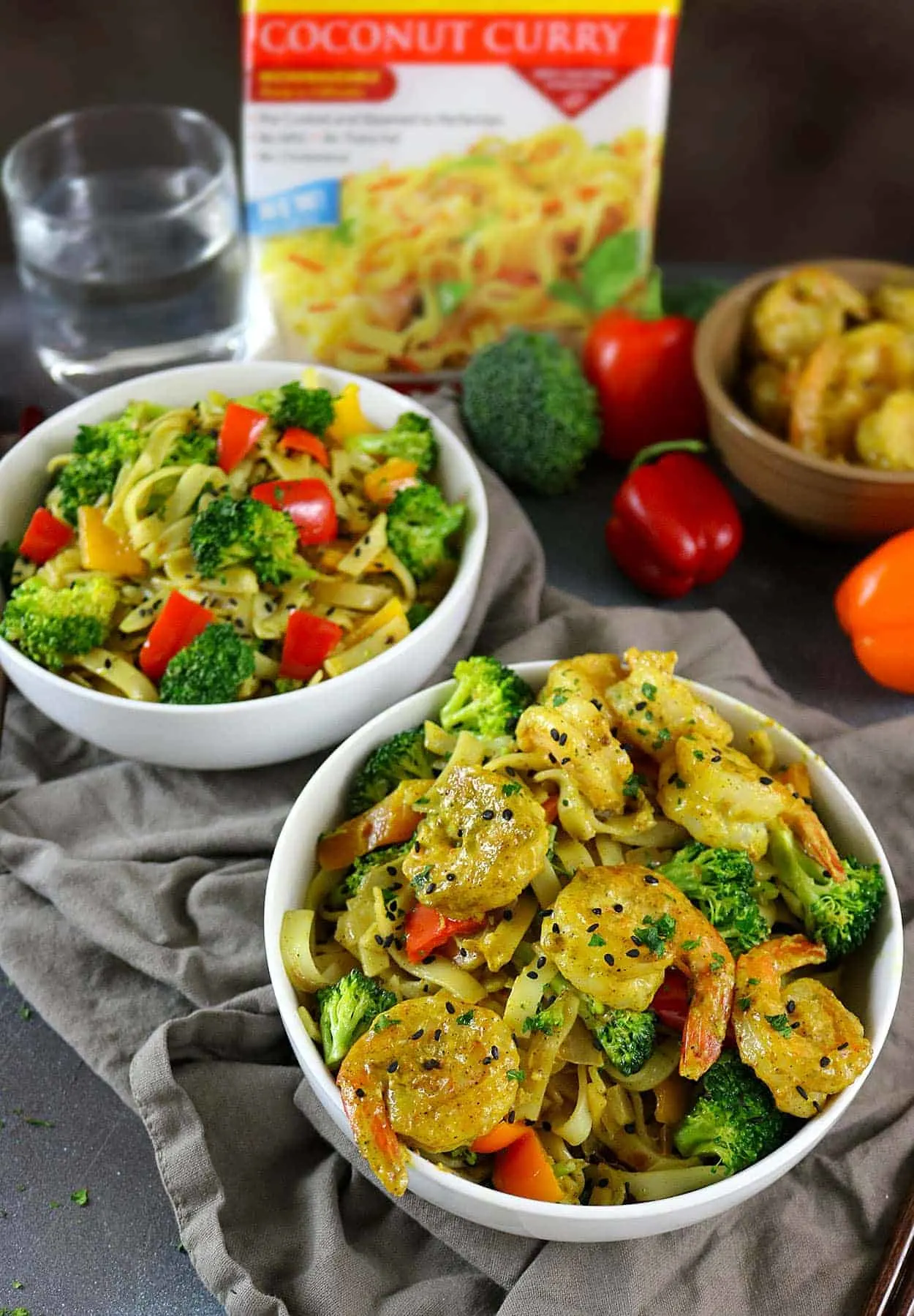 ---
Thanks so much for stopping by. If you make this recipe, please let me know in the comments below what you think of it, or tag your creation on social media with @savoryspin or #savoryspin. For more fusion, spice-filled, recipe ideas, please subscribe and follow me on Facebook, Instagram, and/or Pinterest!