Slightly soft and slightly crunchy, these 11-ingredient, cinnamon and cardamom spiked, refined sugar-free, gluten-free, eggless waffles play a huge part in making our weekends wonderful ~ hope they do yours as well.
My daughter is the inspiration behind a lot of the recipes and quips I share on this blog. And, today is no exception. Since her first introduction to coffee when she was 12 or so, my daughter has nursed a penchant for fancy, expensive coffee makers.
When I attended the 2017 Everything Food Conference, she tried to talk me into smuggling her into the DeLonghi coffee bar that was a retreat for conference goers. She is always reading reviews and leaving me hints as to why I would fall in love with coffee made in a everything from a DeLonghi to Nespresso Machine. In her own words, that child of mine has an obsession with the quest for the fanciest of coffee machines!
Earlier this year, we were trying to plan out a vacation to the West coast. We had a few stops mapped out from Los Angeles to Cannon Beach. And, when I asked her to find places for us to spend a night at at our stops, She managed to single out those hotels that had a Nespresso coffee maker in them. I have had coffee from a fancy coffee machine before and, in my opinion, it tastes just as good as my generic Costco branded coffee.
While our opinions differ greatly on what coffee is the best, we seem to agree on what constitutes a delicious hearty breakfast. And, most weekends, our breakfast seems to alternate between pancakes and waffles.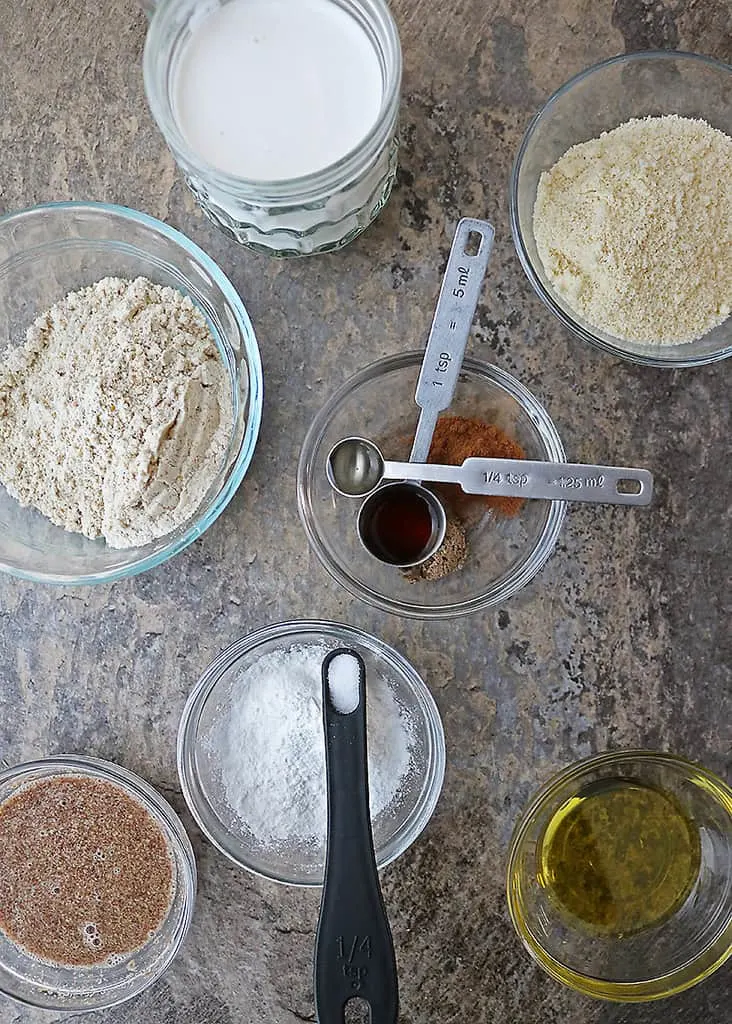 This weekend we feasted on these eggless waffles! And what a feast these were. So flavorful with cinnamon and cardamom and texturific with almond meal added in.
I had been trying to perfect eggless waffles for awhile before these. I struggled with getting the consistency and texture just right. I even ruined a waffle-maker with a batch that refused to be dislodged from the waffle-plates. So, when these turned out in-tact as well as tasty and with the perfect ratio of crunchy to soft, I was thrilled.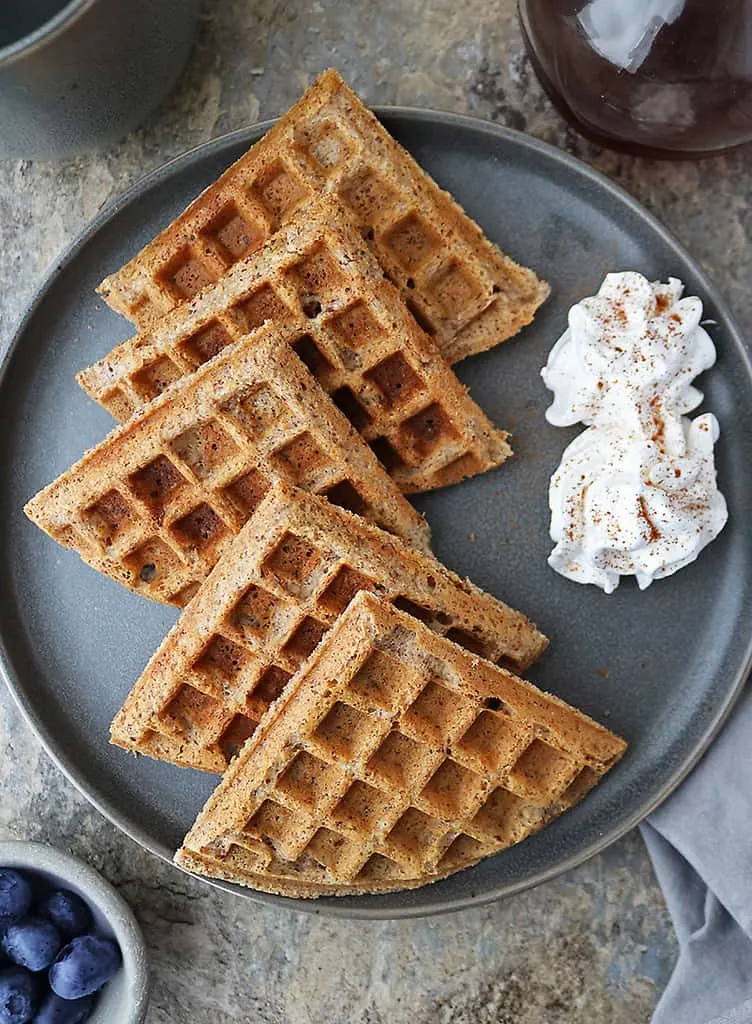 Why we love these eggless waffles…
These waffles are just so tasty. I love my egg-full waffles, but I couldn't really tell that these were eggless. Why eggless? Well, my daughter has been trying to avoid them so I figured I'd try and come up with a waffle recipe we both would love.
These eggless waffles are also so easy to make. I started off by making a flax egg. Then, mixing the dry ingredients together and adding in the wet ingredients. Mixing it all together and adding it to a waffle-maker and bingo! Breakfast served!
What is a flax egg?
A flax egg is made my mixing 1 tbsp flaxseed meal with 3 tbsp water, then letting it sit for about 5-7 minutes to thicken.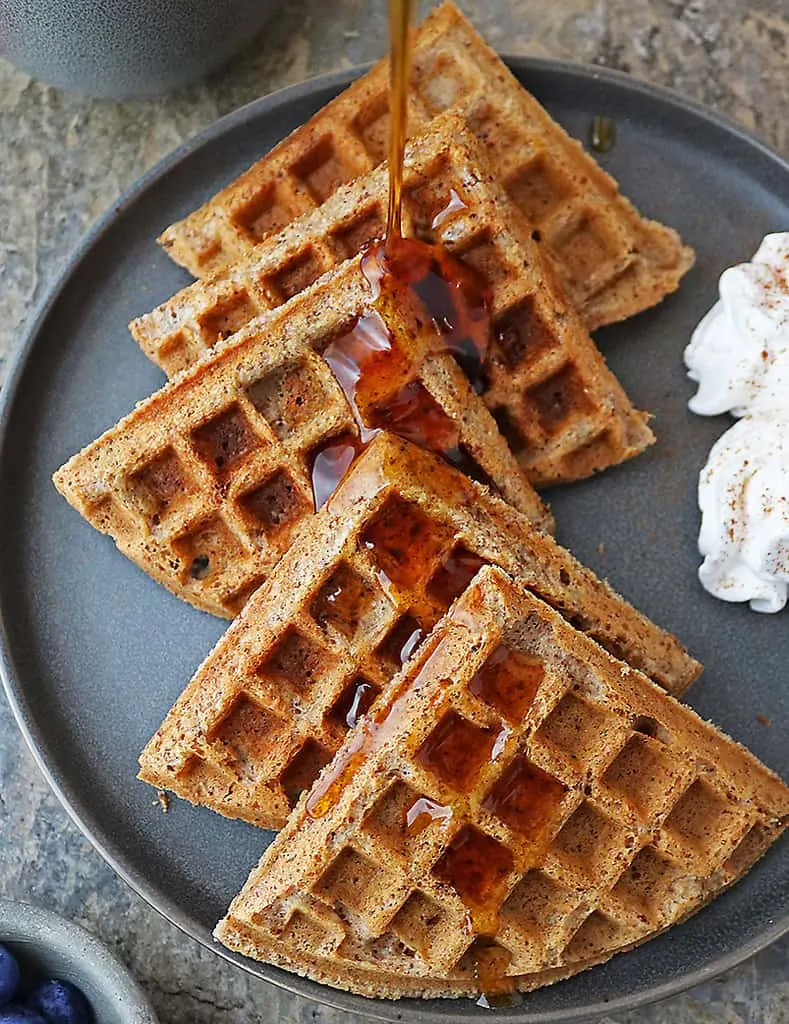 What do you need to make these eggless waffles?
You will need the following 11 ingredients:
flax egg (flaxseed meal + water)
Gluten free flour (I used Cup 4 Cup)
Almond meal
Baking powder
Salt
Coconut milk,
Olive oil
Cinnamon
Cardamom
Almond extract
Vanilla extract
And, one small bowl for the flax egg, a large bowl for the waffle mix, and a waffle-maker , and you are on your way to enjoying these waffles!