This Eggless French Toast Recipe is a fuss-free one that results in a small batch of delicious French toast that is slightly crispy on the outside and fluffy on the inside.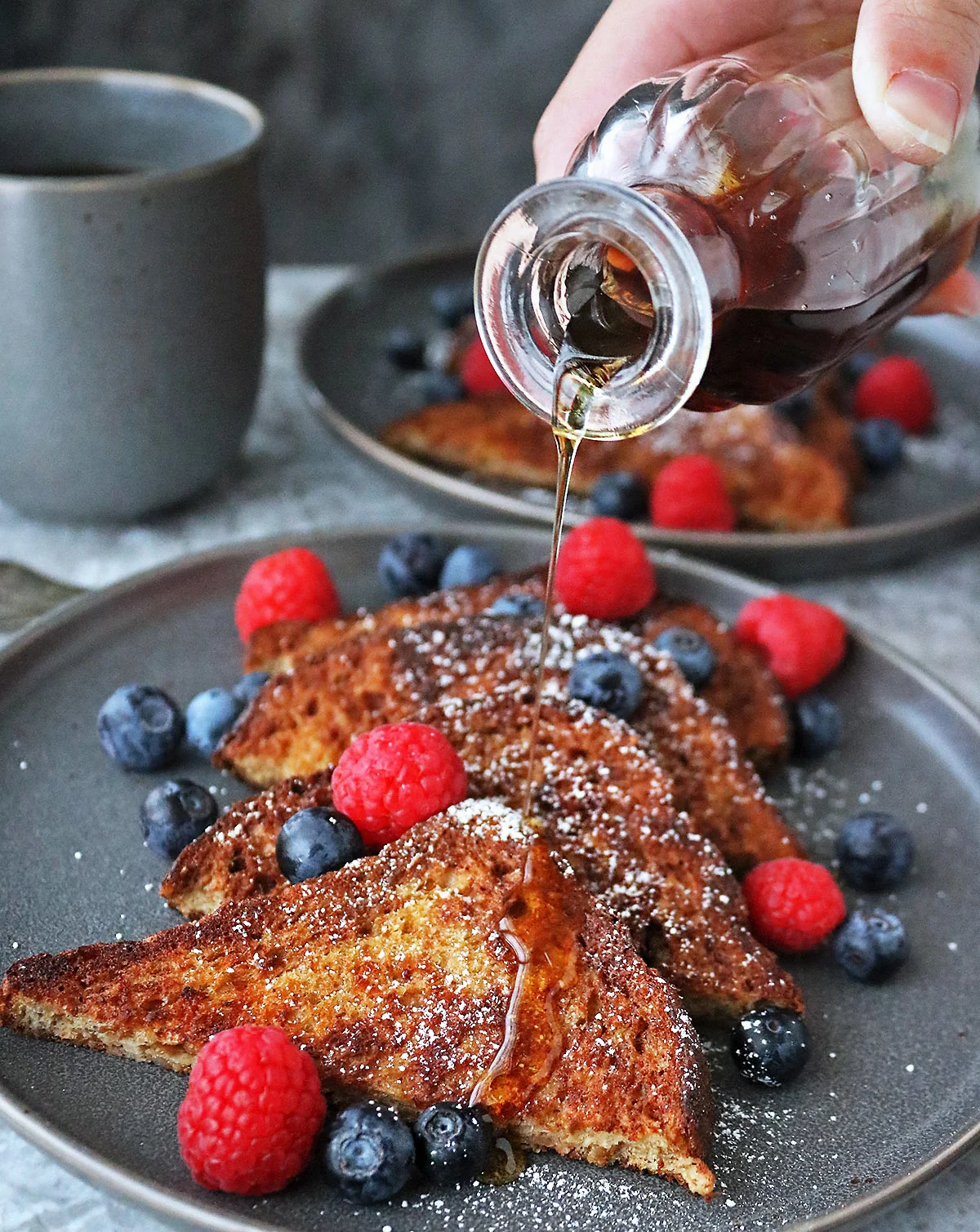 This recipe for French toast without any eggs is an easy, no-nonsense recipe. It is perfect for you if you are allergic to eggs, avoid eggs as part of your dietary choices, or simply don't have any eggs around.
This is a small batch recipe that makes enough for 2 people, or, for 1 person for 2 days.
In this recipe, buttered bread is soaked in a mixture of almond milk and spices, and cooked to crispy perfection. The milk mixture is spiced so well that you really will not notice the absence of eggs.
This recipe is dedicated to our pup, Ollie. Every time he heard the plastic wrapping on a loaf of bread rustling, he would come running. And, naturally, every morning I toasted up a slice or two for myself, or made some French toast, he had to taste-test a chunk of each slice. His love for bread continued right up until the night before he passed.
Our sweet Ollie lost his battle with an aggressive stomach tumor on the morning of Wednesday, April 20th. The most loyal and loving chap I've ever known, left us to join his sister, Tawny, over the rainbow. Like his sister, he taught us what unconditional love looks like, what a home feels like, and that you should never start a morning without a hug.
Ollie Charles came into our home on April 7th, 2012. He had been abandoned at a local park, with his three sisters. When we first adopted him from the local shelter, he was one adorable, big ball of fur. My daughter trained him and groomed him into the loving, sweet fella we adored. He left us unexpectedly on April 20th, 2022, and he is so incredibly missed.
The night before he passed, his appetite returned for a bit, and he got to enjoy one of his favorite foods-bread, in all its glory.
Which brings us back to this easy French toast recipe…
What are the ingredients needed to make this eggless French toast?
You will need the following 10 ingredients to make this recipe, and they are:
Bread
Vegan butter
Almond milk
Vanilla extract
Almond extract
Cinnamon
Nutmeg
Cloves
Ginger
Cardamom
One tip when making this recipe…
One tip when making French toast is to use bread that is at least a day or 2 old, which is better at absorbing the spiced milk concoction. The older, the better. And, when it comes to the bread used, a firm loaf like brioche, challah, or sourdough works best.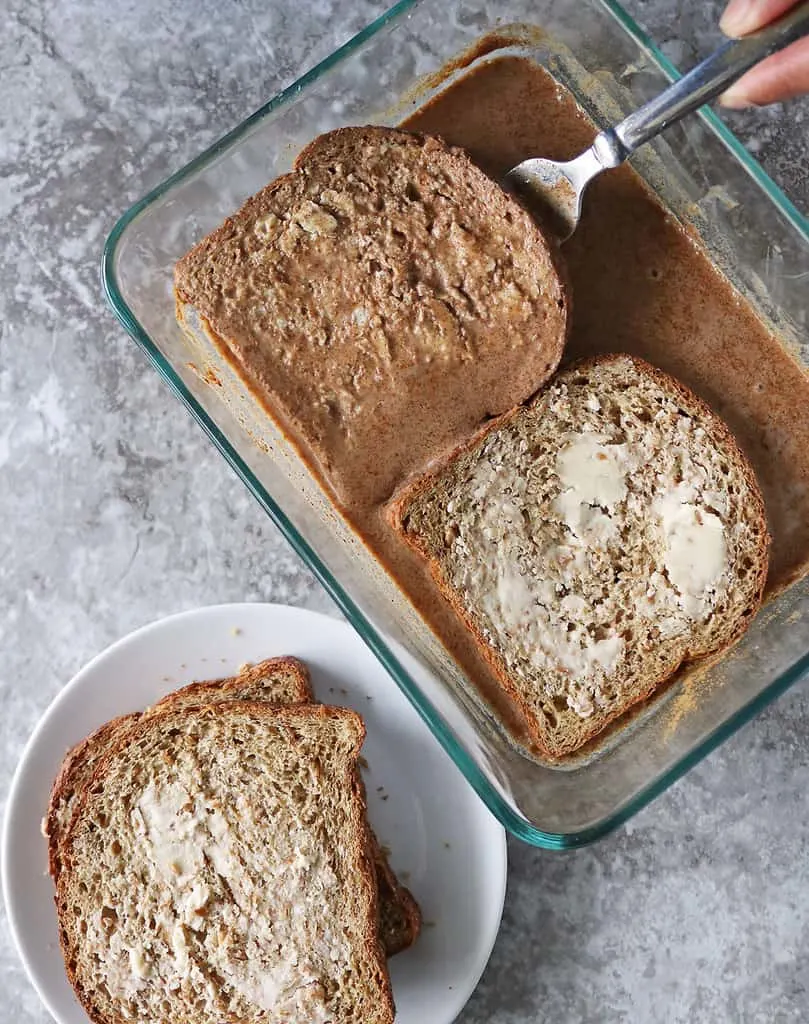 Is there a secret to making French toast without eggs?
Well, as far as this recipe is concerned, there is no secret ~ other than a plethora of spices to add some serious flavor oomph!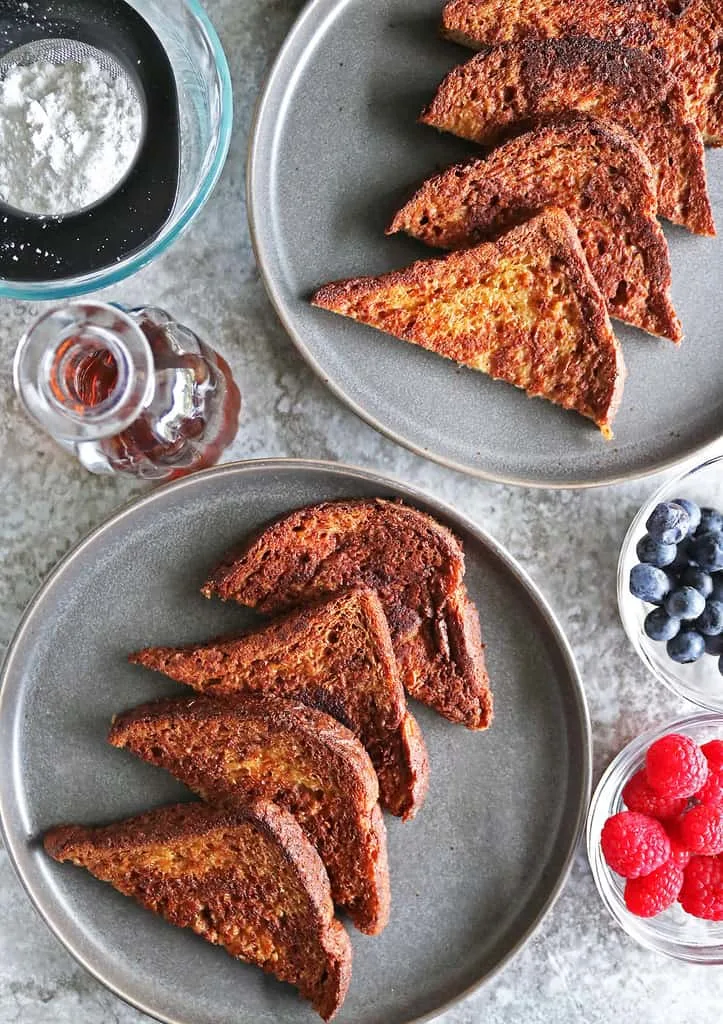 Now, there are several other eggless French toast recipes that use nutritional yeast to mimic an eggy, cheesy flavor. But, this recipe is a simple one that just combines warming, aromatic spices like cinnamon, cardamom, nutmeg, cloves, and ginger along with almond and vanilla extract to make a delicious and flavor-packed French toast.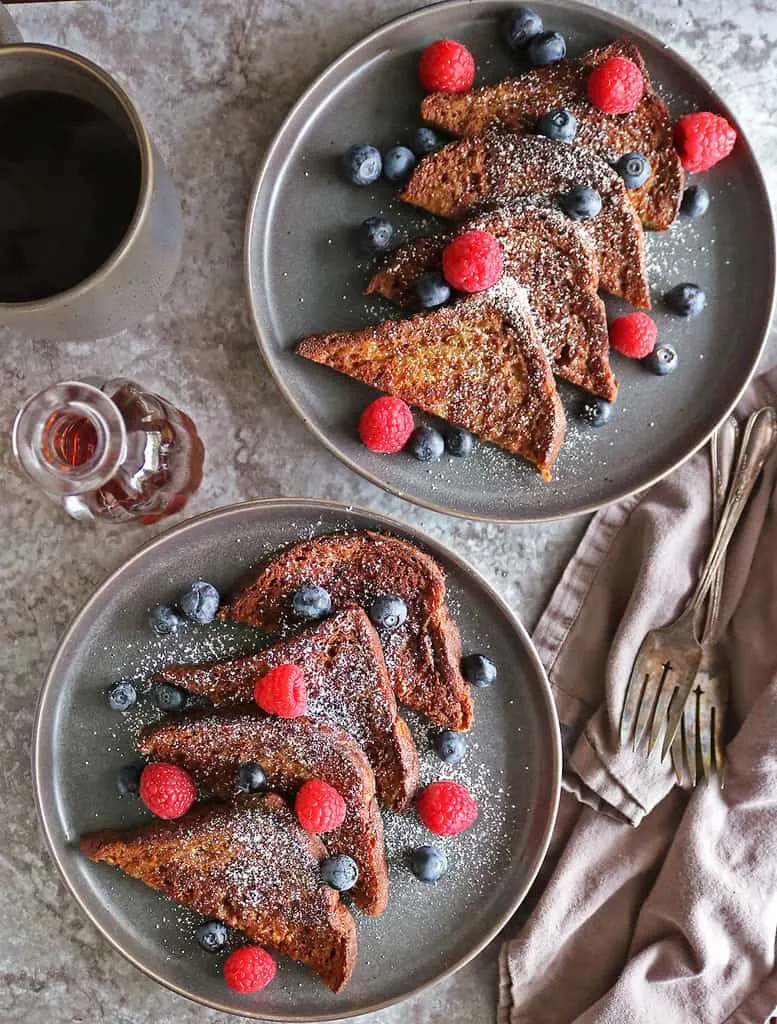 A very brief history of French toast…
For the longest time, I just assumed French toast was from France. But, I came to find out that is not the case. French toast as we know it now was said to have been introduced by a Joseph French in Albany, New York.
But, as mentioned in this article, recipes for a milk and spice-soaked bread concoction have been found that date back to the 5th century B.C., in Rome. Apparently, the Romans dipped slices of bread in milk (and sometimes eggs) before frying them, and called their creation: "Pan Dulcis."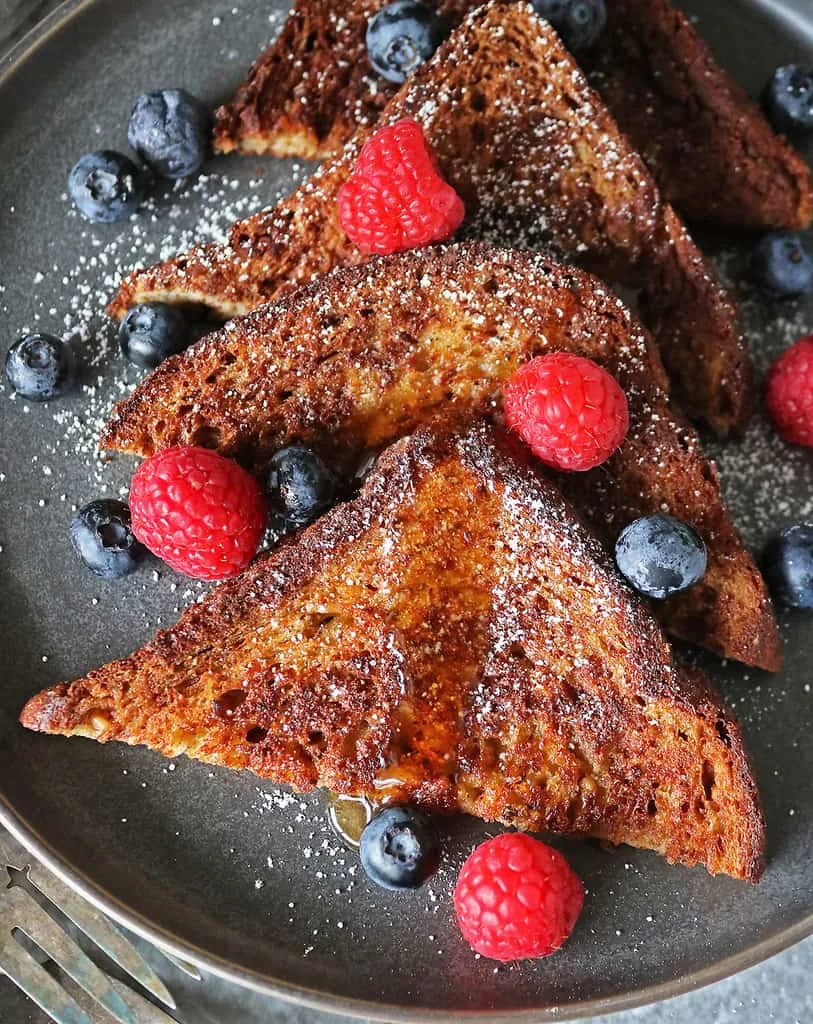 This French toast recipe made without eggs is an easy one and can be made and enjoyed on a weekday or weekend morning.
You can enjoy this vegan French toast with your choice of berries/fruit, powdered sugar, and a generous drizzle of maple syrup or non-dairy whipped topping.
What is the best bread to make eggless French toast?
The best bread is challah, sourdough, or brioche loaf. Make sure the slices are thick, and the bread is a few days old, as this helps the bread stay sturdy while absorbing the spiced milk mixture.
How do you store this eggless French toast?
Let this French toast cool completely, then place it in an airtight container and place it in the fridge. This should stay fresh for up to 2 days or so.
Can you freeze this French toast?
Yes, you can freeze this eggless French toast. When it cools, wrap the slices in parchment paper and place them in a sealed container. Place the container in the freezer. These slices can be stored frozen for a couple of months if necessary.