Made with only 5 ingredients, this dairy-free Pineapple Spinach Smoothie is a refreshing and satisfying pick-me-up that is so easy to make to enjoy at any time of the day.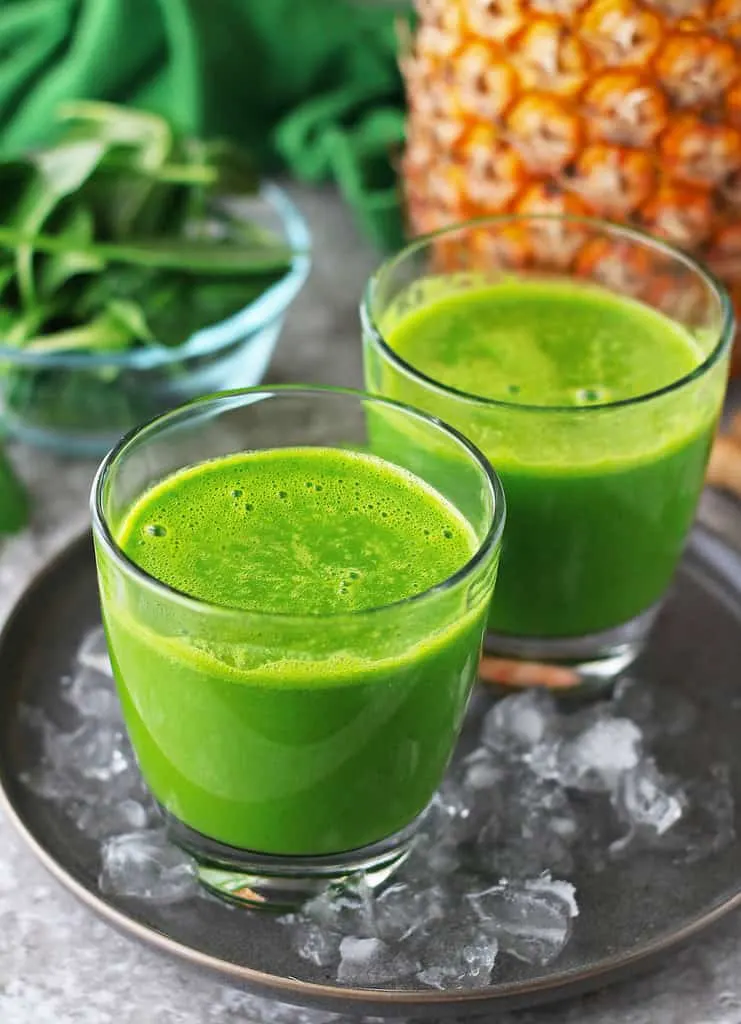 This Pineapple Spinach Smoothie makes it easy to get my serving of leafy greens in. It is a refreshing, delicious smoothie that is sweet and spicy, all at once.
If you are wondering why or how is this smoothie spicy? Well, wonder no more.
This smoothie is made with a large chunk of ginger, along with the other 4 ingredients.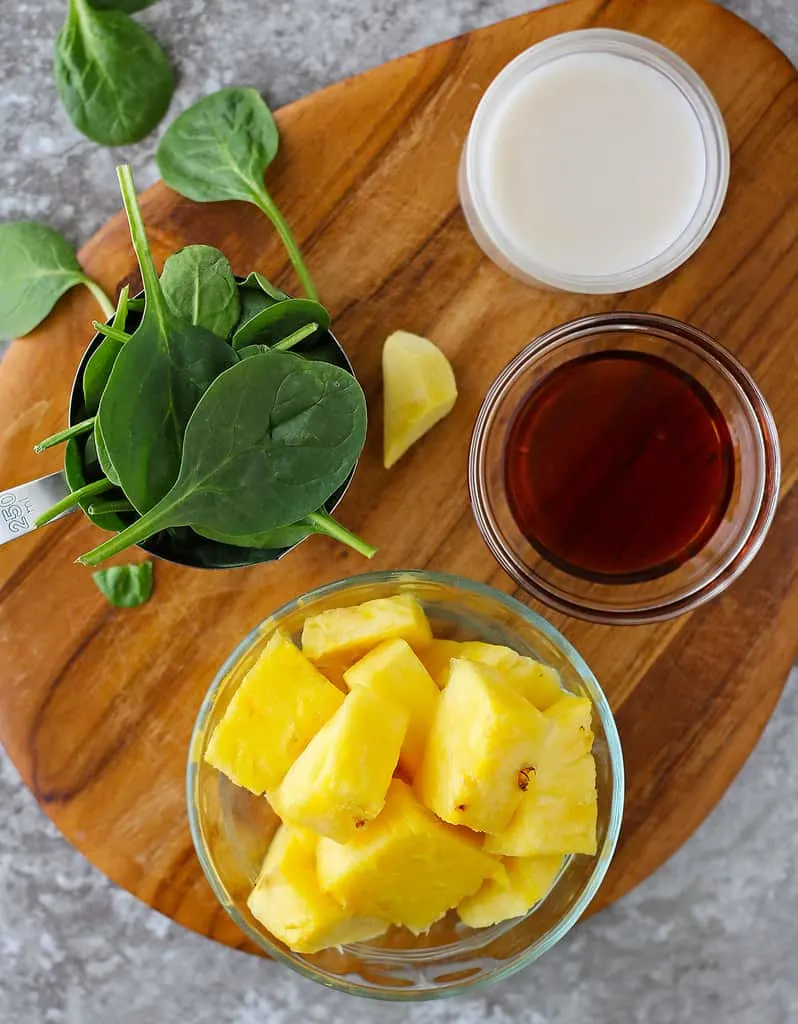 What are the ingredients in this Easy Pineapple Spinach Smoothie?
The five ingredients in this smoothie are:
Pineapple,
Baby spinach,
Almond Milk (or any non-dairy milk),
Ginger, and
Maple Syrup.
Can you put raw spinach in a smoothie?
I used raw fresh spinach to make this healthy smoothie, but you can use frozen spinach as well. Only, instead of using 1 cup, use 3/4 cup of frozen spinach instead of 1 cup of well-packed baby spinach.
What about the other ingredients…
The same goes for pineapple. I have made this smoothie with frozen pineapple as well as fresh pineapple. With fresh pineapple, sometimes, you will have to add in more maple syrup if the pineapple is not very ripe and sweet.
As I am lactose intolerant, I like to use almond milk or coconut milk in my smoothies. You could also use oat milk or pistachio milk if you prefer.
As for additions, sometimes I add collagen peptides (not an affiliate link) to this smoothie. Other times, I add in a scoop of vanilla protein powder.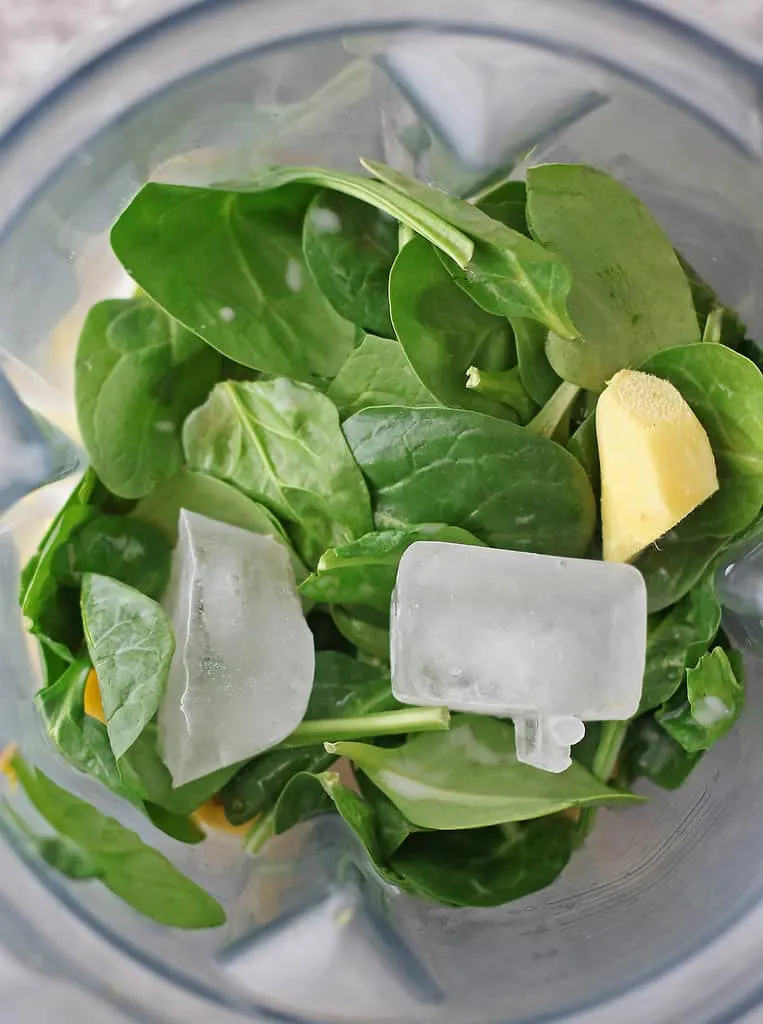 If you want this smoothie more on the thick side, use frozen pineapple or add in a few ice cubes.
If you happen to want to amp up the fruit content of this smoothie, in addition to the pineapple, you can also add in some frozen mango chunks and frozen banana slices. Just a 1/4 cup of each should be enough. You might have to add in a 1/4 to 1/2 cup of non-dairy milk, so everything mixes smoothly.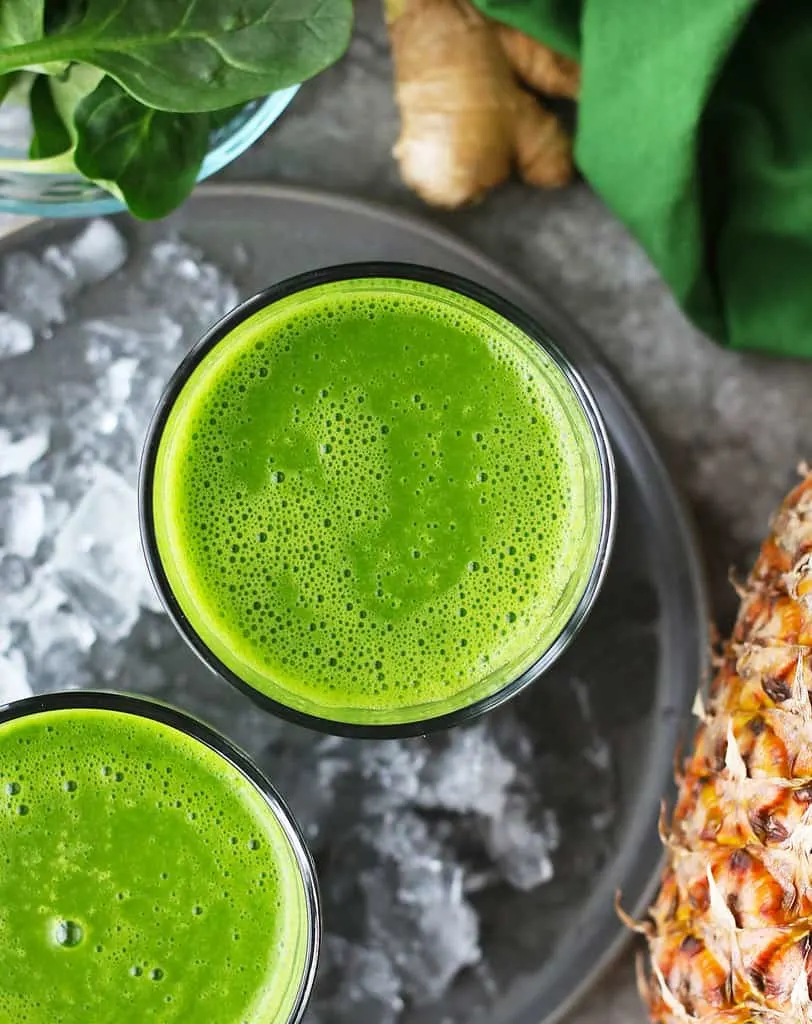 I love this tasty green smoothie because it is:
✔️ So delicious,
✔️ Dairy-free (perfect if you are lactose intolerant),
✔️ Sweet,
✔️ Spicy,
✔️ Filled with vitamins and nutrients,
✔️ Vegan, and
✔️ Did I mention so delicious?!
Why add ginger to this smoothie?
In addition to adding a spicy zing to this green smoothie, ginger is a powerhouse of nutritional benefits. It is said to have antioxidant and anti-inflammatory properties. It is said to help aid in digestion and control gas and bloating. Furthermore, it is even touted as having certain anti-aging benefits. If you want to find out more about the health benefits of ginger, check out this article. To take advantage of all these benefits, I had to add a nice chunk of ginger to this Easy Pineapple Spinach Smoothie.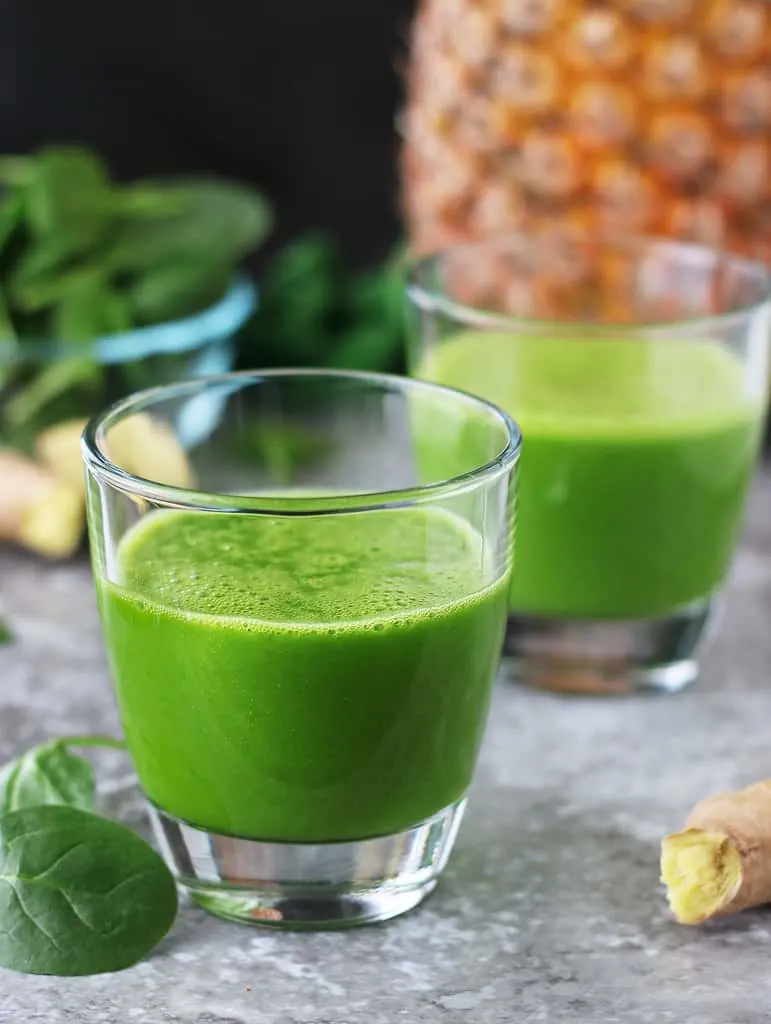 Hands down, this is my favorite green smoothie. I have no scientific proof, but, this delicious smoothie is what I drink when I feel a case of the sniffles might be coming around. I also happen to love this filling Oatmeal Wild Blueberry Breakfast Smoothie as well.
How many servings does this recipe make?
This is a small batch recipe. This Pineapple Spinach Smoothie recipe results in one serving for 2 people or 2 servings for one person. You can easily double it or triple it to make more for more people.
Can this smoothie be made the night before?
One thing I will not advise is to make this smoothie and keep it overnight. This smoothie tastes best when it is consumed as soon as it is made.
I am hoping you give this easy, 5-ingredient, Pineapple Spinach Smoothie a try. And, if you do, please do stop by and let me know in the comments what you think about it.