These Deviled Egg Bloody Eyeballs are naturally colored and made with only a handful of ingredients – and these sure would make one bloody awesome Halloween appetizer!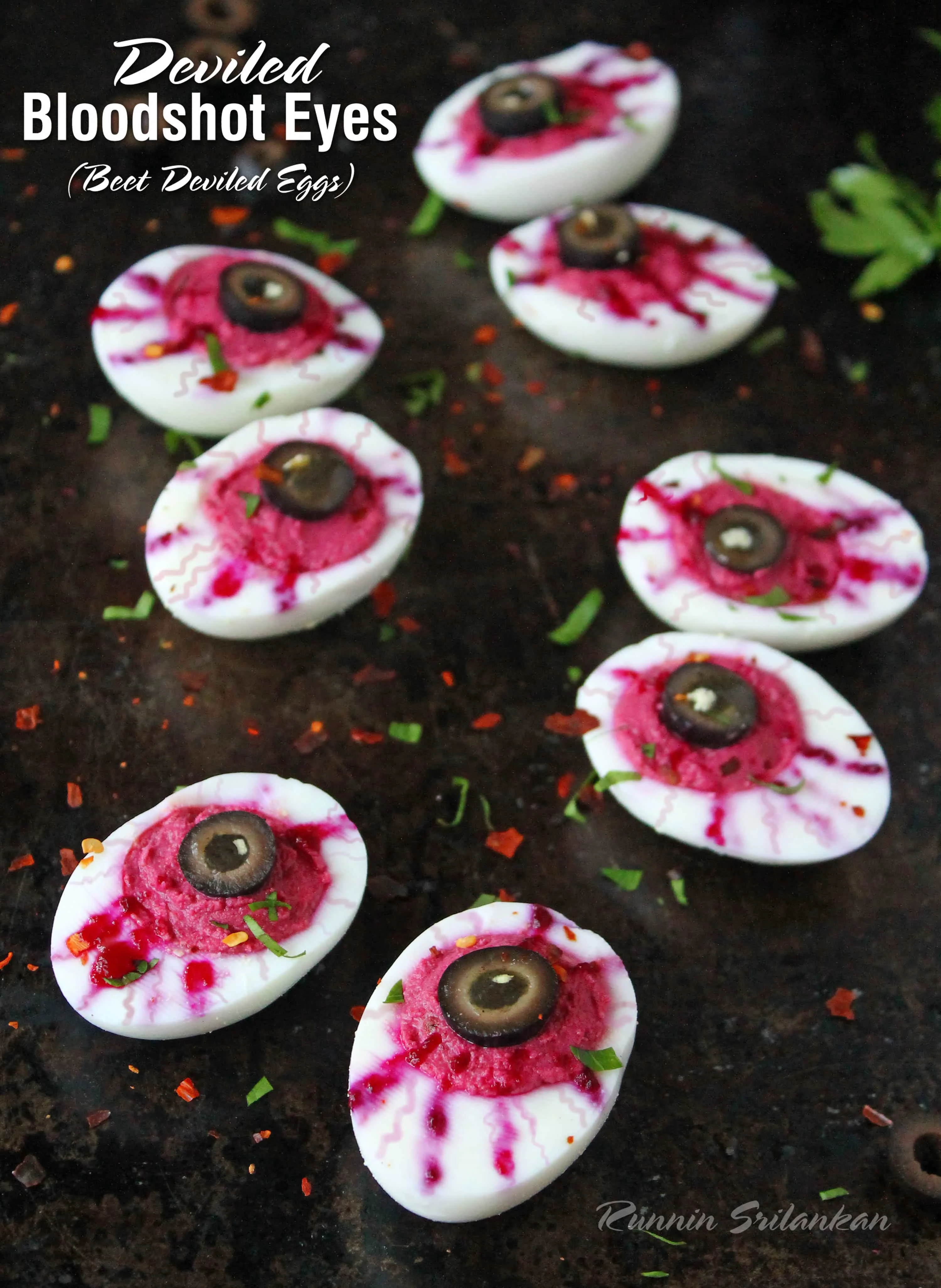 Happy Halloween Y'all!
This year has zoomed by so fast that I'm having a hard time wrapping my head around the fact that today is actually October 31st; the fact that it is 85 degrees here in Hotlanta doesn't help either!
I'm hoping you have all sorts of ghoulish parties to attend or trick or treating to do – as for my daughter and I, why we are camping out in front of the telly armed with scary movies and creepy snacks like these Bloody Eyeballs!
I first made these eyeballs for my daughter last year when she decided to forgo our Halloween trick or treating shenanigans in favor of scary movies and creepy snacks at home…and I had couldn't help reminiscing…
In the neighborhood I used to take my daughter trick-or-treating in, just about every house went all out. There was this one house that had scary music playing and smoke filling the yard and if you were brave enough to walk up to the door and ring the bell, you were greeted by Mr. and Mrs. Frankenstein!
Then there was this other house that had a haunted house – in their front yard! Trick or treaters would be so spooked by that haunted house that most times they'd run out of it and run off, completely forgetting to collect their "treats" in the process!
There was yet another house that had a graveyard in their front yard – and… scattered among the plethora of R.I.P. gravestones were battery operated creepy crawlies, hands coming out of the ground and people popping out of their graves!
But, from all these houses, my favorite one was the one that had a buffet laid out.
On one side of their garage, these foodie-folks would have a table set out with every kind of candy imaginable for the kids to help themselves to and on the other side of their garage, they had a table set up for the parents who were braving the night.
And boy-oh-boy did they go all out! One year there was chili with hot dogs and cornbread. Then another year they were grilling chicken and you could have your pick of coleslaw or potato wedges.
And then there was this other time when they had their table decked out with a smorgasbord of Halloween appetizers like asparagus and bacon mummies, mummies-in-a-blanket, meatball and chip bats, a skull cheese-ball with witch fingers to dip into it with, and bloody deviled eggs made devilish with ketchup and mustard.
Yes – it was their bloody deviled eggs that inspired these Deviled Egg Bloody Eyeballs. However, I did not use ketchup and food coloring like they did.
I also skipped on the mayo that goes into most deviled eggs. What I did use for the coloring were beets, which- when mixed with spicy mustard and paprika, made for a deviled egg even my traditional-deviled-egg-obsessed teen daughter approved of! While these might not be the prettiest deviled eggs around, they sure are a heck of a tasty, healthy alternative!
What are the ingredients needed to make these deviled egg eyeballs?
To make these spooky deviled egg eyeballs you will need:
Eggs
Beet puree
Spicy brown mustard
Paprika
Salt
Black pepper
Black olives
Hot sauce (or try making this spicy hot pepper sauce)
Parsley and pepper flakes
How to Make Deviled Egg Eyeballs
Hard boil the eggs for 12 minutes.
Once cooled and peeled, cut them in half and place the yolks in a bowl.
To this bowl, add 2 tablespoons beet puree, spicy mustard, paprika, salt, and pepper and mix well
Pipe beet-egg-mustard mix into egg whites.
Top each filled egg with an olive slice.
Place a small drop of hot sauce into the open part of the olive.
With the other 2 tablespoons of beet puree, decorate to look like bloody-veins.
Garnish with parsley and pepper flakes and enjoy!
This recipe first appeared on FoodFanatic – for more recipes like this or more recipe ideas and inspiration, please visit FoodFanatic.com
Want something sweet after? The How about these Bloody Beet Bowls (with edible bowls and spoons)?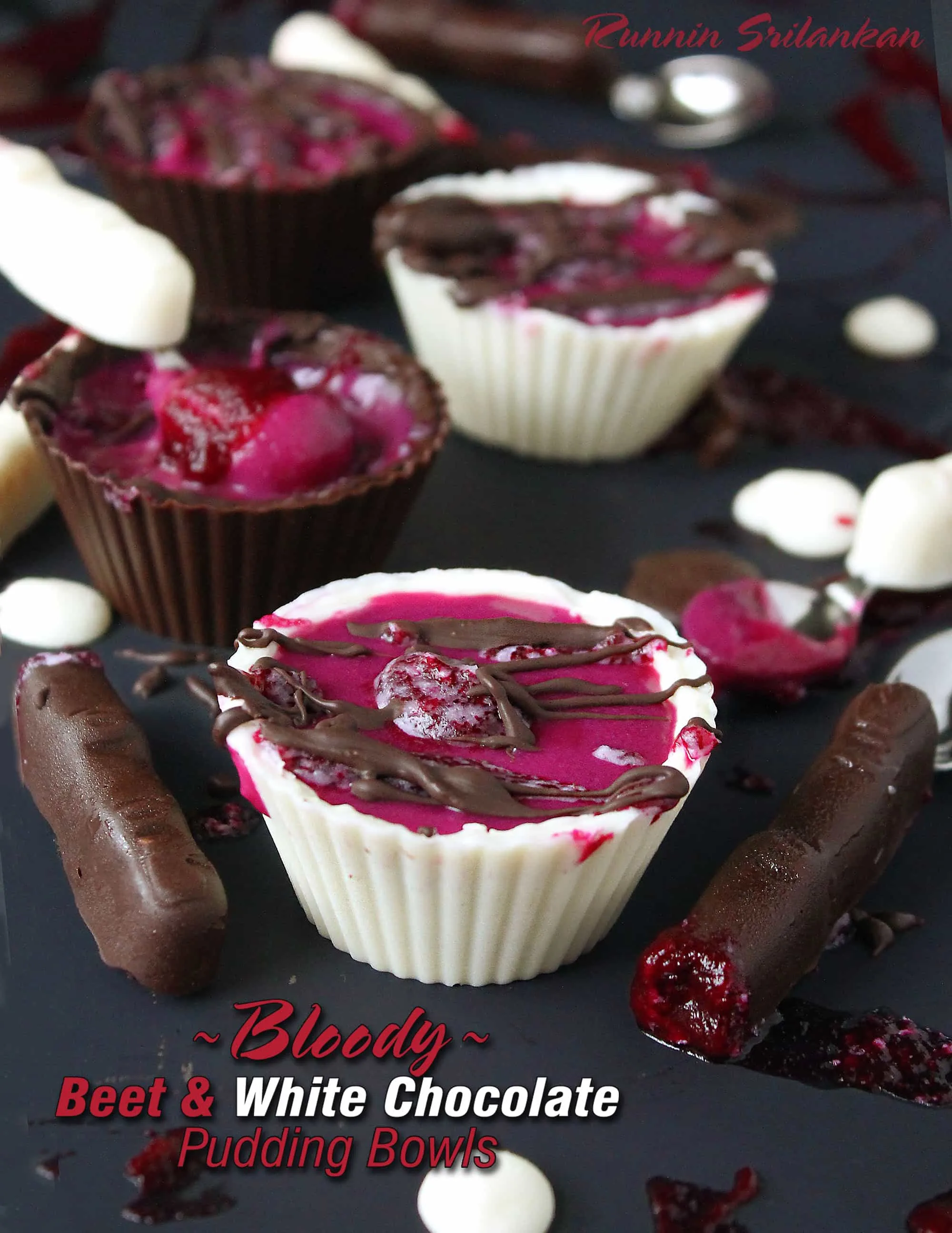 Hiya, I'm Shashi, the blogger behind Savory Spin. Here you can browse a collection of super easy, economical, mostly fusion recipes that can be made with ingredients from your local grocery store ~ find out more here.
Thanks so much for stopping by. If you make this recipe, please let me know in the comments below what you think of it, or tag your creation on social media with @savoryspin or #savoryspin. For more fusion, spice-filled, recipe ideas, please subscribe and follow me on Facebook, Instagram, and/or Pinterest!