These little ghost cups are a delicious, no-bake Halloween treat! Fully edible, these are made of white chocolate cups filled with a cashew chocolate pudding and topped with whipped cream.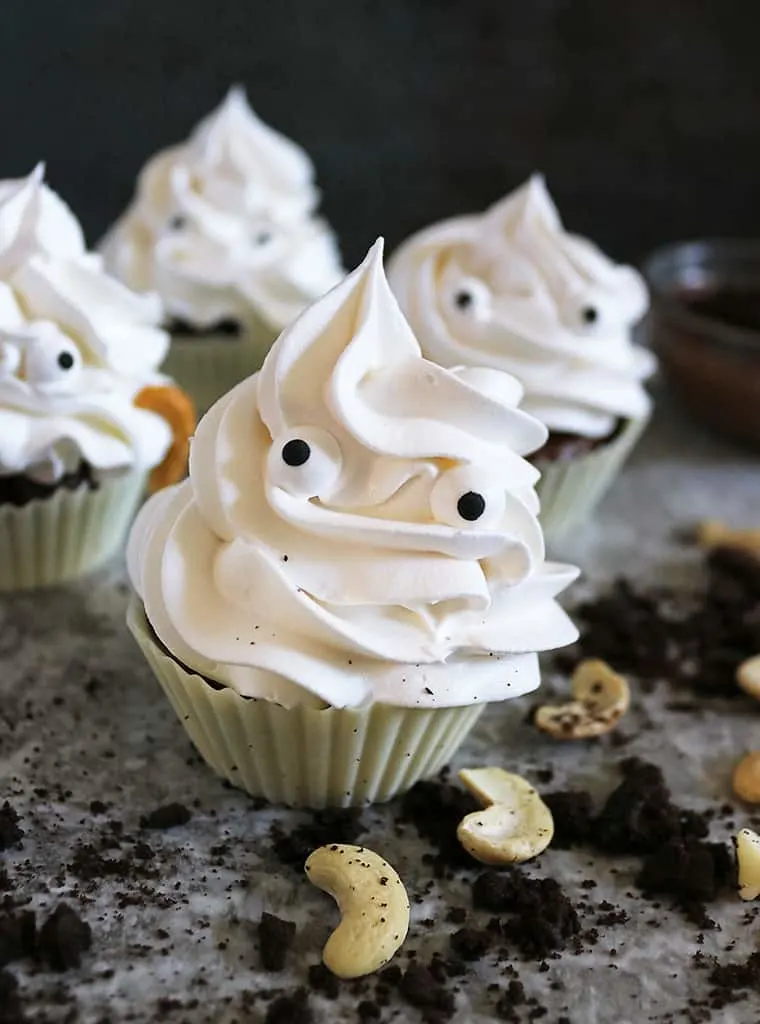 These little ghost cups were so much fun to make. I like to think they are kinda healthy-ish but that might just be me trying to justify eating two of these at one go.
And, these little ghost cups are completely edible!
How to make no-bake ghost cups?
I started off by soaking some cashews to make the chocolate cashew filling. I chose to soak the cashews overnight. But if you are in a hurry, you can use this quick 30 minute soaking method as well.
The next day, before I checked on the cashews, I decided to make the edible bottom bowls. I started by melting some white chocolate and swirling it around some silicone muffin liners. When the melted white chocolate had coated the silicone liners about ⅔rds of the way up the sides, I let them sit until the white chocolate had hardened.
By the way, speaking of molds, have y'all seen these new cake shaper molds? They are tiny pieces of silicone that piece together to make a variety of shapes. I have no idea how well or easily they operate but, I did think the concept was too cool.

But, I digress…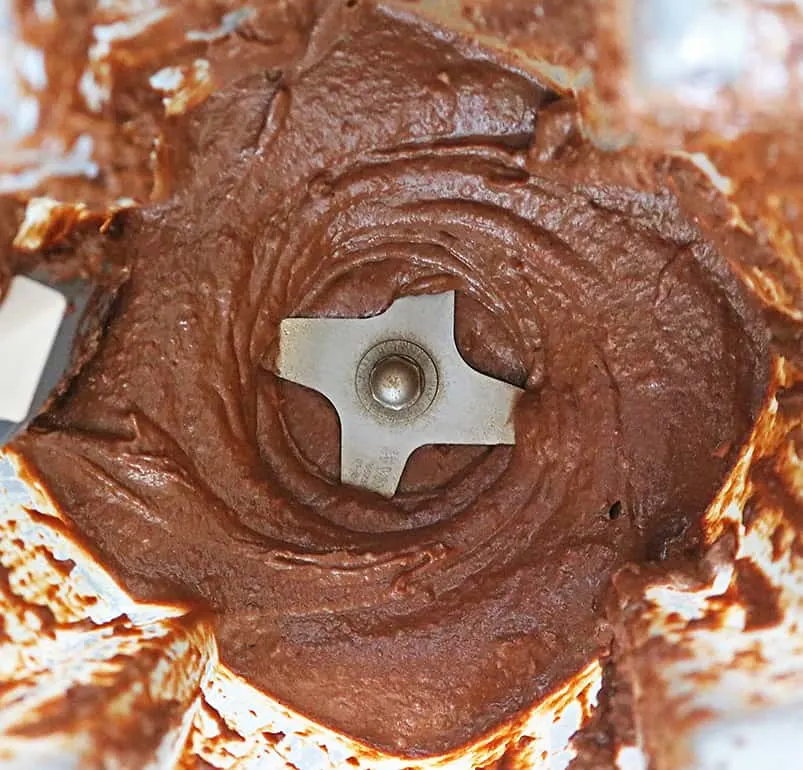 While the white chocolate cups were hardening, I drained the soaking cashews to make the chocolate filling. The chocolate filling I've used here is very similar to this dairy free chocolate pudding I shared a few years ago.
However, I did use oat milk instead of almond milk and I used a bit more sugar instead of honey to sweeten up this chocolate filling. I also used a bit of coconut oil to harden the chocolate filling up a bit so it was more like a cheesecake-like filling than pudding.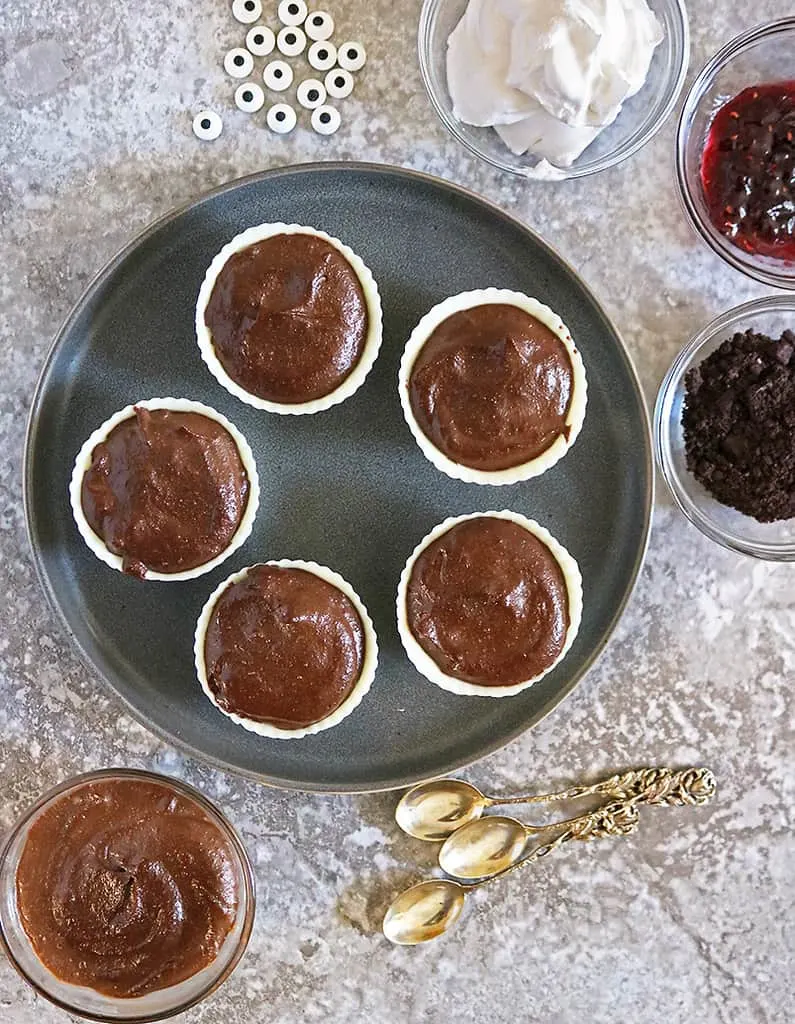 By the way, I think my blender is on the fritz as my chocolate filling wasn't velvety smooth. But, if you have a high powered blender, just blend until this is smooth. Make sure to scrape down the sides ever so often and keep blending and you will end up with a velvety smooth and delicious filling.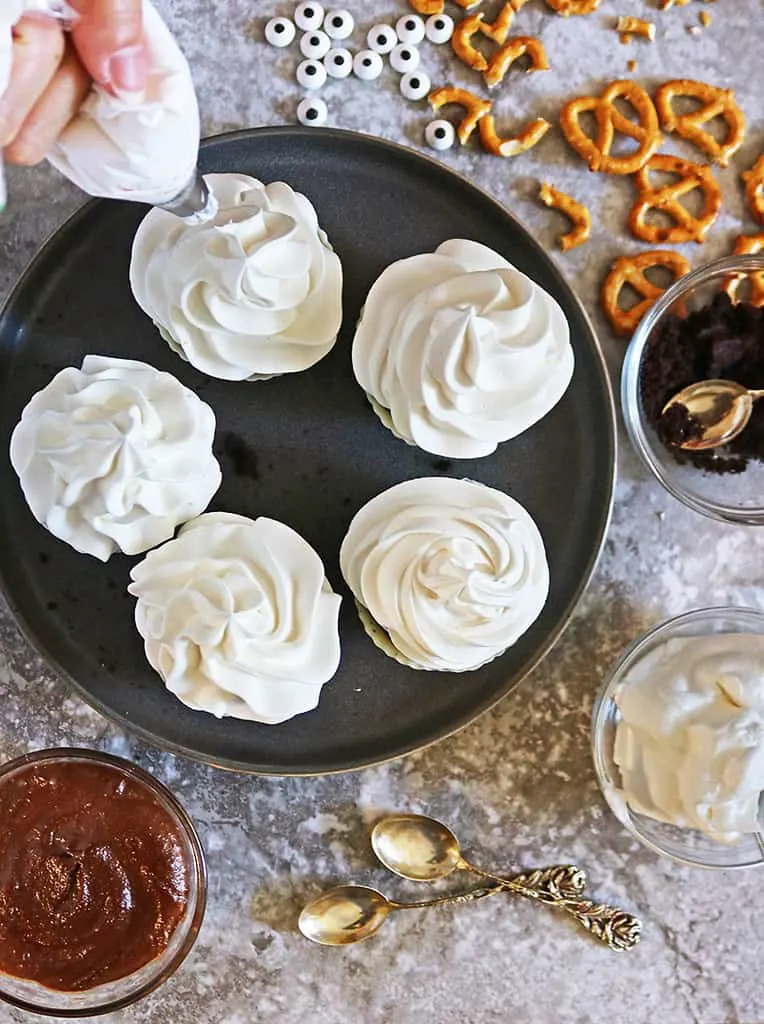 When I was done blending the ingredients for this chocolate filling, I spooned a tablespoon of it into the white chocolate cups. Then I added a teaspoon or so of raspberry jam to some and a teaspoon or so of crushed Oreos into the rest. I topped these off with more of the chocolate filling.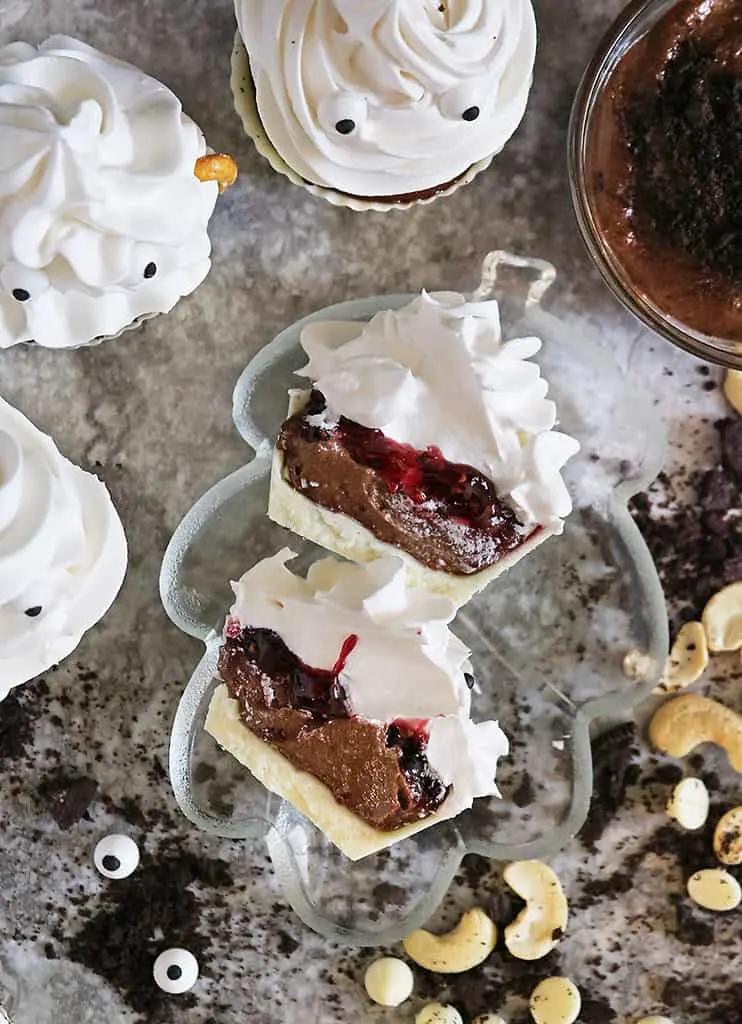 Then I swirled on some fresh whipped cream on top. Thank goodness I have LACTAID on hand – eh?! Instead of fresh whipped cream, you can also use coconut whipped cream or even some non dairy whipped topping. I wouldn't use cool whip as it deflates so quickly.
I then added in some "eyes" and boom! Edible chocolate ghost cups!
There's really no cooking involved in making these. If you opt to use the quick soak method for the cashews for the filling, you can these no bake chocolate ghost cups ready to enjoy in less than an hour.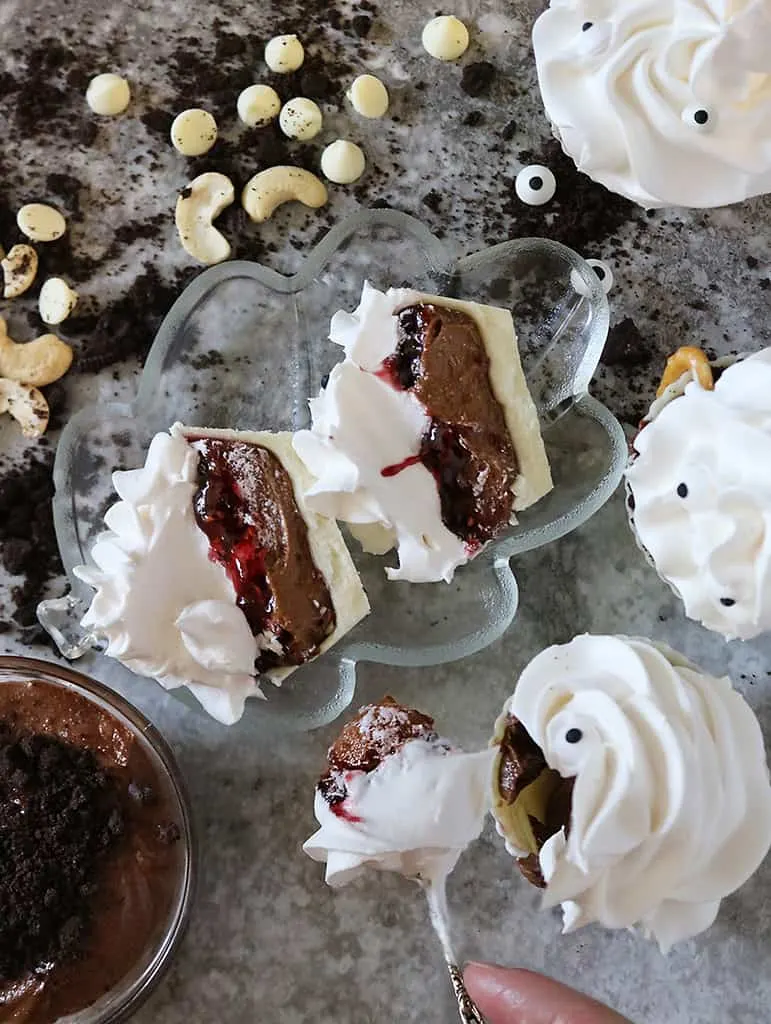 When I made these my daughter was impatient and bit into one. I thought for sure she'd make a big mess but I was wrong. I did eat the whipped cream and chocolate filling out of these with a spoon. But, if I hadn't already packed these little spoon molds I have, I would have made some edible white chocolate spoons for these ghost cups as well.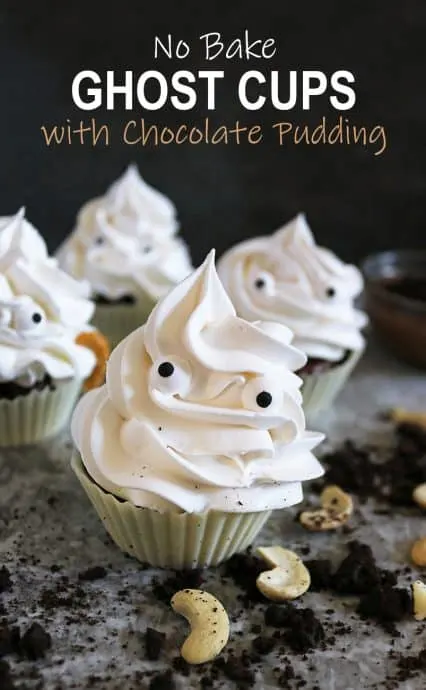 Check out the list below for more Halloween inspired food items…