This shop has been compensated by Collective Bias, Inc. and its advertiser. All opinions are mine alone. #BakeItYourself #CollectiveBias
Soft and buttery, these homemade Jalapeno Cheddar Parker House Rolls are so much better than store bought ones!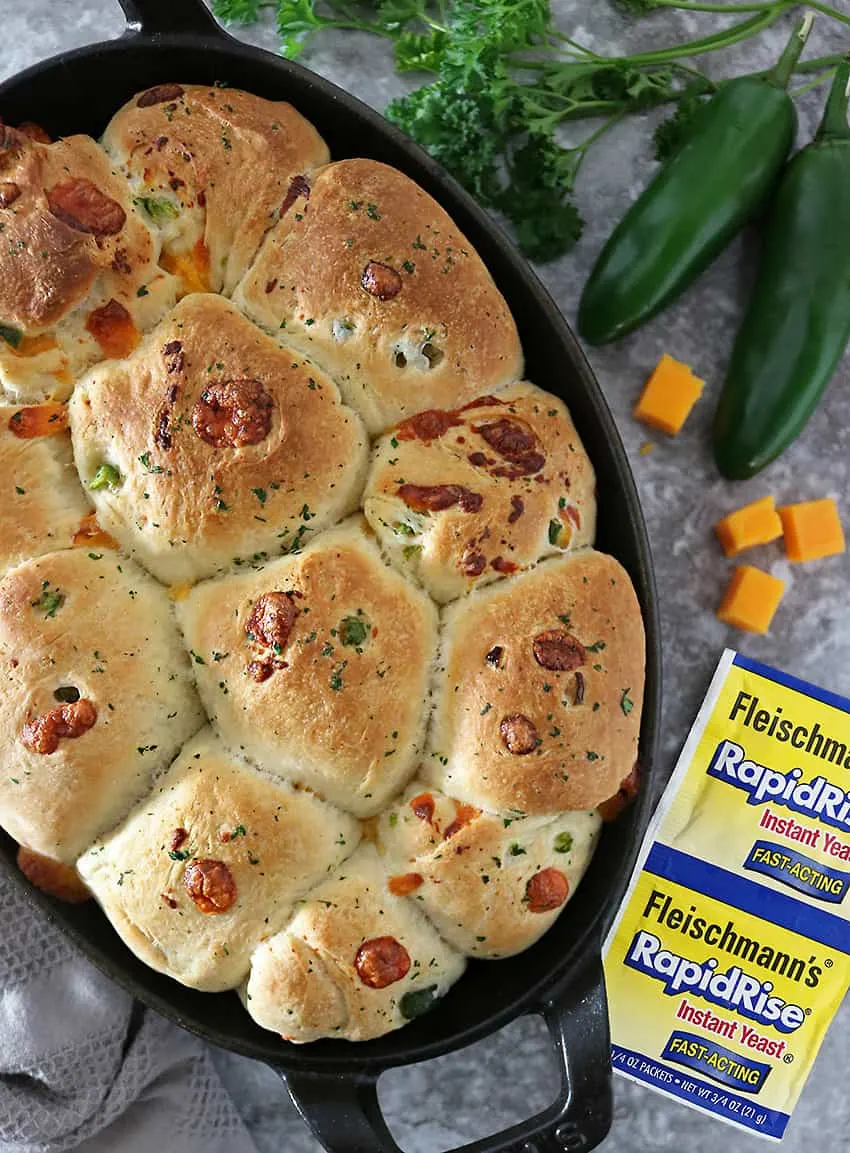 When my daughter was in middle school, we spent many a rainy day making and baking bread. We would clear off the counter after breakfast, make sure we had all our ingredients including Fleischmann's® RapidRise® Yeast, and bond over measuring, mixing and kneading dough.
Sometimes we made a couple loaves of crusty white bread, other times it was beignets, and yet other times it would be doughnuts.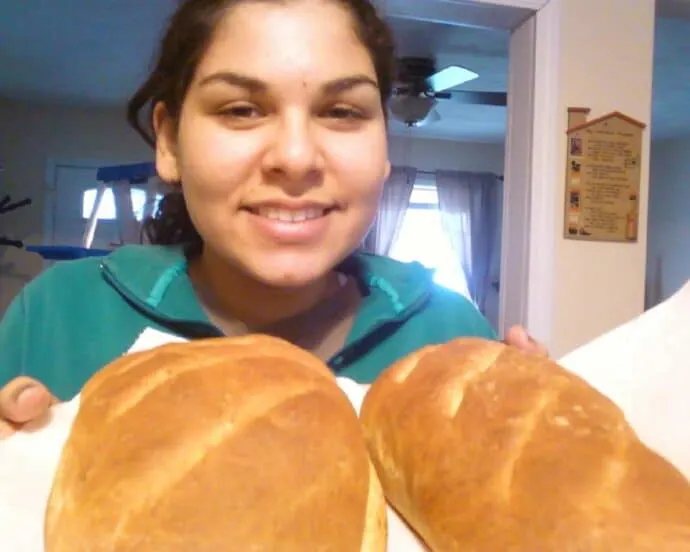 As my daughter got older and soccer and school took precedence, we set aside our bread-making days.
As time drifted, those days became months and then years.
Then, just a few days ago, my daughter started reminiscing about all the bread we used to make. She started talking about how nothing tastes better than homemade, with Fleischmann's® ​RapidRise®​ Yeast.
When it comes to baked goods, I always prefer homemade – because nothing tastes quite as good as home-baked does. And, I cannot put a price on the bonding that takes place over mixing, measuring and pouring.
And with Fleischmann's® 150 years of experience, we can bake quality, yeast recipes that (even though hard to do so) we can share, proudly. Because offering what you've baked yourself expresses more than words can say.
I've not always been a fan of baking with yeast. In fact, there was a time when I would avoid it at all costs. But yeast baked goods have a texture and taste that is hard to replicate.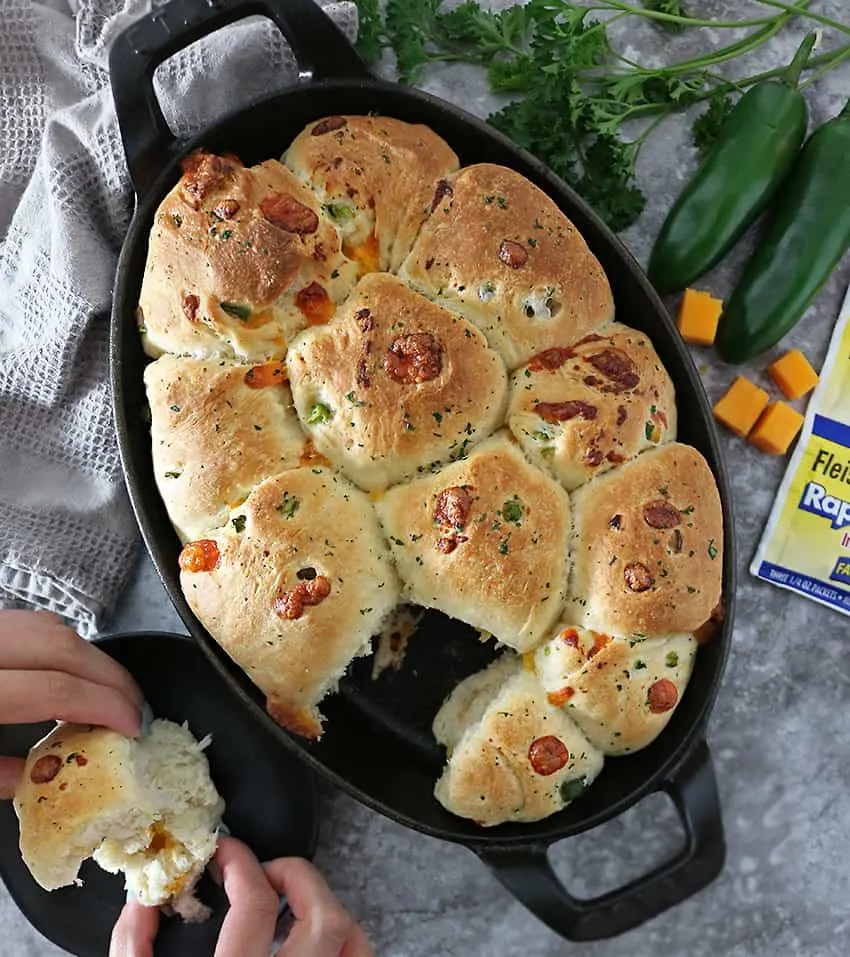 Two Important Points When Baking With Yeast:
Now, when using yeast, there are a few things to keep in mind:
Use warm water – not hot. If you have a food-grade thermometer, check the water to make sure it is between 120˚F-130˚F. Too cold and the yeast won't be activated and too hot and the yeast will die.

Also make sure that the yeast hasn't passed its expiry date. Using expired yeast will keep your dough from rising properly.
For our first baking project, we decided to tackle Parker House Rolls.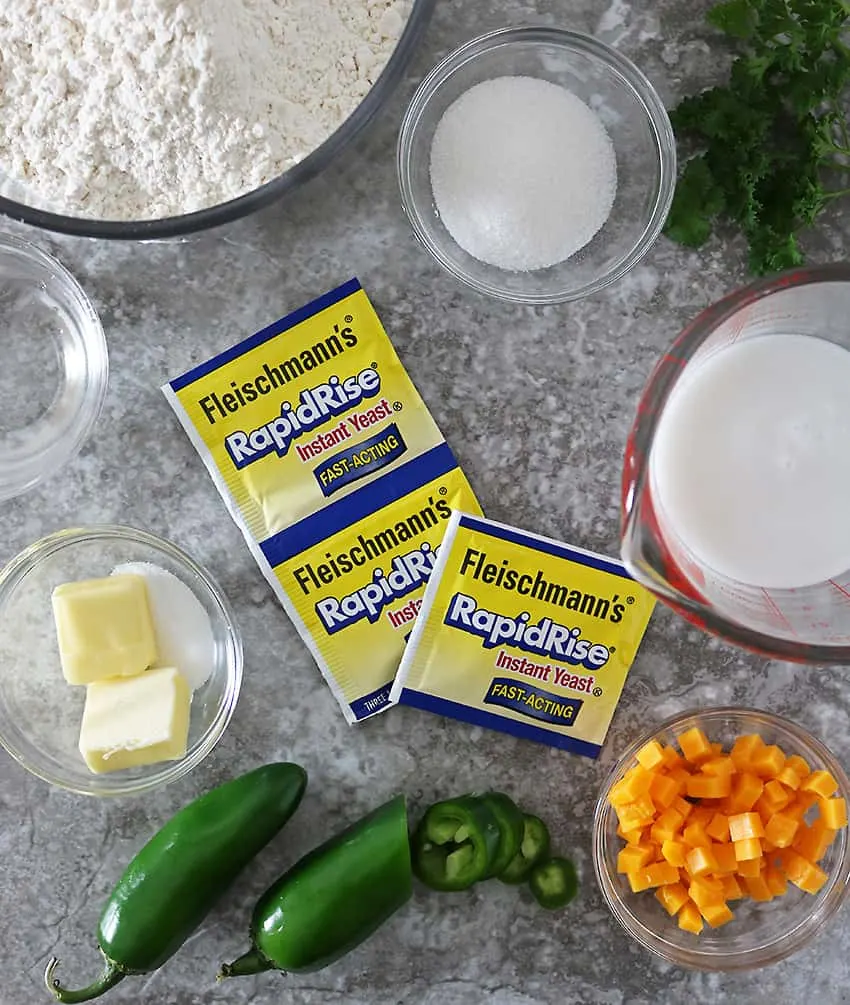 Why Parker House Rolls?
Parker House Rolls are super easy rolls – they require very few ingredients and are said to be made by flattening risen dough into an oval and folding that over.
We, however, decided to fold them and bake them with the folded side down as we studded our Parker House rolls with jewels of mild cheddar cheese and pieces of chopped jalapeno.
A batch of these are wonderful to have on hand during the holidays to serve with your holiday meal. They are also wonderful to have on hand to sop up the remnants of any soup or stew.
But wait, that's not all. Slice them in half, smear some strawberry jam on each half, add a hefty dollop of whipped cream, top with some sliced strawberries and you have strawberry short-rolls! #BakeFromScratch
How do you make Jalapeno Cheddar Parker House Rolls?
I started with this basic recipe found on Fleischmann's® Bread World.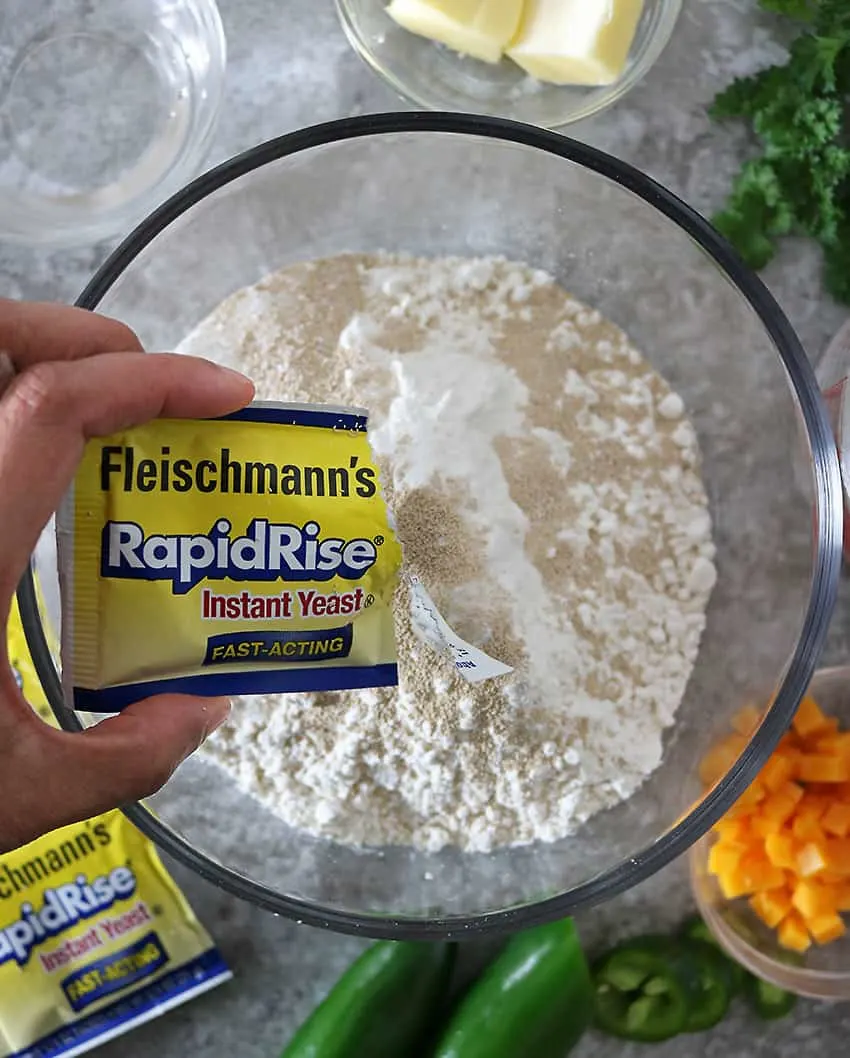 I mixed my dry ingredients such as flour, sugar, salt and Fleischmann's® RapidRise® Yeast together.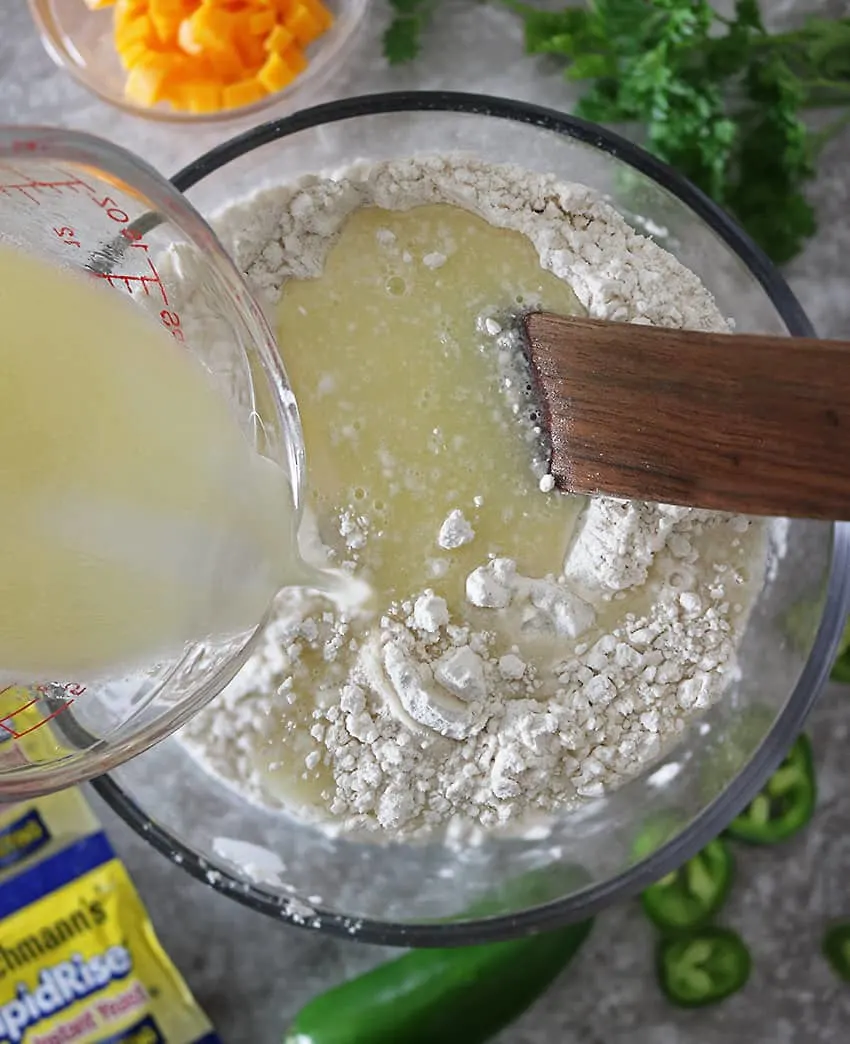 I then added the water, milk, and butter to a microwave safe dish and microwaved in 15-second intervals until the temperature was around 120˚F-130˚F.
Then I added the wet ingredients to the dry ingredients and mixed them together.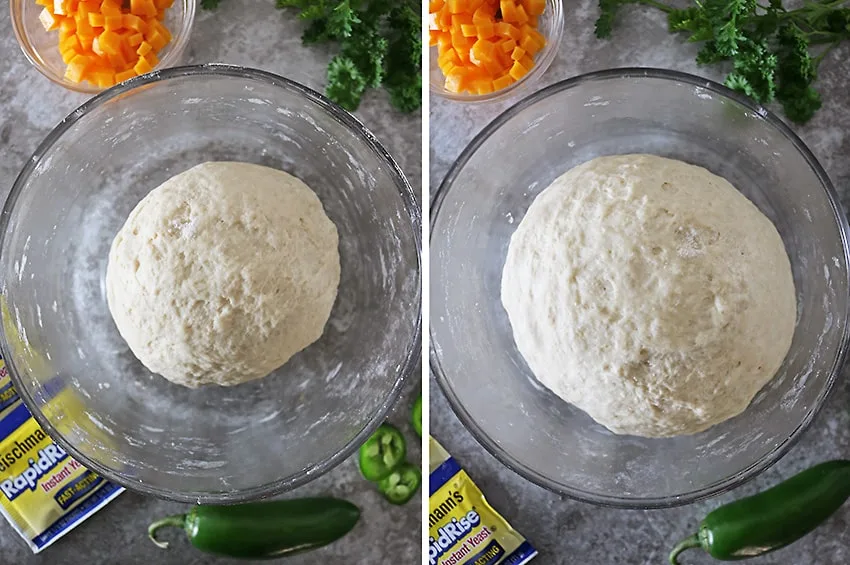 After an initial rise of 10 minutes, the fun began of kneading, mixing in the cheddar and jalapeno bits and portioning this dough into rolls.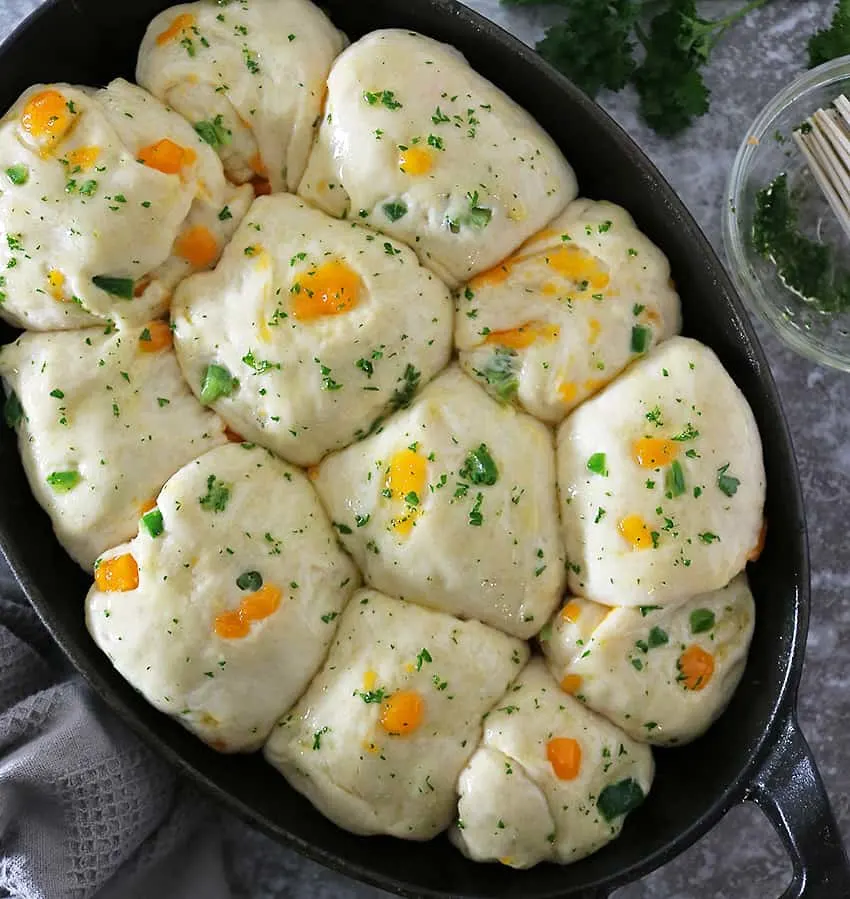 After a second rise, these Jalapeno Cheddar Parker House Rolls were ready for the oven.
They smell divine when they come out of the oven, and, as most of us know, it is hard to resist a home-baked, fresh-from-the-oven, Jalapeno Cheddar Parker House Rolls.