This shop/post has been compensated by Collective Bias, INC. and The Coca-Cola Company, all opinions are mine alone. #ServeWithACoke #CollectiveBias
If you feel challenged when it comes to samosa folding like I do, then why not try making these Spiced Potato Puff Pastry Baskets or deconstructed samosas?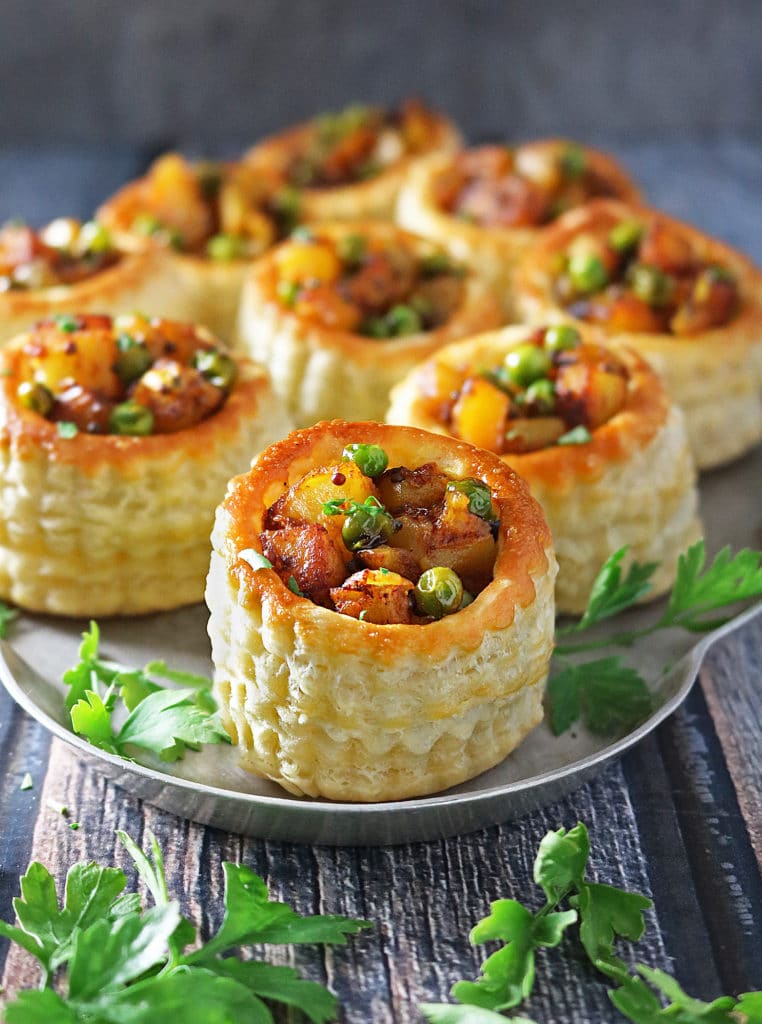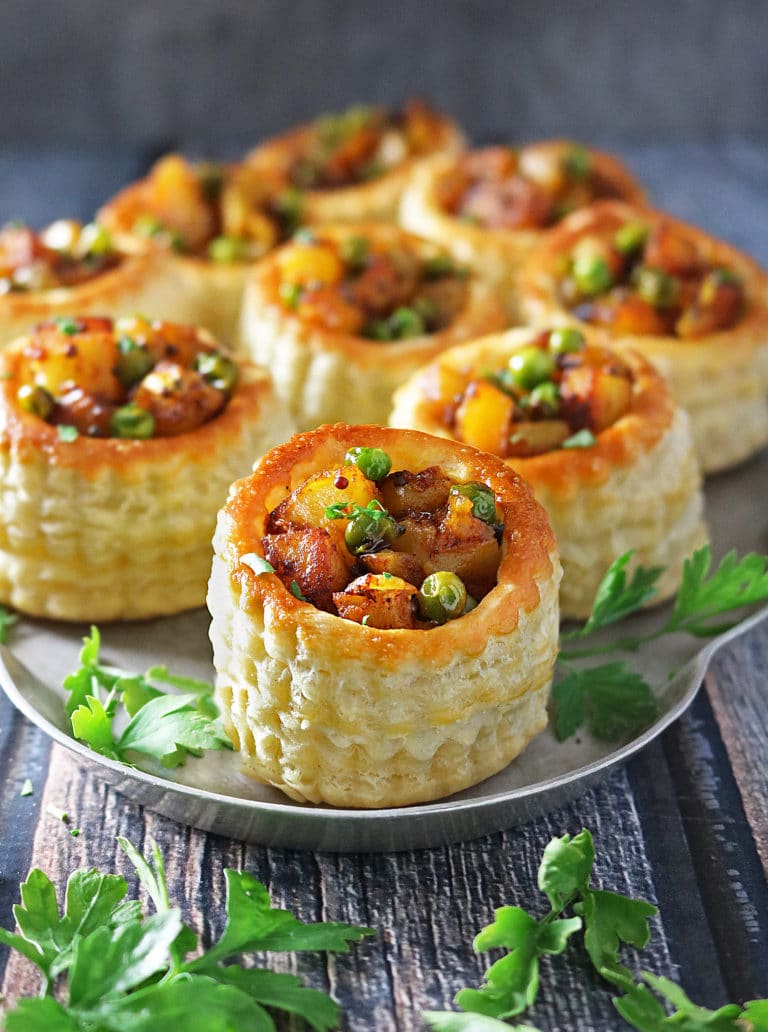 When my daughter and I visit any South Asian Store, we head straight for the frozen food section to peruse the shelves for those packages of pre-made, oversized samosas. They are some of our favorite snacks for movie nights and for our appetizer night on New Year's Eve, especially when paired with a nice, cold, glass bottle of Coca-Cola™ or Diet Coke®. My daughter loves those store bought samosas as they come enveloped in a nice crispy crust, while, I buy them as I have yet to perfect the art of samosa folding!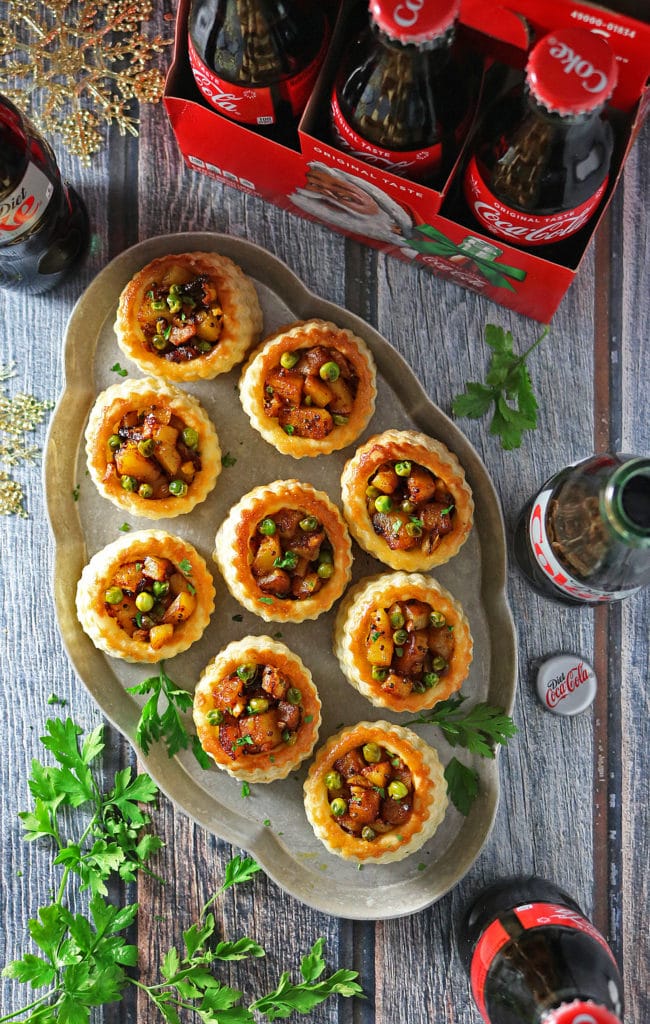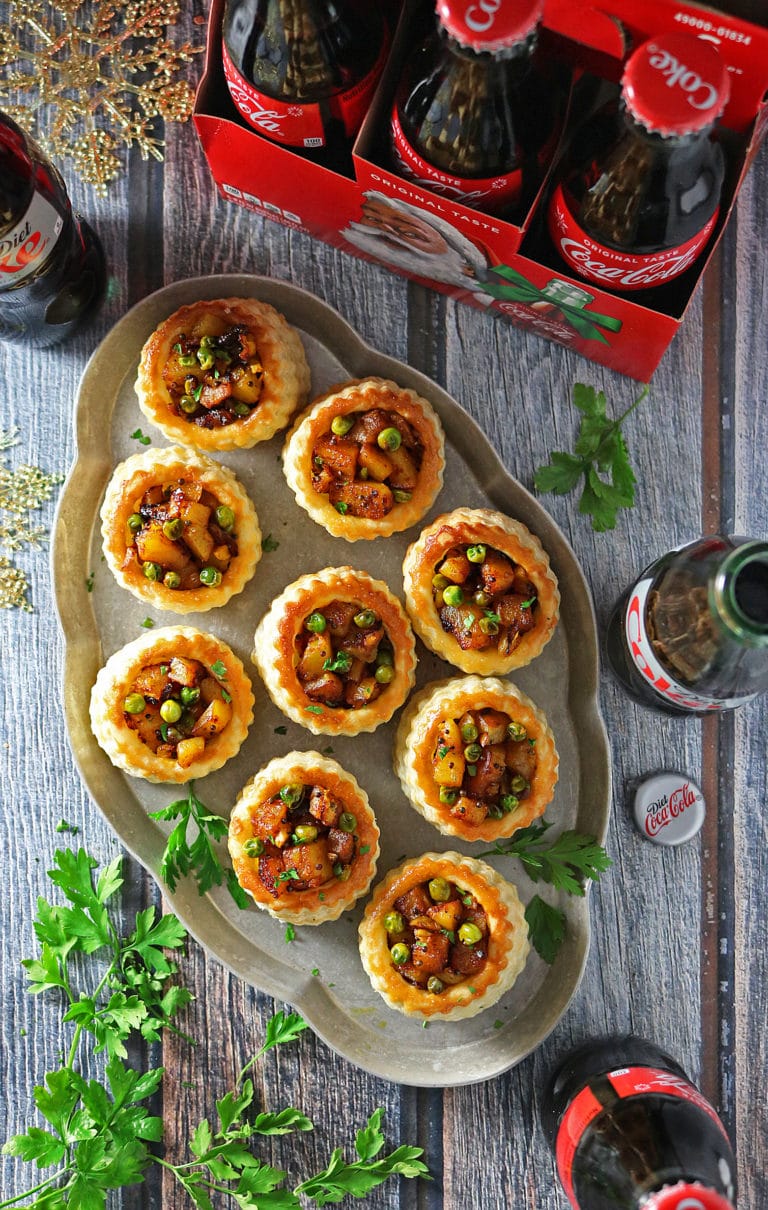 Now, I can make a decent samosa filling – but, what I end up with after trying to wrangle that filling into any sort of dough just leaves me gobsmacked! Just take a look at these – bet you're gobsmacked as well now eh?! So…to the store I used to go…
At least that was prior to us moving. In this little college town that I currently live in, I have yet to visit a store that sells frozen samosas, so, I've started improvising. Instead of samosas enveloped in a crusty covering, I've started making "deconstructed samosas" in puff pastry baskets. Now you can buy pre-made puff pastry baskets at just about any store. Or, you can make your own using puff pastry sheets. A friend told me that I should try drinking while I cooked, so I opened up a bottle of Diet Coke® to enjoy as I made these puff pastry baskets.
The flaky puff pastry along with the spiced potato and pea filling is delicious when washed down with a Coca-Cola™.
Speaking of which, Coca-Cola™ and Diet Coke® always make an appearance on our holiday table. My daughter and mom especially love the perfectly sized, glass bottles. By the way, when I was growing up in Sri Lanka, the only bottles of Coca-Cola™ I had came in glass bottles. But, it's not just during the holidays that we enjoy them. After a crazy week – we hang out and catch up on our favorite tv shows or watch a movie with some delicious snacks like these Spiced Potato Puff Pastry Baskets (AKA deconstructed samosas) and our favorite bottles of Coca-Cola™!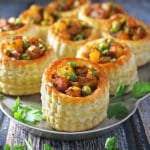 Print Recipe
Spiced Potato Puff Pastry Baskets
If you feel challenged when it comes to samosa folding like I do, then why not try making these Spiced Potato Puff Pastry Baskets or deconstructed samosas?
Ingredients
2

puff pastry sheets thawed

1

small yellow onion

3

cloves

garlic

1

tsp

grated ginger

1

potato - cut into small cubes (the smaller they are, the faster they cook)

1/2

cup

frozen peas (thawed)

1/2

tsp

turmeric

1/2

tsp

smoked paprika

1/2

tsp

coriander

pinch

salt and pepper to taste

2

tsps

mustard seeds

1

egg (beaten)

olive oil
Instructions
Preheat oven to 400 degrees.

Grab two circular pastry cutters - one a little bit smaller than the other. Using the large one, cut out 9 circles in one of the puff pastry sheets. Then, using the same large pastry cutter, cut out nine large circles in the other pastry sheet as well. Then, using the smaller one, cut circles into the circles already cut out. Using a brush, brush some egg onto the bottom of the circle with a "hole" and place it on the larger circle. Repeat till you have nine circles on top of circles. Brush the tops with egg wash and bake at 400 degrees for 15 to 18 minutes. As these bake, they should rise up, forming baskets.

As the baskets are baking, chop the onion and add to a pan with olive oil over medium heat. Then after 5-7 minutes, add in mustard seeds, chopped ginger and garlic as well as potatoes and lower heat to a low setting.

Cover potatoes and let cook about 10 minutes or till potato cubes are tender.

Uncover and add in the peas, turmeric, smoked paprika, coriander, salt, pepper and saute a couple more minutes.

Add the spiced potato filling into the puff pastry baskets and garnish with parsley if desired and enjoy.
Nutrition
Calories:
280
kcal
|
Carbohydrates:
34
g
|
Protein:
6
g
|
Fat:
24
g
|
Saturated Fat:
6
g
|
Cholesterol:
20
mg
|
Sodium:
164
mg
|
Potassium:
207
mg
|
Fiber:
2
g
|
Sugar:
1
g
|
Vitamin A:
3.2
%
|
Vitamin C:
10
%
|
Calcium:
2.7
%
|
Iron:
15.8
%