This Easy Carrot Raisin Salad is a sautéed, spicy-sweet, healthier spin on the traditional version that is made with mayonnaise. This one is made with only 10 easy-to-find ingredients and can be made in less than 15 minutes.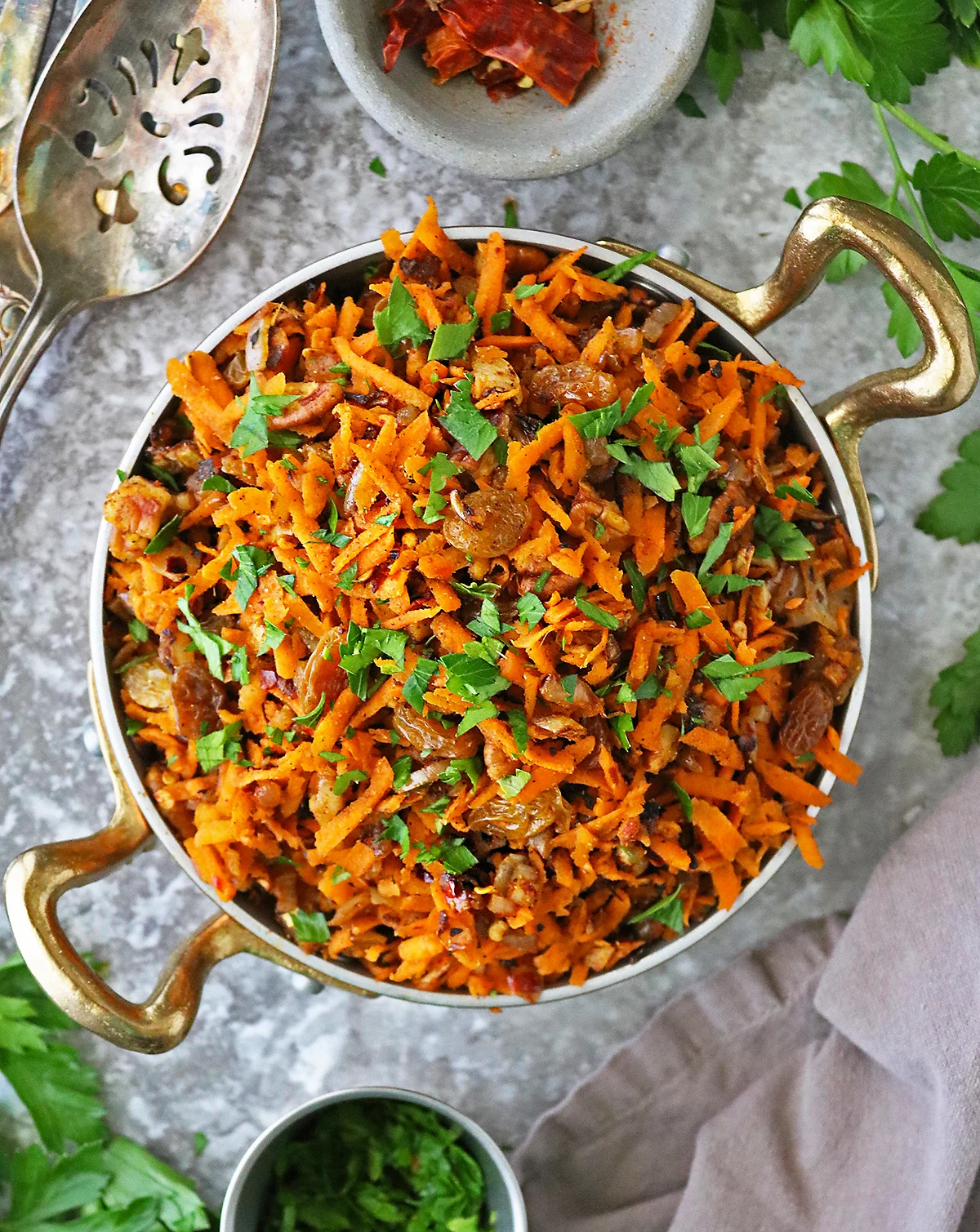 If you love the combination of spicy and sweet flavors, this easy carrot raisin salad is for you!
This mayo-free version is:
• So tasty,
• Gluten-free,
• Dairy-free,
• Vegan,
• Easy to make,
• Ready in 10 minutes, and
• Made with only 10 ingredients!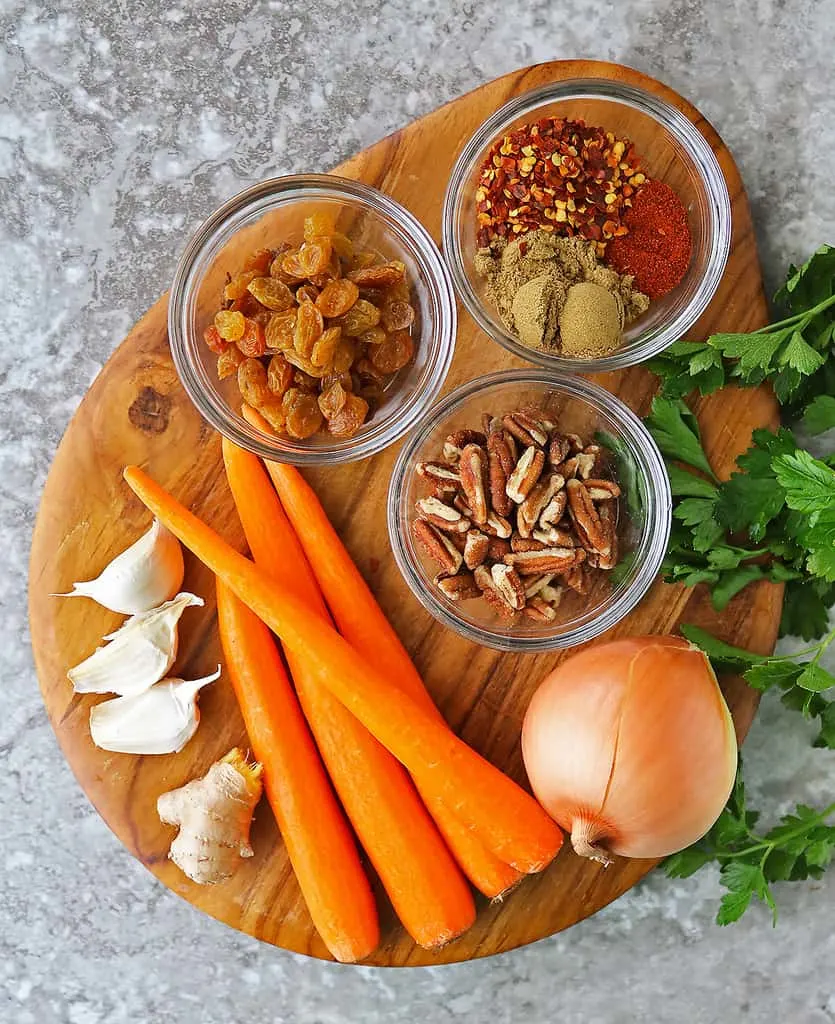 What are the ingredients needed to make this carrot raisin salad?
The 10 main ingredients needed to make this sautéed salad are:
Carrots,
Onion,
Garlic,
Ginger,
Pecans,
Raisins,
Coriander,
Smoked paprika,
Chili flakes, and
Parsley.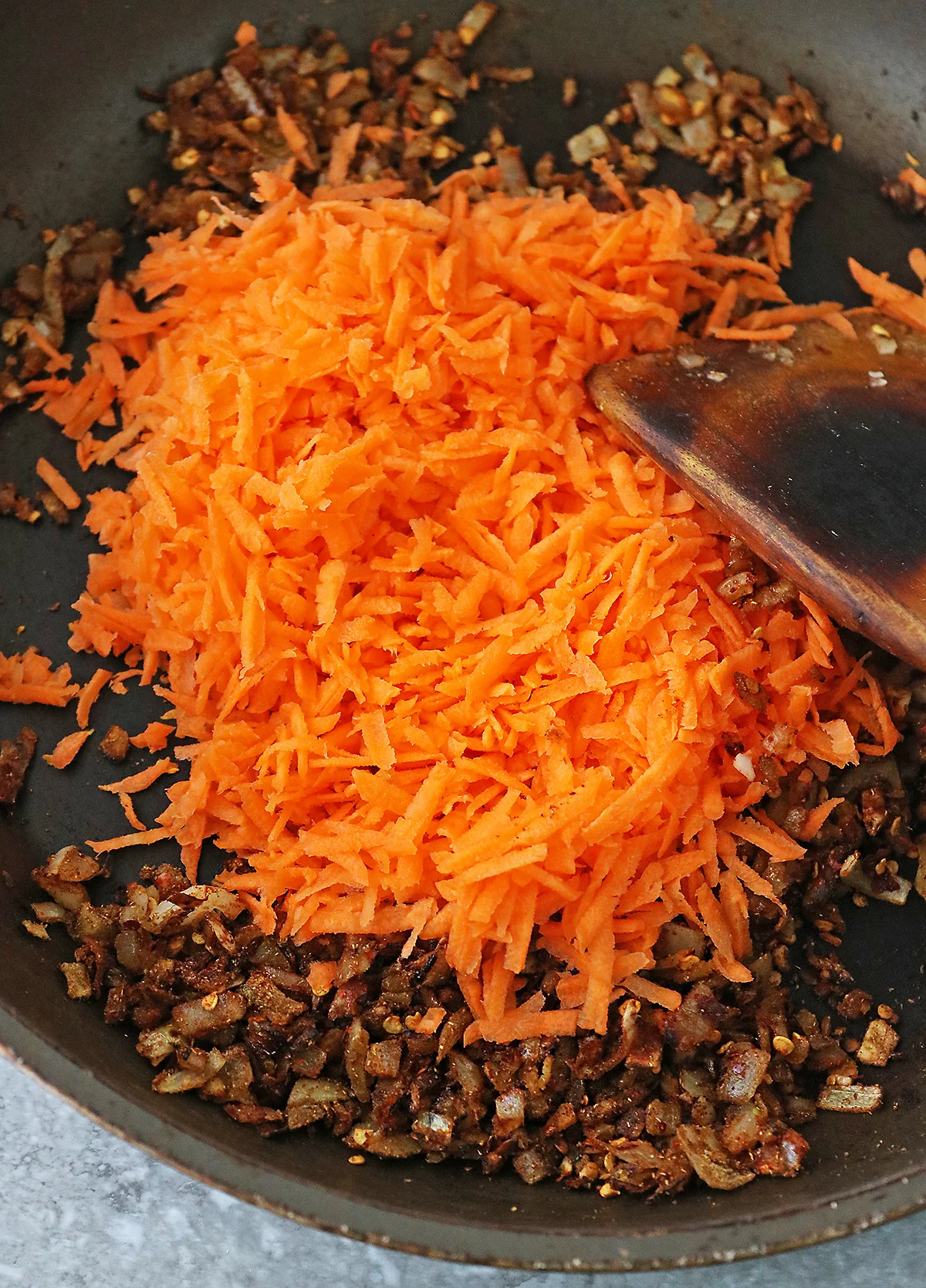 Things to keep in mind when making this recipe…
The most time-consuming part of making this salad is the prepping. Peeling the onion, the ginger, the garlic, and chopping them up as well as shredding the carrots. If you have crazy quick knife skills and love prepping, you can breeze through this part. Otherwise, try and set aside 5-10 minutes for this part.
As for the sautéing part, that only takes 10 minutes. You will be sautéing together the peeled and chopped onion, ginger, and garlic for about 10 minutes. That is it. Then, you will add your spices and give everything a good stir. Following, you will take this off the fire, and add in the grated carrots, pecans, and raisins.
A quick garnish of chopped parsley and this spicy and sweet carrot raisin salad is ready to enjoy!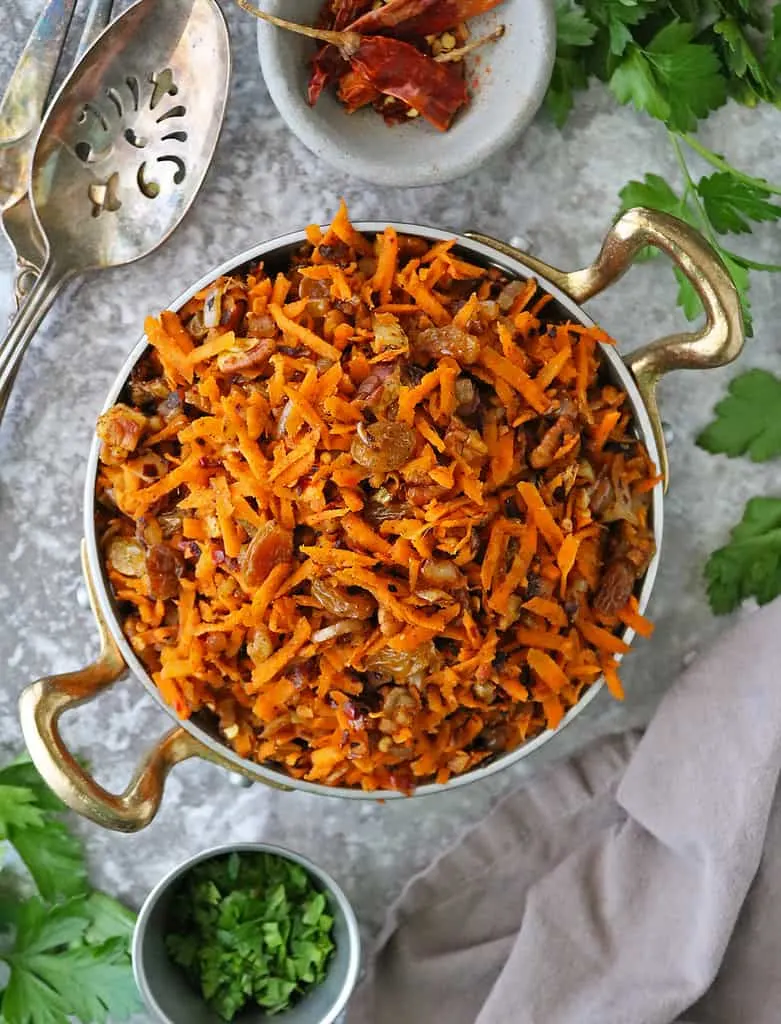 What are some serving ideas for this carrot raisin salad?
This salad would be perfect to serve up as a side dish at any meal – even a holiday one, like Easter this weekend.
But, this salad does not only stay in the side dish category. You can add it to a puff pastry sheet and make it into a tart like this one.
You can bake up those store-bought puff pastry baskets and then add a few spoonfuls of this salad into those puff pastry baskets and serve them up as an appetizer, like these.
Or, you could use store bout pie shells, stuff them with this carrot raisin salad and enjoy them as portable hand-held pies (like these) on your next camping or hiking trip.
If you want a fun lunch idea, you could spread a thick layer of hummus onto a toasted slice of bread and top the hummus with some of this carrot raisin salad. I have been enjoying these hummus carrot raisin salad toasts for the past couple of days, and they are so tasty and filling.