This Pineapple Quinoa With Island Chicken Skewers is a delicious and easy dinner idea. It will tickle your tastebuds and leave you wanting more.
I have partnered with Mom It Forward Blogger Network and Dole® to bring you this scrumptious Pineapple Quinoa and Taste bud-Tingling Island Chicken Skewers. As always, all opinions are mine alone.
#DolePineappleJuice #AYearofSunshine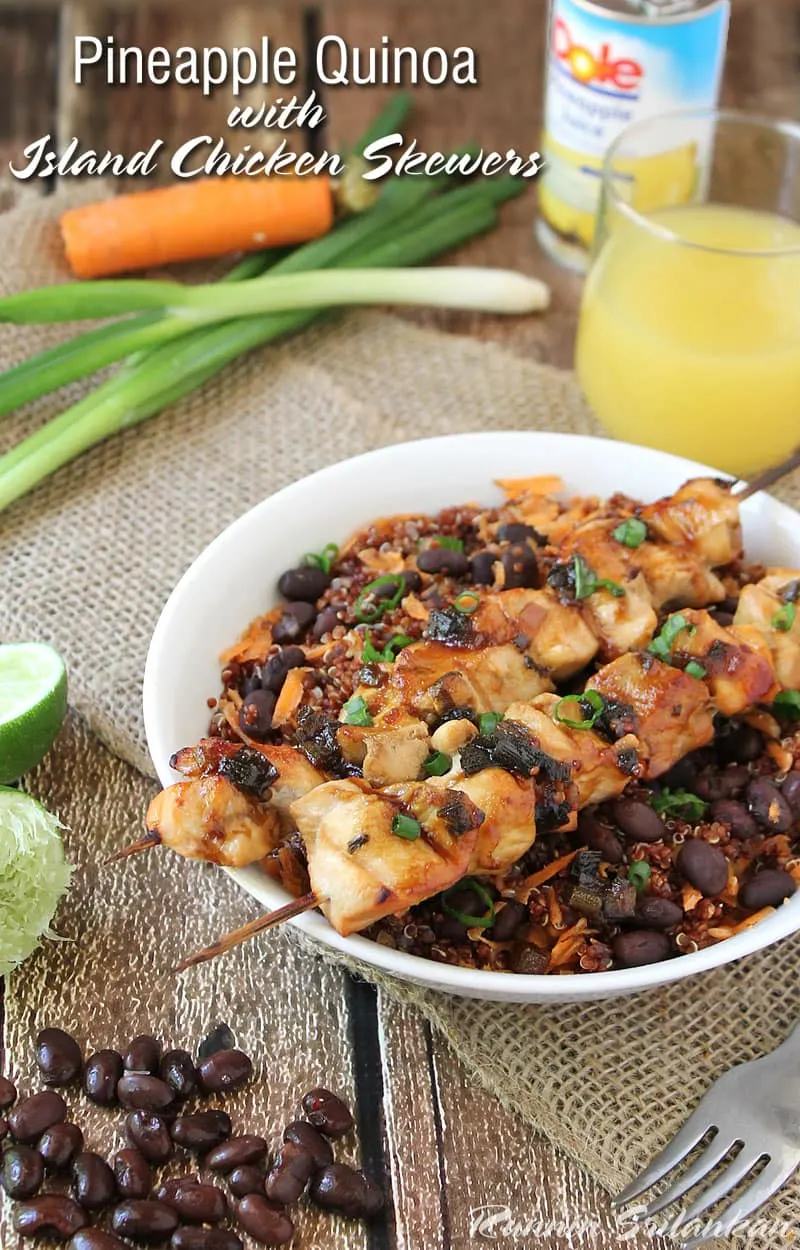 Now, according to the recipe online, the marinade for the chicken consists of Dole Canned Pineapple juice, brown sugar, lime juice, soy sauce (we used Tamari instead), and garlic – all cooked up together. Dole Canned Pineapple Juice is 100% juice, and it's not from concentrate. It also happens to be an excellent source of vitamin C, A & E, and is gluten-free.
In fact, when I was in college, Dole Pineapple Juice in the big can was the only juice I drank (it also happened to be very budget-friendly during those starving-art-student-days)! When all these ingredients were cooking, I have got to say, the smell was just intoxicating!
I also whipped up some quinoa to accompany the chicken. Now, usually, I cook my quinoa in stock, but as I had only half the amount of stock I needed, I subbed in some pineapple juice and my daughter ended up giving that quinoa 2 thumbs up (my daughter's feelings towards quinoa fall into the same category as my feelings towards rain)!
The pineapple-flavored quinoa and the pineapple-flavored chicken were so good, I wish y'all could have tasted it! Oh but wait, y'all can…with the recipe below! 🙂
From now on, I am thinking Dole Canned Pineapple juice clearly needs to become a pantry staple in our home!
I was standing in my driveway last night, contemplating my next mode of attack against the Carpenter Bees that seem to be attracted to my house when it hit me…
It's been exactly 7 days since our last rainy day! One whole week!!! Yippeeee!!!!
I abhor the rain – yes, I know we need it, and it helps with crops, and washing the pollen out of the air, and all that jazz,…but, April was oh so soggy here in Atlanta; at one time, it rained for 10 days straight!
So, this past week has been pretty fantabulous! I was so elated that I let those Carpenter Bees have their way with my wood and headed off to uncover my grill!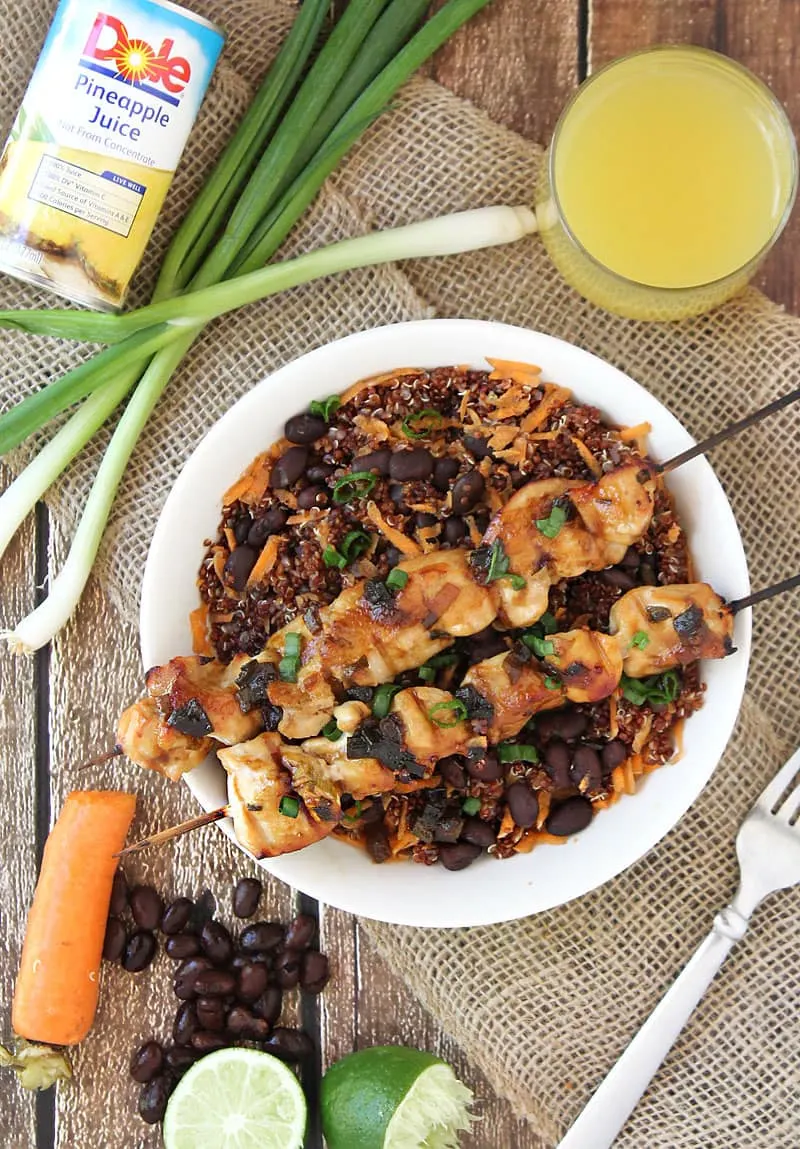 My daughter had been bugging me to try out a recipe she caught me looking at on the Dole website; which, I had been putting off as the recipe calls for skewers, and my feelings for skewers and rainfall in the same category!
But, today, the 7th day -in a row- of sunshine, I figured it would be a good day to break out the grill, conquer my distaste for skewers and make us some Island Chicken! It is about those everyday little celebrations – right?
Dole Canned Pineapple Juice can be found in the shelf-stable juice aisle of grocery and super-center stores nationwide.
It's available in both a 46oz can or 6oz 6-pack of cans.
If you happen to be looking for recipes for tasty tropical cocktails, marinades, and other delicious menu items, please check out dole.com/sunshine.
Want to keep up with DOLE Canned Pineapple Juice's Year of Sunshine? Then please connect with them on Facebook, Pinterest & Twitter.