I've partnered with Sprouts on this recipe for Frozen Pizza Loaded with Spicy Shrimp Broccoli. All opinions herein are my own. Thank you for supporting the brands that keep this blog spinning.
Jazz up movie night with a Frozen Pizza loaded up with a Spicy Shrimp Broccoli sauté!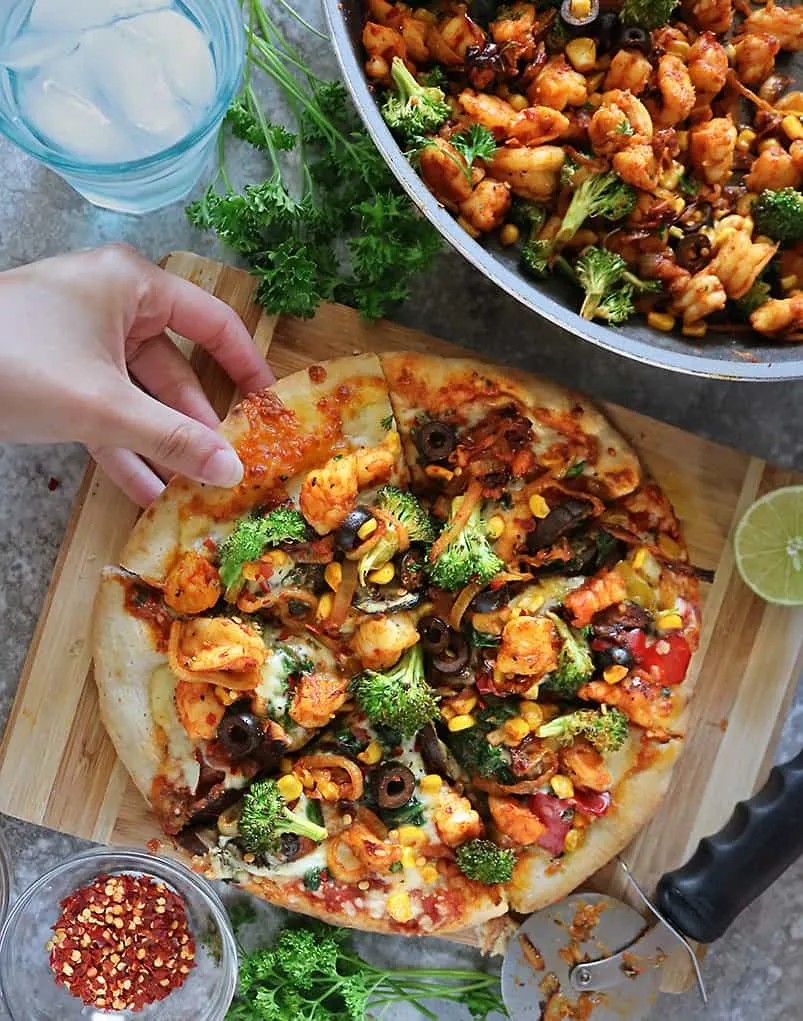 18 years ago, I introduced my then 3-year-old to a tradition that is still going strong in our home today. A tradition that is probably prevalent in your home as well ~ the tradition of Friday Pizza + Movie Night! 😊
Back then, to my 3-year-old (who thought that frozen Greek yogurt = ice cream,) pizza quickly became the star of our Friday nights! Most Friday nights I would get off work, pick her up from daycare and grab a pizza from a pizza place on our way home before hunkering down to watch a movie she chose. Then there were other Friday nights when we would grab a frozen pizza from Sprouts and heat and eat it over the latest Shrek movie.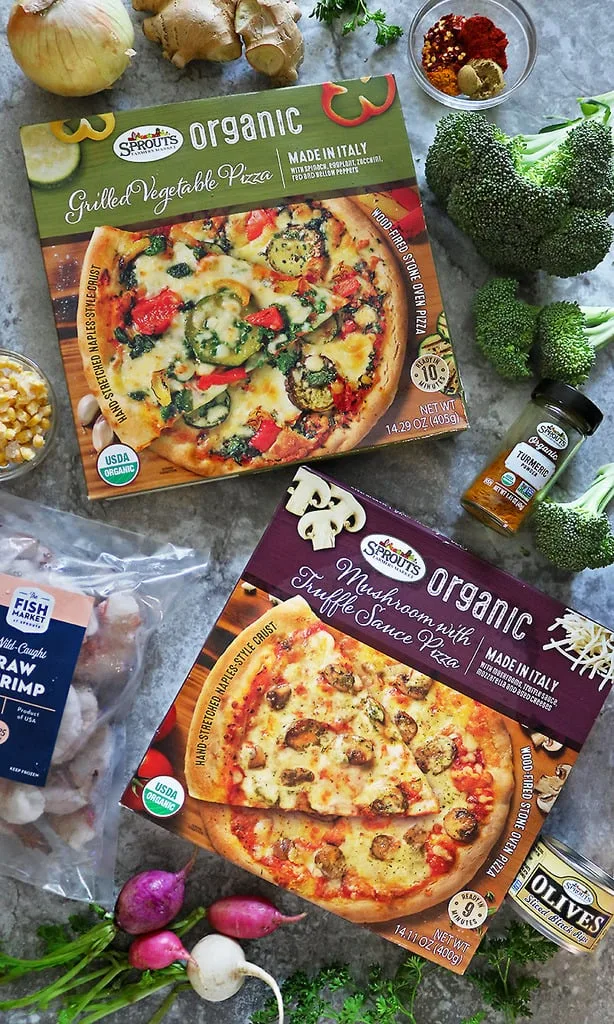 My daughter is 21 now and Friday Pizza + Movie Night still happens. Our lives are busier now, with her looking into graduate programs to get her master's and me trying to juggle blogging + a fulltime gig + house hunting. But we still manage to squeeze in a Friday Pizza + Movie Night.
These days our movie choices mostly revolve around binging several episodes of the latest Netflix saga that has us in its grip. And, these days our pizza choices alternate between any variety of frozen pizza options we can get our hands on.

These days, frozen pizza options are healthier and tastier than ever before.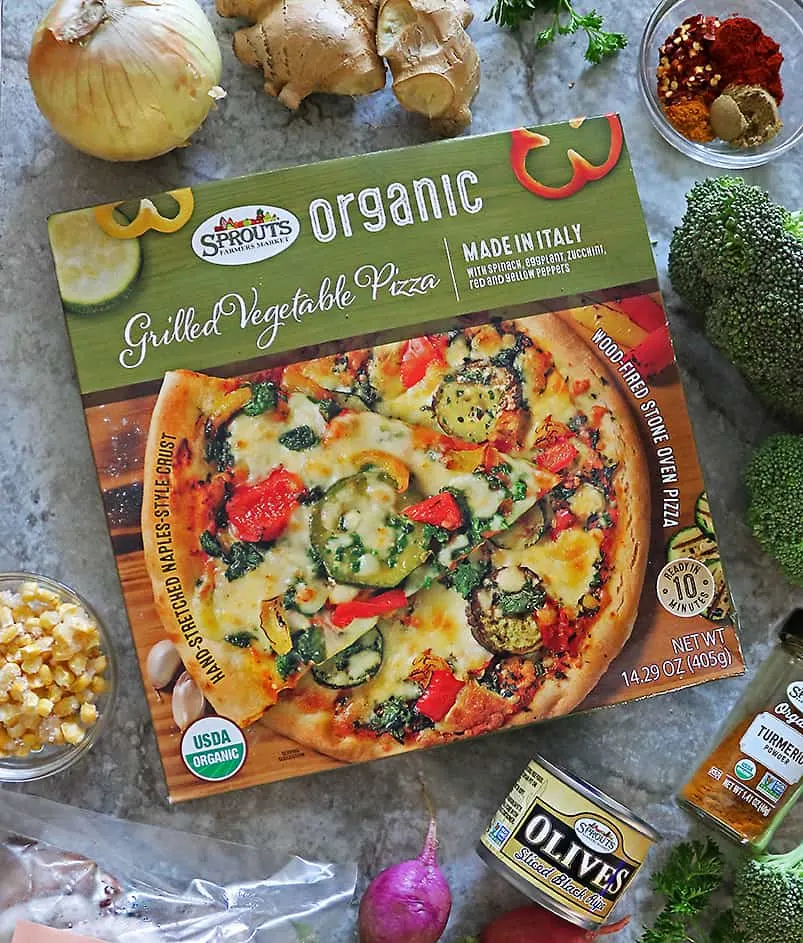 If you are fortunate to have a Sprouts near you, their variety of organic frozen pizza options are fantastic. From Organic Mushroom & Truffle Sauce to Grilled Vegetable to a simple Margherita Pizza, Sprouts has a healthy and delicious frozen pizza to keep your tastebuds tantalized.
In fact, a quick walk through Sprouts pizza section and you will find everything from vegan pizza to gluten free pizza so you can find a pizza that fits into your lifestyle. Heat and enjoy the pizza of your choice as is, whip up a delicious salad to enjoy with it, or doctor it up like we did here.
When my daughter and I stopped at Sprouts to grab a frozen pizza for a movie night recently, I decided to whip up a quick spicy shrimp broccoli sauté to load it up with.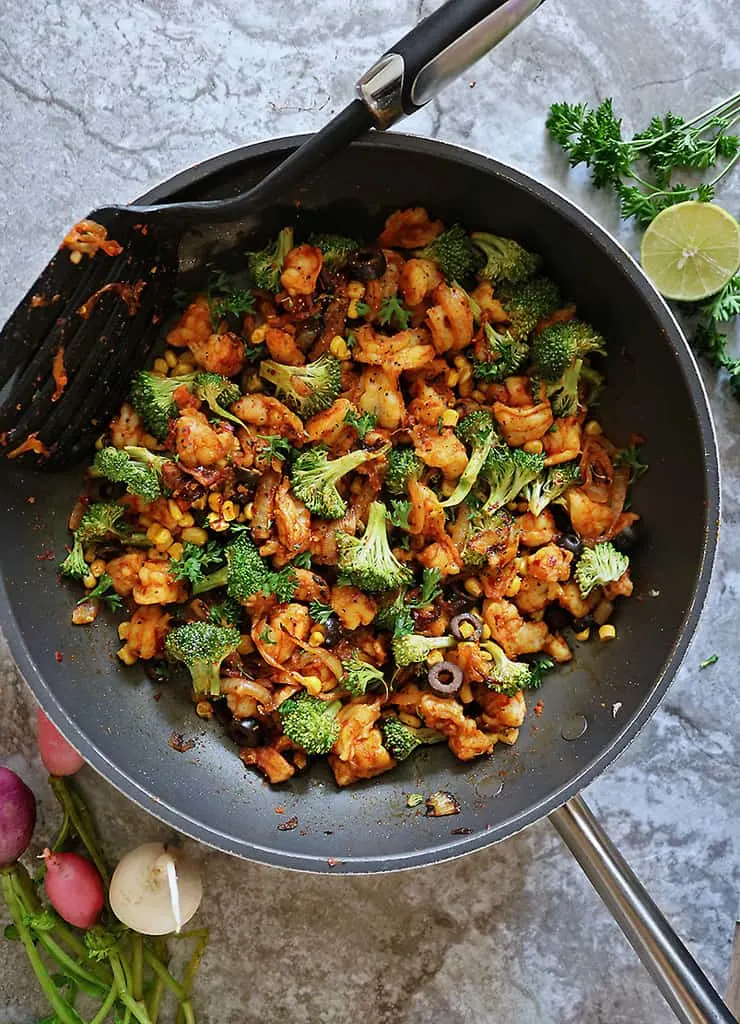 We had just finished another round of house hunting and a hike through the Arabia Mountain trail and we were famished and figured a movie + loaded frozen pizza was a fantastic way to close out day with.
Of course, as usual, I got distracted by the varieties of frozen pizza at Sprouts and could not decide between two so brought them both home. One we enjoyed as is and one we topped with some of this spicy shrimp broccoli sauté.
How to make this Spicy Shrimp Broccoli?
Let's prep first: peel and chop up an onion, peel and grate some ginger to yield 1 tsp, cut the broccoli, drain a can of black olives, thaw the frozen corn, and peel and de-vein the shrimp.
Then, sauté onion with some oil until onion starts to caramelize.
Next, add in shrimp, grated ginger, smoked paprika, coriander, turmeric, chili flakes, broccoli crowns, olives, and corn and sauté until shrimp become pink, then set aside.
You can use some of this Spicy Shrimp Broccoli to top a Sprouts frozen pizza and enjoy the rest along with it on the side.
While I was grabbing some broccoli from the produce section at Sprouts, I spotted some "Easter Radishes" that I had to bring home as well. I sliced up this bunch of adorable pink, purple, and white radishes and sautéed them with some oil mustard seeds and a splash of red wine vinegar.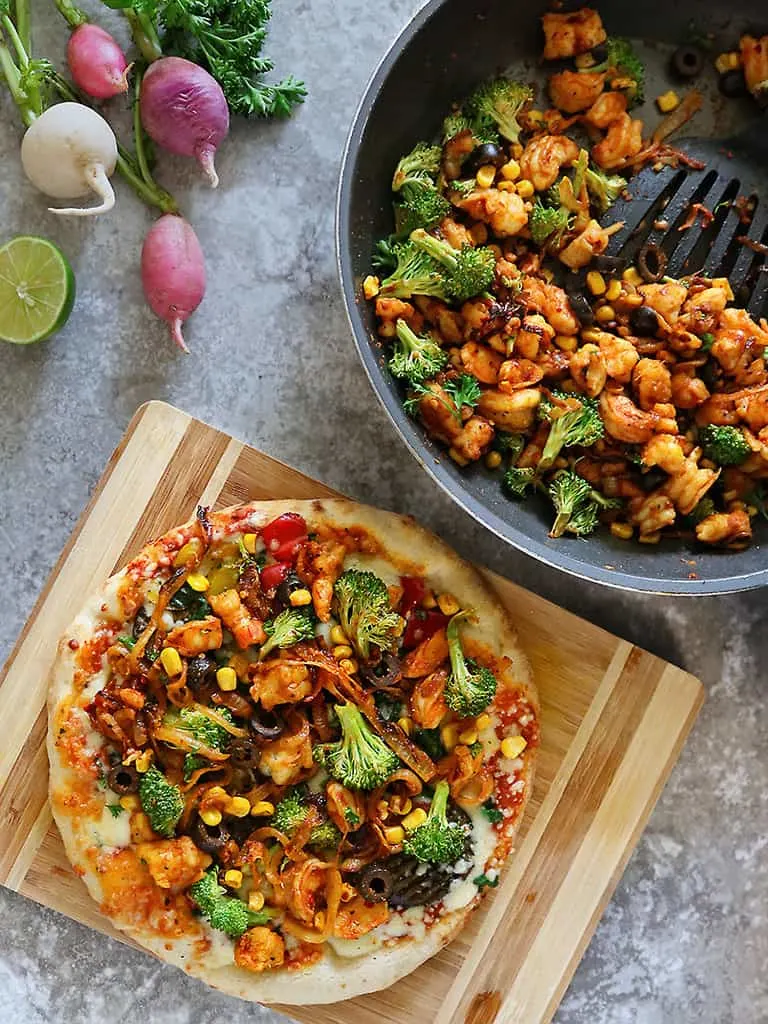 My daughter and I immensely enjoyed our movie night with our Frozen Pizza Loaded with Spicy Shrimp Broccoli!
But you know what… frozen pizzas are not just for pizza + movie nights. Frozen pizzas come in handy during crazy busy weeks.

When we moved into our current house, our first warm meal was a heated up frozen pizza from Sprouts! We know that selling our home and moving into another one is in our near future and I am planning on stocking up on a few frozen pizzas from Sprouts to tide us through the busy days of packing and unpacking.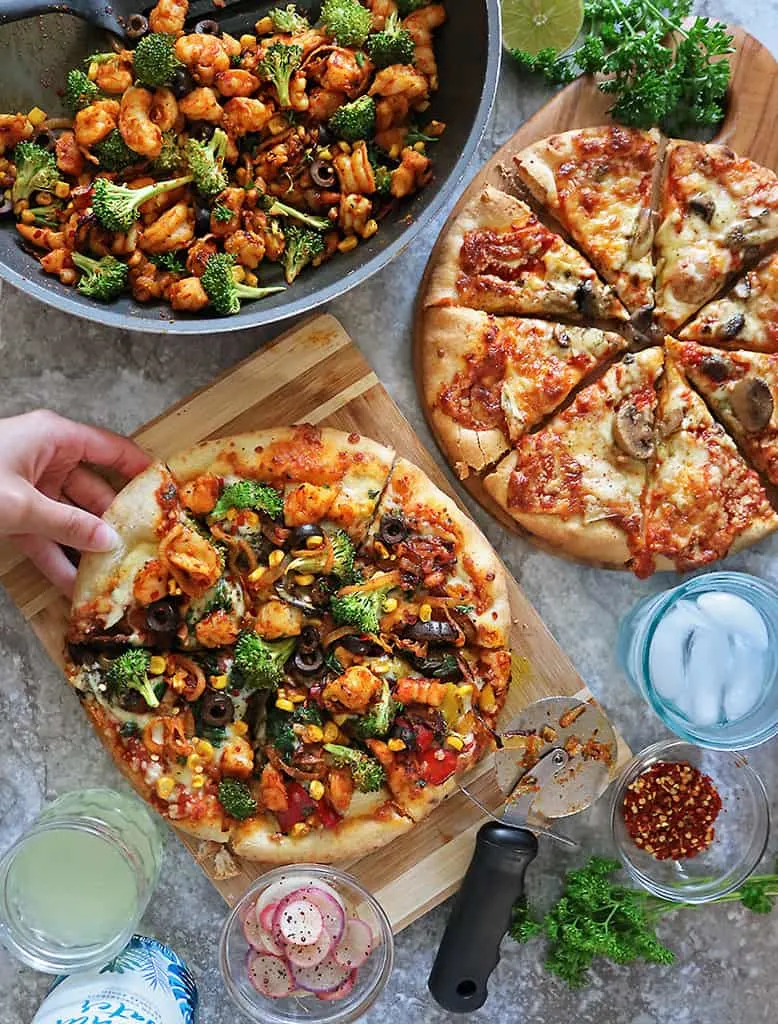 What to enjoy with this Frozen Pizza Loaded with Spicy Shrimp Broccoli?
Pair this Frozen Pizza Loaded with Spicy Shrimp Broccoli with this light and tasty Melon Salad with feta, wash it down with this watermelon paloma mocktail, and enjoy this chocolate and cookie butter bake for dessert?