Soft and cakey, these vegan pumpkin chocolate chip cookies are a healthy and egg-free spin on traditional pumpkin chocolate chip cookies.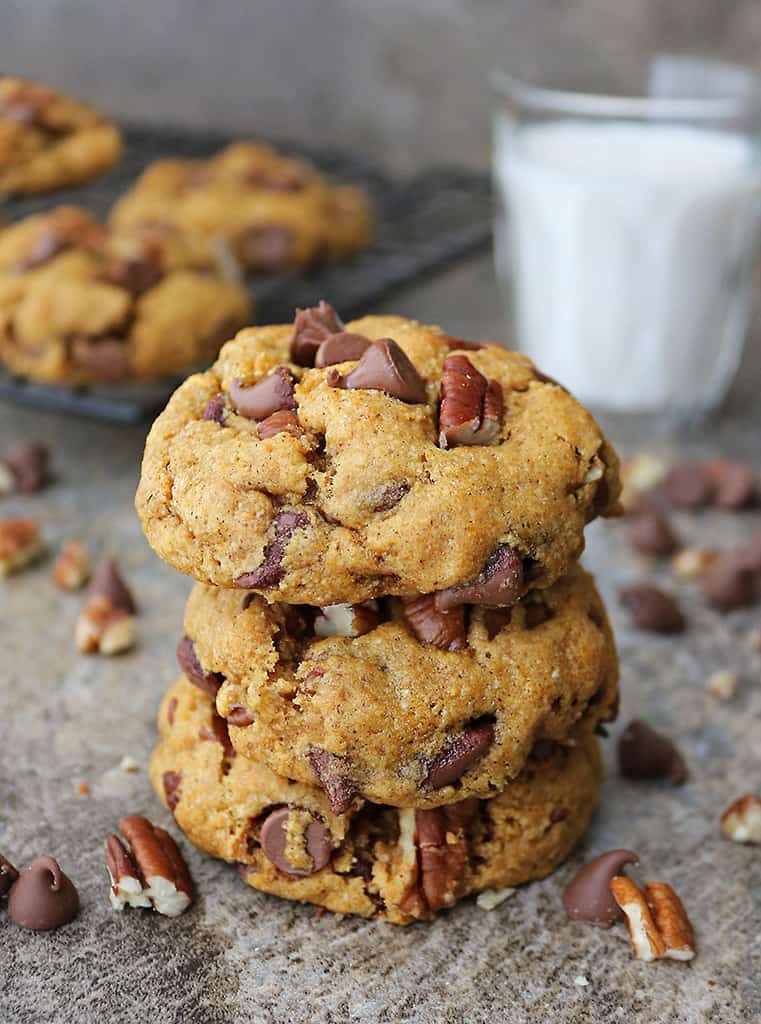 It's a good thing that this recipe for vegan pumpkin chocolate chip cookies results in only 6 cookies. I say that because every time I have made a batch of these cookies, they never seem to make it past the 24 hour mark in our home!
These vegan pumpkin chocolate chip cookies are some of the tastiest egg-free cookies I've had and my daughter seems to agree. Just last night she said that these are the best egg free cookies she has had. Then she proceeded to eat 4 of these to illustrate her point.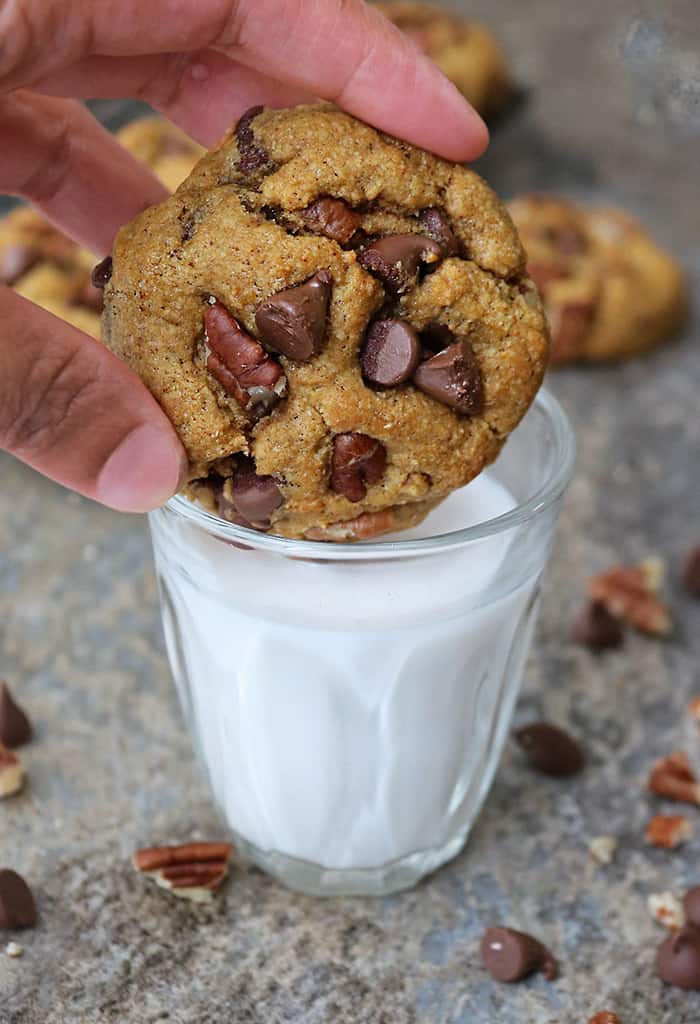 We love these Vegan Pumpkin Chocolate Chip Cookies because they are:
• Egg free
• Dairy Free
• Gloriously soft
• Not too sweet
• Thick and packed with pecans and chocolate chips
• Healthy with pumpkin puree cutting down on the quantity of vegan butter
• So easy to make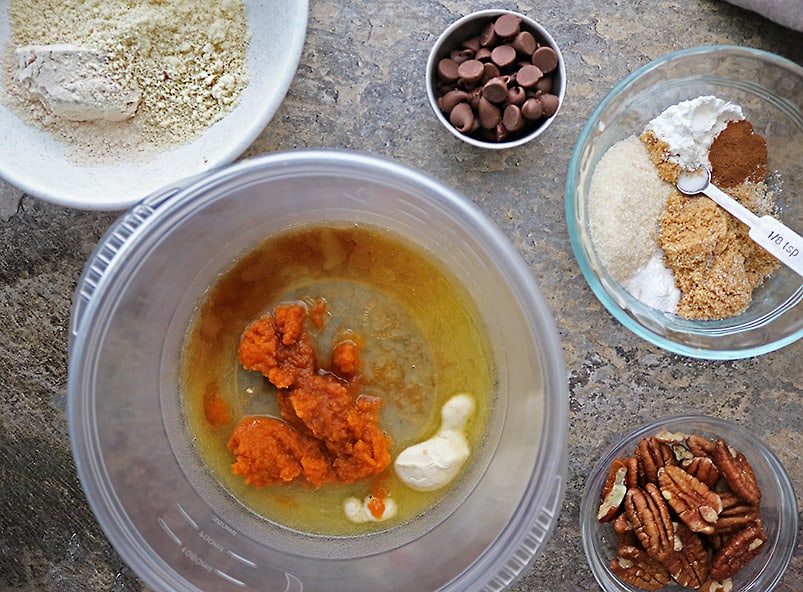 What are the ingredients needed to make these vegan pumpkin chocolate chip cookies?
I made these cookies with the following 14 ingredients that you probably have hanging out in your kitchen:
• Vegan butter
• 100% pure pumpkin puree
• Vanilla extract
• Almond extract
• Granulated cane sugar
• Brown sugar
• Finely ground almond flour
• All purpose flour (can use gluten free AP flour too like Cup4Cup)
• Salt
• Cinnamon
• Baking powder
• Baking soda
• Pecans, and
• Chocolate Chips (I used milk, but semi sweet will work as well)
I used a mixture of brown sugar and white sugar in these cookies as brown sugar seems to result in cookies that are more moist. Brown sugar also reacts with baking soda to result in puffier, thick cookies. However, if you bake these cookies about 3-5 minutes longer, the result will be a much crispier cookie.
Speaking of thick and tall cookies, I find that chilling the dough for 30 minutes or more helps generate taller cookies.
Most times I like to use a mixture of flour + almond meal. Sometimes I use gluten free flour + almond meal when I make these cookies and other times I use regular all purpose flour + almond meal. The combination of the two just seems to result in a cookie with a bit more texture.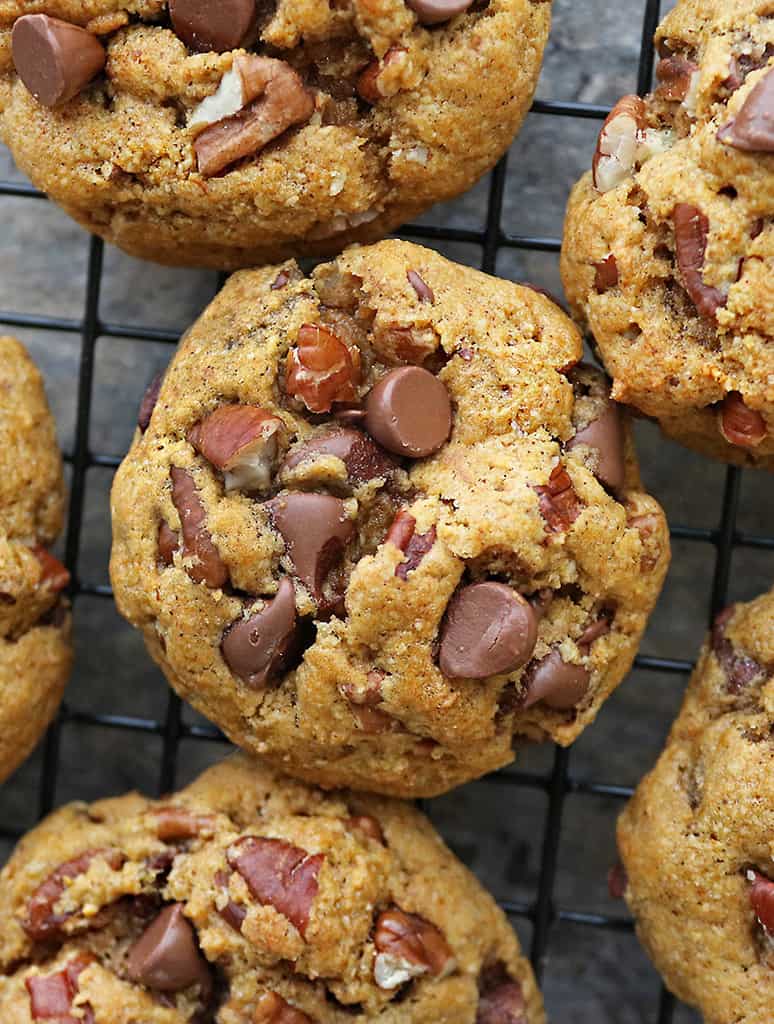 How do you make these vegan pumpkin chocolate chip cookies?
First off, melt the vegan butter by microwaving it for 10-15 seconds.
Then add in the pumpkin puree (if it's not at room temperature, then microwave it along with the vegan butter for 10-20 seconds.
Using a spoon or whisk, mix the vegan butter, pumpkin puree, vanilla extract, and almond extract well as seen in step (1) in the image below.
Using a spoon, mix the dry ingredients; such as the almond meal, AP flour, salt, granulate sugar, brown sugar, baking powder, baking soda, and cinnamon, together in another bowl.
Add the dry ingredients to the wet ingredients as seen in step (2) in the image below.
Add the pecans and chocolate chips to the mix and mix well as seen in step (3) in the image below.
Divide the dough into 6 balls as seen in step (4) in the image below. Chill the balls for 30 minutes.
Preheat oven to 375 degrees and when the oven is ready, place the vegan pumpkin chocolate chip cookie balls onto a silpat or parchment lined baking tray and bake for 10 minutes.
Remove from oven and let sit in baking pan for a couple of minutes. Then place them on a cooling rack to cool and then they are ready to enjoy.
It is almost the end of August which means pumpkin season will be here soon and we have quite a few pumpkin recipes on the horizon. We love pumpkin in our home ~ almost as much as we love these vegan pumpkin chocolate chip cookies! 🙂