Stuffed with a spicy potato bean filling and simmered in a deliciously spiced, creamy tomato coconut sauce, this vegan eggplant rollatini was as fun to eat as it was to make.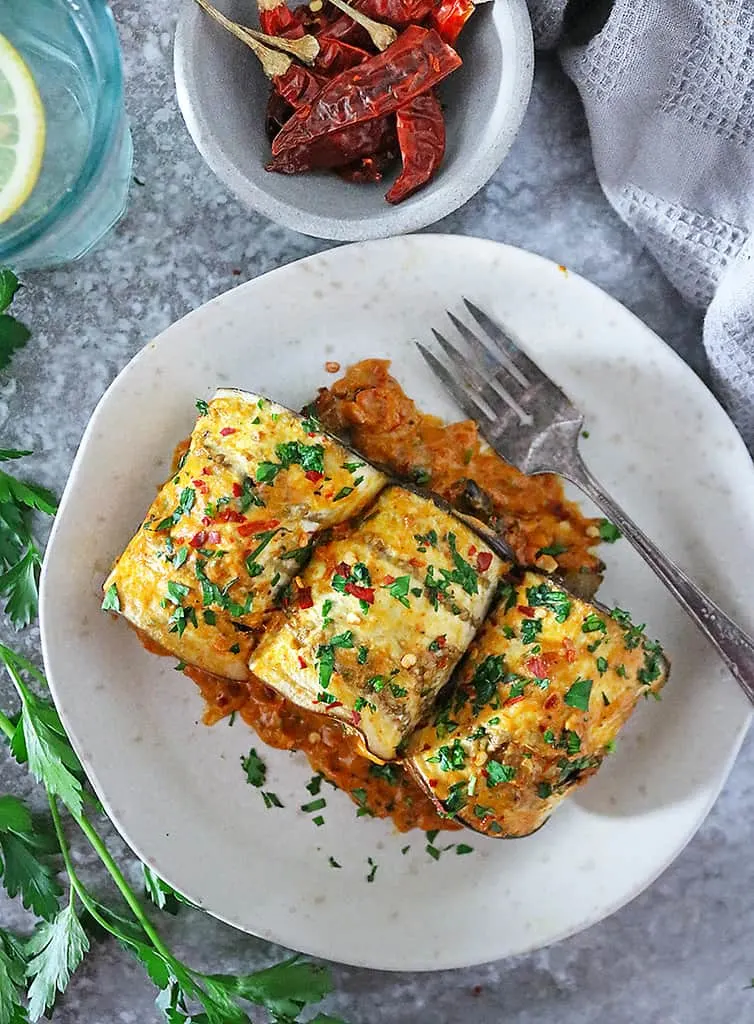 Traditionally, eggplant rollatini is an Italian dish that consists of thin slices of eggplant that have been dusted in flour or breadcrumbs, stuffed with a seasoned ricotta filling, rolled up, placed in a baking tray, and baked topped with a tomato-based sauce and cheese.
However, what I have here today is a spin on traditional eggplant rollatini. Much like this Za'atar Cacio e Pepe, this eggplant rollatini is a nutritious plant-based recipe with a boatload of spices thrown in.
If you are looking for a cheese-free, vegan eggplant rollatini made with wholesome ingredients, you are in the right spot!
How does this Vegan Eggplant Rollatini differ from Traditional Eggplant Rollatini?
There is NO cheese, not even vegan cheese, in this recipe.
The eggplant slices are not dusted with flour or breadcrumbs.
The eggplant slices are not fried.
It is ready in 30 minutes or less!
Instead, this spin on eggplant rollatini consists of:
Thinly sliced eggplant slices that are lightly sprayed with olive oil and baked before being filled.
A delicious immune-supporting, inflammation-reducing filling made of sauteed onion, garlic, ginger, potato, spinach, and black beans that are spiced with turmeric, coriander, and smoked paprika.
A decadently creamy sauce made with a mixture of sauteed onion, ginger, garlic, organic tomato paste, organic vegetable stock, and coconut milk.
A recipe that is cooked quickly – mostly on the stovetop!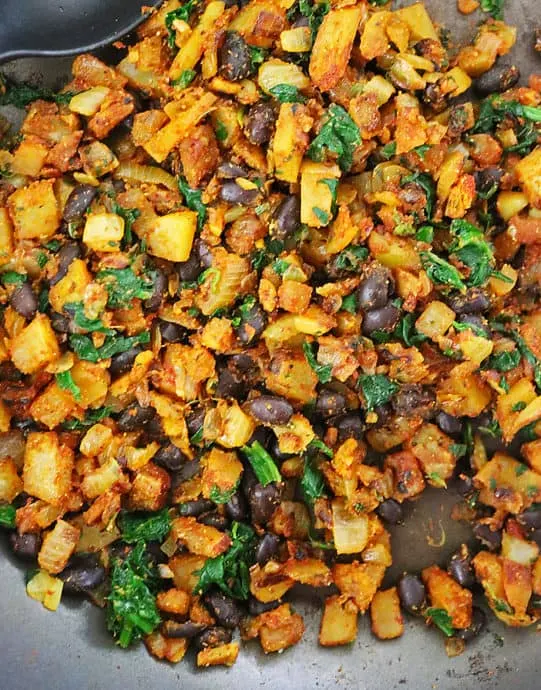 While the 15-ingredient list might look long at first glance, you might have most of these ingredients lying around your kitchen. And, there are several ingredients that overlap between the filling and the sauce.
This is a fun recipe. One to play around with that will hopefully have you enjoying a healthy plant-based meal every now and then.
One tip in making this eggplant rollatini is to make sure to chop up the onion, ginger, garlic, and potato into very small pieces. The smaller the pieces, the less likely they are to fall out of the eggplant as you stuff and roll them.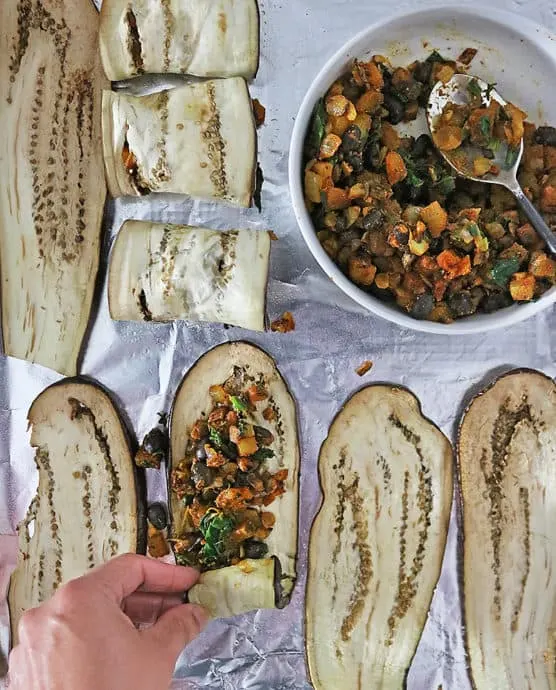 While I wouldn't recommend changing the spice quantities up to much, I would urge you to substitute any of the other ingredients.
If you don't like potatoes, use sweet potatoes instead.
If you prefer pinto beans, then use those.
If you prefer frozen kale to spinach, go right ahead and use that. If you have some leftover fresh spinach you need to use up, by all means, use that instead.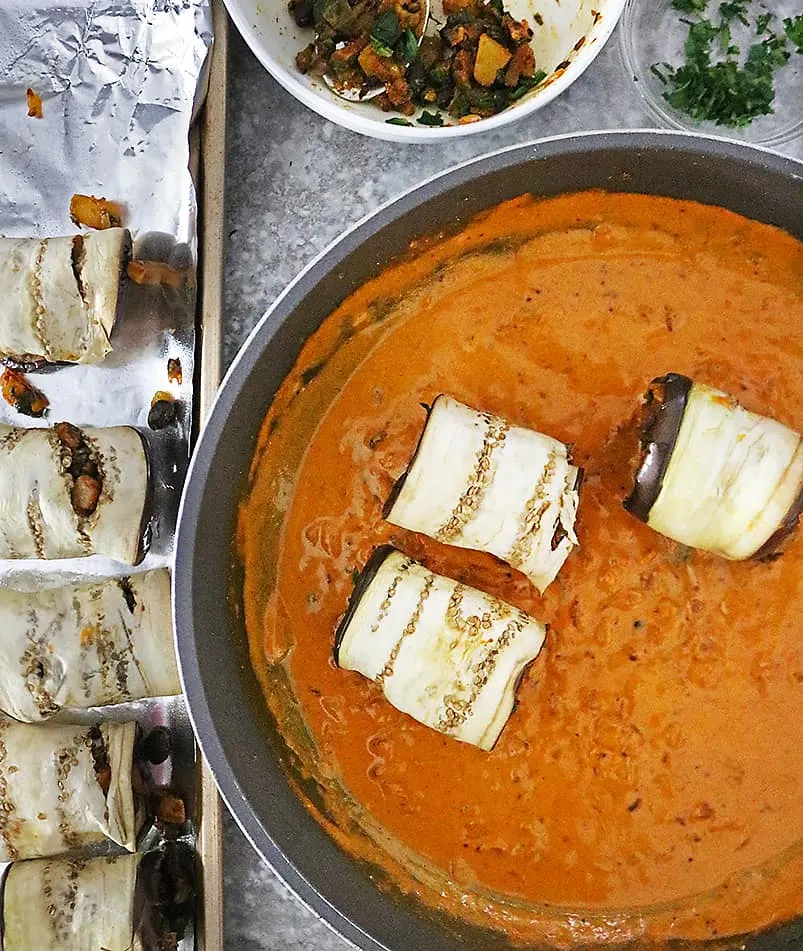 My daughter and I so enjoyed this tasty and easy plant-based eggplant rollatini as it is:
✅ So flavor-packed!
✅ So healthy!
✅ Such a filling vegan dish!
✅ So much fun to make and eat!
While we enjoyed this dish as our main course for dinner, you could opt to serve this as a side along with this Biryani, or enjoy it as your main course with some roasted broccoli.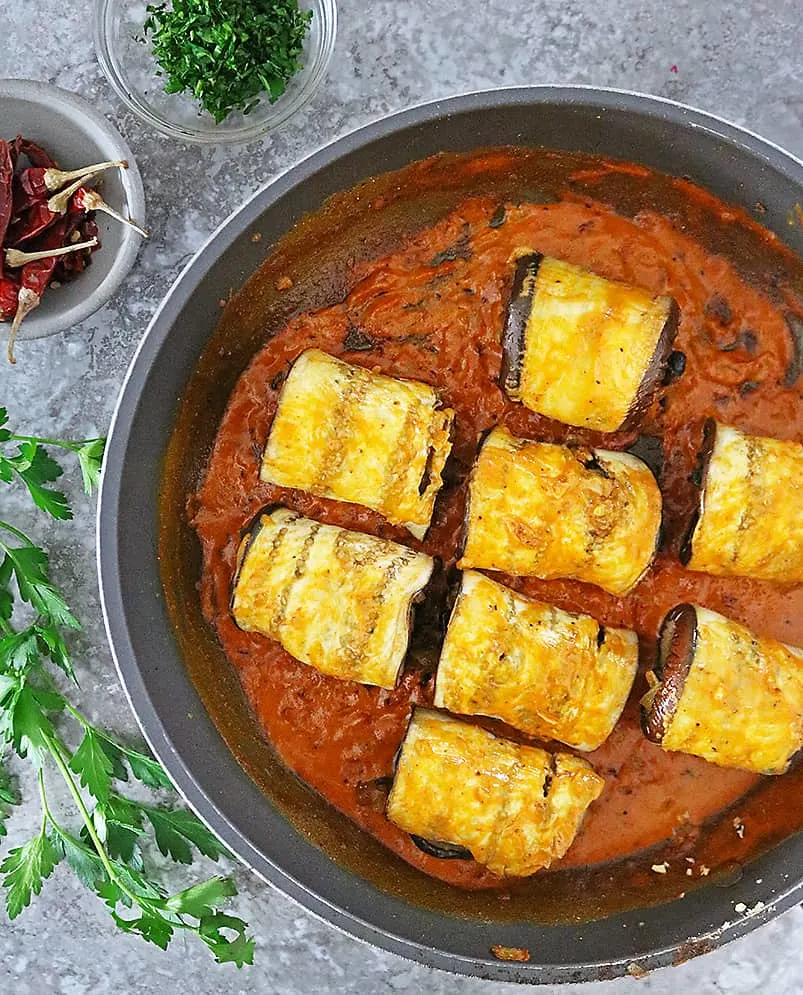 Seeing each serving came in around 350 calories, we were tempted to dig into seconds. But, that would mean we would not have any leftovers for the next day and so we opted to grab a slice of this flourless chocolate cake instead.