This Christmas Salad is a blend of sautéed kale, shredded Brussels sprouts, celery, jalapeno, onions, ginger, garlic, and za'atar. Served with pomegranate arils, this is a festive and healthy salad to add to your holiday table.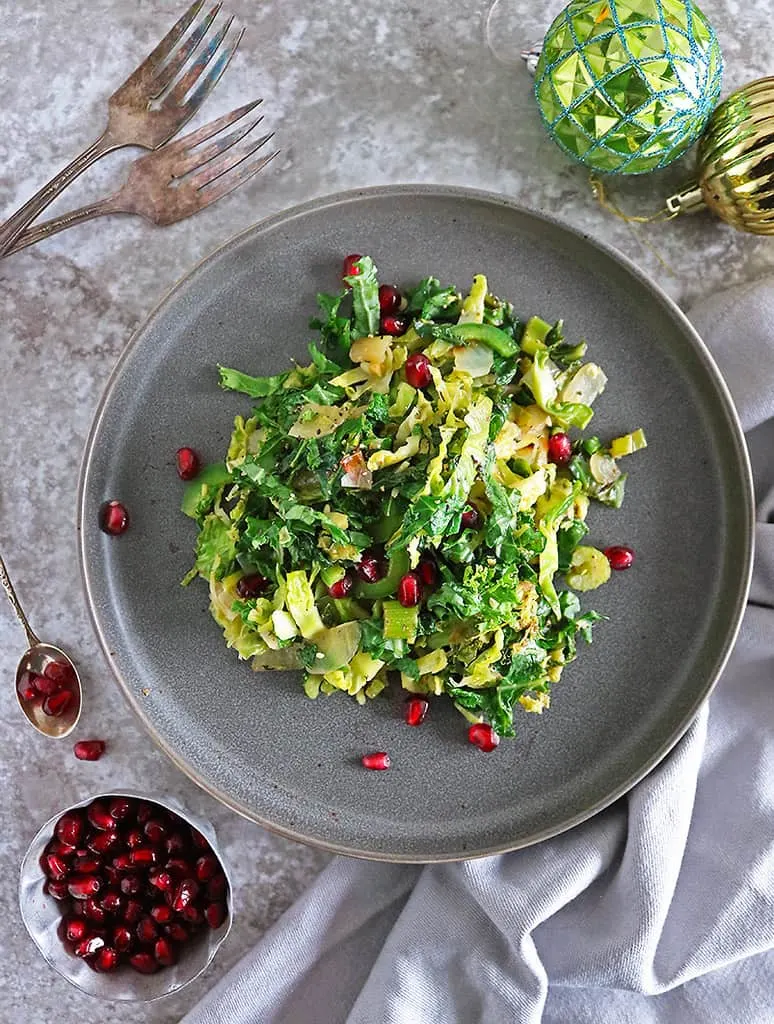 This Easy Christmas Salad is for you if you want to switch up your salad game this winter. Instead of a fresh, cold salad, opt for a warm, sautéed one filled with a variety of flavors and textures – just like this one!
This is one of our favorite winter salads as it is:
• Seasoned deliciously with onions, ginger, garlic, lime, and za'atar,
• Packed full of healthy greens,
• Plant-based & vegan,
• Can be made in less than 30 minutes, and
• Is so easy to make!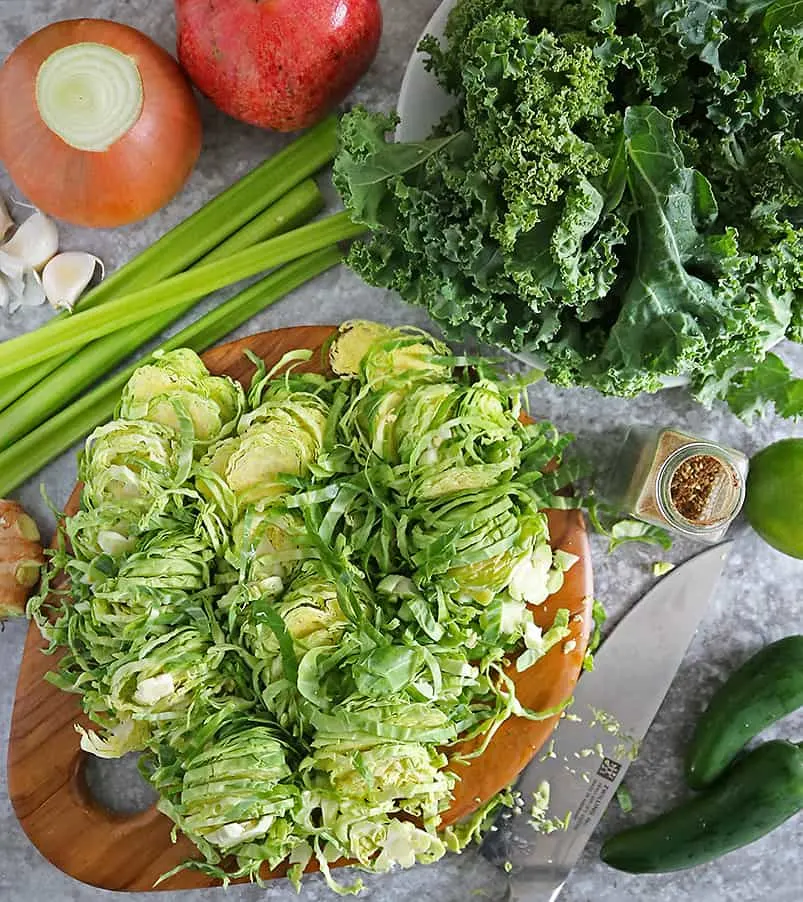 How to make Christmas Salad?
This Easy Christmas Salad starts off with a base of onions, garlic, and ginger sauteed in oil. In Sri Lankan cuisine, almost every dish starts off this way. And, the combination of onions + ginger + garlic is touted as an immunity builder.
When the onions start to become translucent and ever so lightly brown, then the Brussels Sprouts are added in. They are followed by celery and jalapeno. Then a generous sprinkling of za'atar and the kale is tossed in.
The salad is removed from the heat shortly after and flavored with lime, salt, and pepper. This salad is best enjoyed warm with a smattering of ruby-hued pomegranate arils for a festive (and nutritious) spin!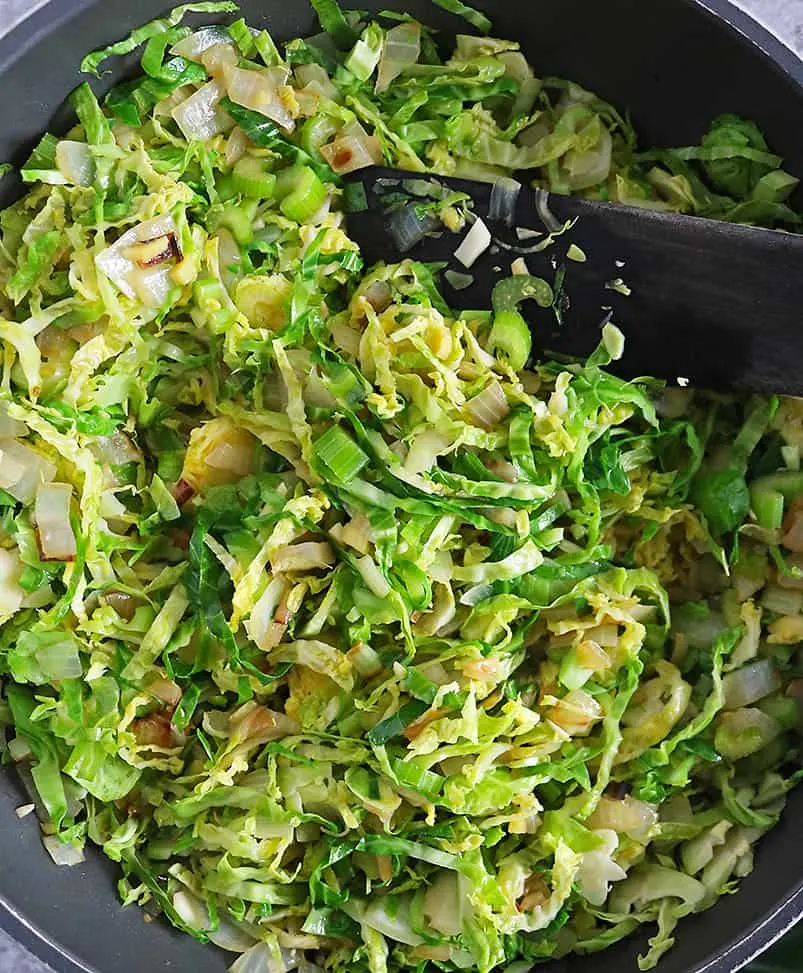 Easy Substitutions:
If you don't like Brussels sprouts, then use broccoli instead. Not a huge fan of kale – then use milder spinach instead.
If you would prefer your Christmas salad not to be spicy, you can tone down the heat in the following two ways. First, using gloves, you can cut out and remove as much of the seeds of the jalapeno and use only the flavorful green flesh. Second, you can substitute the jalapeno with green bell peppers instead. Both lend a flavorful crunch to this Christmas Salad.
If you don't have za'atar on hand, you can order it via Amazon right here (affiliate link) and have it delivered before Christmas. I've also seen zaatar in the spice section in stores like Sprouts, Kroger, and Publix.
However, if you want, you can use your favorite herb blend instead of za'atar as well. This will alter the flavor – but it would be fun to experiment – right?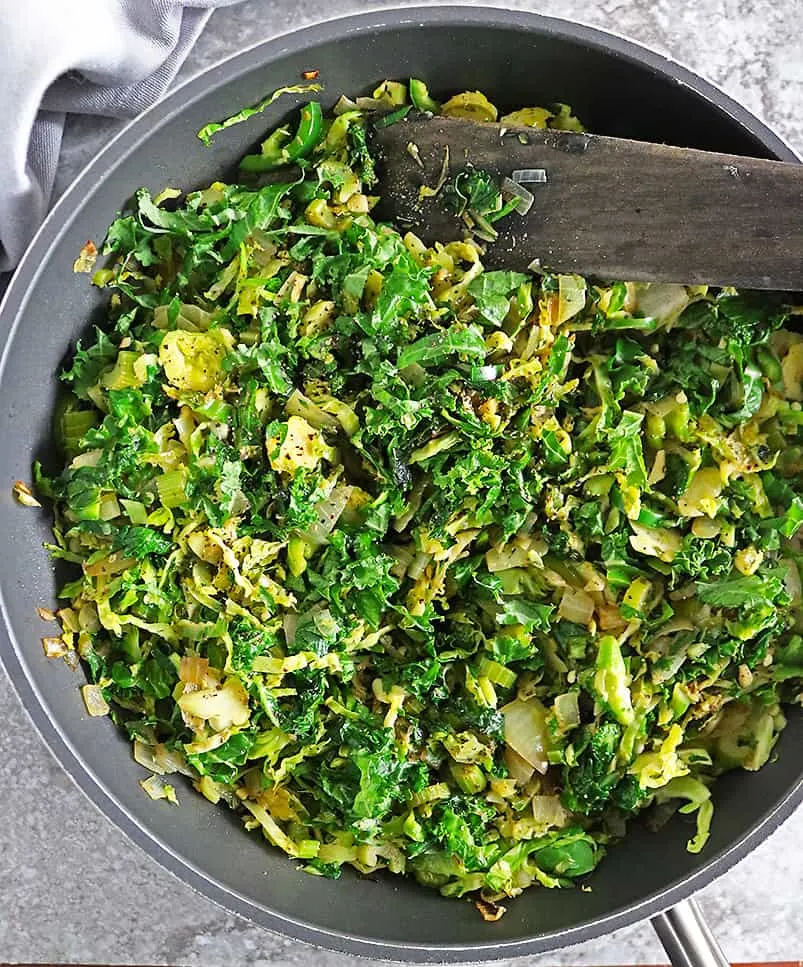 This is a very versatile salad that will be a delicious and nutritious addition to your holiday table – and New Years as well. In fact – it is going to be our go-to salad until the temperature down here is back in the 70s!
I love to balance off my love for all things desserty with healthy mains and sides at my holiday table.
I do my best to fill my table with sides like Za'atar Asparagus with Pomegranate, Golden Pan Roasted Parsnips, Sautéed Brussels Sprouts Apple Salad, Easy Meatless Veggie Balls, and this Easy Christmas Salad so I can enjoy treats like these Christmas Cake Cupcakes, these custard pies, pies made with this mincemeat, and these cookies!