If you happen to get your hands on a jackfruit, please don't throw the seeds away. Instead, wash, boil and peel them and then use them in this hearty and filling Easy Jackfruit Seed Curry.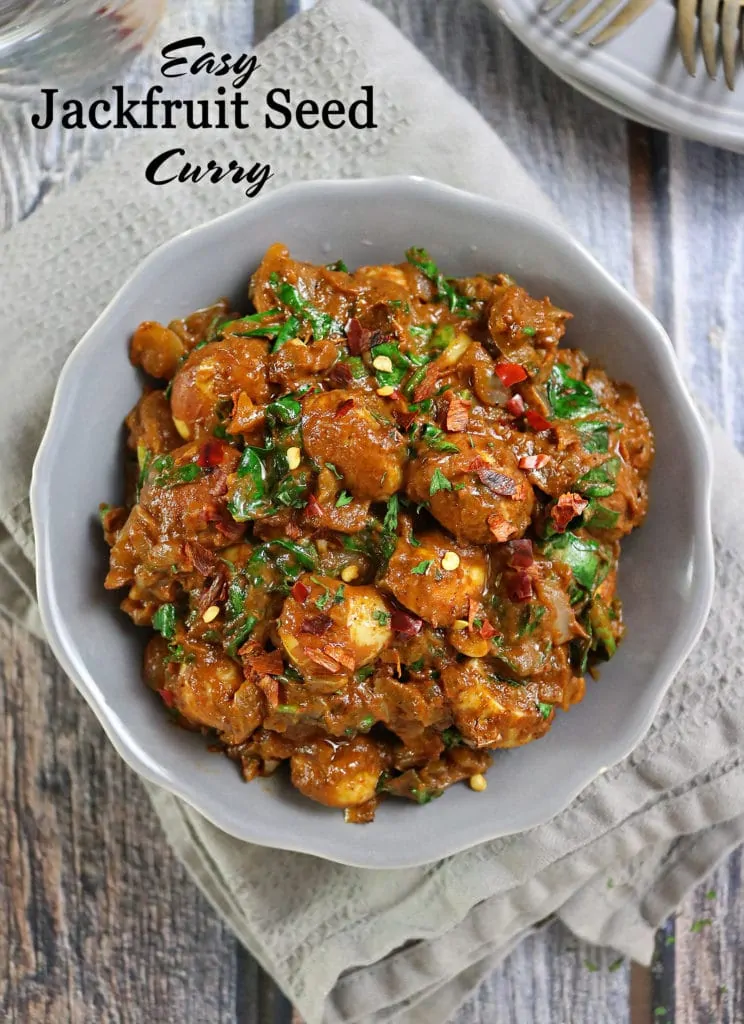 To me, this year seemed to start off with more jackfruit sightings than any other.

My social media accounts were filled with posts and videos about my friends' run-ins with the delicious pods and incredibly sticky flesh and ominous seeds of the humble jackfruit.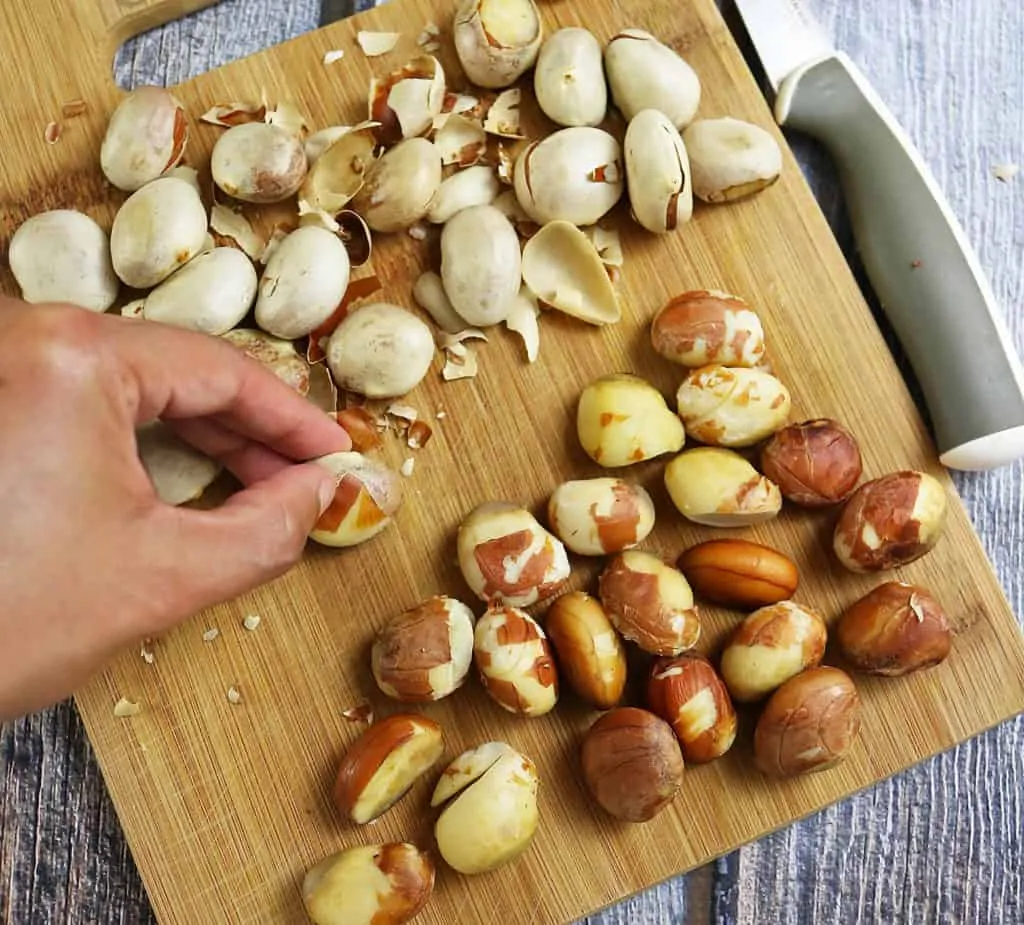 Now, while jackfruit might not be a popular or easily available fruit here in America, it was plentiful in Sri Lanka, where I grew up.

If you haven't ever come face to face with a jackfruit – it can be a bit intimidating.

It's HUGE – with some weighing in at 80 lbs!

Jackfruit is a tad bit spiky.

And, some people say the ripened ones have a rather odd odor.
Now, I might have olfactory issues, but, I tend to think their aroma is kinda intoxicating!

When I was younger, I seemed to eat jackfruit all the time. There was young (unripened) jackfruit curry, jackfruit chips, and even jackfruit ice cream! My mom would even make a mean roasted jackfruit seed dry curry.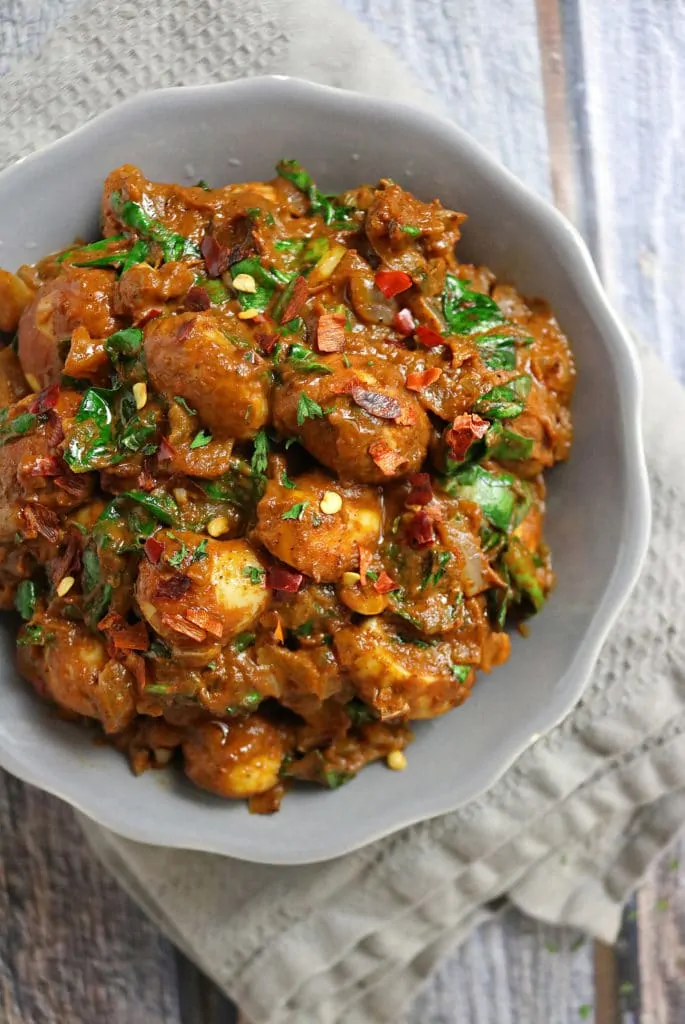 But, after I moved away from Sri Lanka to countries where jackfruit was less popular, I kinda forgot about it. Outta sight outta mind – right?!

Well, recently I happened on a some cut up chunks of ripe jackfruit at the Dekalb Farmers Market and brought some home so my daughter could get her first taste of it.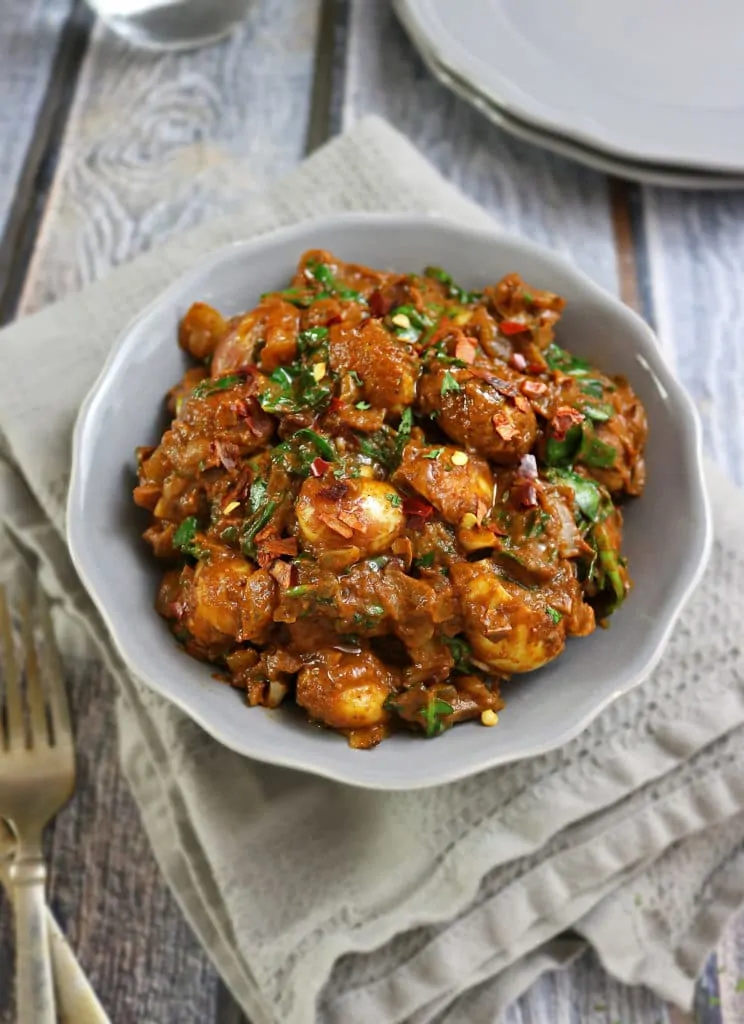 We cut the sweet pods out and enjoyed some of them plain and some of them in this Mango and Jackfruit Shake I shared on Facebook.

When all we had left were the jackfruit seeds, I figured I'd attempt to make them into a jackfruit seed curry.
What are the ingredients needed?
You only need the following 9 ingredients along with some oil and some salt and pepper:
onion,
garlic,
ginger,
water,
tomato paste,
coconut milk,
garam masala,
jackfruit seeds,
fresh spinach,
How to cook jackfruit seeds?
Place the jackfruit seeds in a pan, add enough water into the pan to cover the jackfruit seeds.

Place the pan over high heat and bring to a boil.

Lower heat to medium and simmer for 25-30 minutes.

Remove from heat.
Let the jackfruit seeds cool, and when they are cool enough to handle, pat them dry and slowly peel off the outer white covering.

The peeling of the jackfruit seeds is a labor-intensive process so I convinced my daughter to help.
Then I simply added in a plethora of spices along with garlic, onions, ginger, tomato paste, coconut milk and spinach and crossed my fingers and hoped it would be edible.
When it was done, my daughter and I dug in, and I gotta say, while this jackfruit seed curry doesn't taste like my mom's, it sure was delicious and hearty! We enjoyed this curry over a couple of days with rice and roti.

I am hoping if you happen to pick up a jackfruit, you save those seeds and hopefully give this Easy Jackfruit Seed Curry a try. But, if you cannot get your hands on some fresh jackfruit seeds, I've started seeing frozen jackfruit seeds pop