Bitter dandelion greens are turned into a delicious and healthy dinner side with the help of just a handful of ingredients that include raisins and bacon!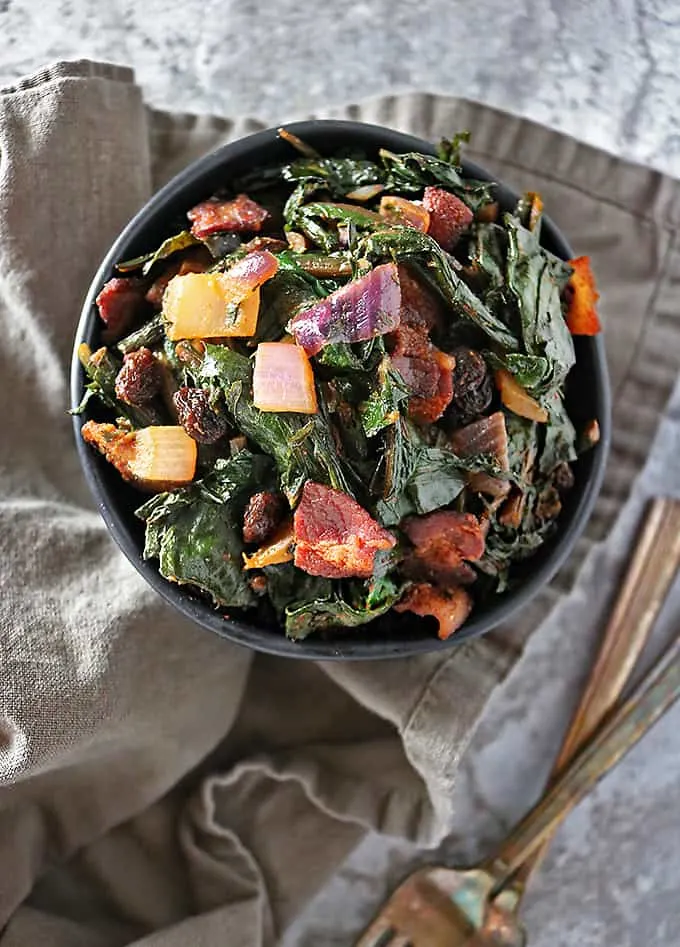 The Dekalb Farmers Market, here in Georgia, is one of my favorite places to shop at. When it comes to fruits and veggies, they seem to have just about everything and then some! By the way, this is not a sponsored post.
Recently, my daughter and I were on our way back home from a Pulte Smart Home Event in Atlanta, when we decided to take a detour and spend a few hours at the Dekalb Farmers Market (instead of sitting in traffic for those same hours), on our way back to Athens. And, ended up with a shopping cart full of jackfruit, passion fruit, rambutan, herbs, wine and fresh dandelion greens.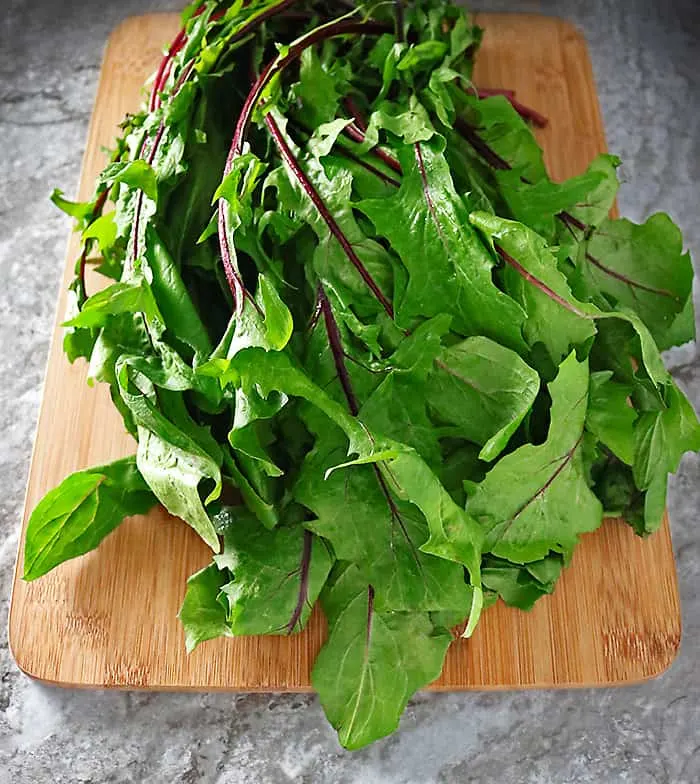 Now, the dandelion greens piqued my curiosity as for the past 7 months, a cup of dandelion root tea at night has helped me break my 2-cups-of-coffee-at-night habit. So, I figured I'd bring home some of those dandelion greens to see what (if anything) I could do with them. Besides, dandelion tea and greens have several health benefits.
Some Dandelion Benefits:
• It is said to help detoxify the liver
• With high levels of Vitamin K, it is said to help promote bone and heart health
• It is said to be a natural diuretic
• Dandelion has been found to stimulate the production of insulin by the pancreas thus regulating blood sugar levels.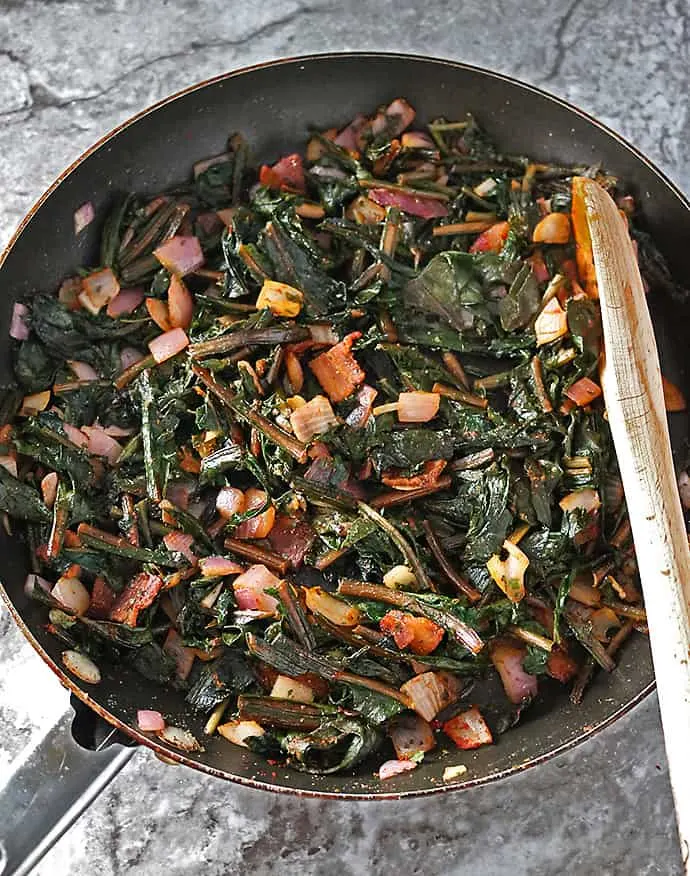 After a quick rinse off, we proceeded to do a quick tasting of those raw greens. And, boyoboy, were they bitter! At least to me! My daughter said they were slightly more "peppery" than arugula… but… I just couldn't stand to eat them in a salad no matter what else went into it. So, I perused the interwebs and came across many articles that mentioned blanching the dandelion greens first before cooking them. So, blanch them I did.
And, they still tasted a lot like disgusting to me!
After all this, I didn't want to throw those dandelion greens out. So, in a last ditch attempt, I figured I would sauté them up with some red onions, spices and throw in some of the extra baked bacon I had on hand along with some raisins to add some sweet to what I thought was a bitter, salty mix. And, I gotta say, I was surprised.
Even though I had been hoping I wouldn't have to, I had been thinking that I'd end up having to throw this whole pan of dandelion greens, bacon and raisins out because it would end up tasting a lot more like disgusting. But, I was wrong.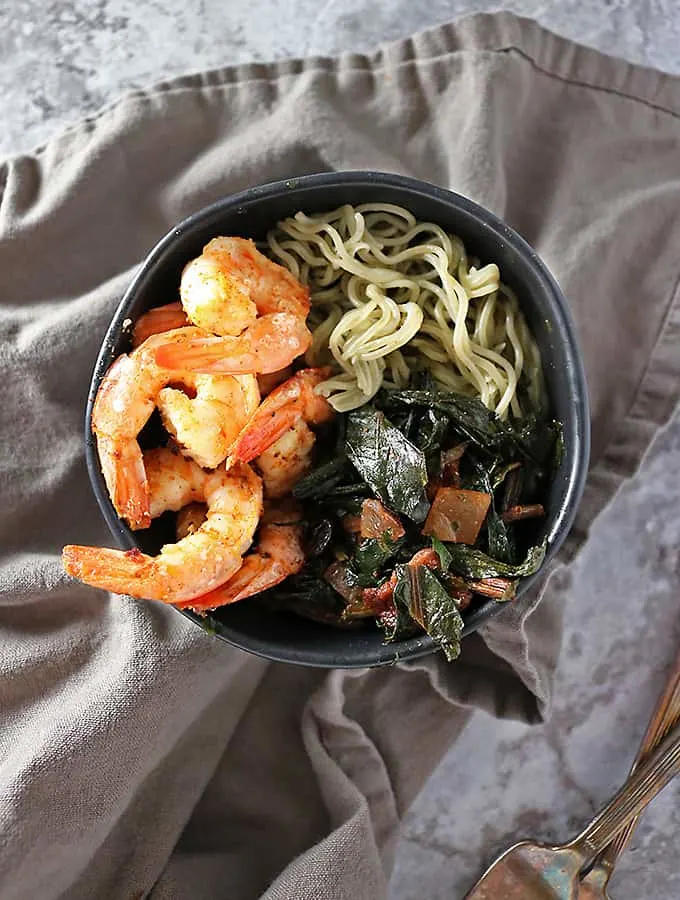 The blending of sweet, spicy, salty ingredients and the sautéing of those once bitter dandelion greens resulted in quite a delicious concoction. Delicious enough that I had to document it on here because, with my memory, I'd be sure to forget how those dandelion greens went from something like disgusting to something quite delicious!
My daughter and I paired this Dandelion Greens Sauté with Bacon & Raisins with some spiced shrimp and some rice ramen noodles for dinner. They are also delicious on a baked potato along with some sriracha, as well as as a side to this Wine spiced chicken. So, feel free to enjoy a bowl of these Dandelion Greens with any other protein and/or carb pairings.
A Few Tips To Make Dandelion Greens Less Bitter:
1) Sauté dandelion greens in a bit of oil, after blanching them.
2) Spice dandelion greens up with sultry spices like coriander, cumin and smoked paprika.
3) Pair dandelion greens with sweet and salty flavors such as raisins or figs and bacon.
If you happen to fancy this recipe, let me know what you think by leaving a comment and rating below. If you make this recipe, please post a pic on INSTAGRAM -tagging @savoryspin so I can see! For more recipes and ramblings, like us on FACEBOOK and follow along on PINTEREST!
©Savory Spin All content and images are protected by copyright. Please do not use my images or recipe without my permission.
Disclosure: Savory Spin is a participant in the Amazon Services LLC Associates Program, an affiliate advertising program designed to provide a means for sites to earn advertising fees by advertising and linking to amazon.com.