Add a unique spin to your Thanksgiving and Holiday table with this easy and flavorfully spiced, Golden Pan Roasted Parsnips recipe.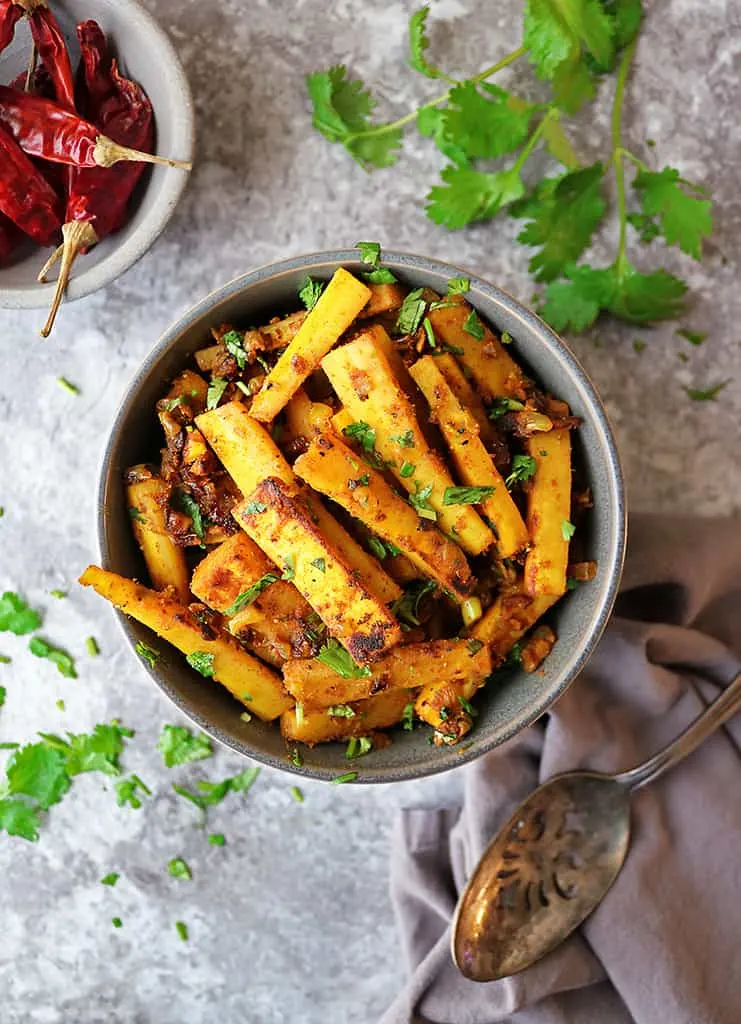 This Golden Pan Roasted Parsnips dish would be a tasty side dish on your Thanksgiving or holiday table. And, they can be made quickly on the stove while your pies and casseroles are baking.
But, you don't have to save this recipe for the holidays only.
This recipe is so easy and so quick, you and your family can enjoy these Golden Pan Roasted Parsnips anytime you'd like to.
As I mentioned earlier, I cooked these Golden Pan Roasted Parsnips on the stove top. But, you can spice them with the spices I used and bake or air fry them as well – just skip the addition of coconut milk and go heavy on the oil/cooking spray.
I have included suggestions for alternative cooking methods and times in the notes section of the recipe card below.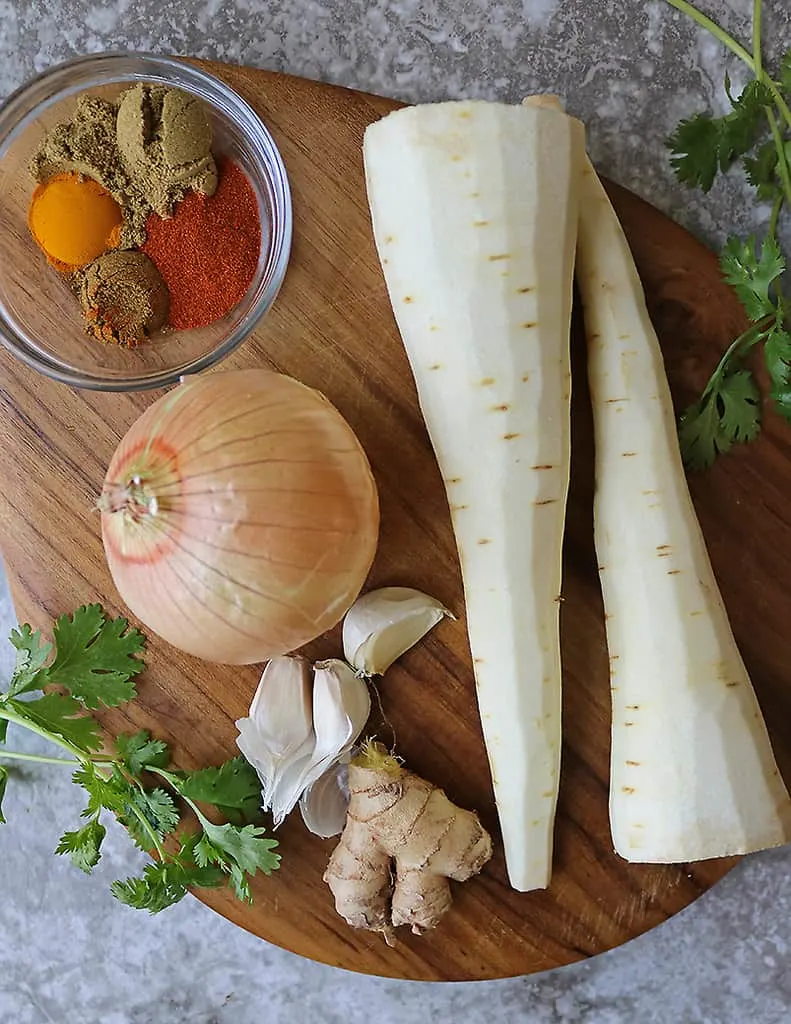 This dish is a result of me trying to stop overlooking parsnips when I'm in the produce section.
Parsnips are a no-FODMAP food, which makes them an ideal food choice if you or someone you know has digestive sensitivities.
Parsnips are also pretty high in fiber as well as vitamins and minerals like potassium and manganese.
How to select parsnips?
Make sure you select parsnips that are smooth, and hard, They should be free of any soft spots and discolorations. And, it would be best if they weren't sprouting anything funky either.
Just make sure to scrub them under running water before using them or peel the outer skin off of them ~ like I did for this recipe.
How to eat parsnips?
Parsnips can be eaten raw or baked, fried, steamed, and sautéed stove top – like these Golden parsnips were.
Parsnips can be used as a thickener in soups and stews – or simply the star of soups and stews. Then can also be cooked, mashed and served like mashed potatoes.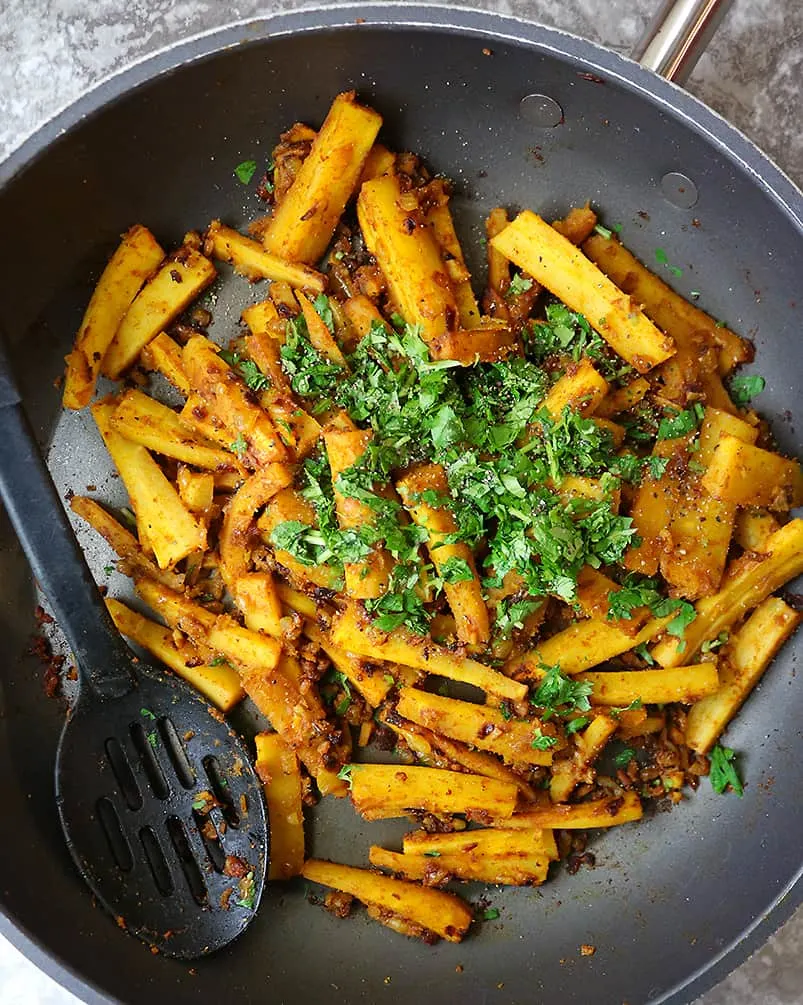 My daughter and I love this Golden Pan Roasted Parsnips recipe so much that the first time I made these, they didn't even make it onto a plate before they disappeared!
Some of the reasons we love these Golden Pan Roasted Parsnips is because they are:
✔️ gluten-free,
✔️ so tasty,
✔️ so quick,
✔️ smell heavenly,
✔️ a nutritious and better-for-us recipe, and
✔️ made with only 10 ingredients!
What are the ingredients needed to make these Golden Pan Roasted Parsnips?
These 10 ingredients are:
Parsnips,
Oil,
Yellow onion,
Garlic,
Ginger,
Turmeric,
Coriander,
Smoked paprika,
Cumin, and
Coconut milk!
Make a meal with these Golden Pan Roasted Parsnips by combining them with:
• This Baked Fried Chicken and Asparagus Egg Salad for a weekend dinner,
• This Sweet Spicy Air Fryer Salmon and this Broccoli Peanut Salad for a light weeknight meal,
• Or, combine it with this Spicy Cauliflower Fig recipe, these Ginger Cardamom Carrots, this Broccoli Gratin, this Sautéed Apple Brussels Sprouts Salad, this Pineapple Casserole, these Turmeric Potatoes, and this Brussels Sprouts Kale Sauté with Cranberries & Walnuts for a tasty vegetarian thanksgiving meal!
By the way, veering off subject slightly, my mom just texted me to let me know that turmeric is in short supply in Sri Lanka and it is a hot item for smugglers!
Of course I had to find out more and sure enough, people are being arrested for smuggling turmeric into Sri Lanka! What? Of all the things???
According to this article, the Sri Lankan Government had banned any imports of turmeric to get a handle on the spread of the coronavirus. Cultivation of turmeric has increased immensely due to the ban, with large amounts of turmeric forecasted to be available in early 2021. But, what's one to do until then?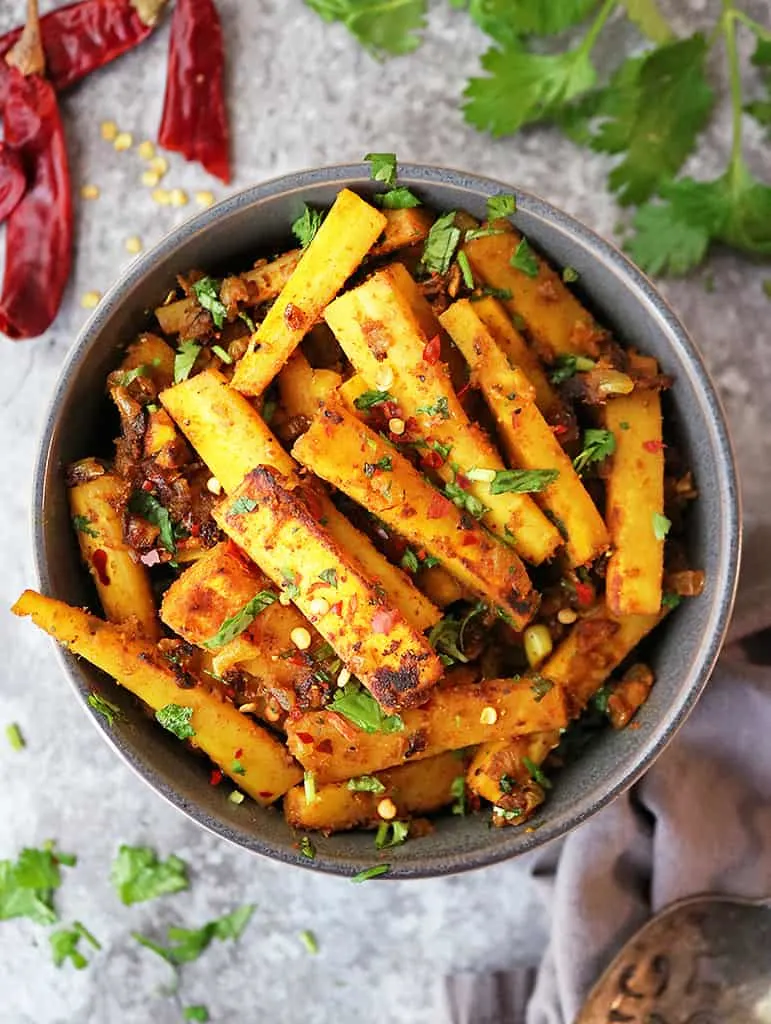 If you need some turmeric sent your way to make this Golden Pan Roasted Parsnips as well as several batches of curry and soup – drop me a line!
Thanks so much for stopping by. If you make this recipe, please let me know in the comments below what you think of it, or tag your creation on social media with @savoryspin or #savoryspin. For more fusion, spice-filled, recipe ideas, please subscribe and follow me on Facebook, Instagram, and/or Pinterest!