The unique combination of canned crushed pineapple, cheddar cheese, sugar, and buttery crackers in this Pineapple Casserole may be befuddling, but the result is so incredibly tasty! The ideal fix of sweet and salty, creamy and crunchy, I am willing to bet that your first bite won't be your last.
I've partnered with Tillamook to bring y'all this Savory Sweet Pineapple Casserole! Thank you so much for supporting the brands that keep this Blog Spinning!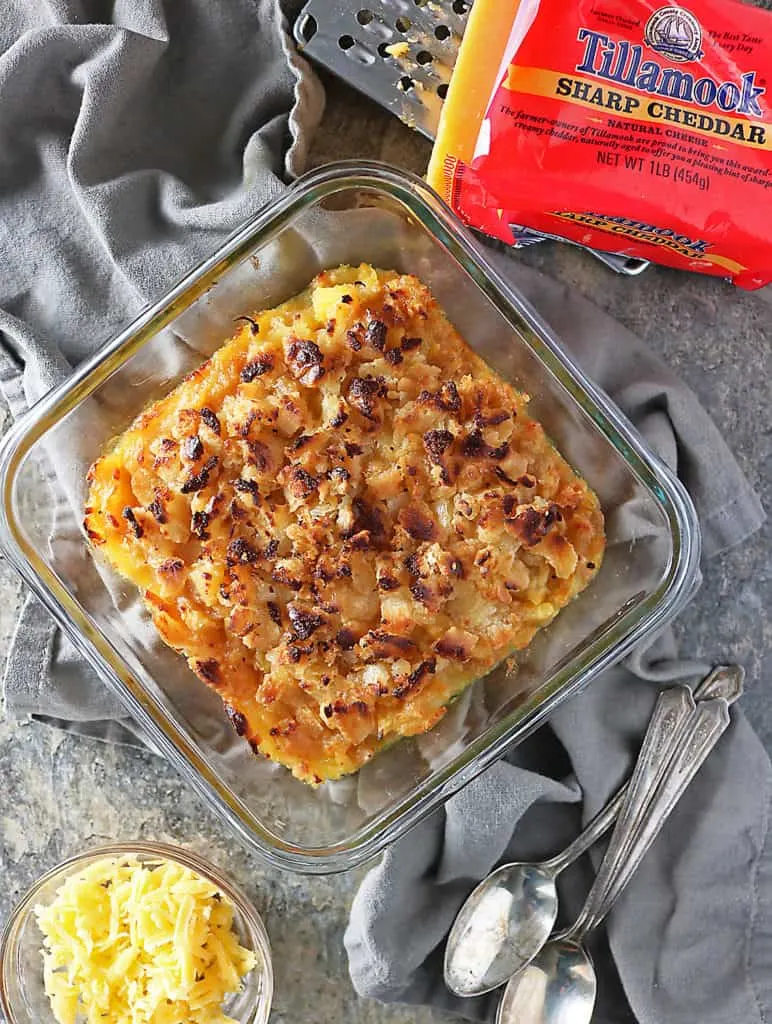 The first time I was introduced to pineapple casserole, I wasn't sure what to make of it.
Today I'm going to take y'all way, way, way back to the time when I was married. It was my first thanksgiving at my then sister-in-law's house, and my then-mother-in-law had brought in a pineapple casserole. She set it down with the other side dishes, leaving me totally befuddled.
Was I to move it to the dessert table? It had pineapples in it after all…which would make it a dessert – right?
But, there was that melty cheese oozing out of it…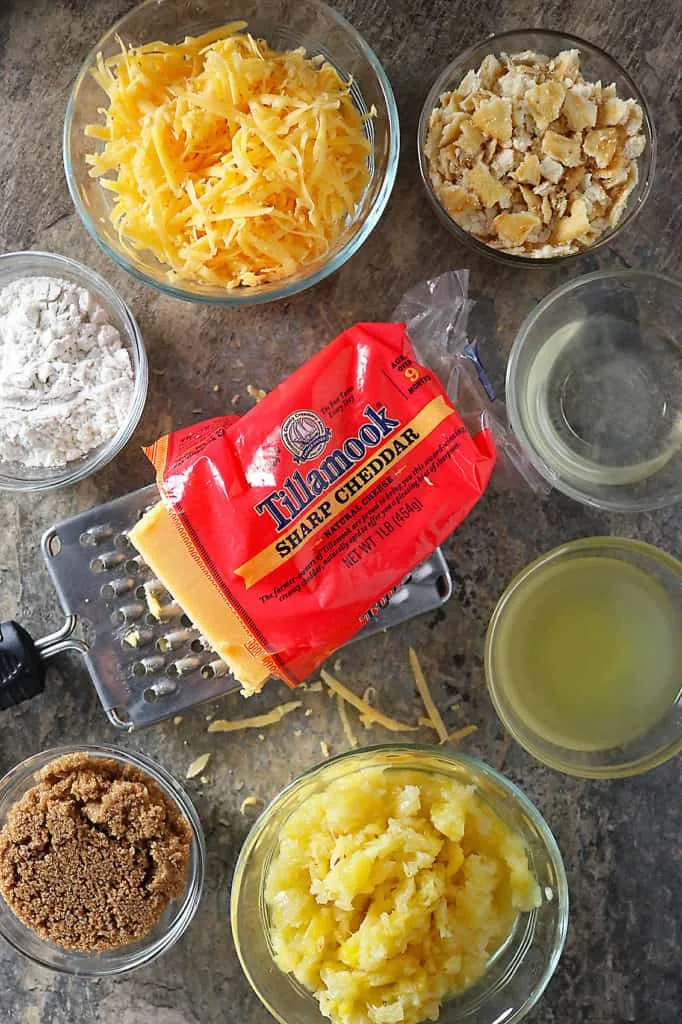 When my then MIL told me that it was a southern side dish with pineapple chunks, cheese, sugar, flour, butter, buttery crackers, and pineapple in it, I was even more befuddled!
Even though I had been in Atlanta for a while, this was my first run-in with this unique concoction.
And, it had me racking my brain to imagine all these flavors intermingling.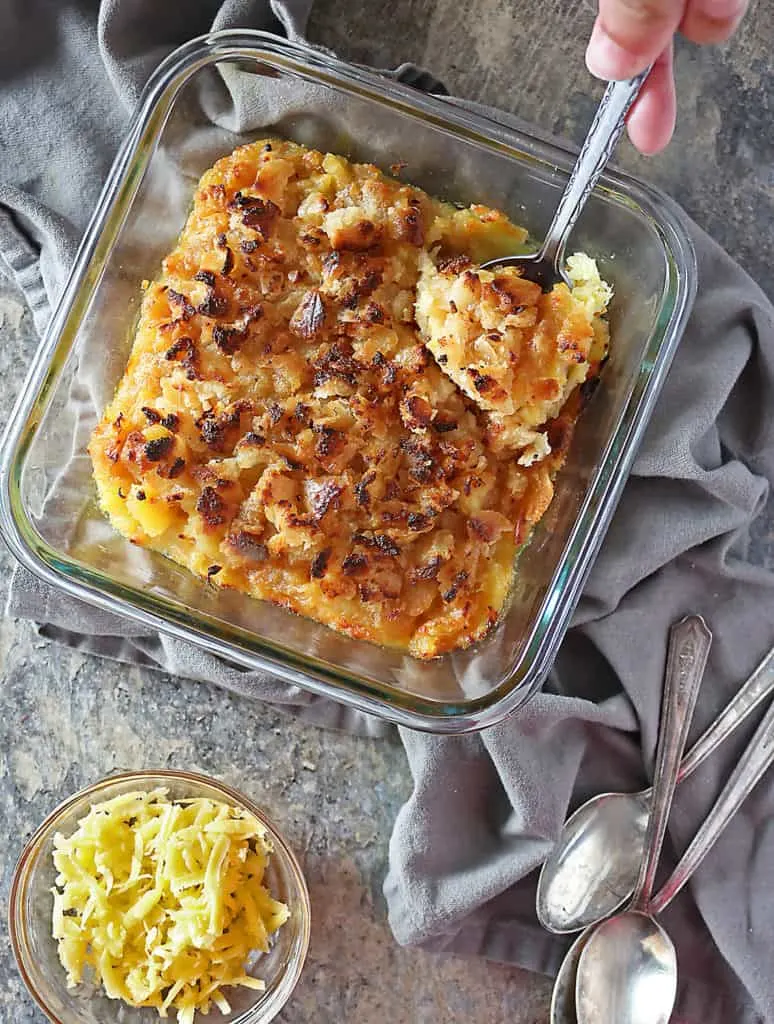 I knew there was only one way to put an end to this state of befuddlement, and that was to take a taste…
So, when it was time to finally dig in, the first thing I tasted was that pineapple casserole…
And, it was like nothing I had ever tasted.
It was sweet but at the same time savory.
It was creamy and crunchy.
It was comforting and invigorating.
And, it was tasty. So tasty.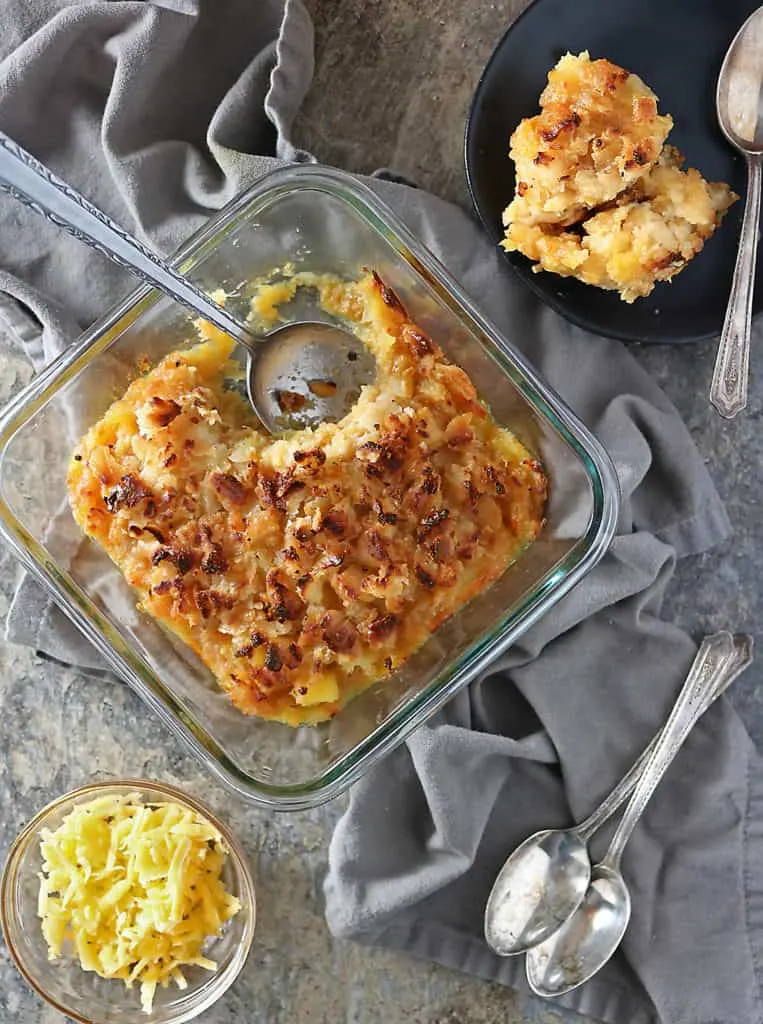 One taste just wasn't enough. I had to go back for seconds. And, thankfully, someone finished it off before I could get thirds!
That year, on Christmas Eve, my then-in-laws had my parents over for lunch and my mom fell more in love with that pineapple casserole than I was.
Ever since that Christmas Eve, my mother has requested that pineapple casserole at every holiday meal I've been in charge of preparing.
Over the years, I have doctored up the recipe my then-mother-in-law gave me.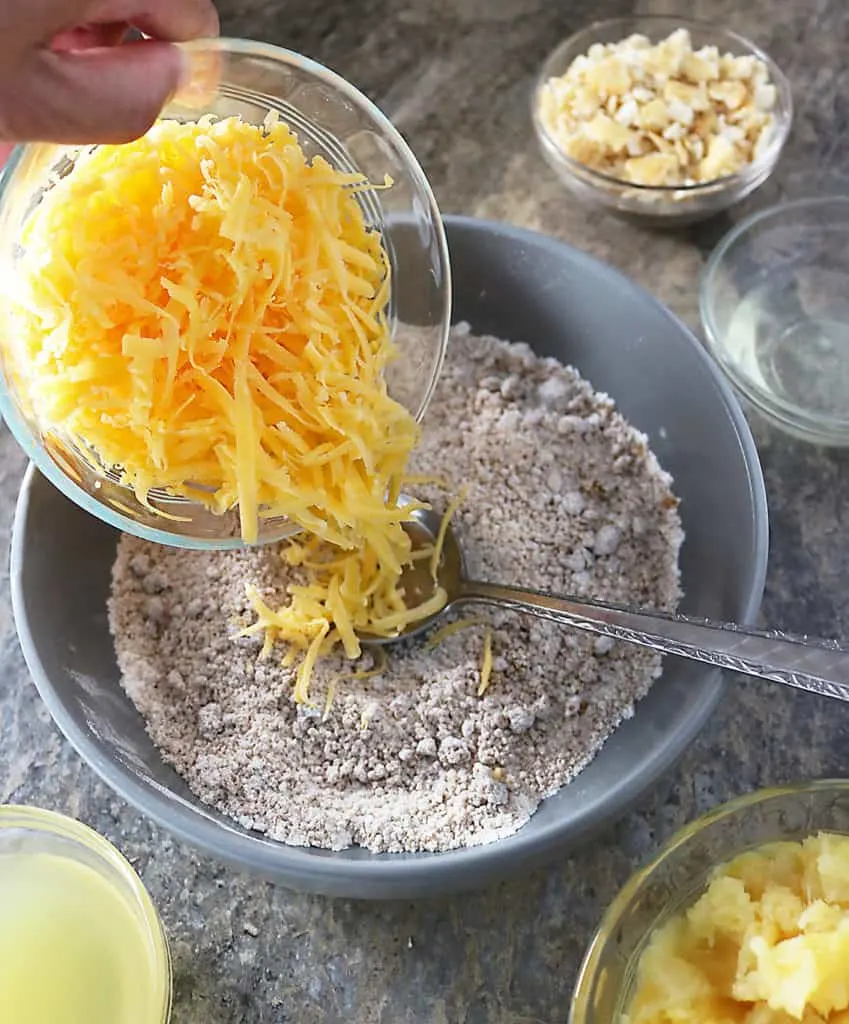 Instead of butter, I use coconut oil. And, instead of plain, buttery crackers, I use whole-wheat buttery crackers. I sub in coconut sugar for regular white sugar, gluten-free flour for regular flour, and, mild cheddar for Tillamook's Sharp Cheddar. I also like to broil this casserole at the end of baking it, to make the topping extra crispy.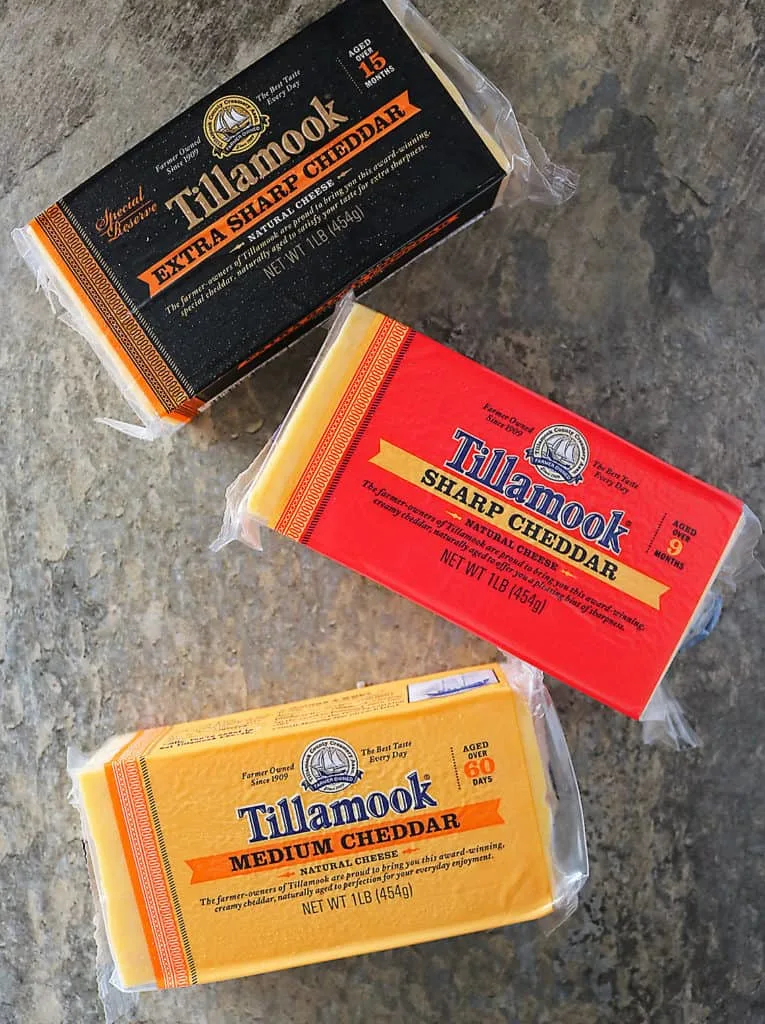 Speaking of Tillamook Sharp Cheddar, I am so excited that Tillamook products will now be available in grocery stores here in Georgia! Last summer, my daughter and I got to enjoy a variety of Tillamook cheddar cheese and ice cream when we visited Portland. And, I thought I'd be waiting a year to get my Tillamook fix. But, in this instance, I am overjoyed to be wrong!
Tillamook is a farmer-owned co-op, made up of several local creameries dedicated to producing high-quality products. Which makes it no surprise that Tillamook has a growing list of 700+ awards for its products, including The World's Best Medium Cheddar Cheese award in the 2010 World Championship Cheese Contest!
If you find yourself in Oregon this summer, please make it a point to stop by Tillamook's newly remodeled visitor center – you might run into me there – as well as some delicious cheese!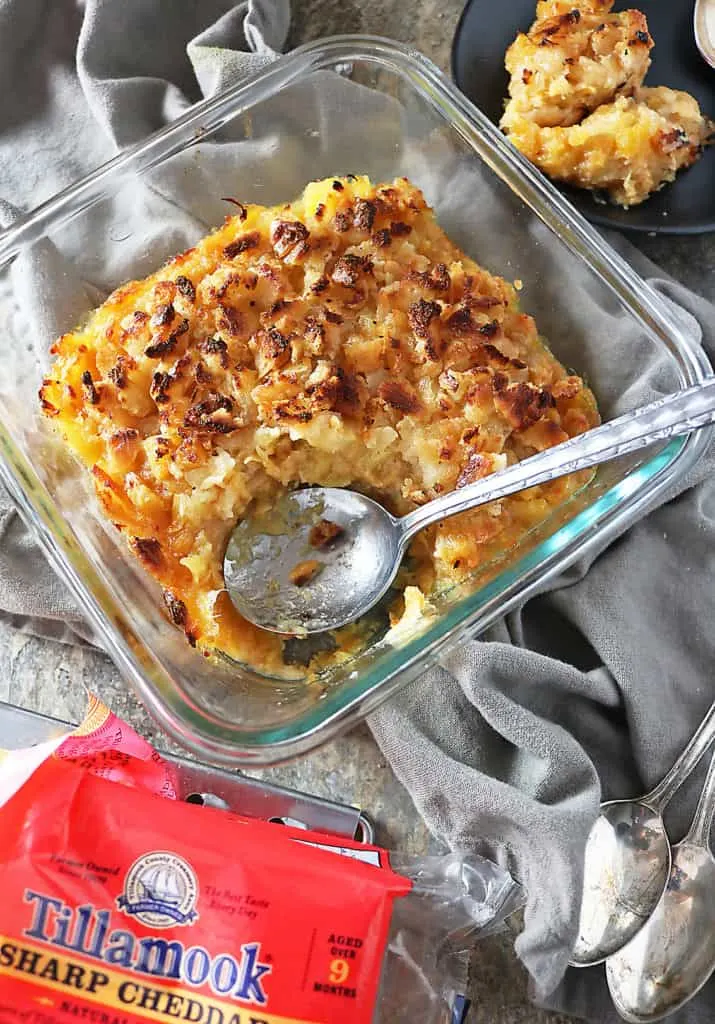 I am hoping you whip up this Pineapple Casserole and serve it as a unique side dish to accompany your summer Burgers. My daughter loves to top this with some spicy roasted pepper sauce.
Or, you could serve it chilled as a dessert with a side of whipped cream or coconut cream. Either way, one bite of this will leave you wishing for more!
I would love to know if you've made this recipe or any other recipe from this blog, so please rate the recipe and let me know your thoughts on it in the comments below.
You can also FOLLOW ME on FACEBOOK, INSTAGRAM, and PINTEREST to get recipe ideas and inspiration.

©Savory Spin All content and images are protected by copyright. Please do not use my images or recipe without my permission.