Gently spiced with garlic, onion, sweet mango and smoked paprika, this Quick and Easy Mango Chicken is delicious with a side of ready to serve rice or turmeric quinoa.
**This Quick and Easy Mango Chicken first appeared on Savory Spin in May 2015. I have updated the photos and recipe to use cubed instead of whole chicken breasts, but, my opinions expressed, remain the same.**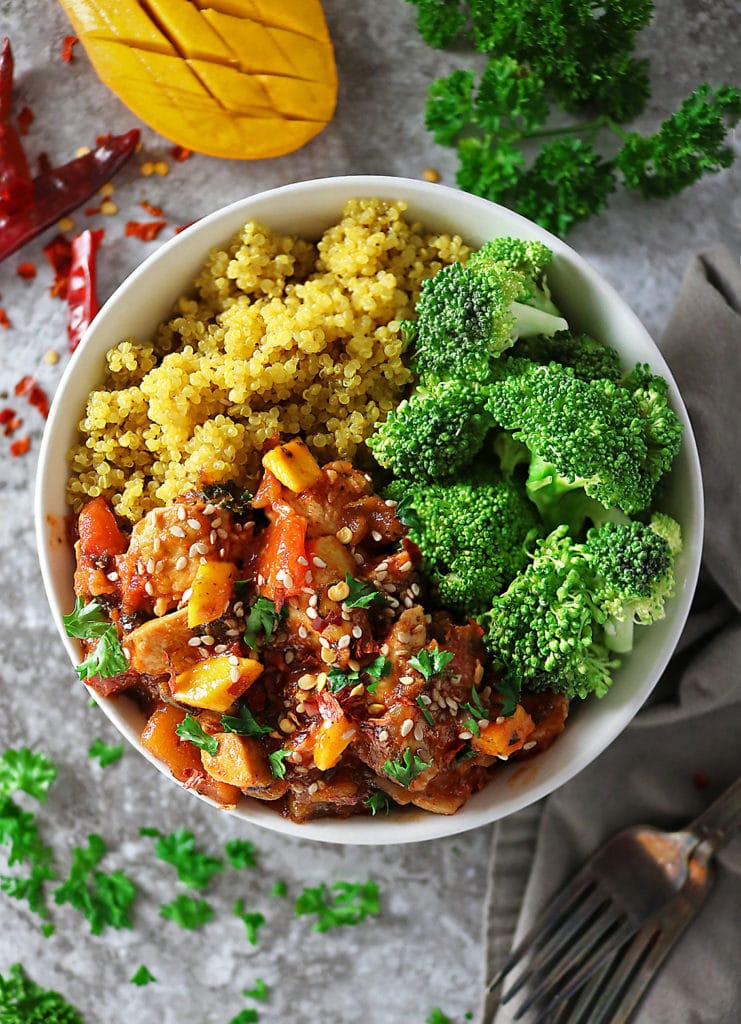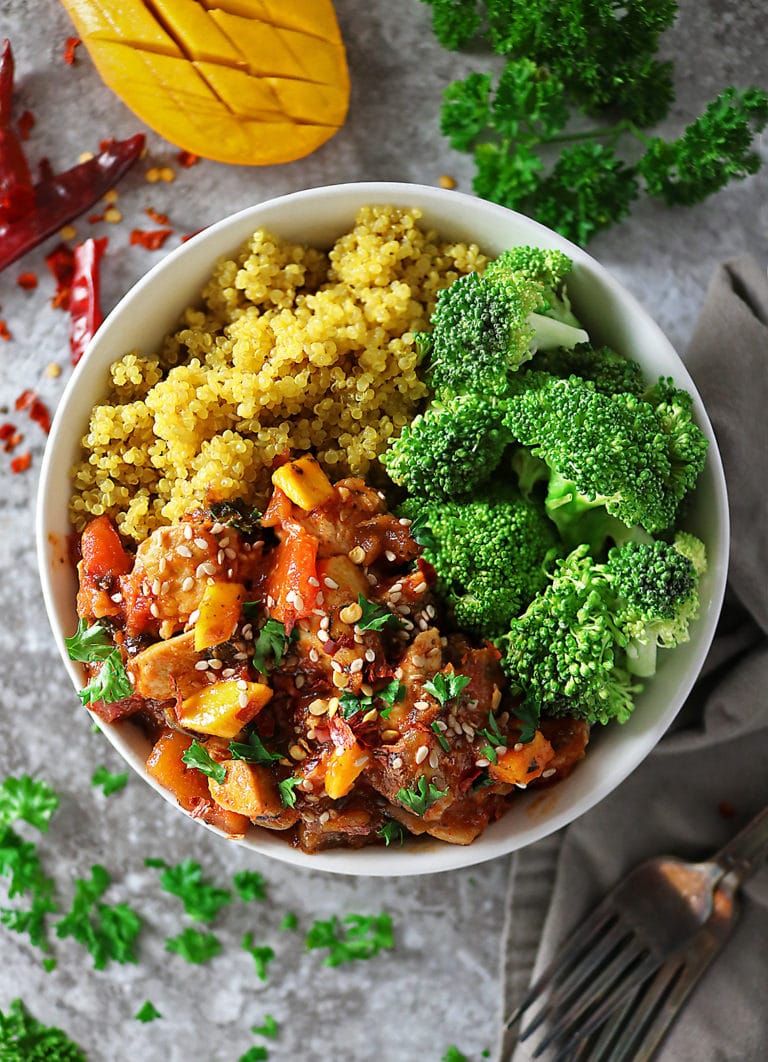 Seasonal colds and coughs are bad – but, what seem to hit worse (at least in our household) are those colds and coughs that creep in while we happen to be stressed.
Last weekend, my daughter was super stressed. She was stressed about the unknown. You see, last weekend she started training at her very first job (making me realize that she is growing up faster than I ever expected). She was stressed before her first day (even though she found out later, that it would be a walk in the park, and that she would come to like what she did and she would like her co-workers). But, that moment of stress had left her susceptible, and, come Monday, she could barely talk without coughing.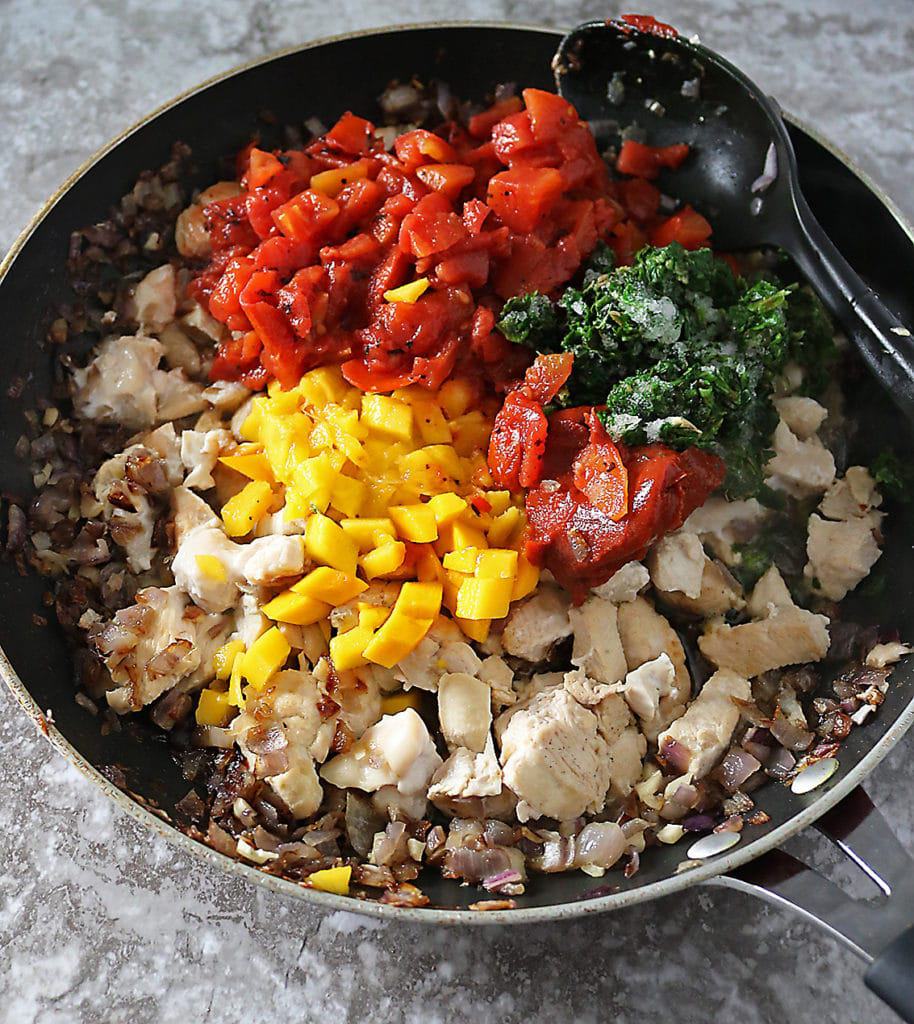 At times like these, I turn to the healing and comforting powers of foods, first. Most times, when either of us catch a cold or cough or both, I make sure I have plenty of broccoli sautéed with onions, garlic, ginger and turmeric root on our plates along with either some chicken soup or some sort of jazzed up chicken dish.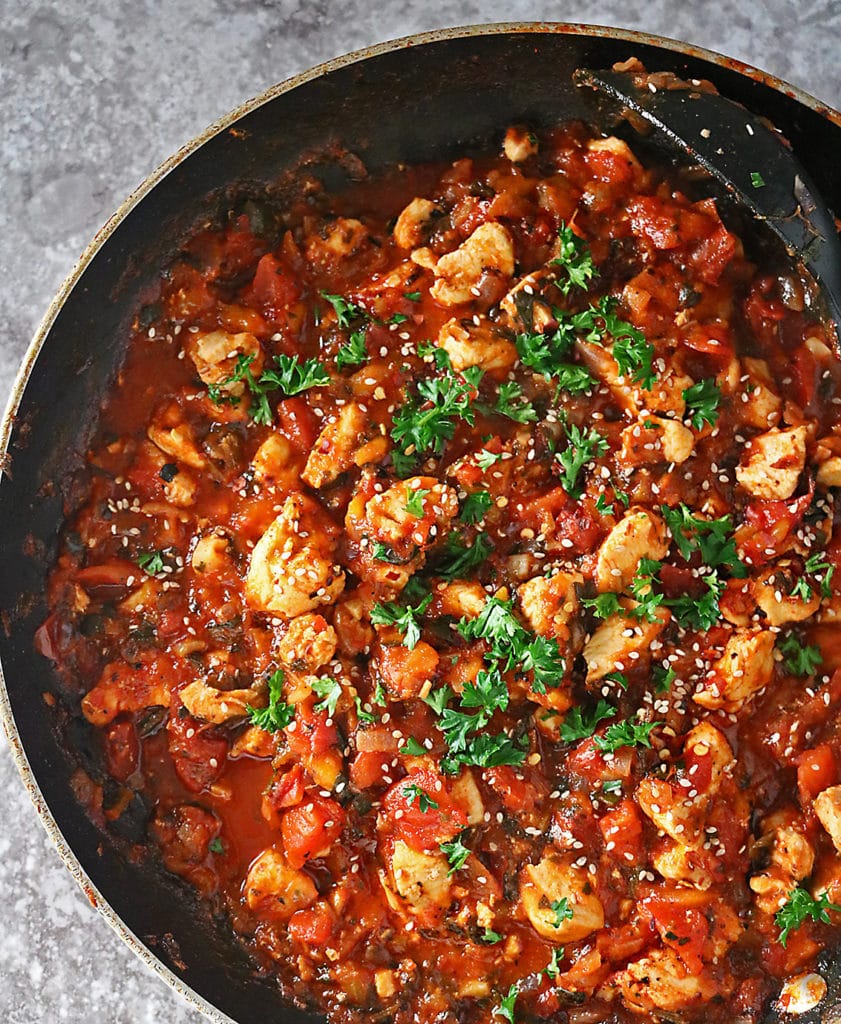 I decided to pair up chicken with mangoes and tomatoes (for an extra boost of vitamin C) in this super simple and easy dish. All you need is one pan and one cutting board, which means more time to "oooh" and "aaaah" over each forkful of this tender chicken. There is no butter used, nor is there any cream – just mango, tomato, chicken, spinach, onions and good ol' garlic! This chicken goes from cutting board to dinner plate in less than 40 minutes and is a must try – what do you say?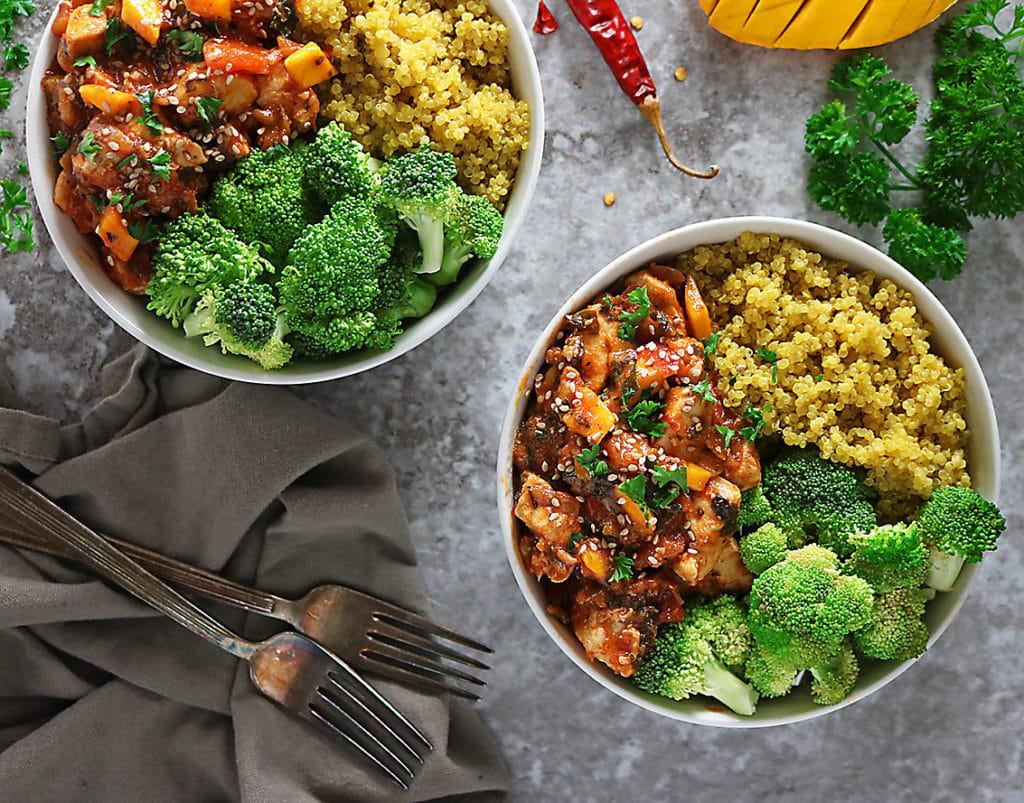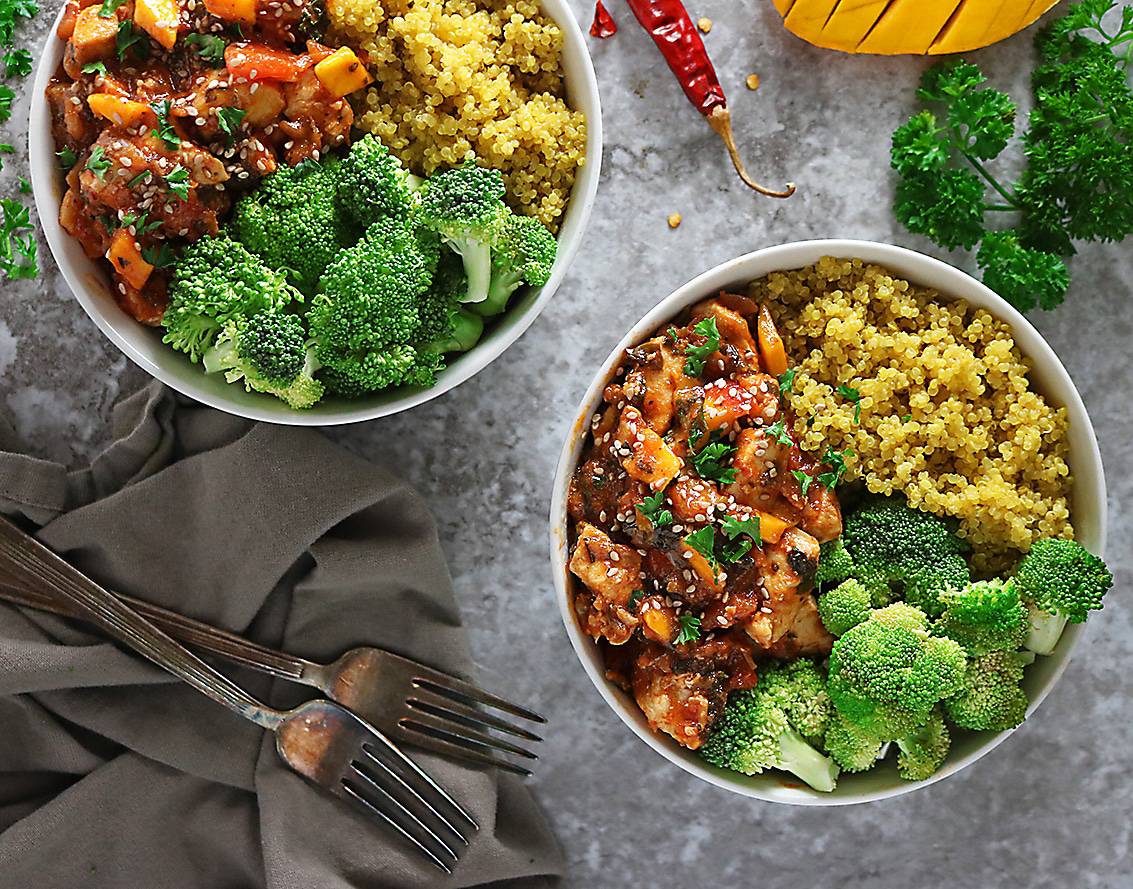 Why this is one of my favorite quick and easy chicken recipes:
• Ripe mango and chili powder balance each other out in this delicious dish.
• White sesame seeds were added for a bit of an added crunch.
• This Mango Chicken is so versatile, it can be paired with turmeric quinoa and broccoli in a bowl, or sopped up with naan for dinner.
• With plenty of healthy ingredients, this is a delicious way for us to try and fend off seasonal bugs!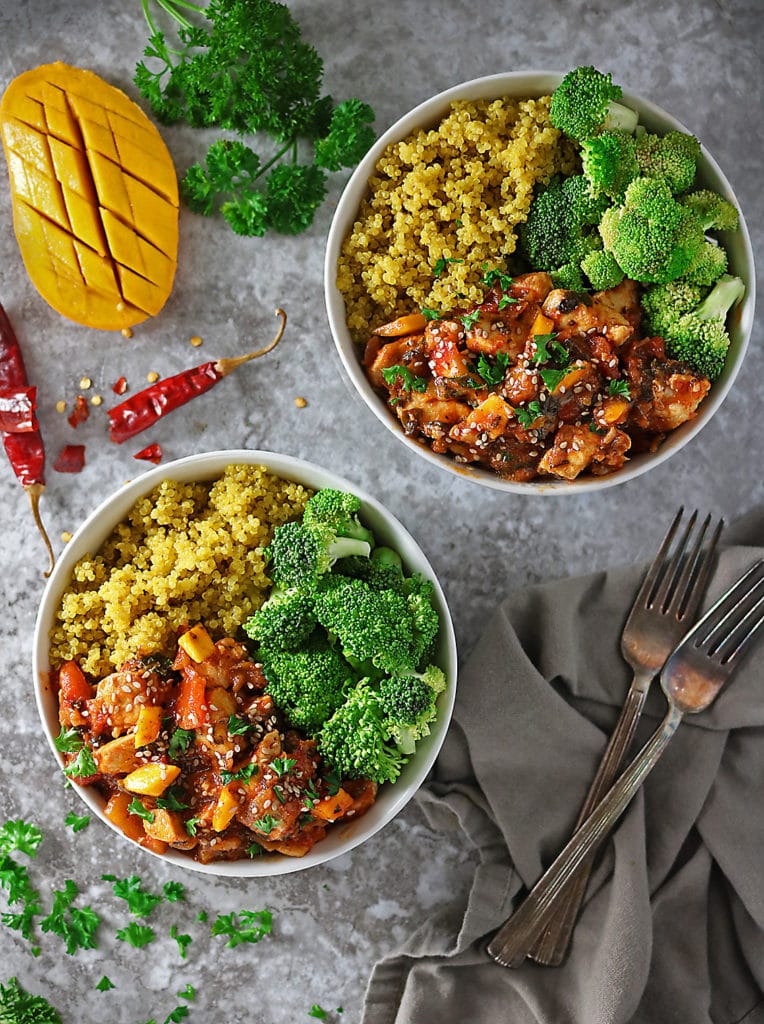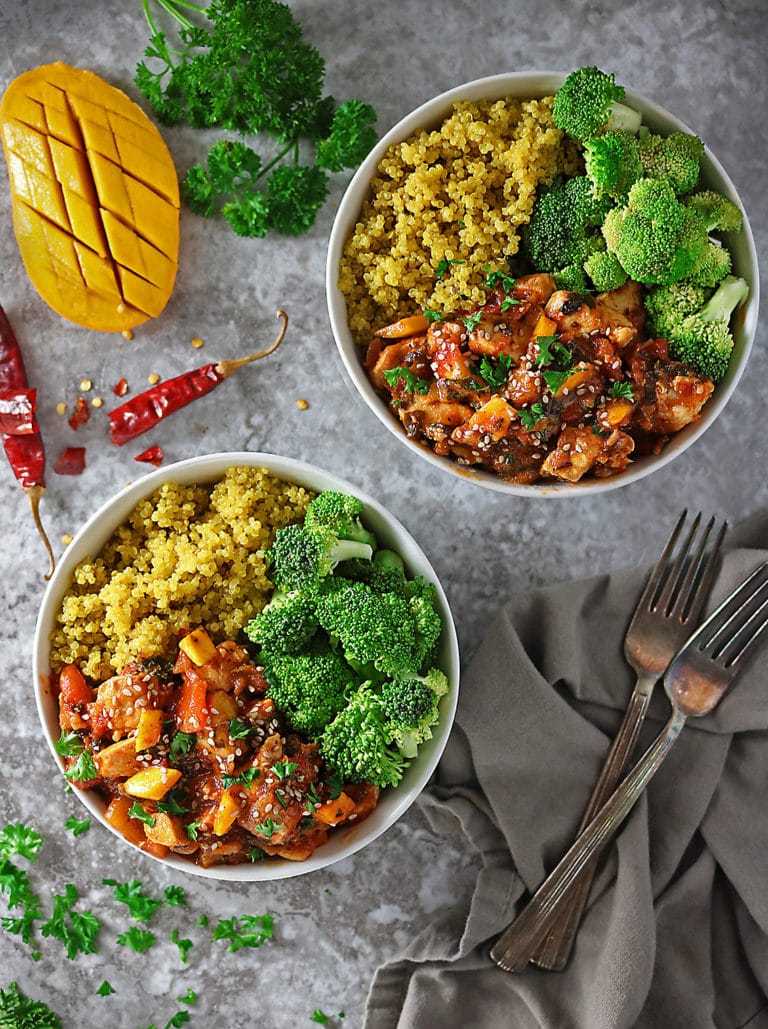 I would love to know if you've make this recipe or any other recipe from this blog so please do rate the recipe and let me know your thoughts on it in the comments below.
You can also FOLLOW ME on FACEBOOK, TWITTER, INSTAGRAM and PINTEREST to get recipe ideas and inspiration.
Other Mango and Chicken Combinations on Savory Spin: Mango Chicken Veggie Saute & Pineapple and Mango Chicken Packets
©Savory Spin All content and images are protected by copyright. Please do not use my images or recipe without my permission.