Flavorful and aromatic, this Green Pea Curry is an easy, tasty, one-pot side dish that will pair beautifully with everything from rice to roti.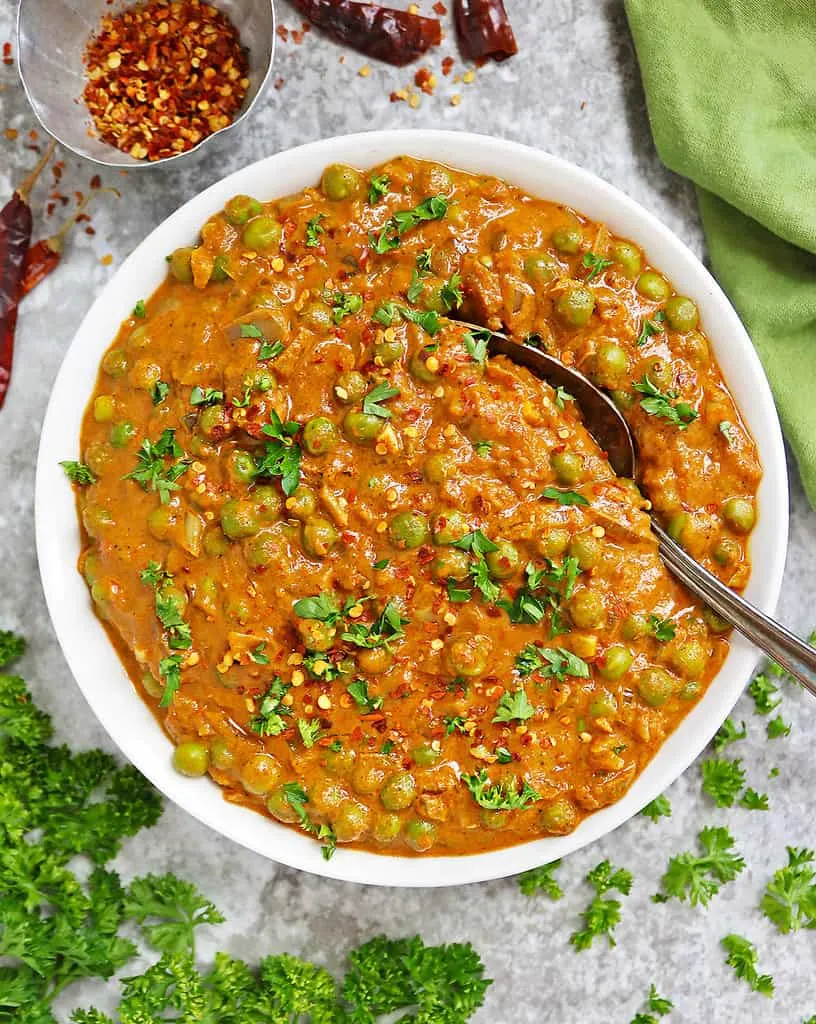 This Green Pea Curry is my latest venture In my quest to curry-fy ALL the things.
This is a robust and flavorful curry. It is an easy side dish that is as fun to make as it is to eat.
This Green Pea Curry is made with frozen green peas. It is a one-pot, super easy recipe that can be whipped up in less than 30 minutes.
While this curry is made with quite a few ingredients – 14 to be exact, most of these ingredients are probably in your kitchen already. And, there is no dairy used in this creamy curry.
What are the ingredients needed to make this curry?
You will need the following 14 ingredients to make this curry, and they are:
Frozen green peas
Onions
Garlic
Fresh ginger
Powdered coriander
Powdered smoked paprika
Powdered cayenne
Powdered cardamom
Powdered cloves
Powdered cinnamon
Powdered turmeric
Coconut milk
Fire-roasted tomatoes, and
Water
You will also need some olive oil, salt, and pepper for this dish. Some parsley and some chili flakes to garnish are also a great idea.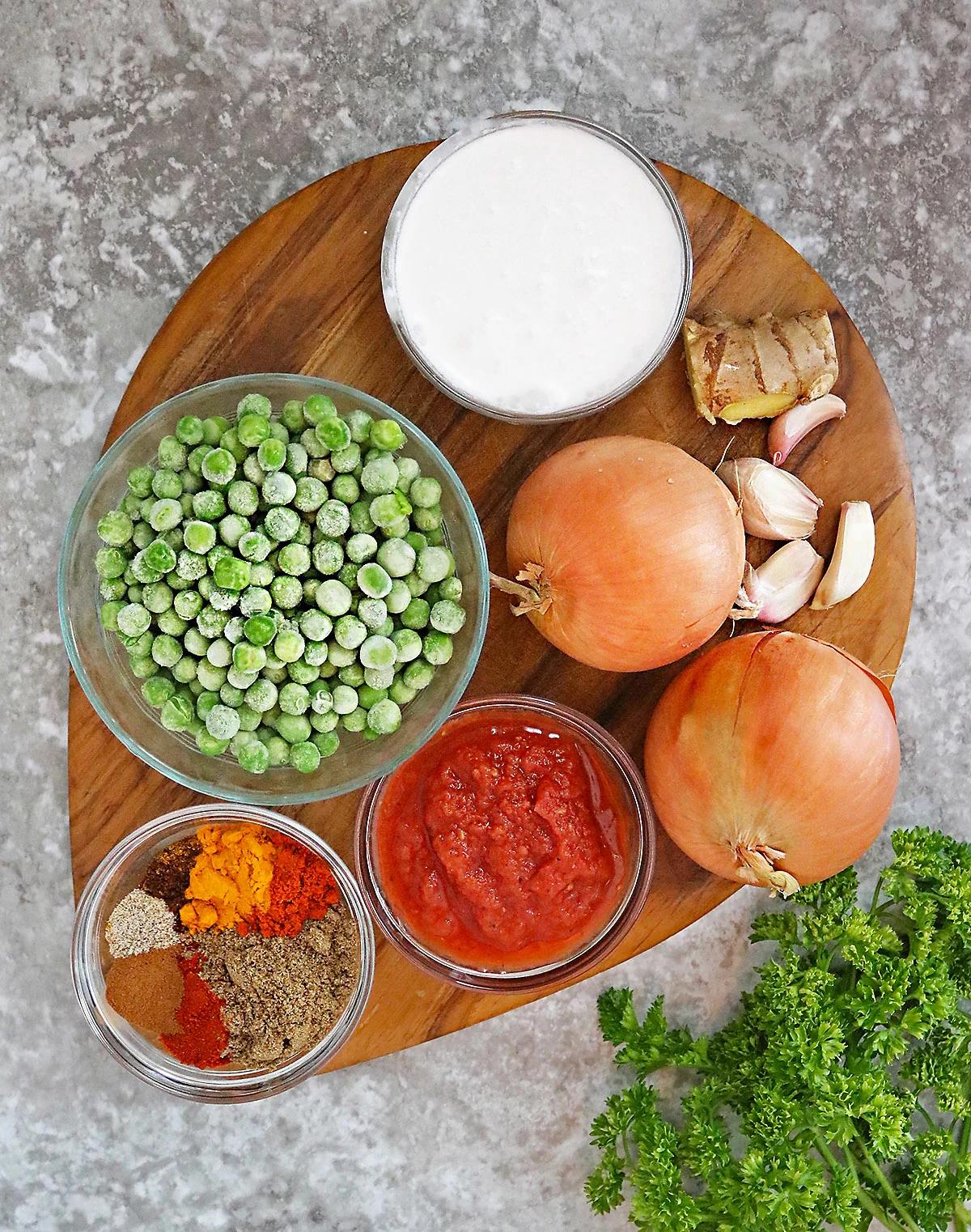 This curry is so aromatic and delicious.
It is a delightful dairy-free side dish perfect for Curry Night or any night. By the way, you do have a curry night in your home, right?
I kid, I kid!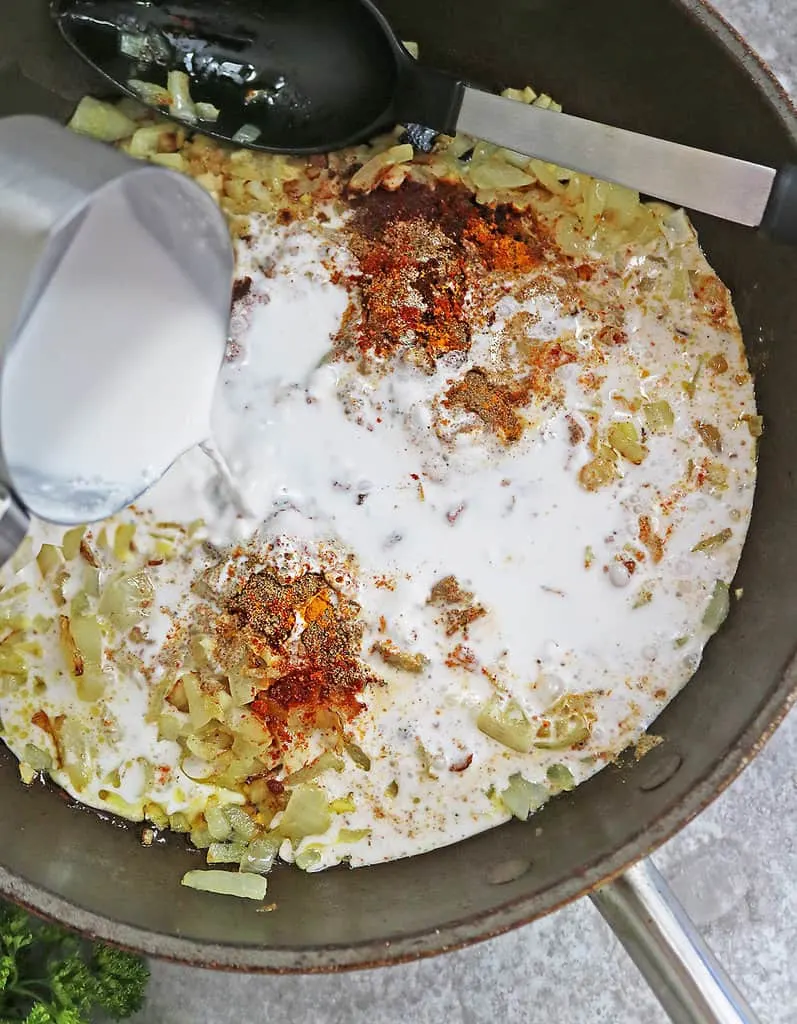 A few Tips When Making This Curry:
Use fresh onions, ginger, and garlic when making this dish. The powdered versions of these are not the best option when making this curry. If you are not fond of peeling and chopping onions, ginger, or garlic, most grocery stores sell them peeled and diced. These can usually be found in the produce section of most grocery stores.

Sauté the onions, ginger, and garlic for about 10 minutes before adding in the rest of the ingredients. This adds so much flavor to this dish.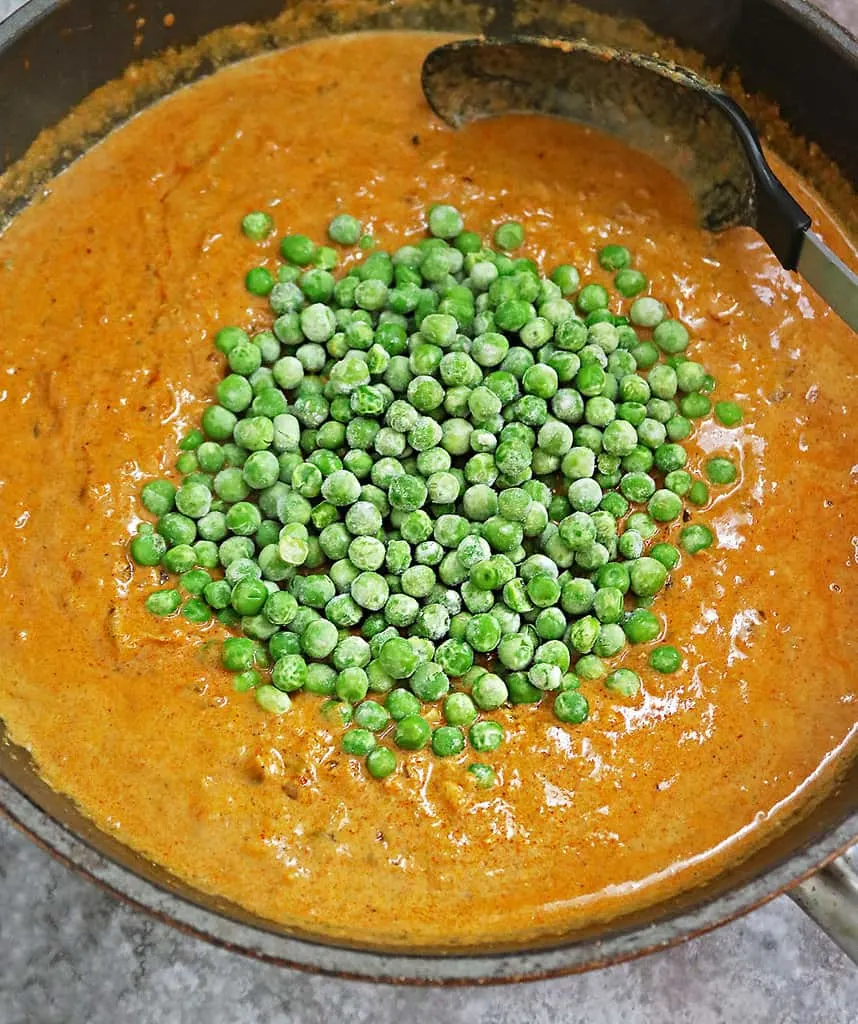 While cinnamon, cardamom, and cloves might sound out of place in a curry – in this Green Pea Curry, they work harmoniously together. Together, they add a delightful and subtle flavor and aroma.

I used full-fat coconut milk in this recipe. In my opinion, coconut milk works well with the rest of the ingredients, without being too strong and overpowering the other flavors. It also makes this curry super creamy and satisfying.

The frozen green peas do not need to be thawed before adding them to this dish.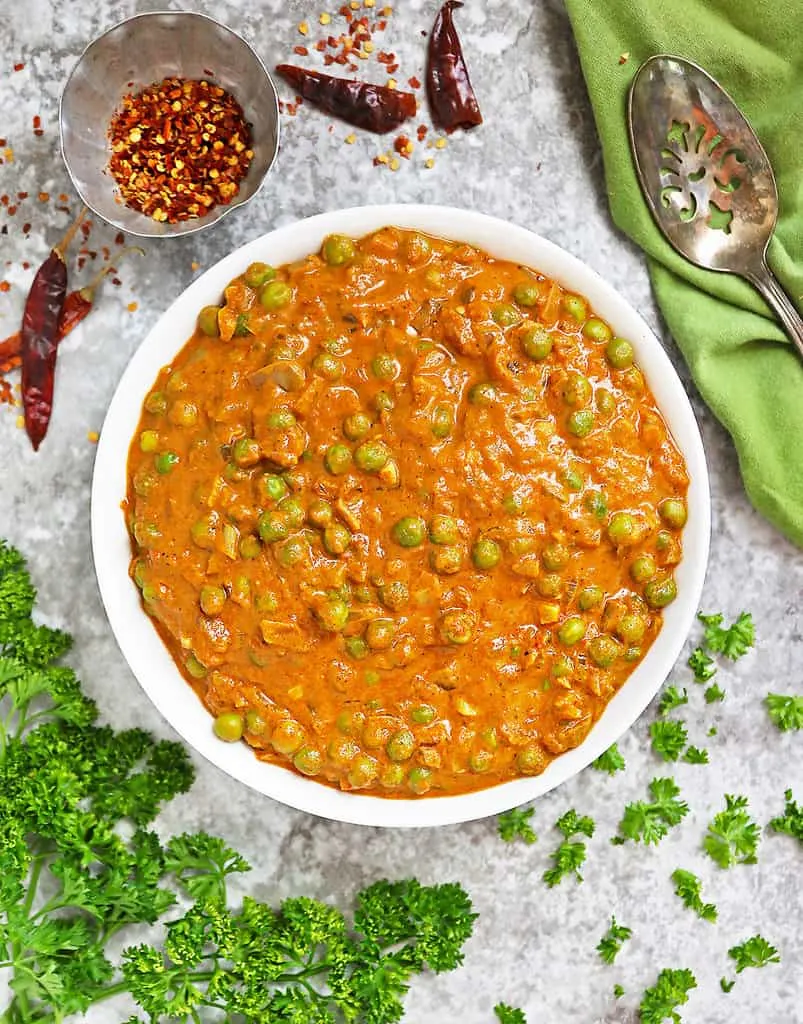 What do you serve this Green Pea Curry with?
If you are serving up a vegetarian meal, this curry is delicious served with other curries like cauliflower curry, cashew curry, carrot curry, broccoli cutlets/croquettes, mango chutney, and some yellow rice.
However, if you are a meat eater, then this curry can be paired with some chicken keema and roti, or served with some of this chicken biryani, or fish curry and naan. You can also serve some pineapple chutney on the side, along with some croquettes.
How long can this curry be stored for?
This Green Pea curry can be stored in an airtight container, in the fridge, for 5–7 days. This curry does improve in flavor with time and, very often, this curry tastes more flavorful on day 3 than day 1.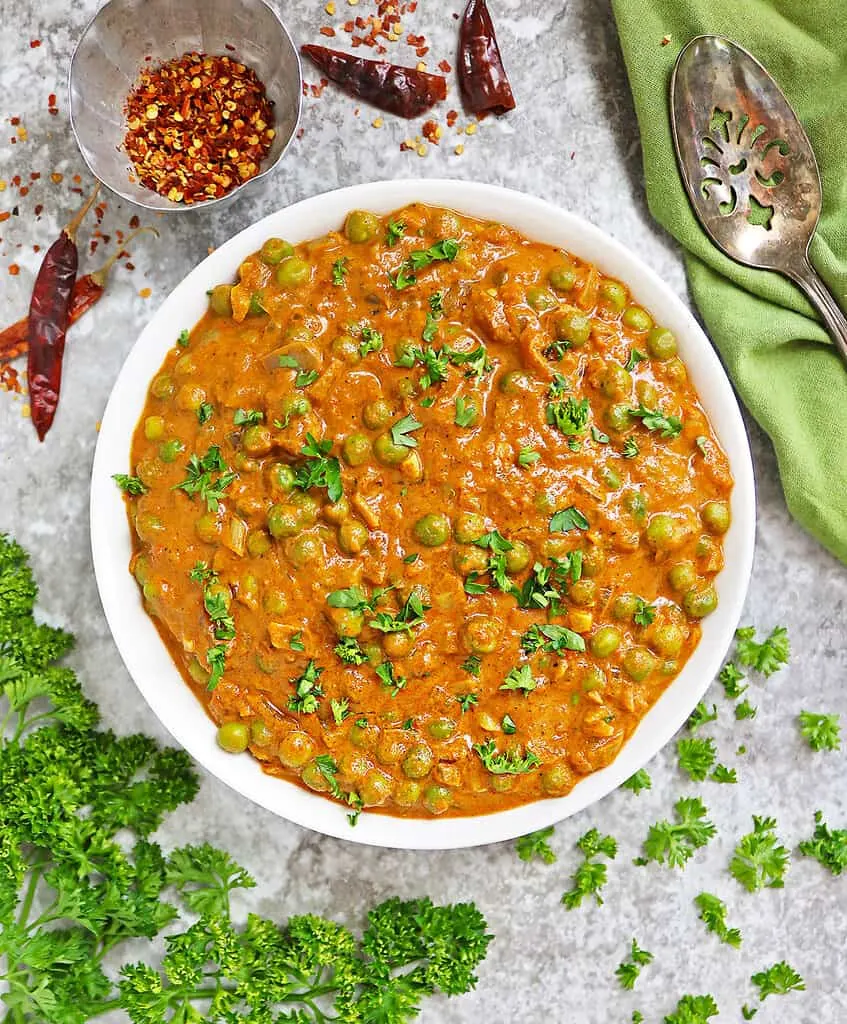 Thanks so much for stopping by. If you make this recipe, please let me know in the comments below what you think of it, or tag your creation on social media with @savoryspin or #savoryspin. For more fusion, spice-filled, recipe ideas, please subscribe and follow me on Facebook, Instagram, and/or Pinterest!