This Mango Quinoa is an easy recipe made with a bunch of veggies and a handful of spices. It is a plant-based meal that is gluten-free and cooks up in less than 30 minutes, all in one pot!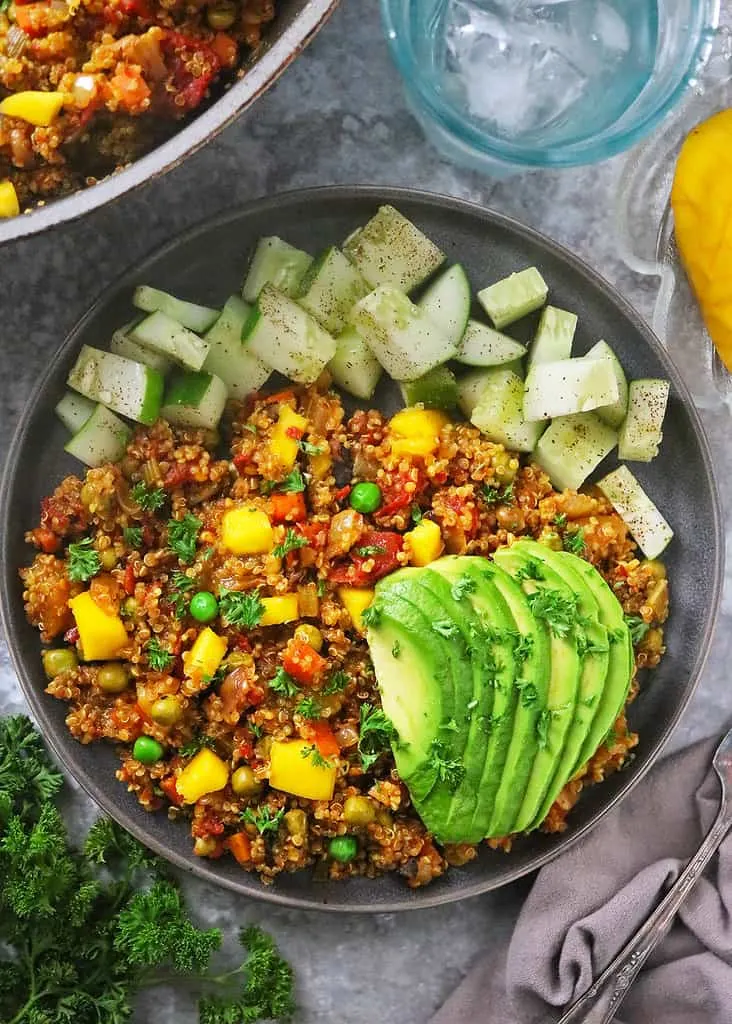 I simply love this deliciously spiced, one-pot mango quinoa. It is easy to make and clean up after. It balances off sweet mangoes with a bit of heat from a generous amount of chili flakes. And it is the perfect disguise for a plethora of vegetables!
If you are vegetarian or vegan or trying to add more plant-based meals to your meal-prep rotation, this mango quinoa is for you.
Is this dish a salad?
Unlike this quinoa chickpea salad, this mango quinoa is not a salad.
Instead of cooking quinoa in water, in this recipe, quinoa is cooked in vegetable broth that is flavored with fire-roasted tomatoes, mangoes, veggies, and spices, much like the way this enchilada quinoa is cooked. This imparts so much flavor to the quinoa.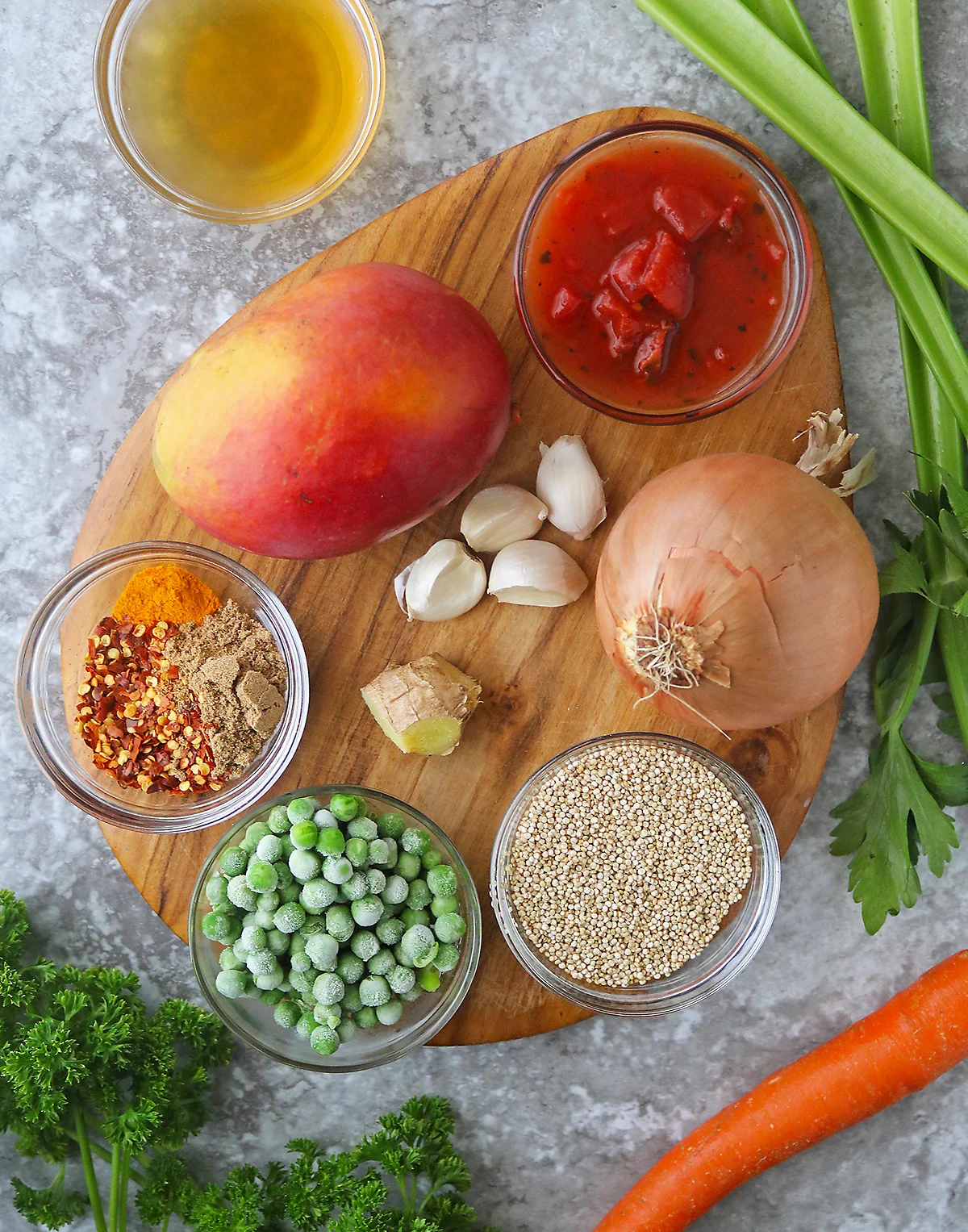 What are the ingredients needed to make this mango quinoa?
For this one-pot dish, you will need the following 14 ingredients:
Vegetable broth,
Canned fire-roasted tomatoes,
Onion,
Ginger,
Garlic,
Celery,
Carrots,
Mango,
Peas,
Uncooked quinoa,
Coriander,
Turmeric,
Chili flakes, and
Parsley.
How do you make this mango quinoa?
For this dish, you start off by sautéing the onion, ginger, and garlic in some oil. Then, the veggies are added in and a tad more sautéing happens.
When all the added ingredients are sweating in the pan, the mango, quinoa, vegetable stock, fire-roasted tomatoes, and spices are added in. A quick stir and as soon as this mixture comes to a boil, it is covered and left to cook for 15 minutes.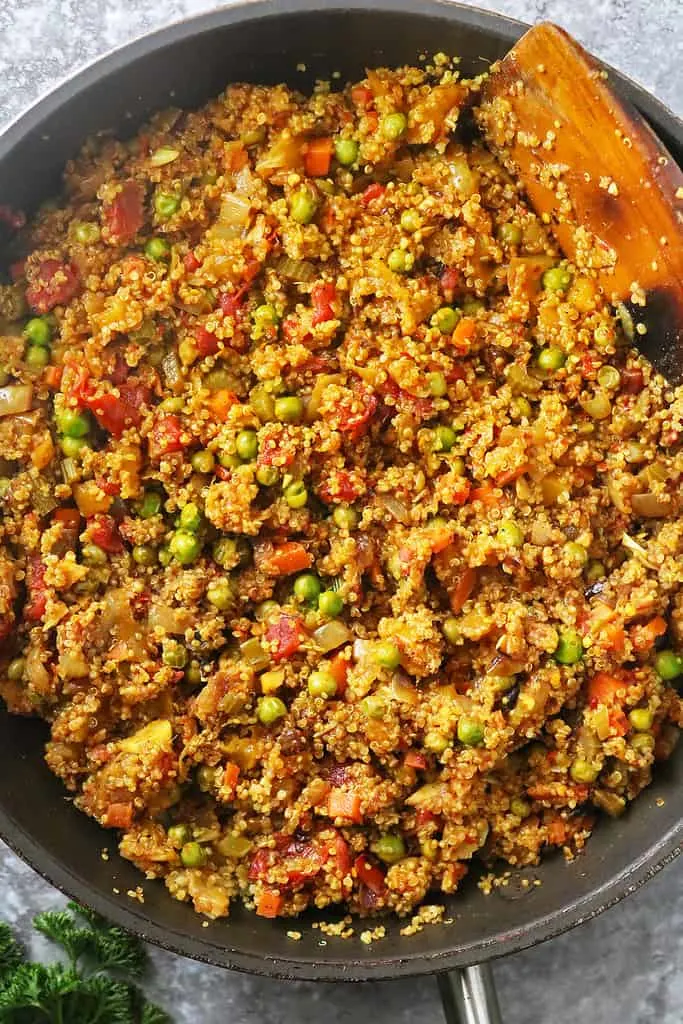 When the time is up, gently uncover the dish, and gently stir the ingredients. Then season it with salt and pepper to taste and garnish it with parsley and enjoy!
From start to finish, you will only need one pot for cooking, which leaves you with only one pot that will need cleaning.
If you need to store this, store it in an airtight container(s) in your fridge. This dish should be good for about a week in your fridge. However, this dish does not freeze well. It ends up a bit more moisture-heavy when it is being thawed out.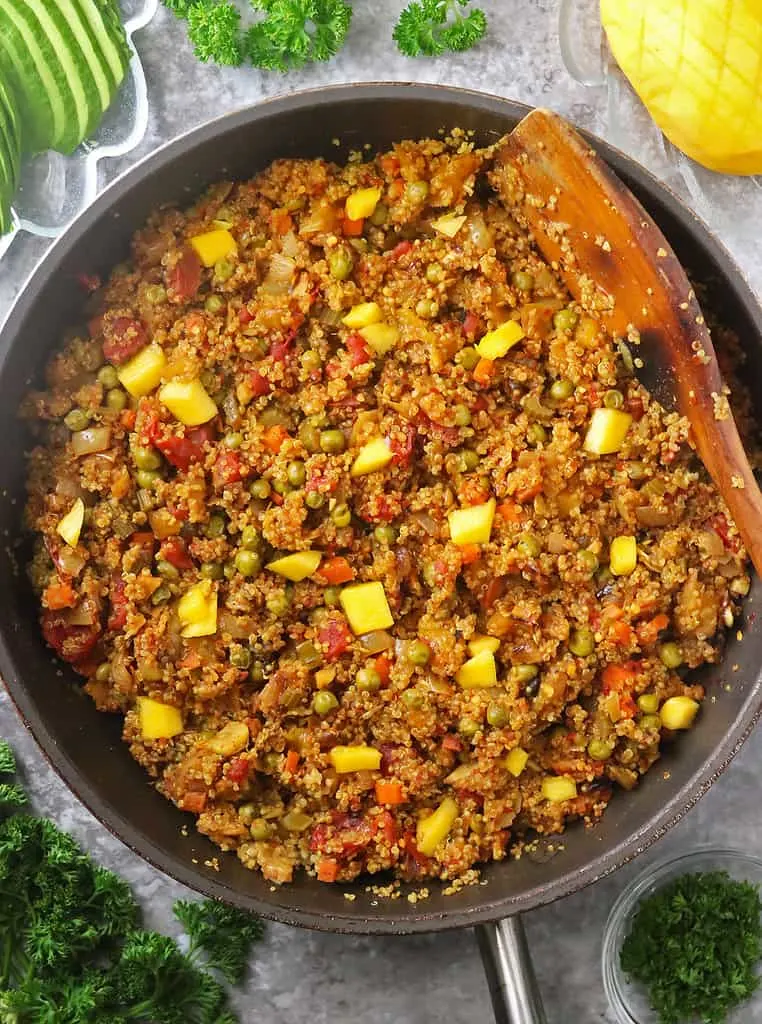 A few Tips…
I like to use fresh onion, ginger, and garlic when making this. Yes, there are a few steps involved in peeling and dicing them, but the flavor is worth it. If necessary, you could grab those containers that are in the produce section of most grocery stores that are filled with already peeled and chopped onion, ginger, and garlic.

The celery, carrots, and peas can be substituted for the veggies you prefer. For example, you could also use green pepper, sweet potatoes, corn, or even drained and rinsed canned beans.

If you use a salted vegetable broth, then taste it when it has cooked before you add any more salt to this dish.

Make sure to use a ripe mango. I have found that a ripe mango not only adds a delightful sweetness to this dish, but it amps up the flavor more than an unripe one would do. How do I know this? Well, trial and error, of course.

You can alter the quantity of chili flakes used to suit your spice tolerance.

Make sure the quinoa used is uncooked. If you use leftover cooked quinoa in this, the result will be overcooked, gloppy, quinoa!

And, finally, if you are wondering if this is a side dish or main, well it can be either-or. I like to treat it as a main dish and pair it with some salt and pepper cucumbers and avocado. But, there are times I have also served it as a side to this maple chili tofu and charred zucchini. And, there have even been times when I used it as a dip and had it with a few handfuls of tortilla chips.