This plant-based, 11-ingredient, Cauliflower Curry with Canned Pumpkin is for when you are craving a mild and tasty curry, or want to woo your family on curry night!
Wait – you don't have a curry night? Maybe we can start one now?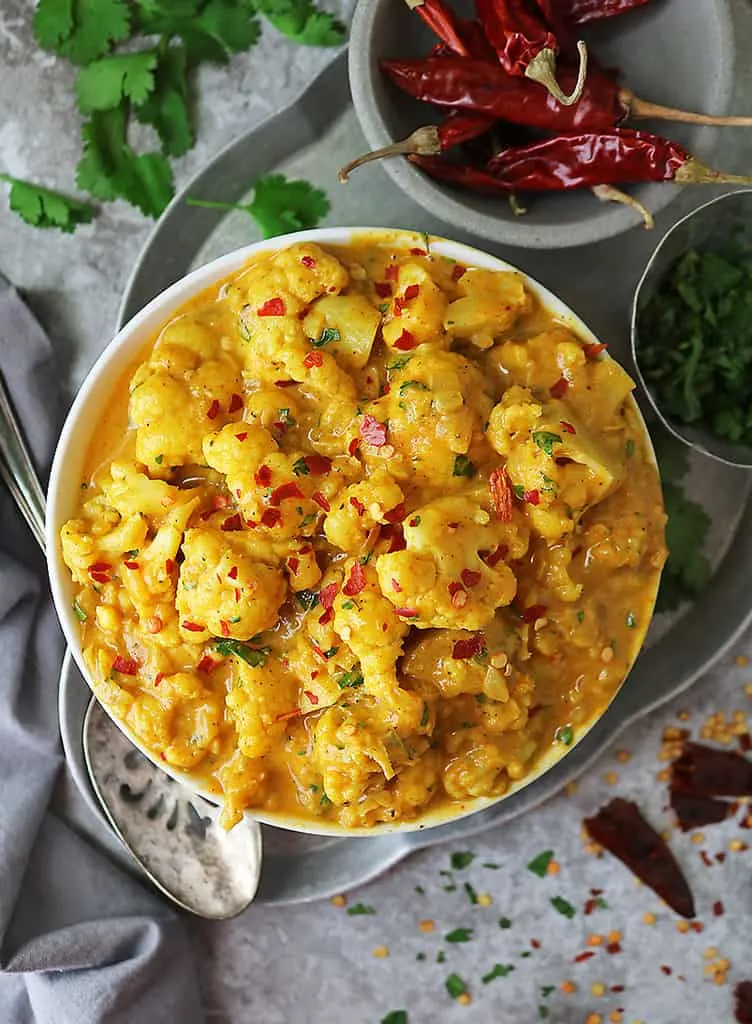 Isn't cauliflower such a versatile veggie? It can be creamed into a delicious sauce, riced into a tasty low carb rice substitute, and puréed into a luscious mashed potato sub. My favorite chef, Yotam Ottolenghi even made a cake with it!
No matter how I've cooked it; no matter if I've grilled it, roasted it, steamed it, puréed it, riced it, or sautéed it, cauliflower never seems to disappoint! And that's one of the reasons why a head of cauliflower is on our weekly grocery list.
Last week I was on a bit of a curry kick, so I decided to make a curry with the cauliflower head we bought home this week.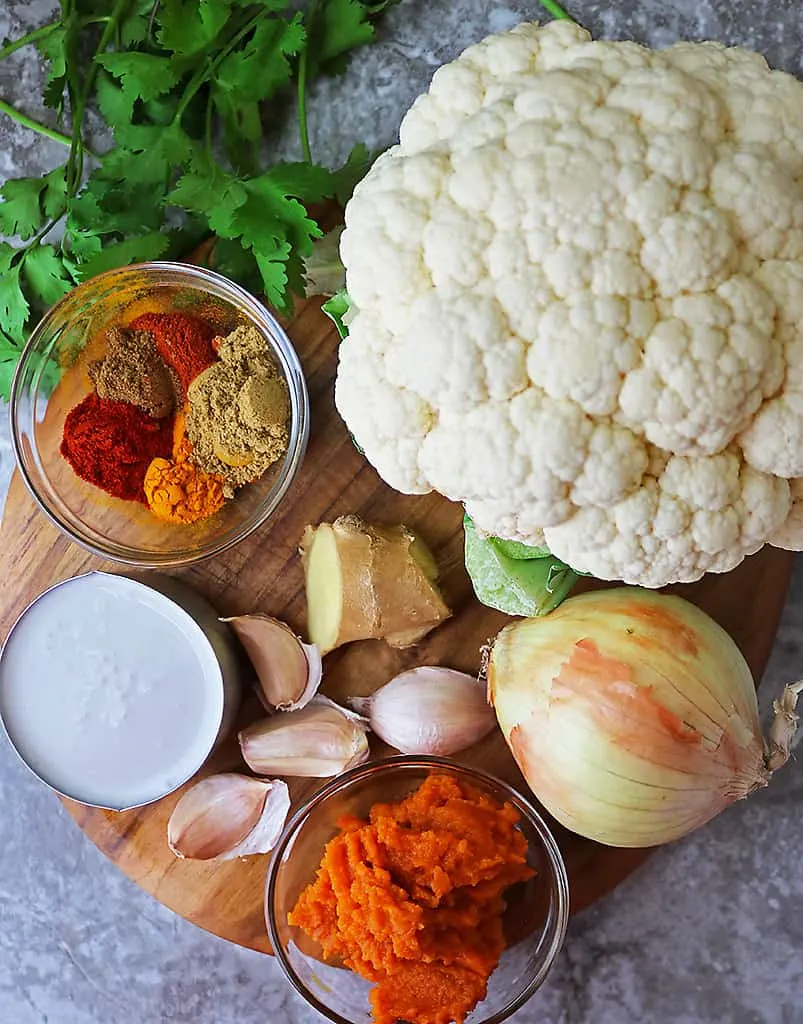 I've made and shared a cauliflower curry on this blog in the past. That cauliflower curry was made with a base of onions + ginger + garlic + canned tomatoes + spices. It was a gloriously rich, spiced tomato curry.
However, today's curry is a lot more on the mild side. This cauliflower curry has canned pumpkin purée mixed in with coconut milk to thicken it up as well as add another layer of sweetish flavor to it.
Is this Curry Spicy?
This curry is made with a pumpkin and coconut base. The resulting yellow curry sauce for this pumpkin cauliflower curry is gently spiced with fresh ginger, fresh garlic, lightly browned onion, smoked paprika, turmeric, and cumin, making it a mild curry.

If you like a spicier curry, then add in a teaspoon of chili powder or a teaspoon of red chili flakes.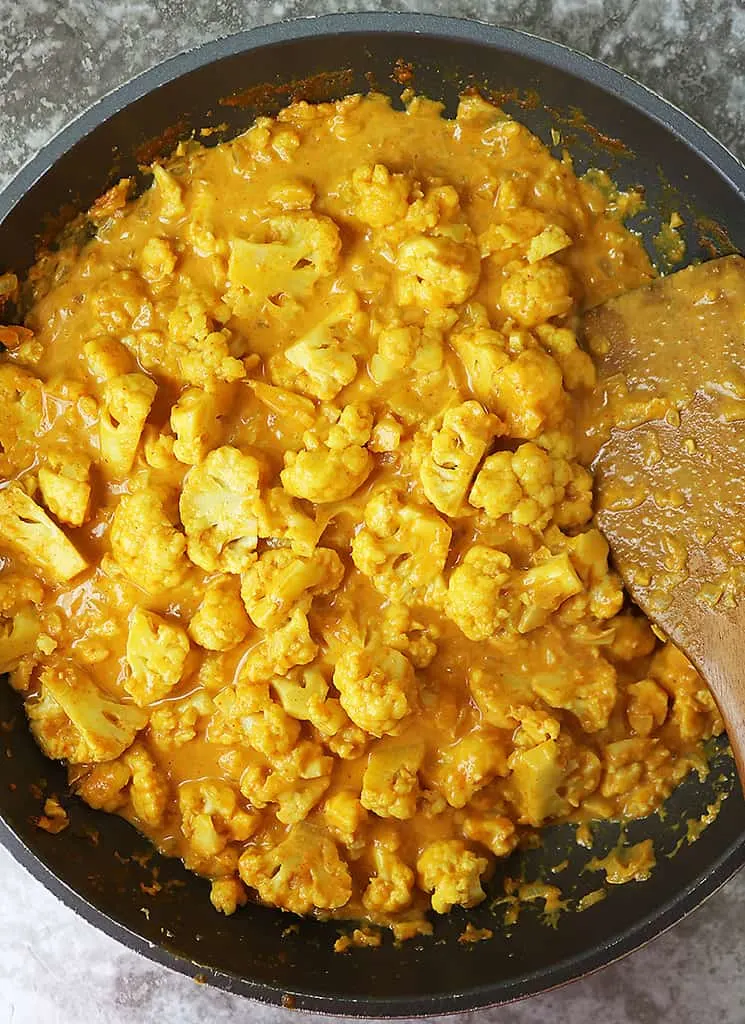 Why we will love this Cauliflower Curry…
• It can be made in less than 30 minutes!
From the start, when I added the onion and oil to this pan, to the end when I took this Cauliflower curry off the stove, it took me a total of 25 minutes. I must have taken about another 5 – 7 minutes to dice the onion, ginger, garlic, and chop up the cauliflower. This means this curry is one heck of an awesome example of curry-in-a-hurry. You can save even more time if you pick up diced onion from the grocery store, along with bags of cut cauliflower florets.

• It is a tasty, vegan dinner with some roti/rice.
This Cauliflower Curry Recipe with Canned Pumpkin is so mild and so well flavored it is hard not to lick our plates clean.

• It makes for delicious leftovers.
This Cauliflower Curry Recipe with Canned Pumpkin seems to taste better on day 2! It stays fresh in the refrigerator for at least 3-4 days (it has never lasted longer than that in our home) which makes it a tasty dinner option with some store-bought naan, microwaved rice, or Sri Lankan roti.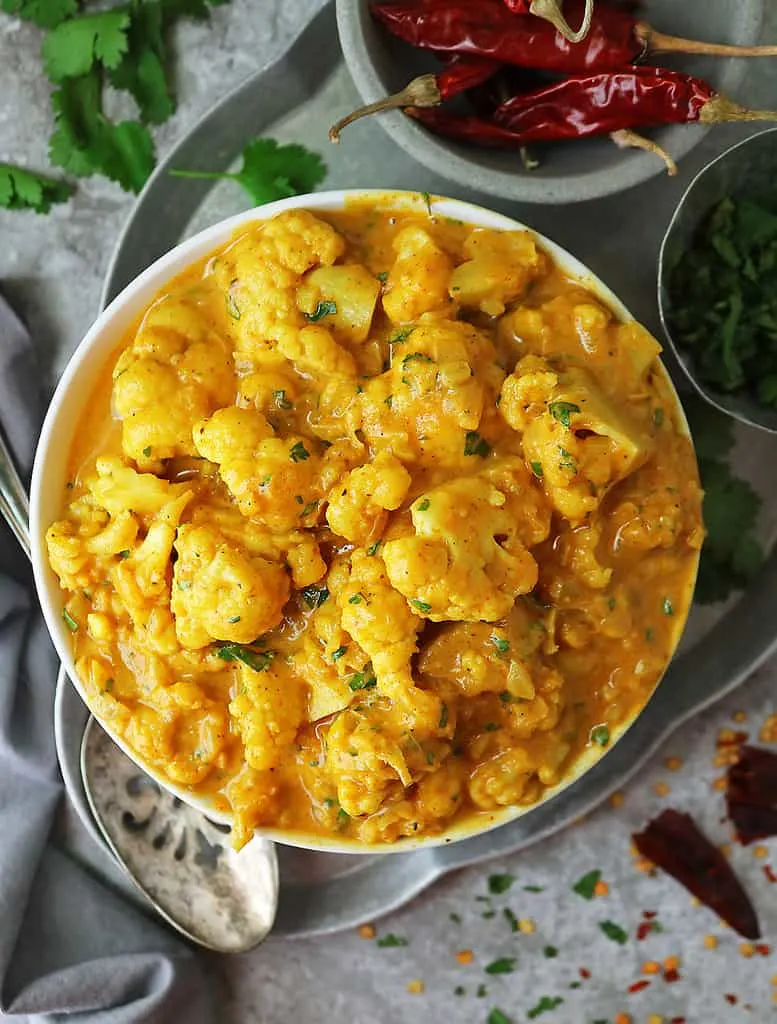 What do you serve with this Pumpkin Cauliflower Curry?
My daughter and I enjoyed this tasty, mild, yellow curry with some rice and some salmon croquettes.
You can serve this vegan, creamy cauliflower curry with:
• Chickpea spinach curry,
• Easy Carrot Spinach Croquettes,
• Carrot Curry,
• Zucchini Curry,
• Date Tofu Curry,
• Mango Chutney, and
• Jackfruit Cakes,
For a delicious, vegetarian spread that is sure to please your family and friends.