Creamy and so tasty, this 6-ingredient, dairy-free, Pumpkin Spice Chia Pudding recipe is an easy one to make.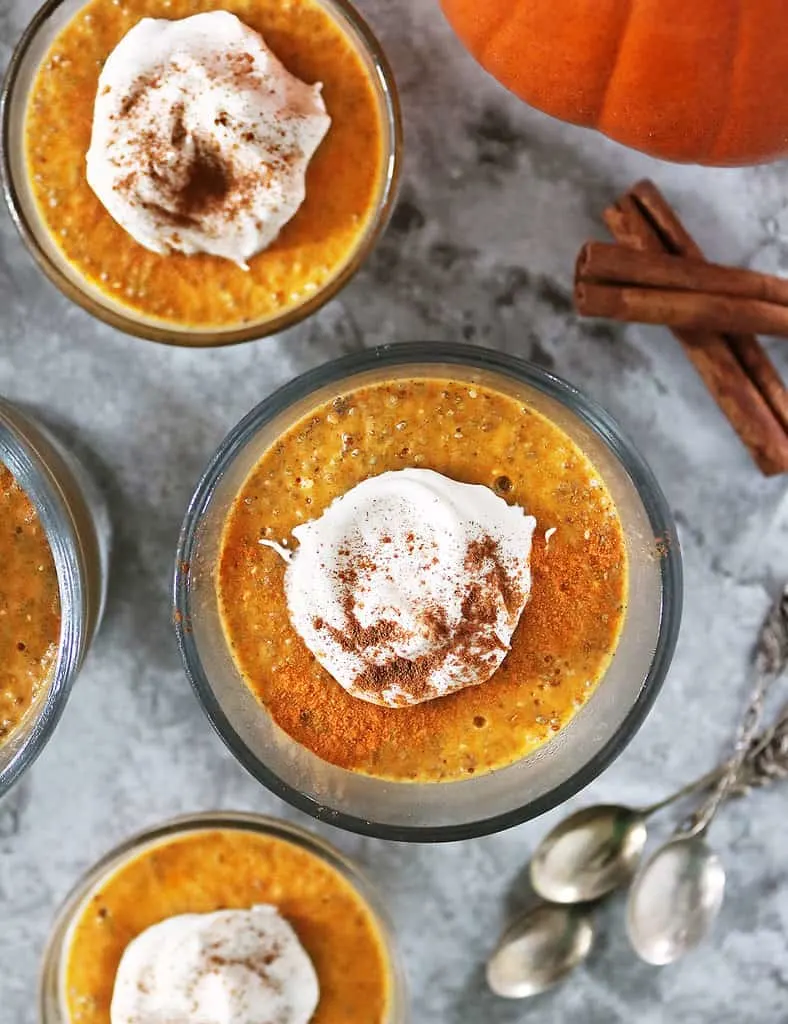 This Pumpkin Spice Chia Pudding Recipe is inspired by the flavors of fall. On a side note, in an odd turn of events, fall seems to be hanging around Atlanta for more than a week!
But, getting back to this chia pudding, it beautifully marries together pure pumpkin puree with pumpkin spice, along with 4 other ingredients. The result is one luxuriously creamy and flavor-packed concoction.
What are the ingredients to make this Pumpkin Spice Chia Pudding?
The 6 ingredients used to make this easy chia pudding are:
Chia Seeds
I used black chia seeds to make this chia pudding. If you have white chia seeds on hand or a mix of both, then feel free to use that. If you are curious about what, if any, differences exist between black and white chia seeds, this article should help quell your curiosity.

Almond Milk
If you happen to be lactose intolerant, then use unsweetened almond milk or oat milk or any non-dairy milk you prefer. But if you are not, then use your milk of choice.

Pure Pumpkin Puree
For this recipe, make sure you use canned 100% pure pumpkin puree and not pumpkin pie filling. If you happen to have some freshly baked pumpkin around and want to mash a 1/2 cup's worth and add that to this chia pudding, by all means, go right ahead.

Pumpkin Spice
Pumpkin spice is all the flavor you need, along with some vanilla extract.

Vanilla Extract
I used pure vanilla extract, but you can use imitation vanilla if you prefer.

Maple syrup
As a sweetener for chia pudding, I always love to use maple syrup because of the additional layer of flavor it adds in. However, light brown sugar, honey, or granulated sugar would work as well. If you are watching your sugar intake, then feel free to use Monk fruit sweetener instead.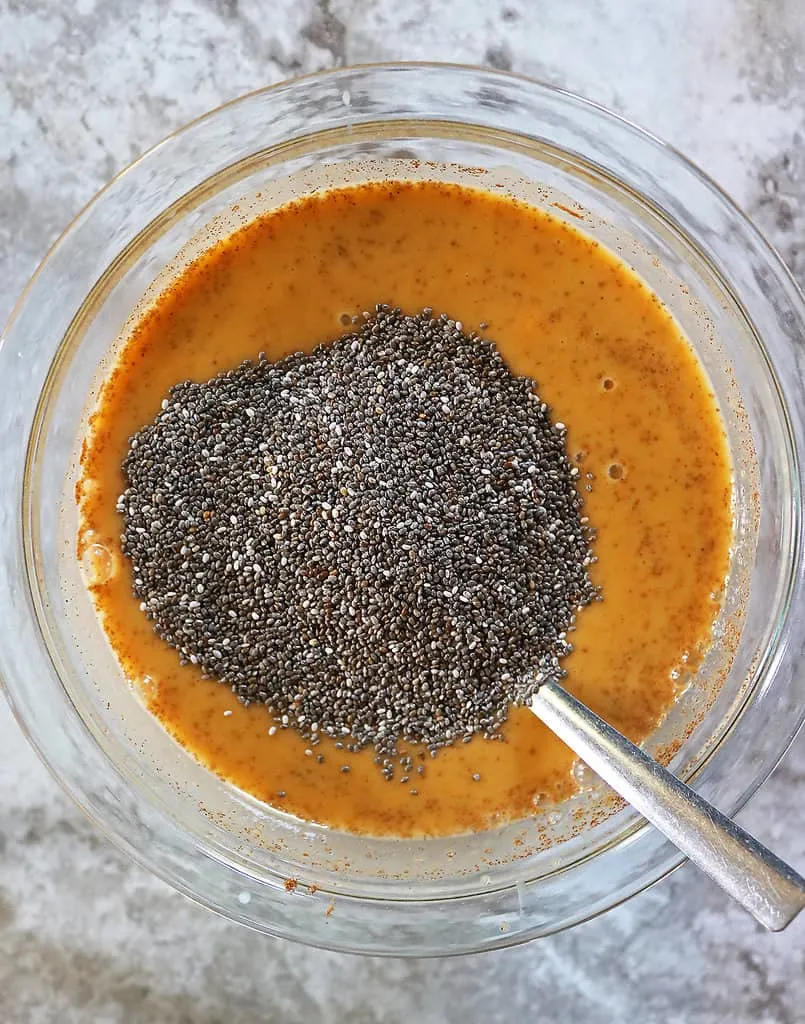 This Pumpkin Spice Chia Pudding Recipe is a super easy one. All you have to do is mix together the almond milk, maple syrup, pumpkin puree, pumpkin spice, vanilla extract, and chia seeds. Then, pour it into servings bowls and chill for about 4 hours or overnight.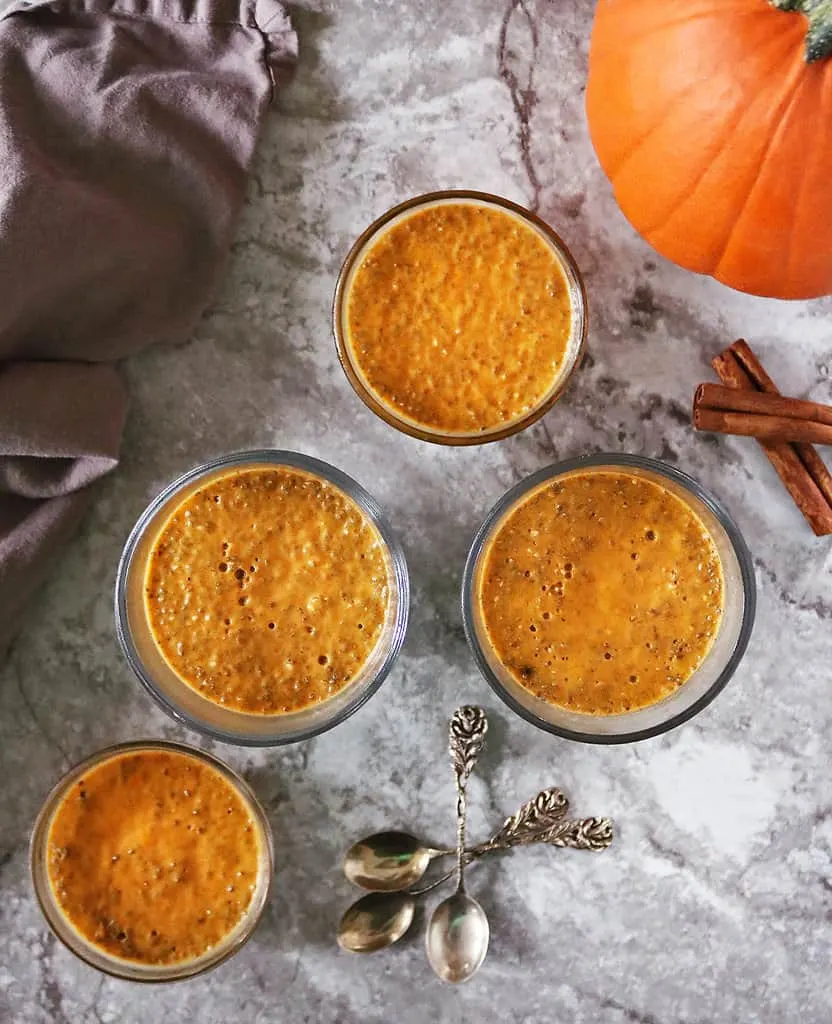 Then serve with a dollop of coconut whipped cream or any whipped cream with a dusting of cinnamon on it.
You could also top it with some broken up pieces of Nature's Bakery Pumpkin Spice Bars. No, I am not being paid to say that.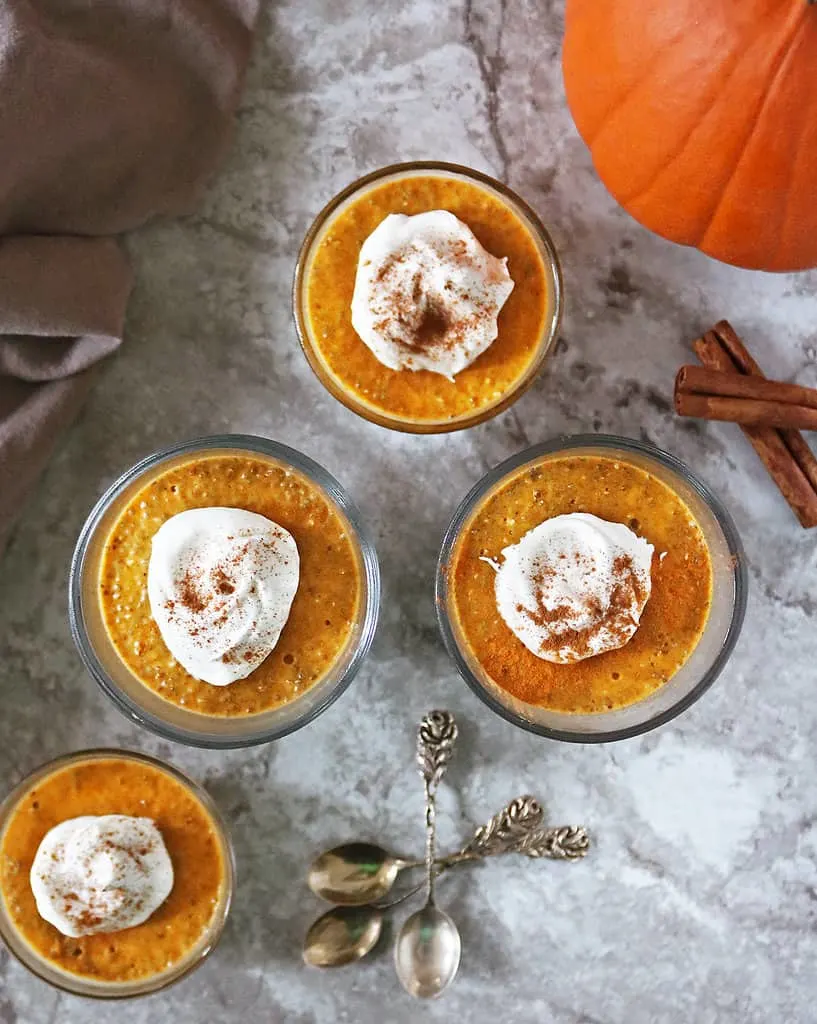 A friend of mine on a hiking group I joined this summer introduced me to these Pumpkin Spice bars. And they are absolutely delicious. They are, hands down, my favorite of all the fig bars made by Nature's Bakery.
Unfortunately, I have not been able to find more at any grocery stores near me and that's why I didn't use any to top these. You could also top these with nuts, granola, or fruit of your choice.
How do you store this chia pudding?
This chia pudding recipe is a small batch one. But, if you double or triple the ingredients and make a large batch, you can store it in an airtight container for up to 5-7 days.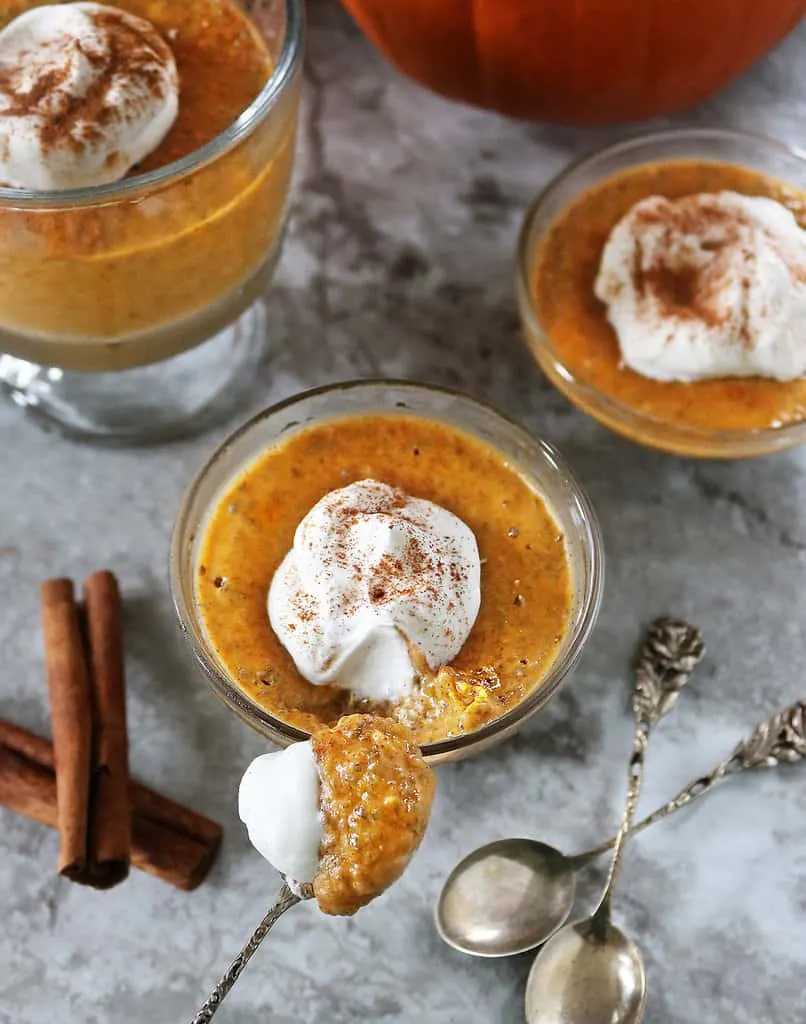 I hope you give this chia pudding recipe a try. It is a dairy free treat that you and your family are sure to enjoy. If you make this, please do let me know your thoughts in the comments below or tag Savory Spin on Instagram or Pinterest to have your creation featured.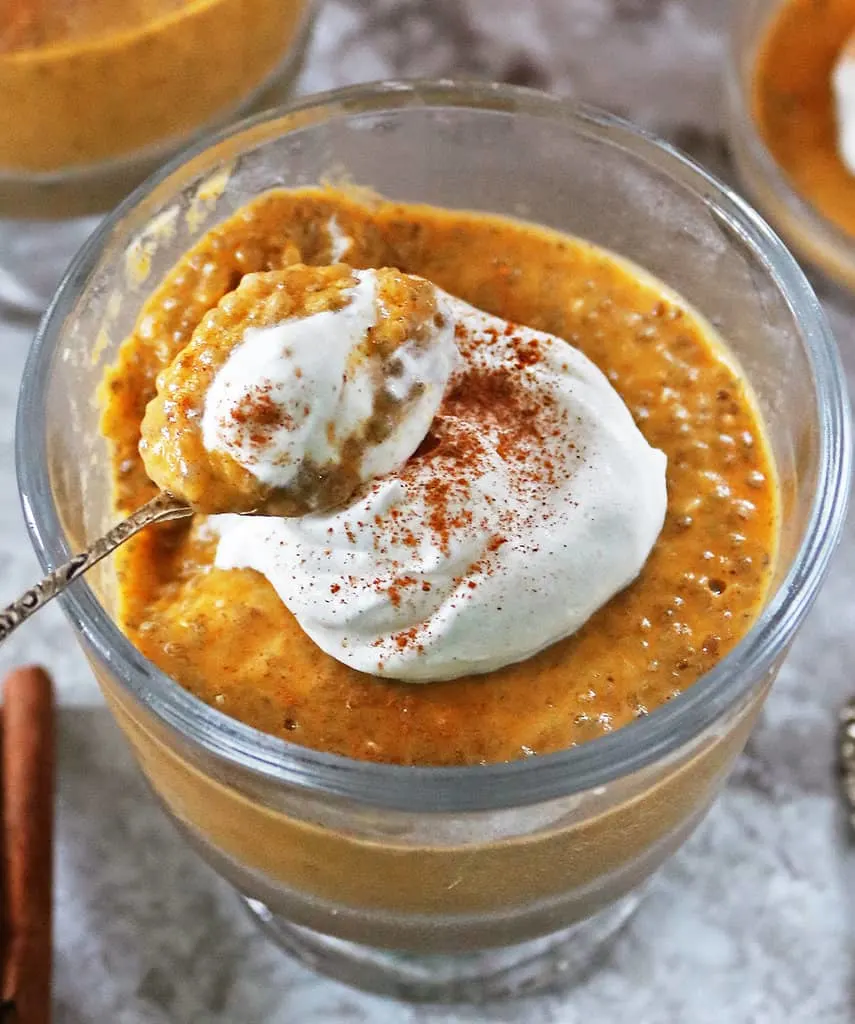 If you love chia pudding and are looking for more flavors, check out these: