A refreshing and delightful blend of fruits, topped with a whipped vanilla coconut topping, makes for one heck of a dessert!

This shop has been compensated by Collective Bias, Inc. and its advertiser. All opinions are mine alone.
#NaturallyClean #CollectiveBias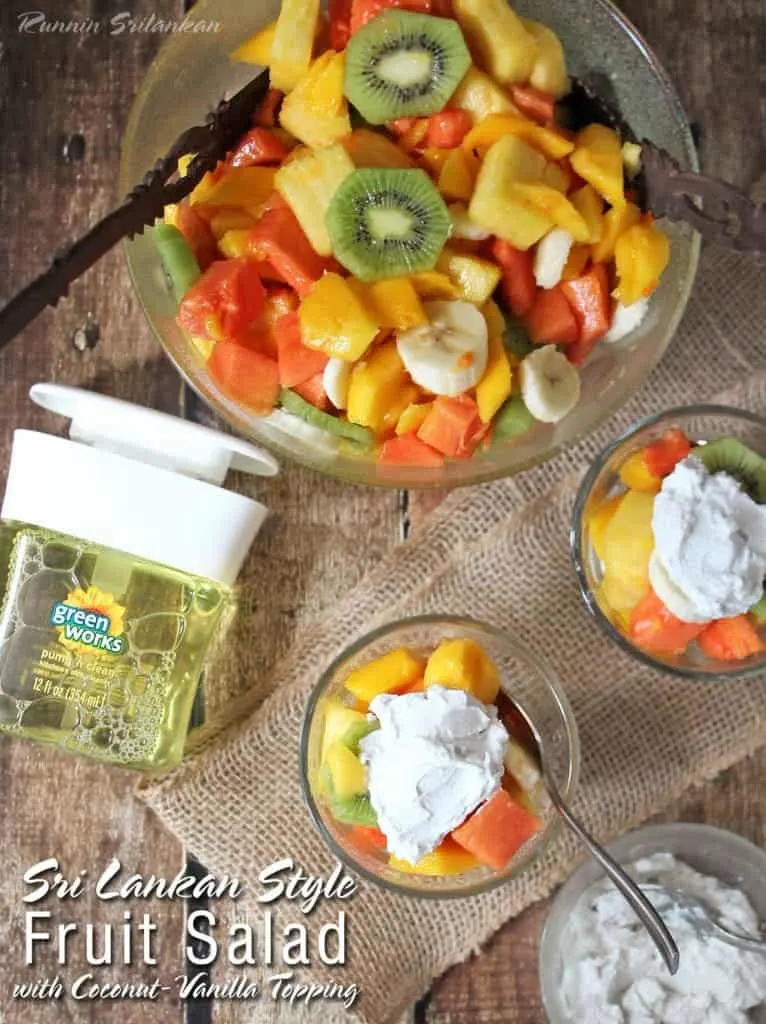 Most of our kitchens have self cleaning ovens…but, do you ever wish your home had a self cleaning kitchen too?

I know I do!

I love to cook from scratch, but, I am a messy cook.

If you stepped into my kitchen when I was in the middle of cooking, you'd wonder if La Tomatina was being hosted in my kitchen instead of in Buñol, Spain – with more than just tomatoes!
I gotta admit though, that the mound of dishes and veggie/fruit peels left after a cooking spree, are kind wearing me down!
One time I even caught myself daydreaming about hosing EVERYTHING down – the counters, the dishes, the floors, the walls… but then I was snapped back to reality by the nightmare of rectifying all that water damage! GAH!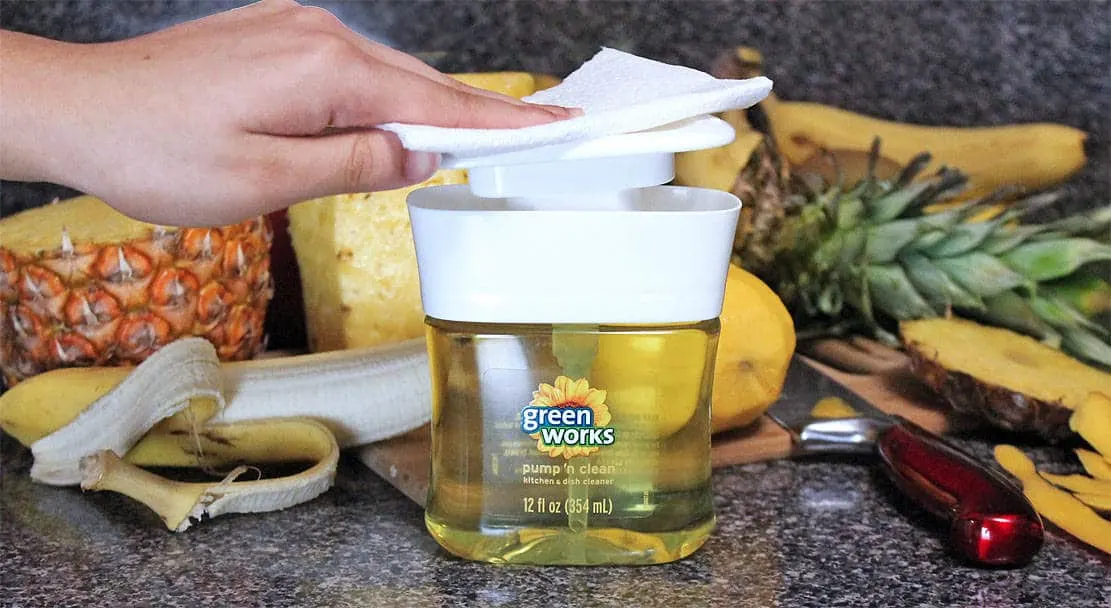 So, I decided to take a small step – and that's to clean up as I cut up fruits for a Sri lankan Fruit Salad. But, there aren't a lot of food safe cleaning products out there – or, so I thought.
Recently, when I was walking through the Natural/Green Section of the cleaning aisle my neighborhood Target, I came across Clorox Green Works Pump 'N Clean, which was "food-safe" and perfect for wiping down cutting boards and knives with.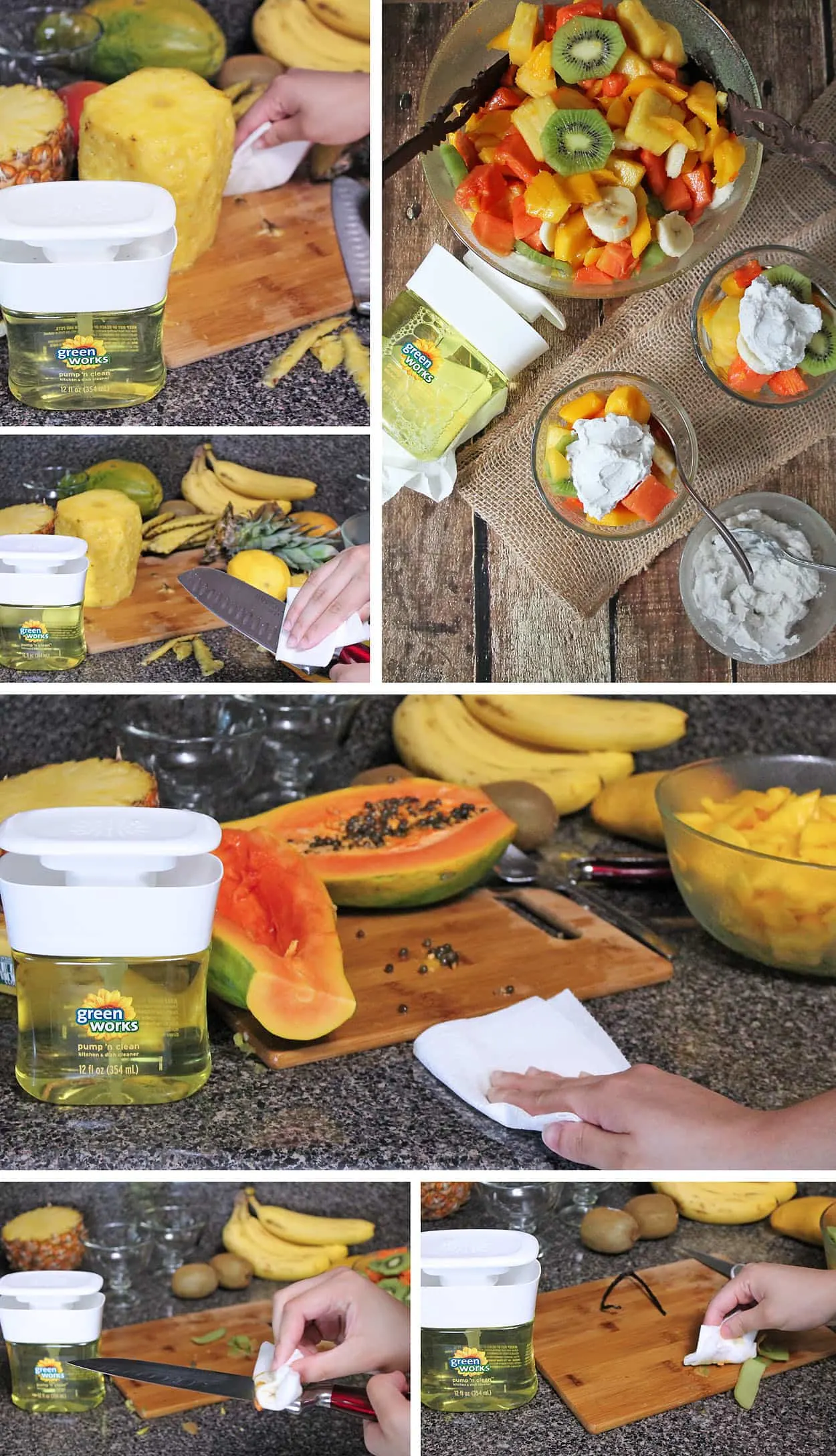 In Sri Lanka, papayas, pineapples, mangoes and bananas are as popular as peaches, apples, grapes and oranges are here in Atlanta. And, everytime a "fruit salad" was called for, it had those fruits in it.
Sometimes there were rambutans or mangosteins also thrown in. Most times, lime juice and honey or sugar formed a "dressing"; and sometimes, straight up condensed milk was drizzled all over the fruits for an incredibly rich finish to a meal. I decided to keep things simple and whipped up a vanilla coconut whipped topping to go with the fruit.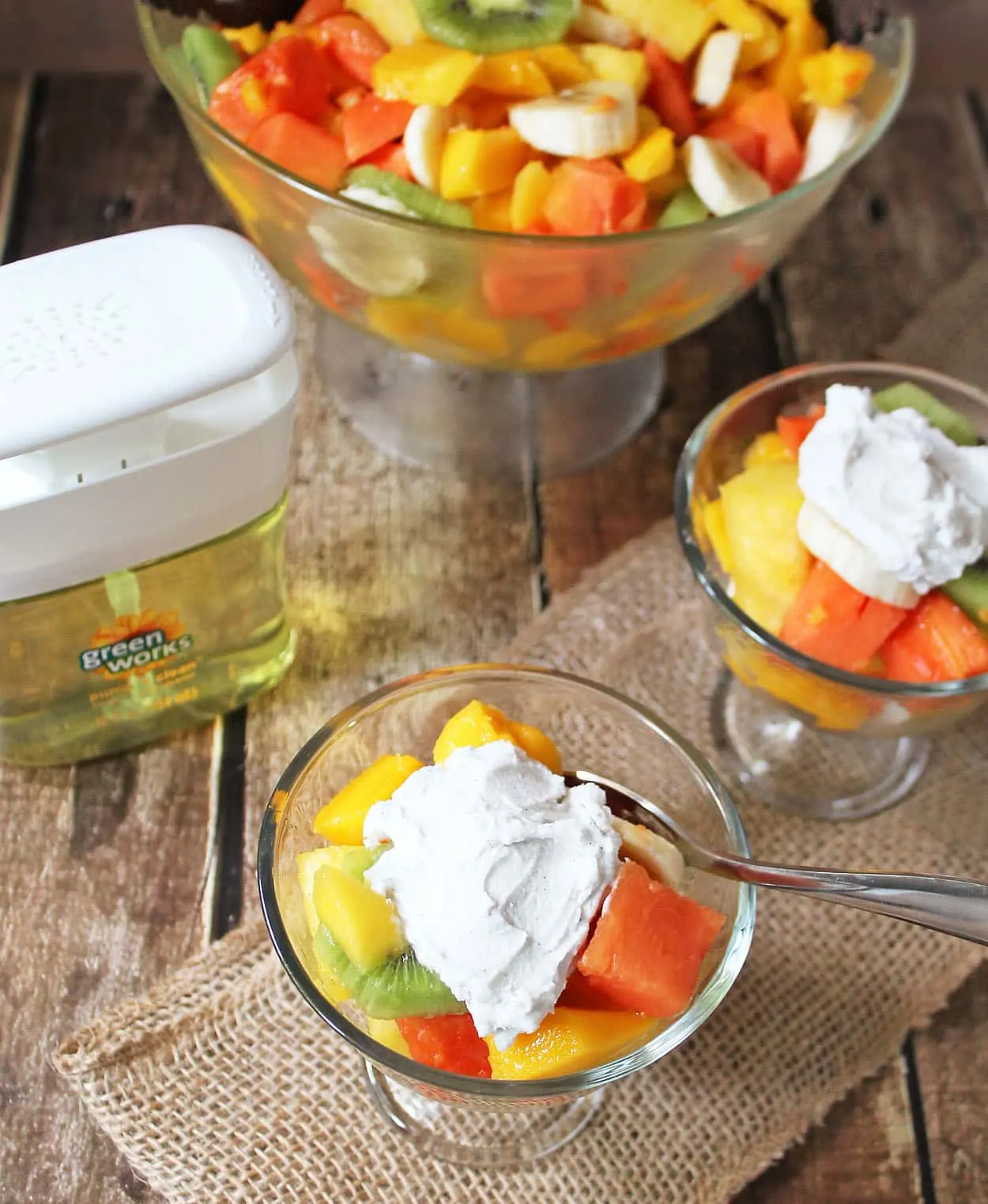 How to make Sri Lankan Fruit Salad with Whipped Vanilla Coconut Topping?
As I cut up and peeled the fruits that went into this Sri Lankan Fruit Salad with Whipped Vanilla Coconut Topping, I forced myself to use a kitchen towel/rag to wipe up after each fruit I cut up:
• I cut the top and bottom off the pineapple, cut the husky skin off the sides, and wiped down the knife before slicing the pineapple vertically into 4 parts. I then cut off the thick center part off the 4 parts and chopped the rest of it into cubes and placed them in a bowl.
• After wiping down the board, I sliced the papaya in half, scooping out the seeds. I then wiped down the knife and the board. Then I made vertical and horizontal slices through the papaya halves and cut them off the skin, and placed these in the same bowl.
• I wiped down the board before moving onto the mangoes. I cut the skin off the mangoes and then made vertical and horizontal cuts in the mango flesh – using the seed inside as a guide. I cut off the cubes (made by the intersecting horizontal and vertical cuts), into the bowl, too.
• I wiped off the board and knife and move onto slicing the kiwi and bananas into the same bowl.
While all the fruit hung out, I worked on some whipped vanilla coconut topping and voila – fruit salad done and no mess left to clean up!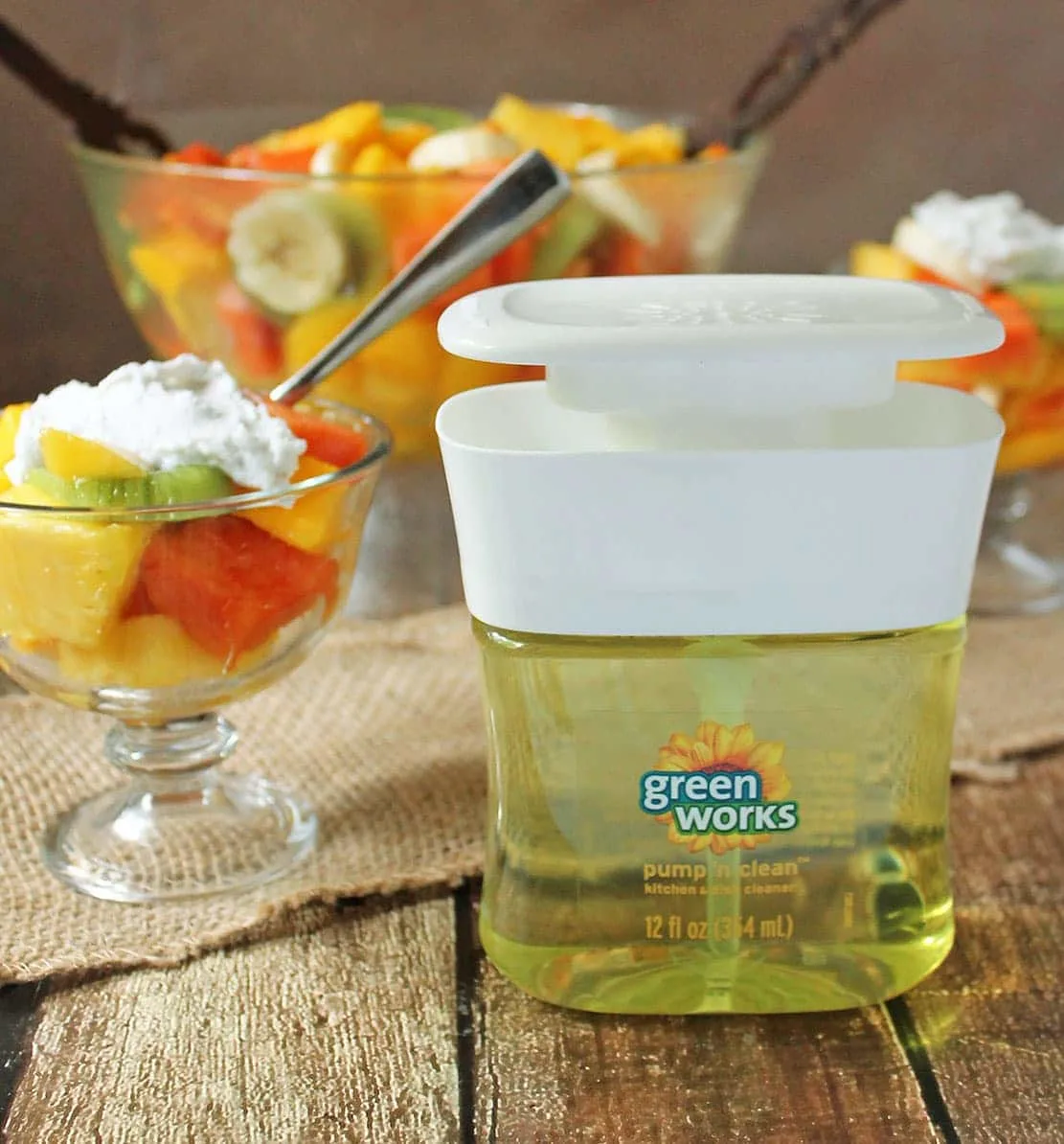 Clorox Green Works Pump 'N Clean is safe around food, and, great for quick surface cleaning of lightly soiled dishes, cutting boards, refrigerators and microwaves. Though, it's not recommended to be used to clean up after raw meat or raw fish. It leaves behind no harsh chemical residue and comes in a specially designed pump for one-handed cleaning.
Target also carries a full range of other Green Works products. For more information on this product line, please click here.
And be sure to follow Green Works on Facebook • Twitter • Pinterest • Instagram