Delightfully delicious, this Za'atar Asparagus with Pomegranate makes for a fun and colorful side dish for the holidays ~ or any day of the week, actually!
I have partnered with Sprouts Farmers Market to bring you this Za'atar Asparagus with Pomegranate ~ all opinions herein are my own. Thank you for supporting the brands that keep this blog spinning.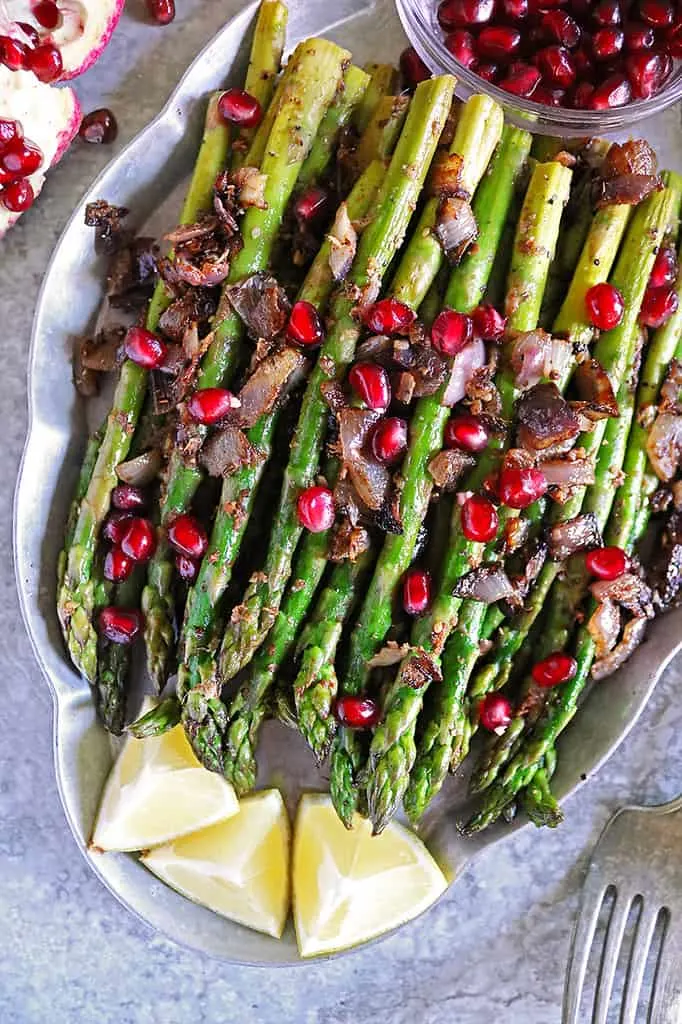 As this year winds down, we find ourselves smack dab in the middle of pomegranate season! Pomegranate season in the Northern Hemisphere is said to run between September and January – and it's an exciting time for pomegranate lovers like me!
I so love the jewel-toned ruby hue of pomegranate arils as well as their versatility of fitting into everything from sweet dishes to savory ones – much like in this Za'atar Asparagus with Pomegranate.
As I'm doing my best to get my fill of fresh, plump pomegranates before they disappear, I grabbed a bunch of them on a recent trip to Sprouts.
If you've poked around this little space of mine, you will know that Sprouts is one of my favorite places to shop at. They always have an amazing selection of fresh and seasonal produce (I'm still swooning over their selection of melons I stumbled on over this past summer).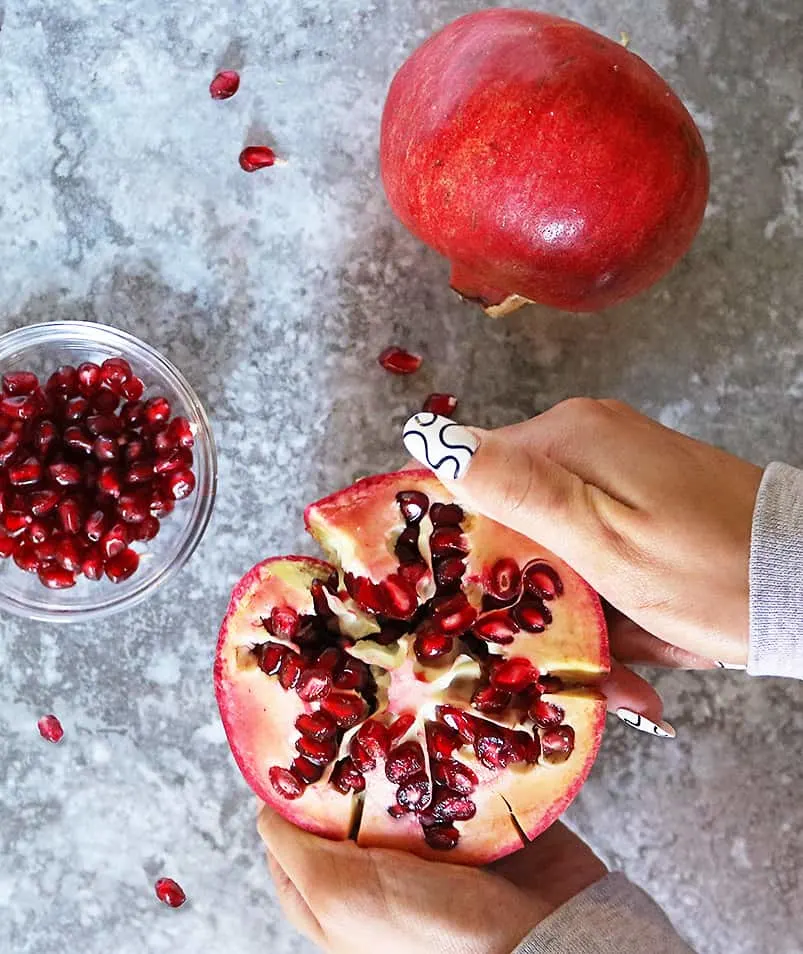 And, currently, they have a large selection of fresh, plump pomegranates at a steal of a deal.
Pomegranate arils add such a festive and colorful spin to holiday and everyday dishes. Subtly sweet and crunchy, pomegranate arils are the perfect complement to sweet and savory dishes, alike.
But pretty and tasty are not all they are…
What are the Benefits of Pomegranates?
These little arils are a powerhouse of nutritious goodness! Vitamins such as A, C, K, and B5 as well as minerals like calcium, potassium, copper, and manganese (and many more) help classify pomegranate as a superfood.
Pomegranate arils have been traditionally used for medicinal purposes in concerns from stomach upsets to menopausal hot flashes to high blood pressure. Pomegranate arils are also said to stimulate the immune system, reduce inflammation, reduce the risk of heart disease and prevent or slow down the development of Alzheimer's.
Very often, I pop the arils out of a pomegranate and my daughter and I enjoy them in a bowl with nothing else.
How to remove arils from pomegranates?
There are quite a few ways to get pomegranate arils out of their "shell." However, my tried and true way involves cutting open a ripe pomegranate and then gently cajoling the white skin apart and popping the arils out with my fingers. If the pomegranate is ripe, the arils will pop out easily. Another way that I often use if the pomegranate isn't fully ripe is to cut the pomegranate in a large bowl of water and gently tear it apart – section by section. The arils will sink to the bottom and can be strained out easily.
How to tell when a pomegranate is ripe?
Ripe pomegranates are heavy as they are juicier. Ripe pomegranates are also less round and more "angular" with their skin turning slightly rougher and softer.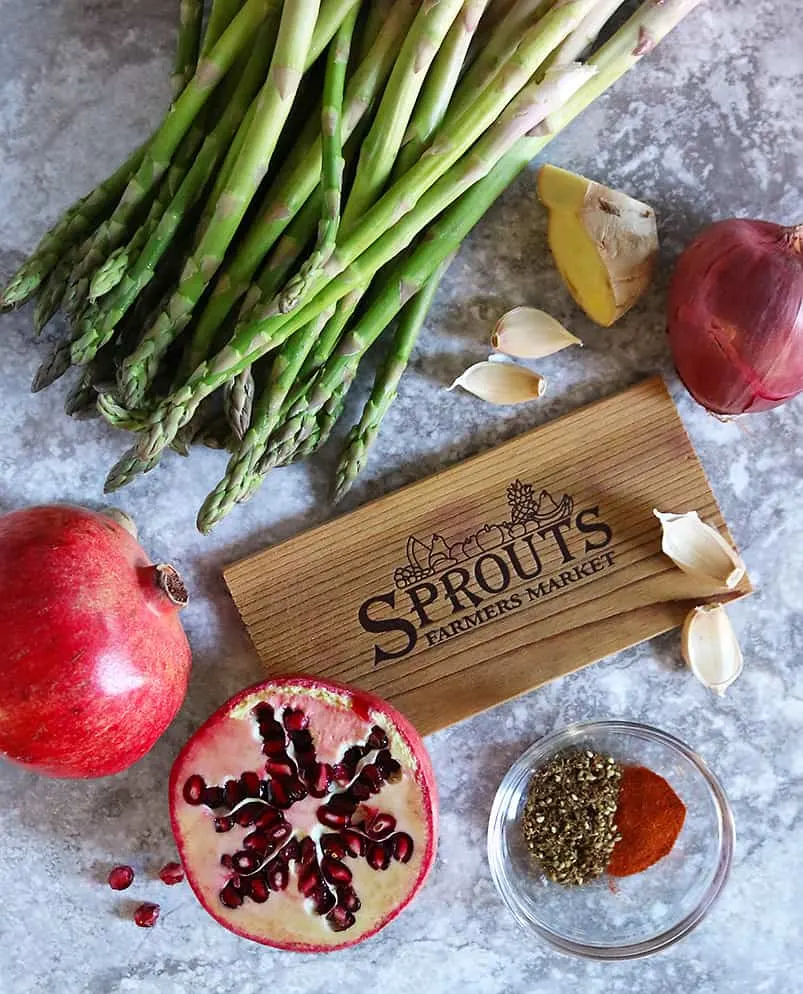 When we are not eating pomegranate arils by the spoonful, we also toss them into a bowl of oatmeal or granola or even ice cream. I also use them often to garnish savory dishes like I did in this Za'atar Asparagus with Pomegranate.
This is an easy and nutritious side dish that would be a delight addition to your holiday meal. But, it's so tasty and simple to make that we often enjoy this side dish when we bring home an extra bunch of asparagus and pomegranates from Sprouts.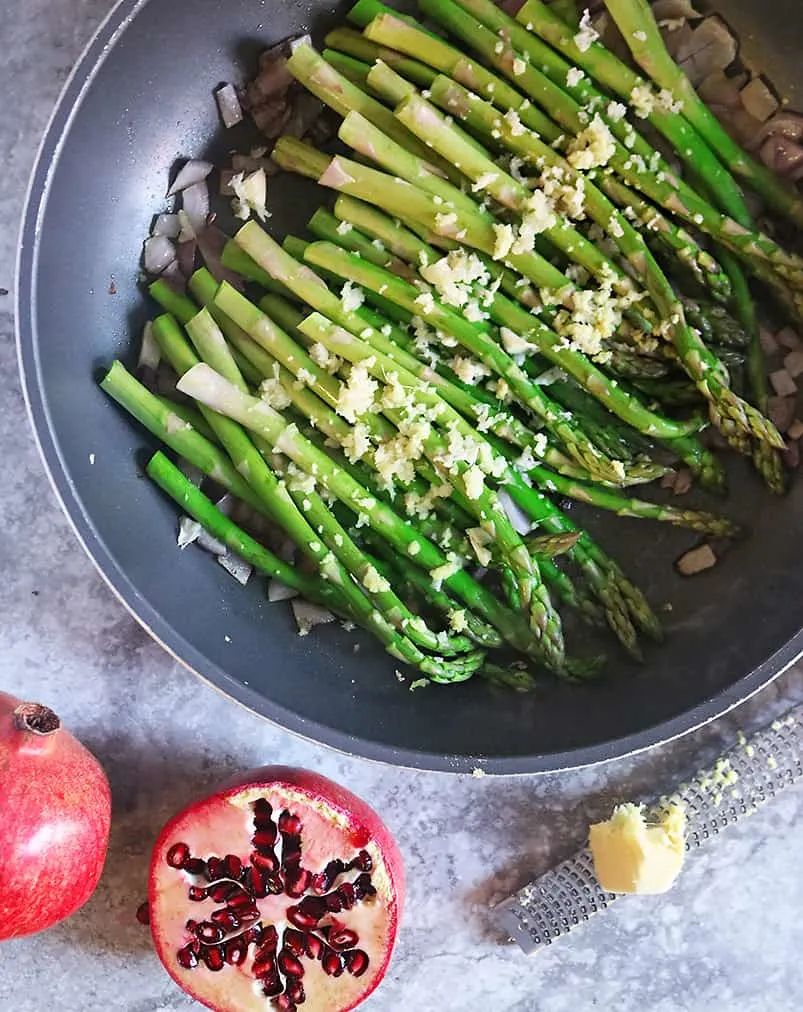 What are the ingredients to make this Za'atar Asparagus with Pomegranate?
This side dish only needs 8 ingredients such as:
Onion
Garlic cloves
Ginger
Asparagus
Za'atar
Smoked paprika
Pomegranate arils, and
Lemon wedges
Recently we have been using za'atar in everything from roti to an olive oil dip (basically just za'atar + olive oil) to more filling chicken dinners like this. Za'atar is a Middle Eastern herb and spice blend that lends so much flavor to everything it is introduced to. And, I find that it pairs so beautifully with lemon, asparagus, and pomegranate arils.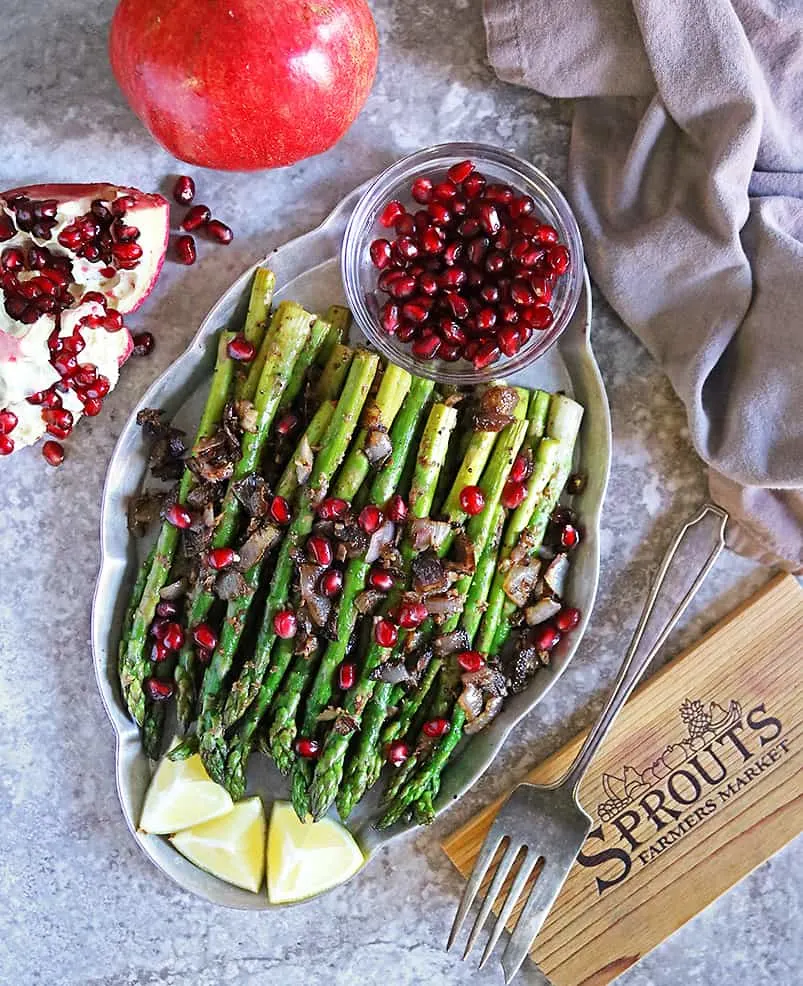 While the recipe directions seem long, they are mostly tips on cleaning asparagus as well as getting pomegranate arils out of their shells. So, I am hoping you get to stop by your local Sprouts and grab some pomegranate arils and try this easy dish out soon.

When you do, please do let me know what you think by tagging @savoryspin #savoryspin on Instagram, Pinterest, or Facebook!