I've partnered with Sprouts Farmer's Market to bring y'all this Easy Hearty Spicy Sweet Vegetarian Mango Chili! All opinions here in are my own. Thank you so much for supporting the brands that keep this Blog Spinning! #ChooseMyChili #Sponsored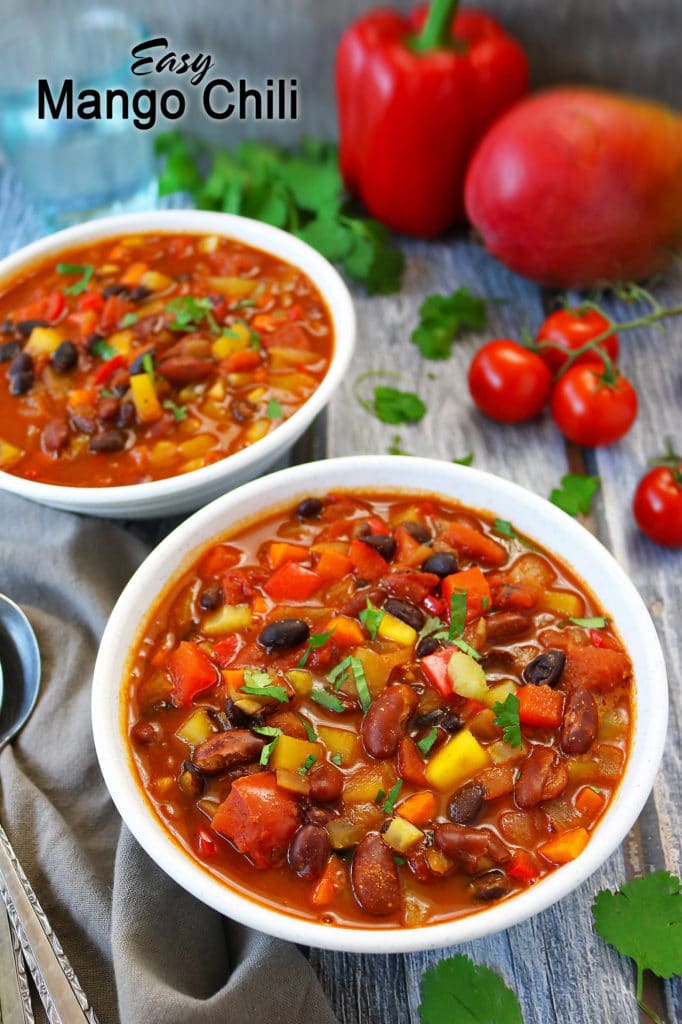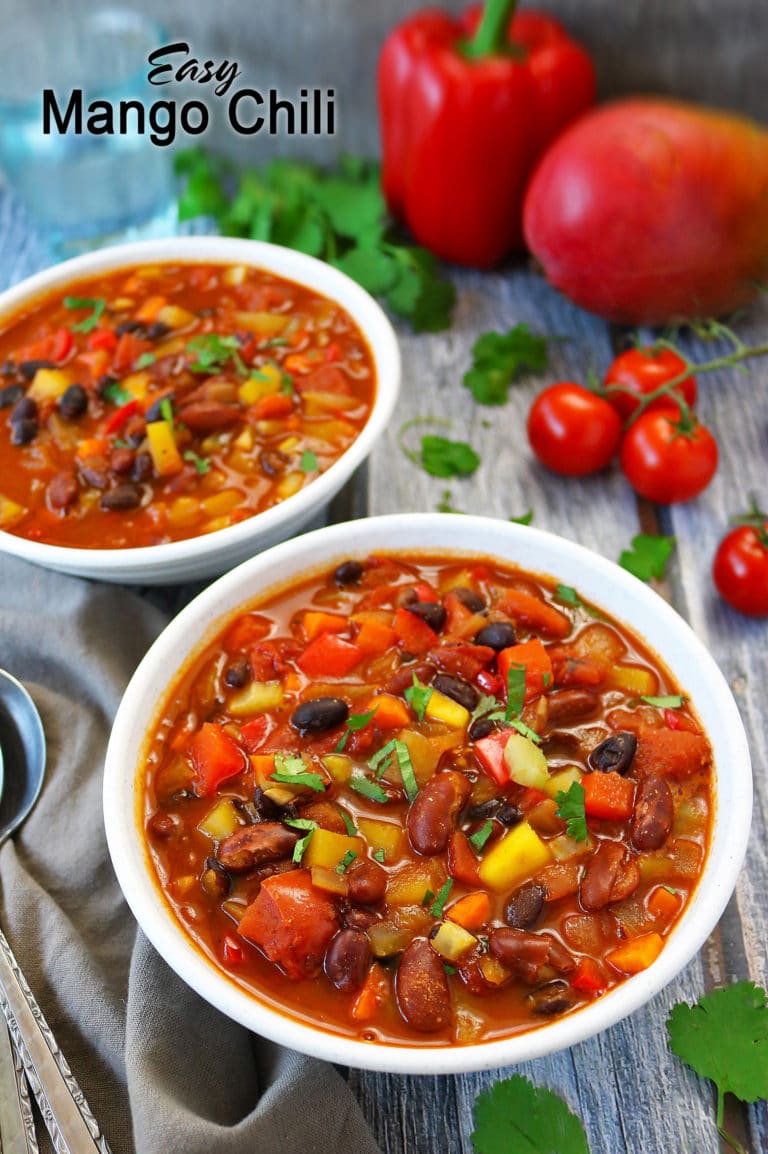 This week, summer seems to be lifting it's hold on Atlanta. This week, the weather forecast doesn't seem to have any of those 90+ degree days when the humidity is so high that sweat trickles down your back even when you are just standing there, in the shade, with a limoncello popsicle in hand. Which leaves me a bit blue. Because, I do so love those steamy, sweaty, summer days down here in the south. After that confession, I bet you're thinking I'm a tad bit batty. And, you might be right…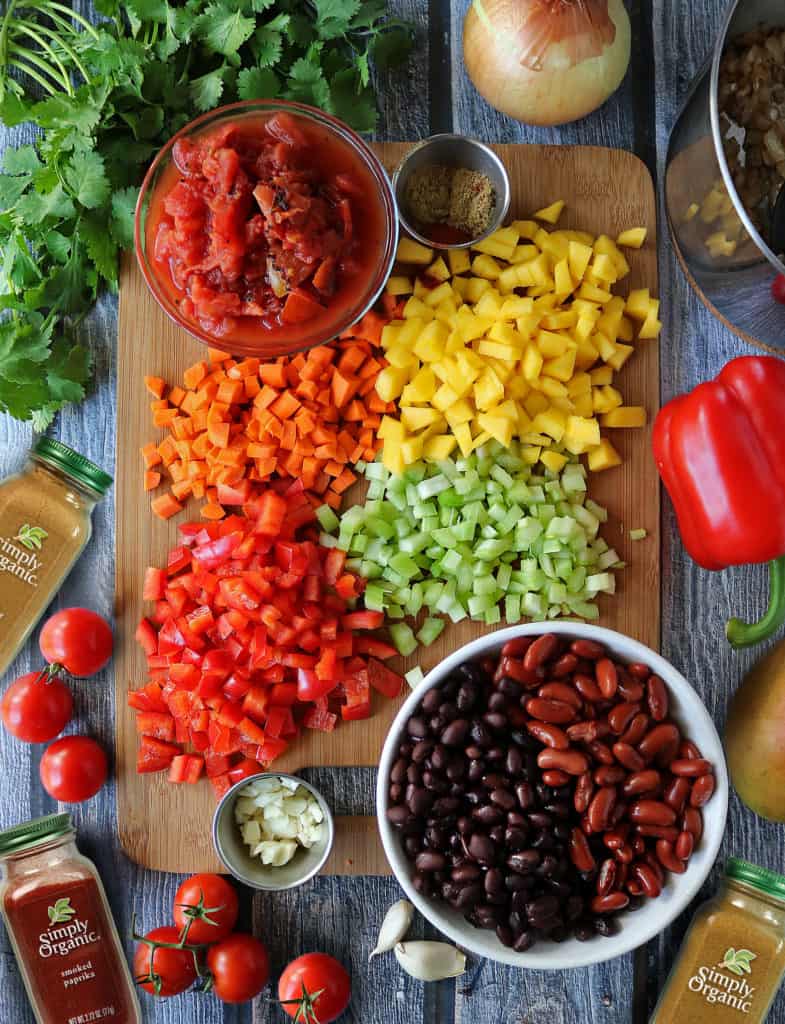 But, y'all, I won't be blue for long because the FOODS of fall are coming…
I cannot wait to dig into those fall foods that I have neglected to enjoy this summer… foods like rich and crusty pies, scrumptious chocolate and cookie butter bakes, luscious baked dips, mouthwatering pumpkin cakes, creamy and indulgent soups and hearty chili like this Easy Spicy Sweet Vegetarian Mango Chili. Now, you might be thinking I'm battier than I was a few sentences ago by using "vegetarian" and "hearty" in one sentence along with chili… but, y'all have gotta try this to see how hearty this Mango Chili really is.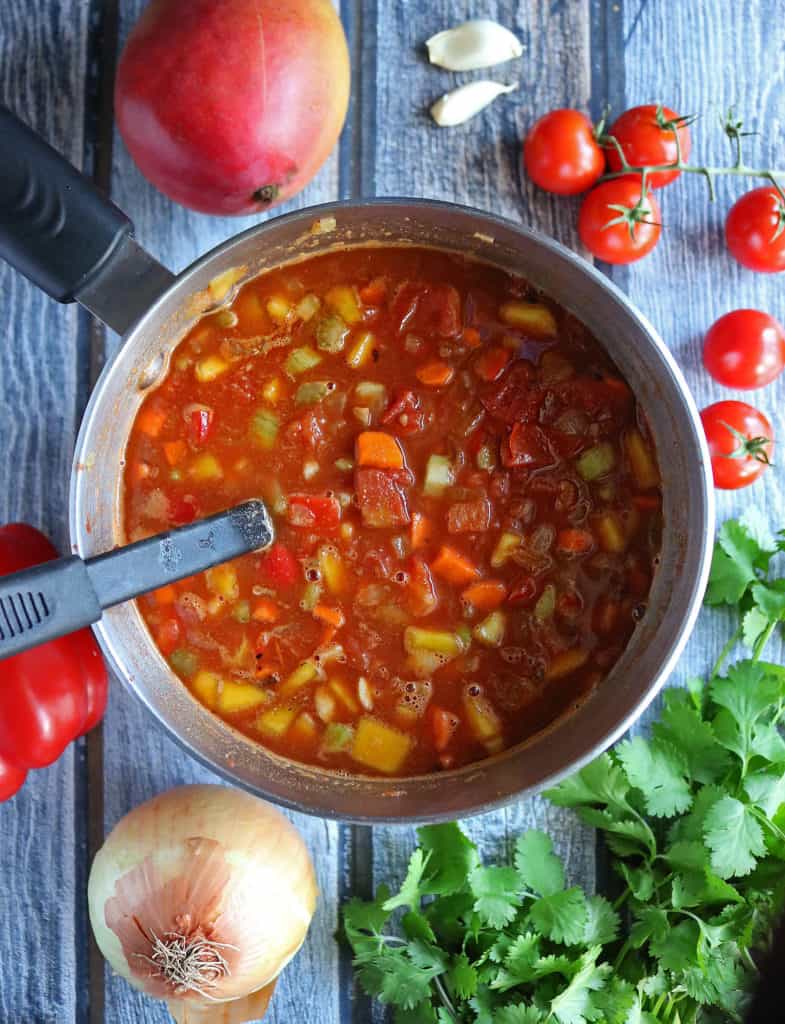 I made this chili as an entry to the #ChooseMyChili Challenge that Sprouts Farmer's Market is sponsoring, on a weekend when my daughter came home to visit. Now, when I stopped by Sprouts to pick up all the ingredients for this chili, I also picked up a baguette. My daughter simply LOVES the baked breads in the Sprouts Bakery Section and so I figured she would love to have a baguette to sop up the last dredges of this chili. But, after she almost licked the bowl clean, she put her baguette pieces away as she said she was just too full after eating a bowl of this Easy Vegetarian Mango Chili that was only topped with cilantro. Not only is the heartiness of this Easy Vegetarian Mango Chili amped up with hearty beans, veggies and fruit, but it's flavor is amped up with Simply Organic's cumin, coriander and paprika! And the best part is, if you happen to have leftovers, this chili just seems to get better with age… quite like Milo Ventimiglia from This is Us!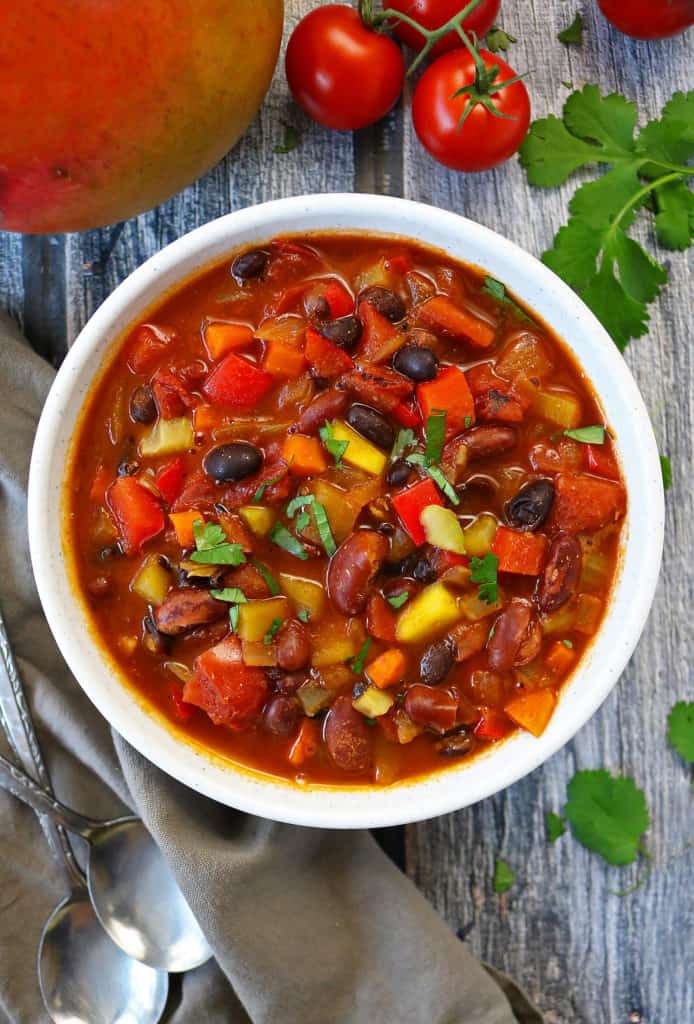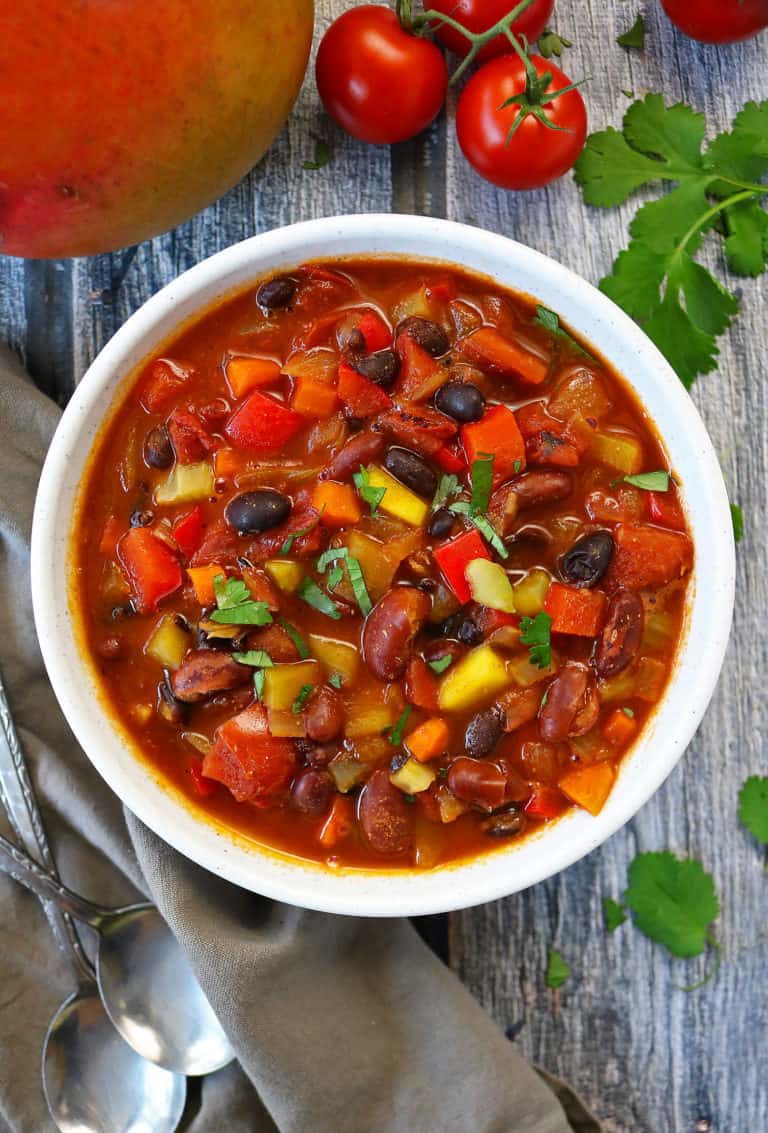 Y'all, October is National Chili Month. And, this October, this here Easy Vegetarian Mango Chili will be competing with the chili recipes of 8 other bloggers on Sprouts.com. If you think this recipe might just be pretty darn delicious, then, I sure would appreciate your vote (vote here)! However, if another one catches your fancy – vote for it as well!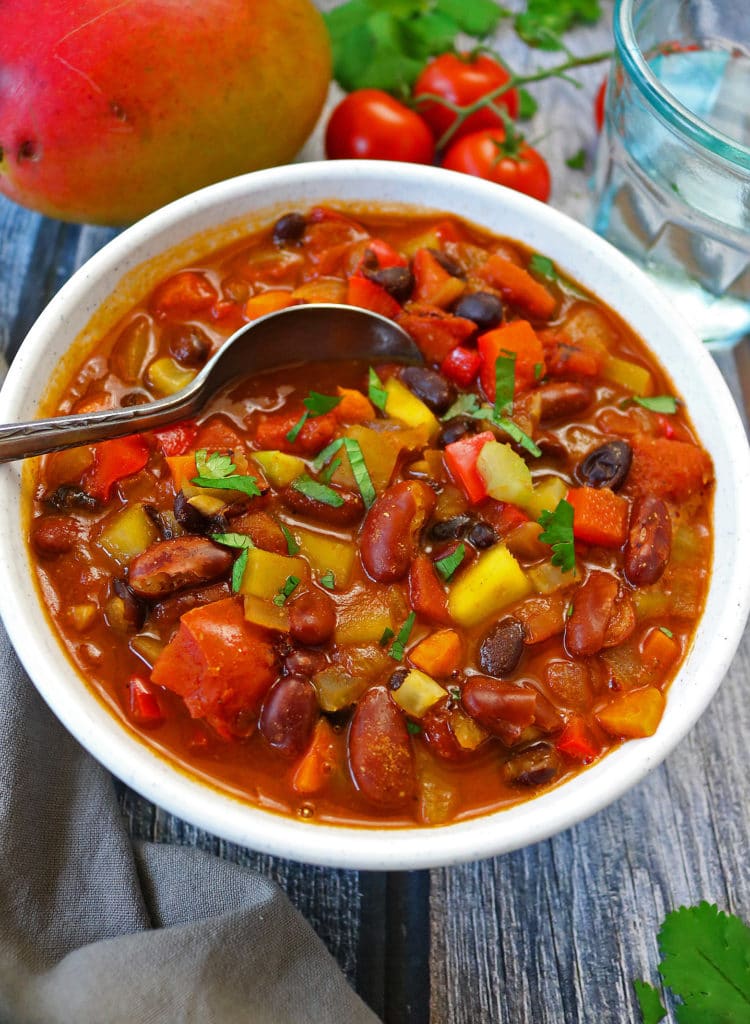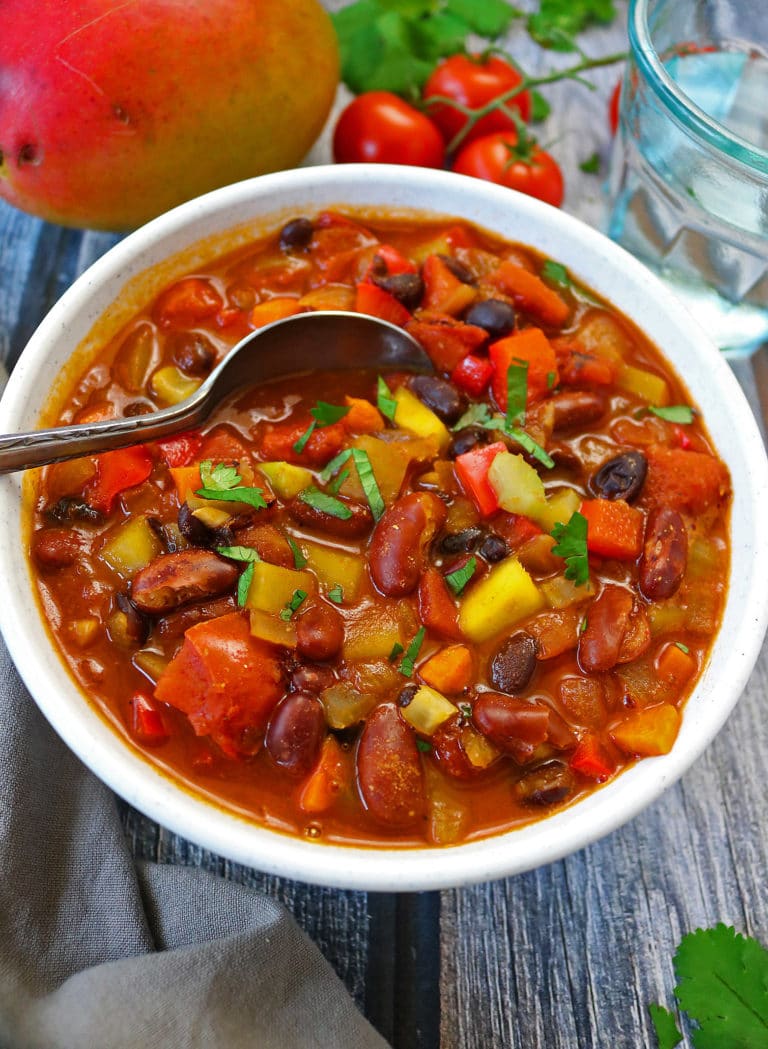 Speaking of Sprouts Farmer's Market, I picked up the ingredients for this delicious Easy Vegetarian Mango Chili at my local Sprouts Farmer's Market. Sprouts is filled with fresh produce, dairy, meat and seafood, delicious freshly-baked goods, thousands of natural, organic and gluten-free groceries as well as an eclectic beer and wine, vitamins and supplements and more – all at fantastic prices! Being on a budget, Sprouts is where I like to shop for fresh produce as well as gluten-free products. If you don't have a Sprouts Farmer's Market near you, Sprouts has now partnered with Amazon Prime for delivery service. Through Amazon Prime, you can now get your entire grocery shopping list including fresh organic produce, meat and seafood from Sprouts delivered right to their door with one hour ($7.99) and free two-hour delivery between 8 a.m. and 10 p.m.
Don't Forget To Vote Here 🙂
You could win a chili prize bundle courtesy of Simply Organic, including a Crockpot, a spice rack, apron and a $50 Sprouts gift card
[Tweet "Easy Spicy Sweet Vegetarian Mango Chili Vote http://bit.ly/2k5WxDp #ChooseMyChili #Sponsored @Sproutsfm @SimplyOrgFoods"]
Also, feel free to check Sprouts out on Twitter, Facebook, Pinterest and Instagram to see their incredible in-store deals, recipe ideas and inspiration!