This Melon Salad with Feta is such a tantalizing variety of textures and flavors. Refreshingly sweet and salty, crunchy and creamy, this salad is perfect for summer!

I've partnered with Sprouts on this Melon Salad with Feta. All opinions herein are my own. Thank you for supporting the brands that keep this blog spinning.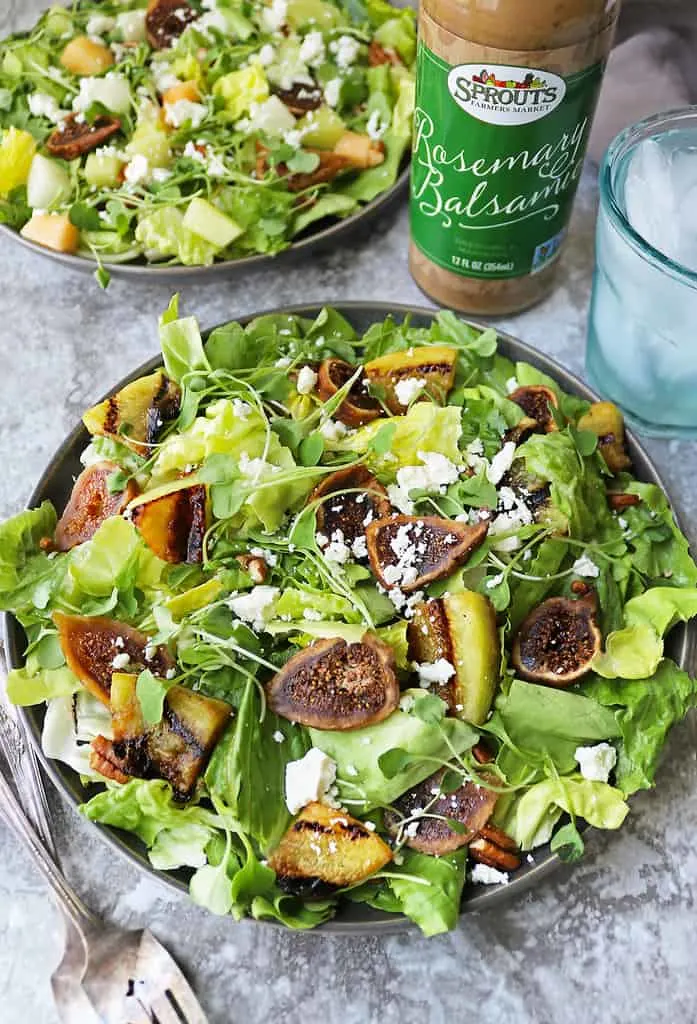 I love how as the temperature begins to rise, so does my sense of smell. In cold months I feel I almost have a mild case of anosmia. But summer's sizzle brings with it all the smells!

And, boy oh boy, does summer have some ah-mazing smells!

There are grilling smells, and fresh-cut grass smells, and ocean-air smells that are for savoring. In fact, in summer, I use my coffeemaker as my alarm! Because when that coffeemaker is to auto brew, those coffee molecules come bouncing up the stairs right into my room and cajole me out of my slumber.
Of course, summer does have it's share of not-so-wonderful smells (hello NYC subway stations), but the good ones are the ones that I cannot seem to forget.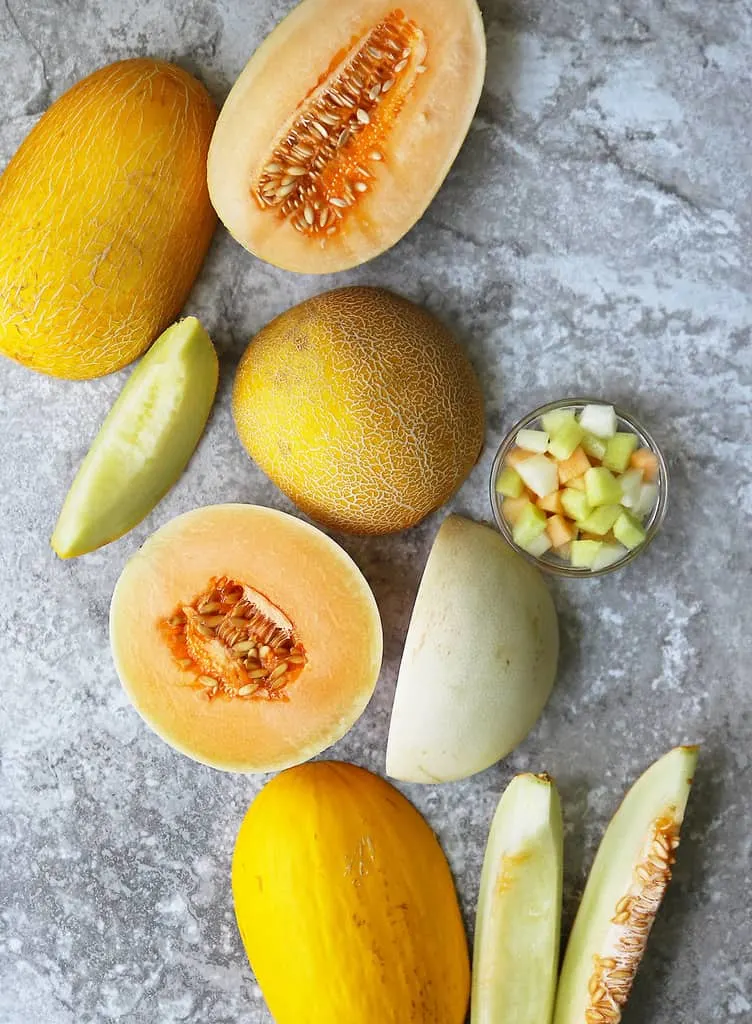 Speaking of smells, this past Saturday, my daughter, and I stopped by Sprouts after a hike through the woods at Little Mulberry Park.

When we walked through the door, my olfactory system was assailed by the delightful smells from the produce section. Even though we were masked up, the sweet, sweet, smells of fresh strawberries and ripe melons pulled us to the back of the store.
Sprouts is my favorite stop for everything from air-chilled chicken to enchilada sauce to fresh and unique produce. And this time, Sprouts did not disappoint!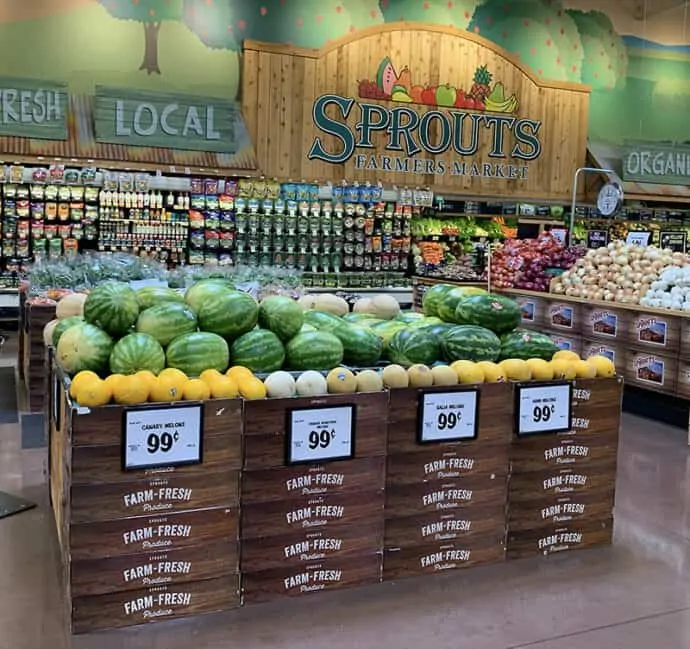 Right there in the middle of the vegetables and fruits was a table stacked with 6 different types of melons. Talk about melon mania! There were melons I hadn't ever tried such as Galia melons, Hami melons, Orange Honeydew melons, and Canary melons along with my favorites: watermelon and cantaloupe.
Of course, I had to grab one of each to bring home to try. I wanted to use them in a recipe and had no clue how or what to pair them with as Galia, Hami, Orange Honeydew, and Canary melons were so unique to me.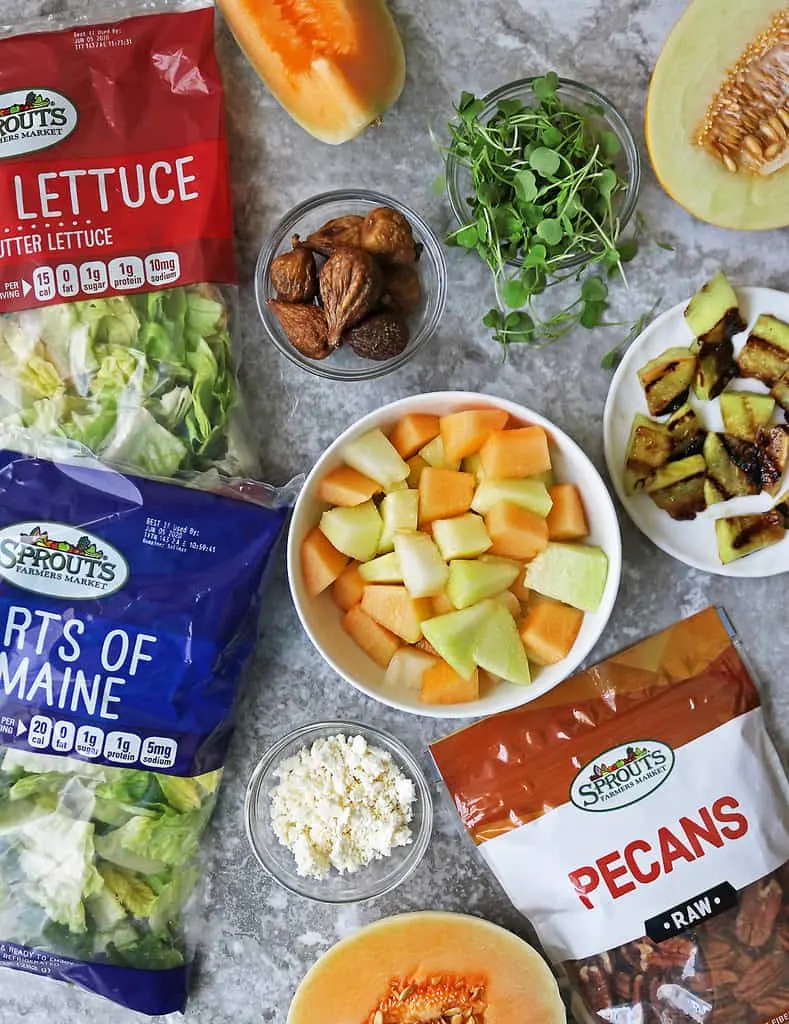 After a quick taste test of fresh melon and grilled melon (yes, I grilled a few slices just to see what they would taste like), I decided to whip up an easy salad and add some pieces of fresh melon and grilled melon to it.
This salad is more for inspiration than it is a recipe. It is made up of romaine lettuce, butter lettuce, pecans, olives, feta, arugula micro greens, and pieces of fresh and grilled Galia, Hami, Orange Honeydew, and Canary melons ~ all from Sprouts.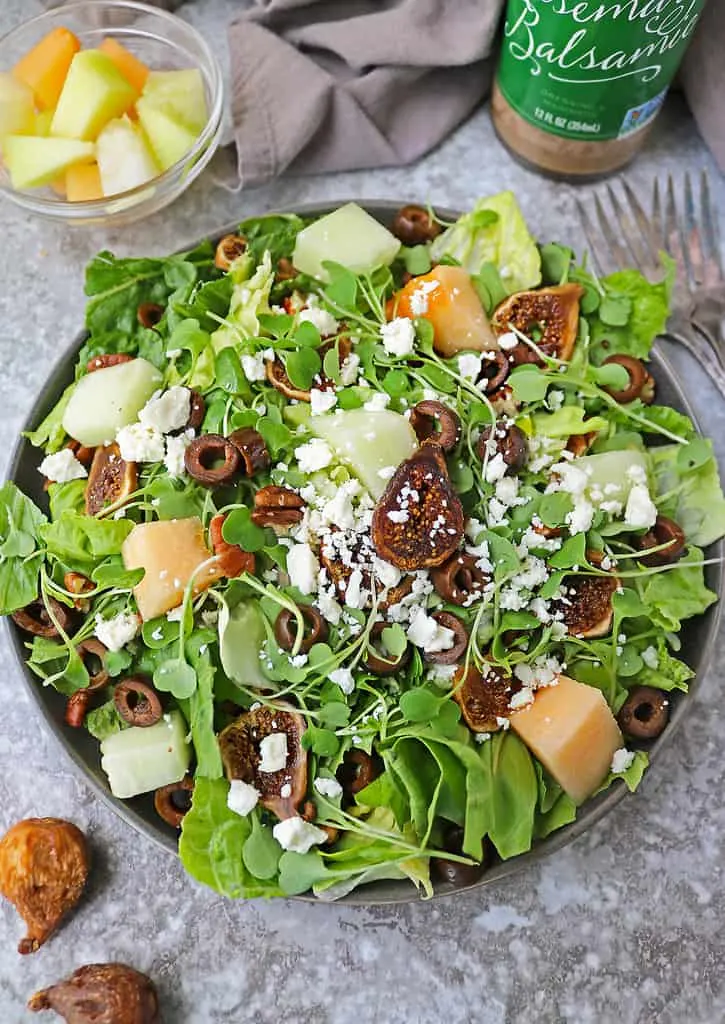 This salad was such a tantalizing variety of textures and flavors. There was crisp lettuce, slightly tart arugula micro greens, salty olives, creamy feta, sweet figs, and crunchy pecans mixed in with fresh sweet chunks of Galia, Hami, Orange Honeydew and Canary melon and chunks of sweet and salty grilled Hami and Galia melons as well.
I know this might sound a bit odd, but I did not need a dressing on this salad. We had picked up some dressing from Sprouts and my daughter enjoyed a tad bit on her salad.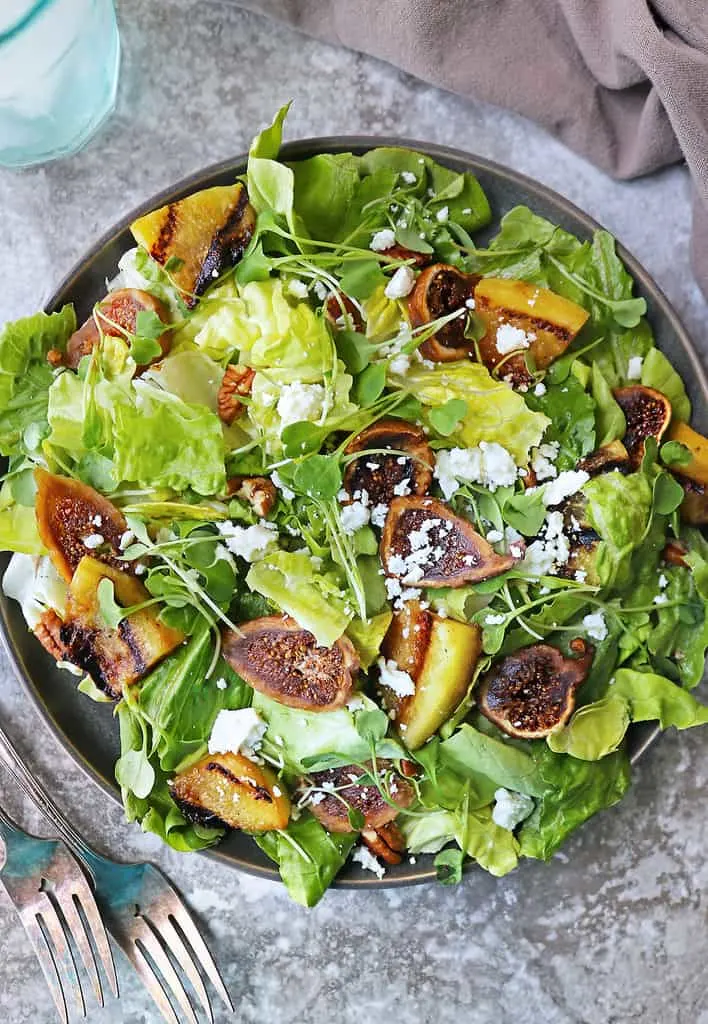 Summer is just more refreshing with the sweet smell and taste of melons by your side – right? Not only are the melons at Sprouts juicy and aromatic, they have wonderful health benefits too. Melons are high in vitamin C, potassium, and folate; rich in antioxidants; and they support heart health. You can learn more about the different types of melons Sprouts has at Sprouts Melon Mania!

If you are fortunate to have a Sprouts near you, make sure you head there and check out their delicious line up of more than 10 varieties of unique melons! Maybe you just might have a new favorite variety of melon after tasting them all.
Pair this melon salad with a paloma mocktail and this delicious chickpea salad for a light and tasty meal!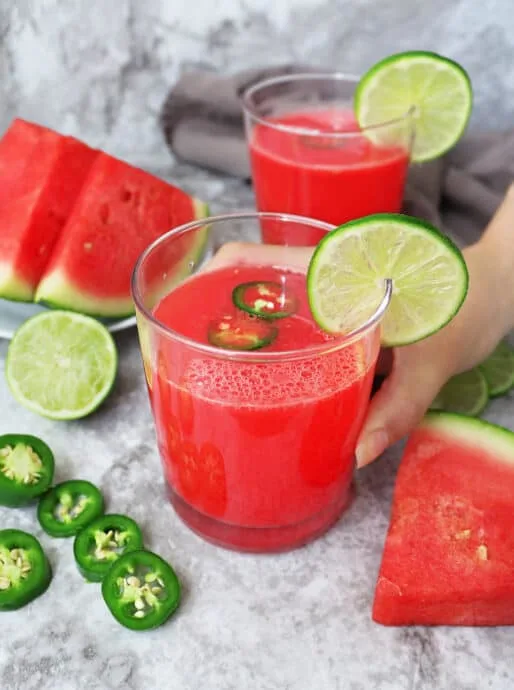 Deliciously intoxicating but not inebriating, this sweet, sour, and slightly spicy, Watermelon Paloma Mocktail is a refreshing accompaniment to this easy Melon Salad with Feta!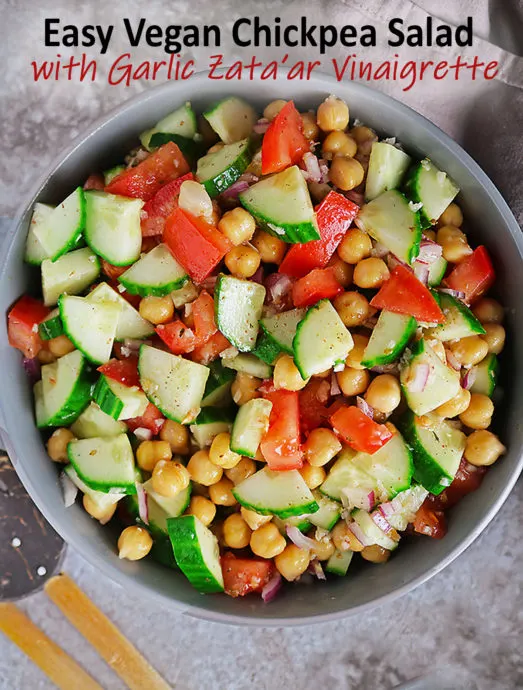 Chickpeas, tomatoes, red onion, and cucumber are enveloped in a garlic zata'ar vinaigrette in this tasty and easy vegan chickpea salad. Whip up a double batch of this salad for your next get-together. Or, prep it on Sunday and have a healthy side salad to enjoy at lunch for a couple of days.