I have partnered with Sprouts Farmers Market to bring you these Orange Oatmeal Protein Balls ~ all opinions herein are my own. Thank you for supporting the brands that keep this blog spinning.
Tangy and tasty, these little Orange Oatmeal Protein Balls are packed full of protein and slow-releasing carbs. They are so easy to make and are a tasty afternoon pick-me-up or midday energy boost!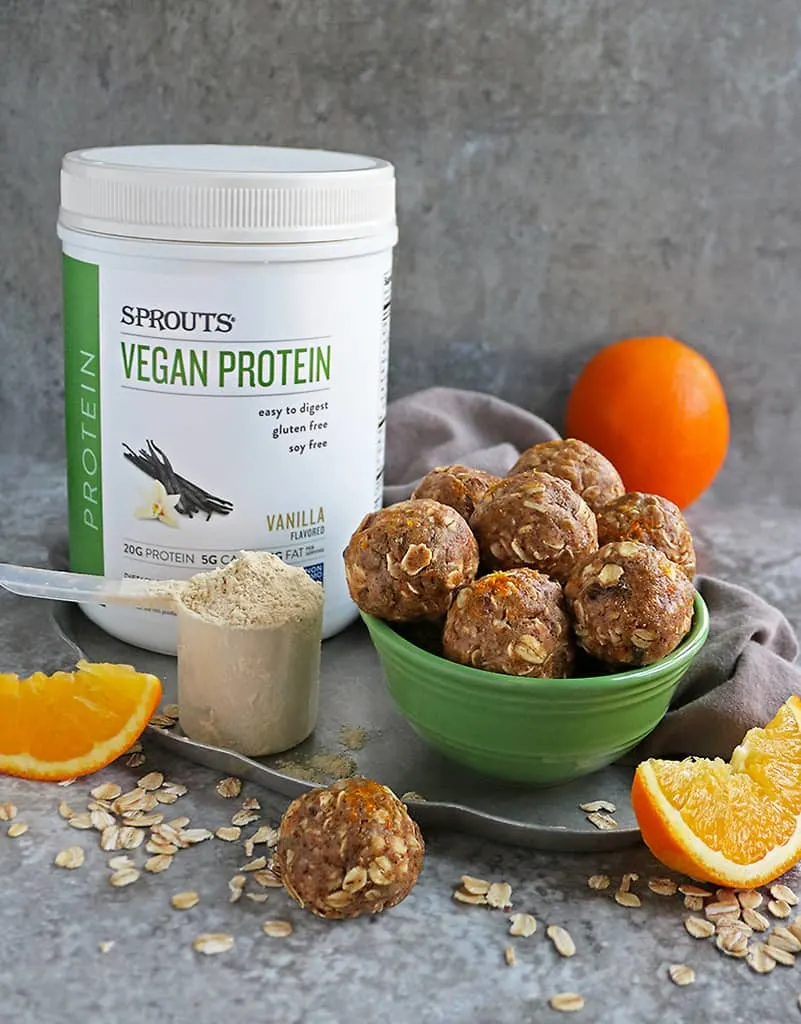 When I want a quick and easy snack, protein balls are a forerunner. Not only are they quick and easy, they can be so versatile as well.
A few years ago, when I resolved to give up sugar for 3 months, orange cardamom protein balls & mocha almond protein balls ( made with a zero-sugar sweetener ) were my afternoon go-to. When I wanted something festive but protein-packed, I made a batch of peppermint protein balls. When the holidays called for a more decadent snack, peanut butter chocolate balls took center stage.
What are protein balls made of?
Protein balls, also known as energy balls, lactation bites, or power bites, are usually made with:
1) a protein-packed nut butter,
2) some sort of slow-releasing carb,
3) a sweetener, and
4) a variety of add-ins to add flavor and texture.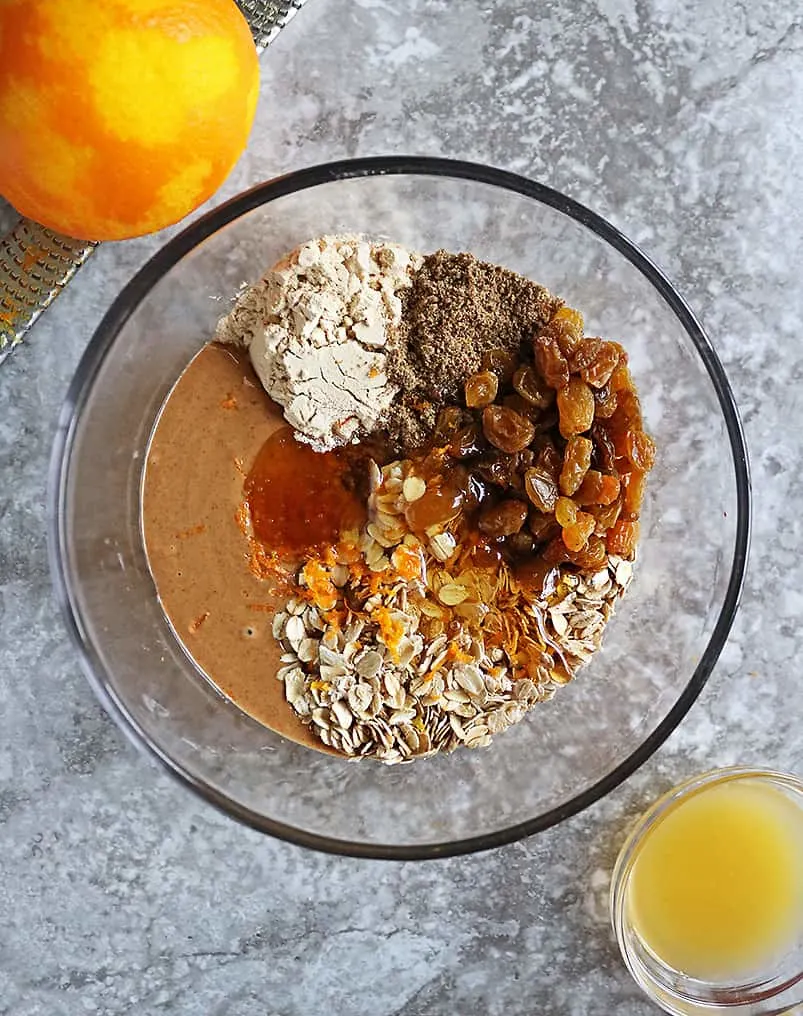 Protein balls like these Orange Oatmeal ones are made with only 9 plant-based ingredients, which are:
• Almond butter,
• Oats,
• Honey,
• Ground flaxseed,
• Raisins,
• Orange,
• Vanilla extract,
• Almond extract, and
• Sprouts Vegan Vanilla Protein Powder.
By the way, if you are considering embarking on a plant-based diet and are looking to incorporate a protein powder in it, I would love to draw your attention to Sprouts Vegan Protein Powder.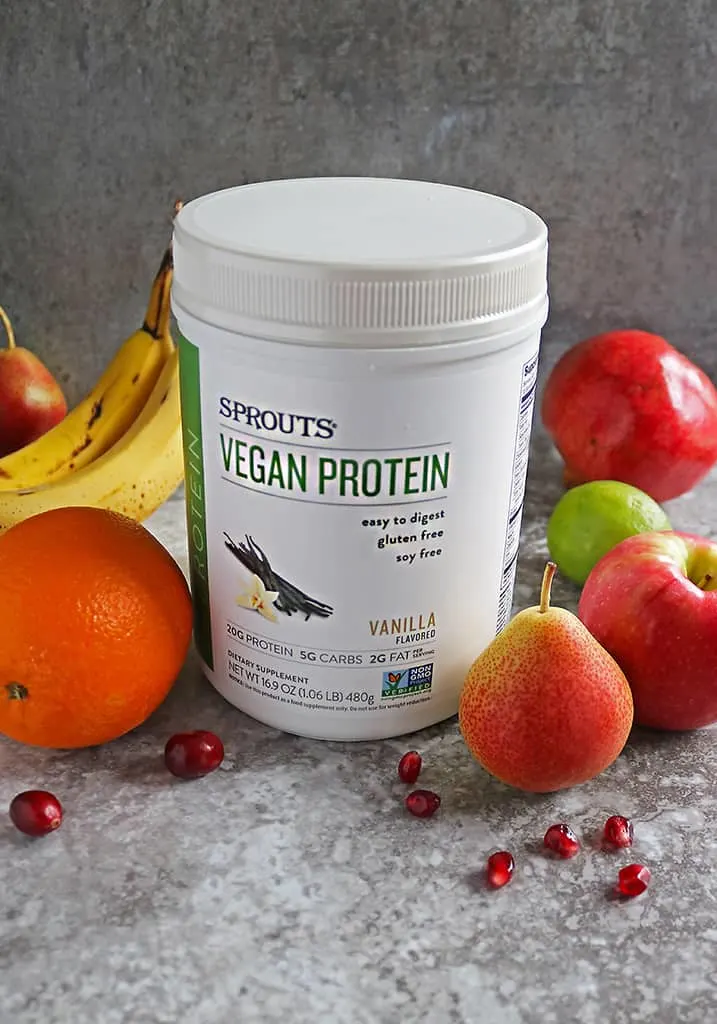 Sprouts Vegan Protein Powder comes with a hefty 20 grams of protein per serving. It is available in 3 delicious flavors such as vanilla, chocolate, and salted caramel, and comes in a variety of sizes. There are even 1-serving envelopes you could get of all 3 flavors and then decide which one is your favorite.
I so enjoy shopping at Sprouts. Not only do they have an amazing variety of fresh produce, but they also carry some of the best supplements and vitamins as well.
And, I am so glad to have found Sprouts Vegan Protein Powder. It is soy-free, gluten-free, and is easy on my gut. Usually, it can be found in the Vitamin Department at Sprouts.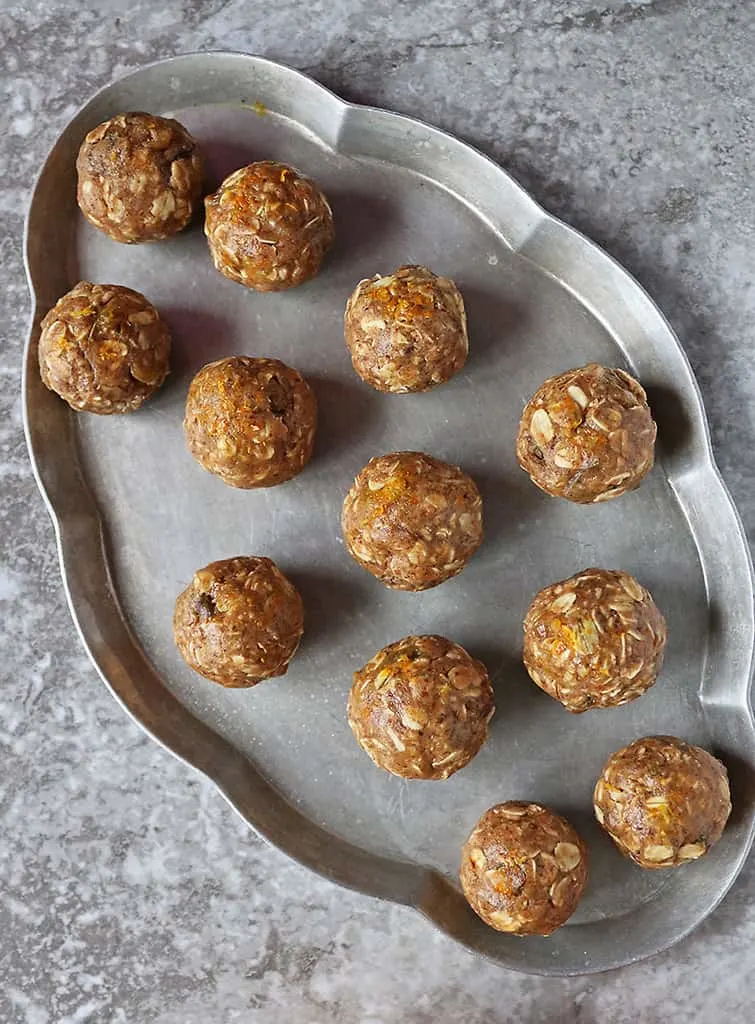 I love using Sprouts Vegan Protein Powder in everything from smoothies to warm oatmeal to protein balls like these Orange Oatmeal ones!
I happen to love these Orange Oatmeal Protein Balls as they are so tasty and easy to make. Just add all the 9 ingredients into a bowl and mix them up with a spoon. No need for a food processor or any other gadgets and gizmos. After mixing together all the ingredients, you roll spoonfuls into balls using your hands, and chill in the refrigerator for a few minutes before enjoying.
Are protein-balls good for you?
Protein balls like these Orange Oatmeal Protein Balls can be a nutritious snack or breakfast, in moderation, when incorporated into a balanced diet. However, protein balls such as these Peanut Butter Chocolate Bites are more on the decadent side and make for a delicious dessert.
How do you store these Orange Oatmeal Protein Balls?
These Orange Oatmeal Protein Balls can be stored in an air-tight container in the fridge for upto a week. I have not tried freezing these as they never seem to last longer than 4-5 days in our home.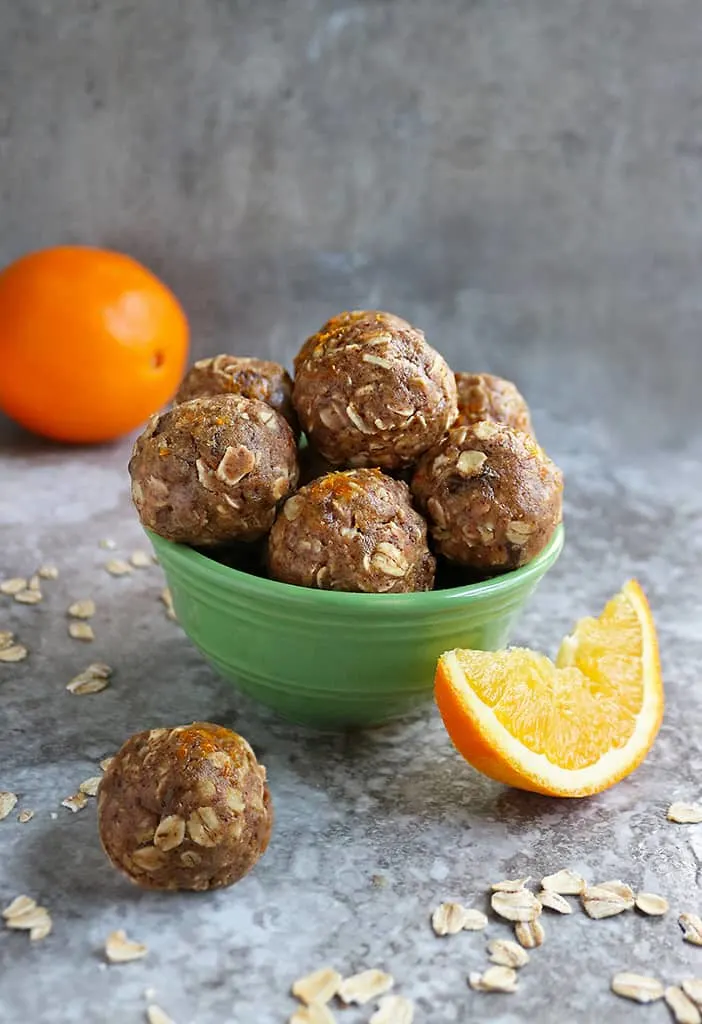 If you make these Orange Oatmeal Protein Balls, please tag @savoryspin on Instagram, Facebook, and Pinterest to let me know and be featured.