This shop has been compensated by Collective Bias, Inc. and its advertiser.
All opinions are mine alone.
#ScrubCloth #CollectiveBias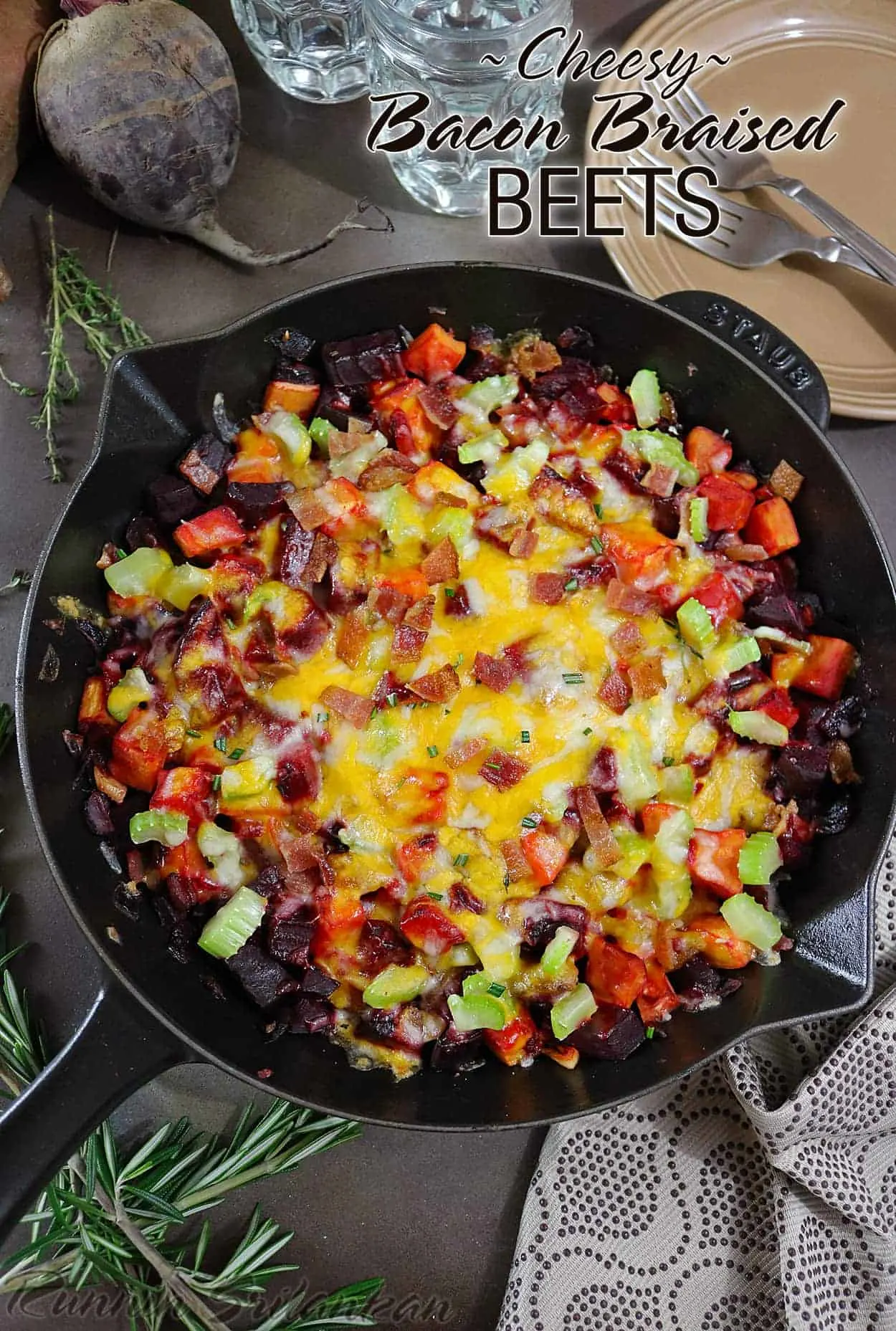 Children ask questions. Lots of them. And my daughter is no different. When she was younger, her most popular question was: "why no choco milky?" As she got older, that changed to: "why do I have to eat beets?" And as a teen, it's been: "why do I have to do the dishes?" But, one question that has been recurring is: "which superpower do you wish you had?" And, everytime she has asked it, she has come up with a different superpower.
Last night, while we were walking through Walmart, my 17-year-old daughter threw out this question again. And, informed me that she wished she had the superpower to "mind control" people. To which my answer was "you just wanna mind control me to excuse you from dish-duty eh?"
While her answer has changed, mine has stayed the same. You see, I wish I had the superpower to clone myself! Life has a way of getting busy and messy and having a clone who would show up at my day job (in the advertising sector), and another who would run my errands, and yet another who would clean up my cooking messes, while I cooked and baked all day, why, that would take my life to a whole new level.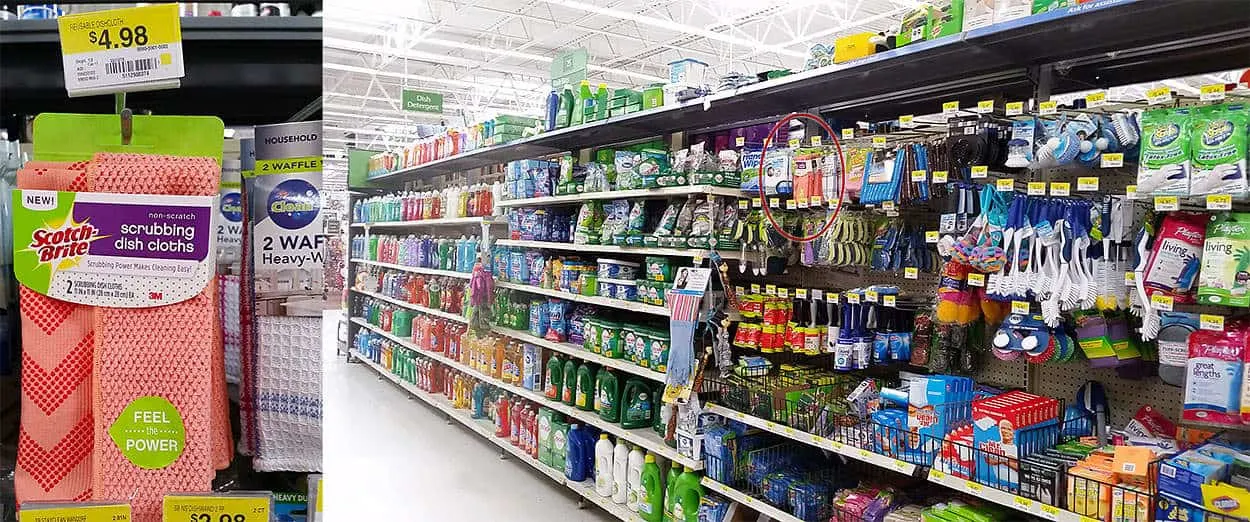 Speaking of new levels, yesterday, while we were walking through the cleaning supplies aisle at Walmart, I came across this new Scotch-Brite® Scrubbing Dish Cloth. As this new, textured fiber cloth was said to have "scrubbing power that made cleaning easy," I had to bring a 2-pack of it home with me. You see, I was planning on making Cheesy Bacon Braised Beets in my trusty old skillet and I needed all the help I could get to convince my daughter that cleaning up that skillet afterward was gonna be a cinch!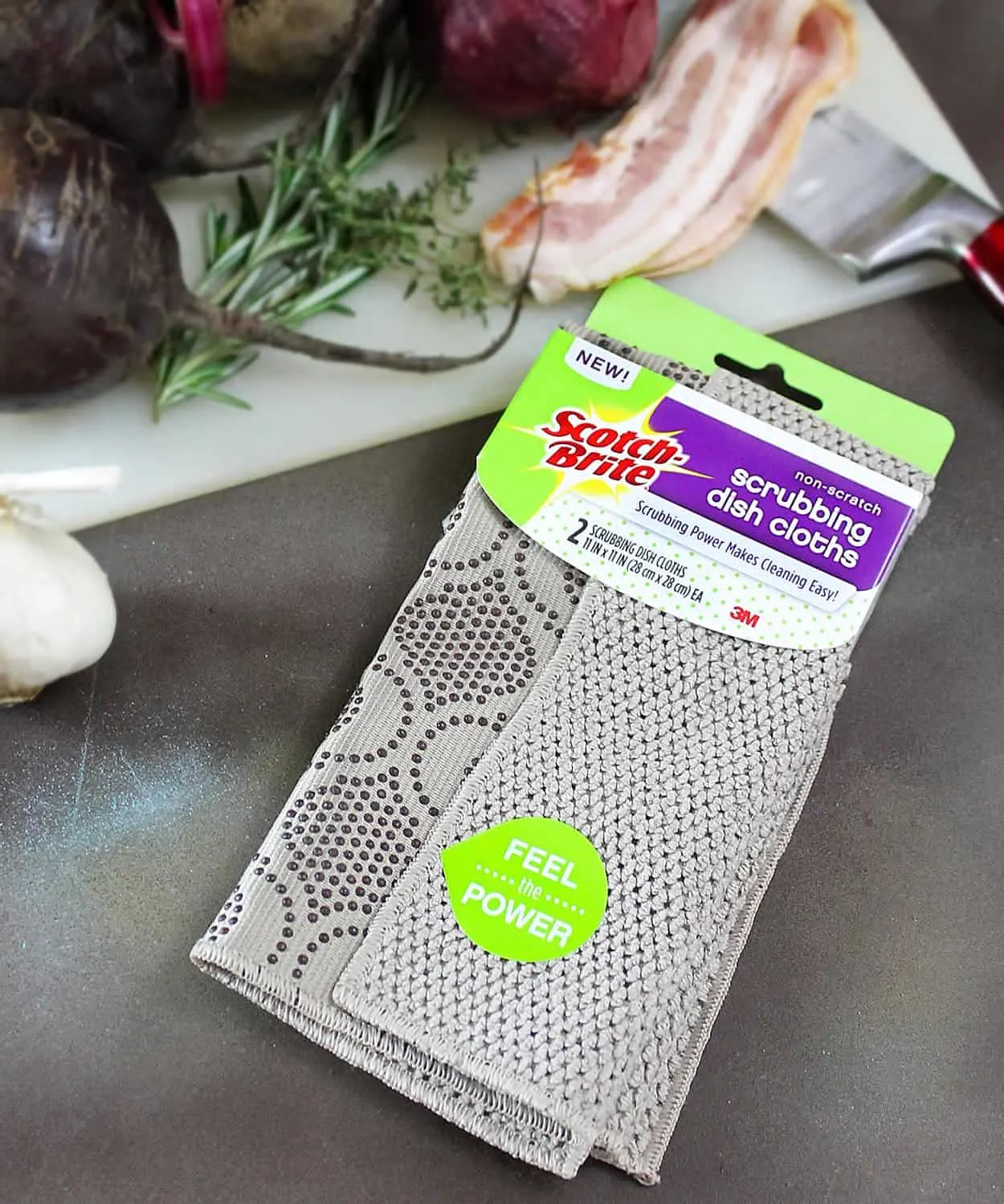 After seeing how quickly those Bacon Braised Brussels Sprouts cooked (a couple of posts ago), I figured I would bacon braise the beets too instead of baking them. Y'all, if beets aren't your thing – y'all have got to try this recipe! Bacon + beets + cheese = tastebud heaven!
Am so not joshing! With a heavy dose of onions, garlic, and sweet potato, this Cheesy Bacon Braised Beets dish has become my daughter's favorite way to reap the benefits of beets!
[Tweet "Cast Iron Cleaning & Cheesy Bacon Braised Beets #ScrubCloth #ad @ScotchBrite"]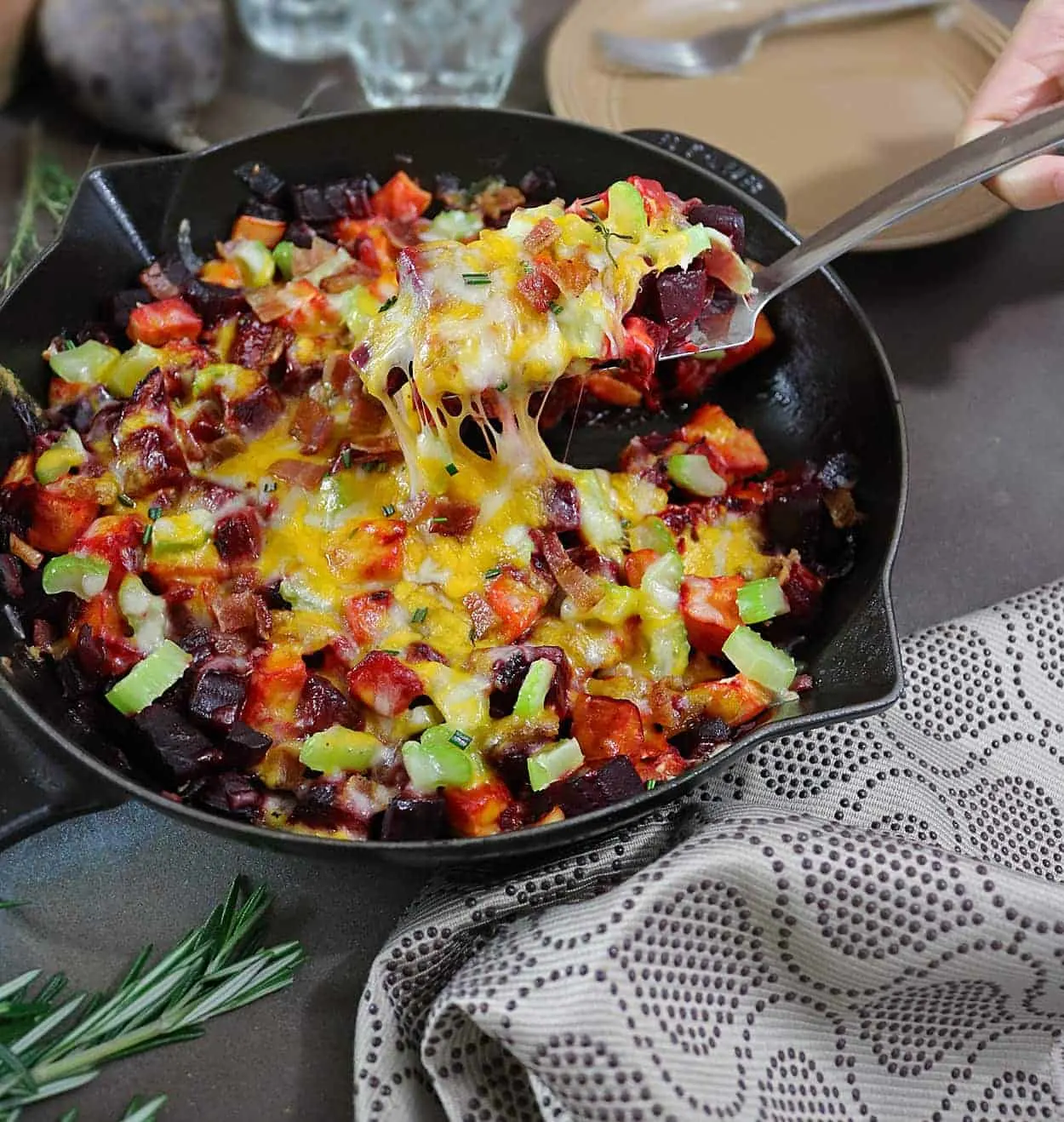 After dinner, she didn't even make a fuss about cleaning up everything – including the cast iron skillet. Now, there are many different ways that people employ to keep their cast iron skillets clean. My favorite 2-step method if said cast iron skillet is badly soiled with caked on debris, is to:
1) Rub salt into the cast iron, making sure to rub of the caked on debris and then throw this out
2) Rub some coconut oil into cast iron and you are done!
*If you are squeamish about not using any water and insist on it, then, make sure to thoroughly dry your cast iron and rub it with oil.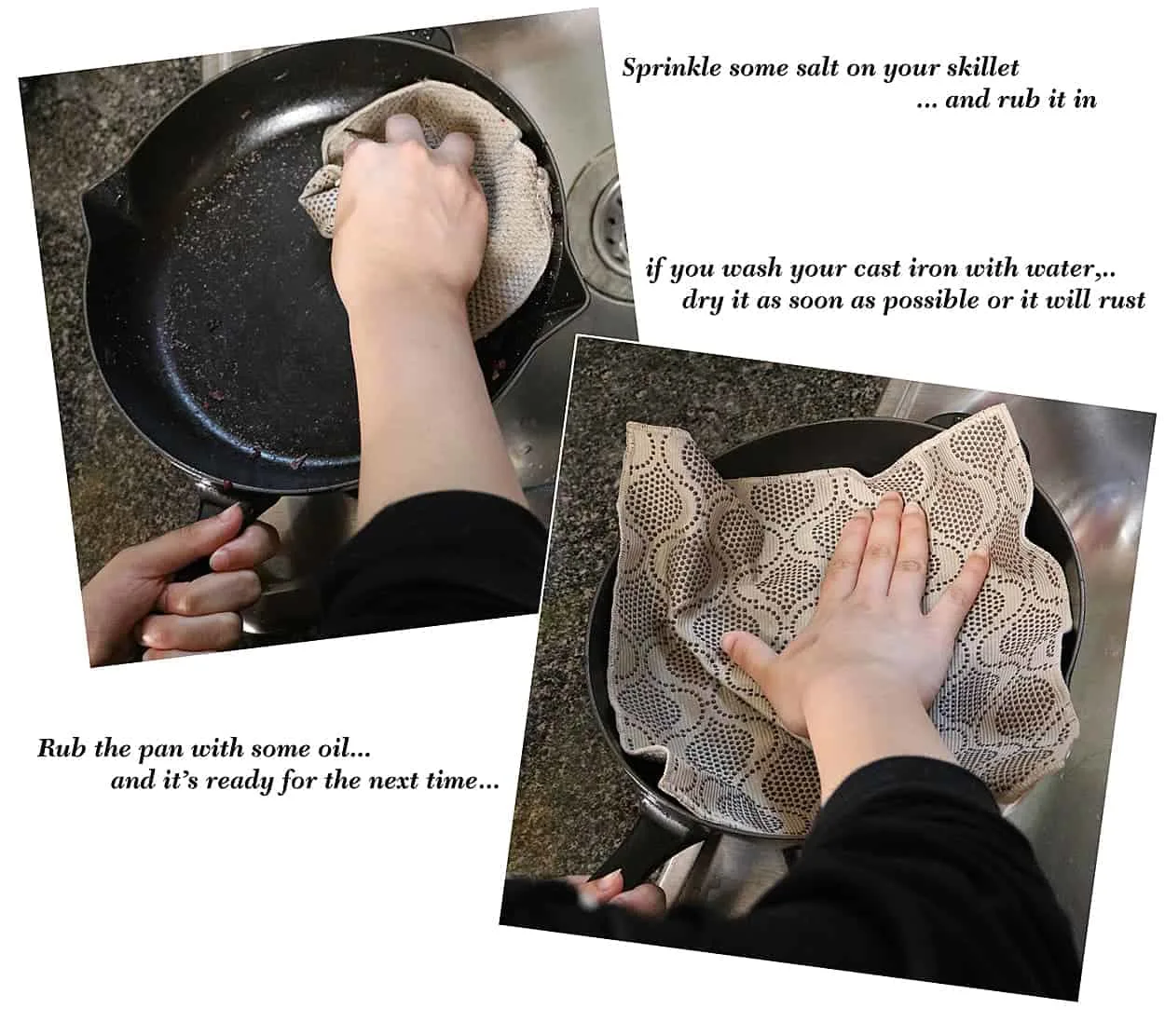 My daughter used the scrubbing dots technology of the Scotch-Brite® Scrubbing Dish Cloth to scrub the salt into the cast iron skillet. She insisted on washing and drying the skillet with the other Scotch-Brite® Scrubbing Dish Cloth, before rubbing oil into it.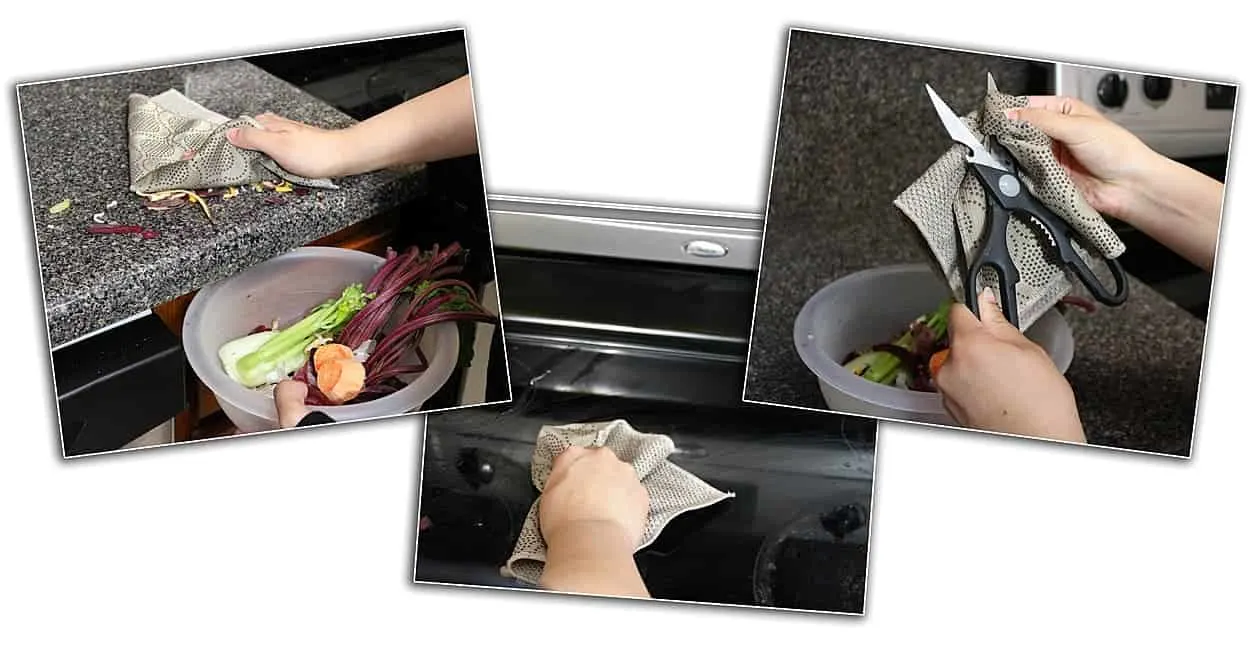 She even cleaned off the granite counters and the stove top with the Scotch-Brite® Scrubbing Dish Cloth which did a wonderful job of scrubbing off the gunk and not scratching up the surfaces. She then helped me thoroughly dry some of the utensils I used as well, with this supercharged dish cloth. And – these Scotch-Brite® dish cloths can be machine washed and used over and over again!
These 2 packs of Scotch-Brite® Scrubbing Dish Cloths are available in tan, coral, and navy, and at a price of $4.98, they are a steal of a deal. By the way, Walmart has $1 off instant redeemable coupons for these Scotch-Brite® dish cloths, which can be redeemed at the register upon checkout.
If you are looking for more information on the new Scotch-Brite® Scrubbing Dish Cloth or are looking for more recipe ideas where the Scotch-Brite® Scrubbing Dish Cloth came in handy in cleaning up,
then please CLICK HERE.
Also, check out the supercharged power of Scotch-Brite® on Facebook • Twitter • Pinterest • Instagram

I'd love to know if you happen to make this recipe (or any other on here) so pretty please tag me @RunninSrilankan and #RunninSrilankan on Instagram,Twitter &/or Facebook. And, if you haven't yet, then please make sure to subscribe to my mailing list to have all sorts of eats and treats delivered to your inbox!