I've partnered with Sprouts to bring y'all these 30 Minute Honey Chili Salmon And Sweet Potato Bowls – as always all opinions are mine, thanks for supporting the brands that keep this blog spinning! #HelloSprouts #Sponsored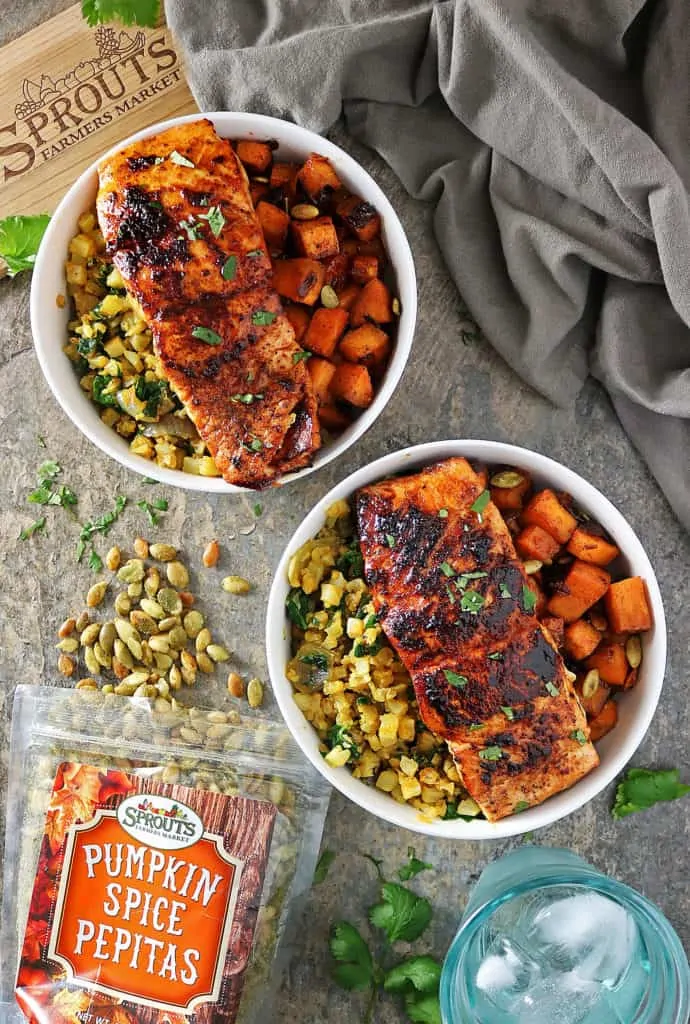 This post here is my 3rd and final one about that time I headed out to Phoenix, Arizona for the #HelloSprouts blogger retreat (sponsored by Sprouts) with 9 fantastic other bloggers. While I've focused more on what I've learned in this post and this post, today, I'm focusing on some of the fun parts of that retreat: the contests!
I eluded to them briefly in my Spicy & Sweet Miso Glazed Sweet Potatoes Post… but, I figured they needed a bit more air-time than a mere mention. I gotta admit though, when I first got the itinerary with an outline of the daily activities the good folks at Sprouts had planned for us, the contests were the least interesting to me. In fact, I kinda glazed over them, hoping we wouldn't have time to get to them with everything else on the agenda. Shame on me – right?! But, it's funny how most times, those things I look forward to doing the least, I end up enjoying the most…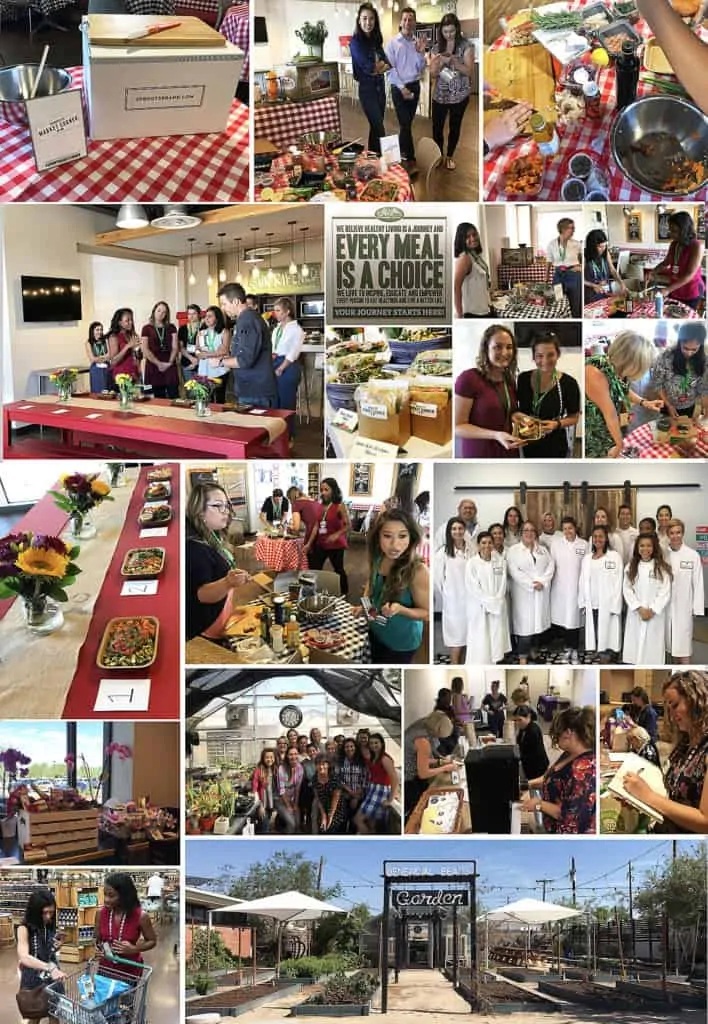 Our first contest happened to be an Instagram video challenge. Now, I'm not quite comfortable in front of the camera, but I had so much fun recording other bloggers and interviewing vendors for this challenge. In fact, if not for this challenge, I wouldn't have found out about The Honest Kitchen's highly portable, dehydrated dog food! Next up was the "romance-copy" challenge in which we were challenged to write a seductive description about Sprouts-soon-to-be-released, Chocolate Lacey Cookies. If y'all are fortunate to have a Sprouts store close by, then these cookies are a must try!
On day two, we moved onto the gift basket challenge. This challenge had us running around Sprouts Farmers Market with a gift basket theme in hand and 50 buckaroos to spend on said gift basket – with all the gift baskets being donated to one-n-ten afterwards. Later that day, we were partnered up to participate in our final, (and my favorite) challenge – a chopped-style, "mystery box" challenge, judged by Sprouts Culinary Director, Chef Matt! Our mystery boxes contained cooked salmon, lightly sauteed greens, cauliflower rice, sweet potatoes and a bunch of condiments and spices – with instructions to make a paleo meal that could adorn the ready-to-eat-meals-section at Sprouts. I worked with Abigail @JoyToTheWorld to come up with a delicious concoction that I have tried to recreate here, today.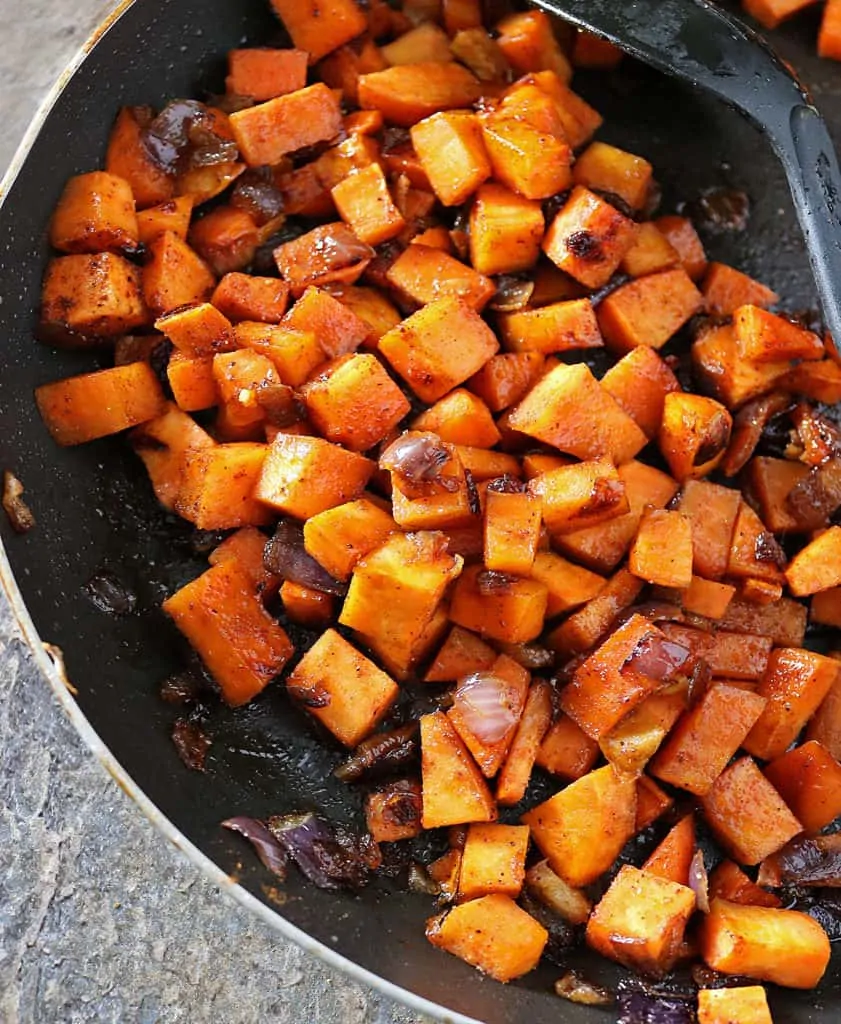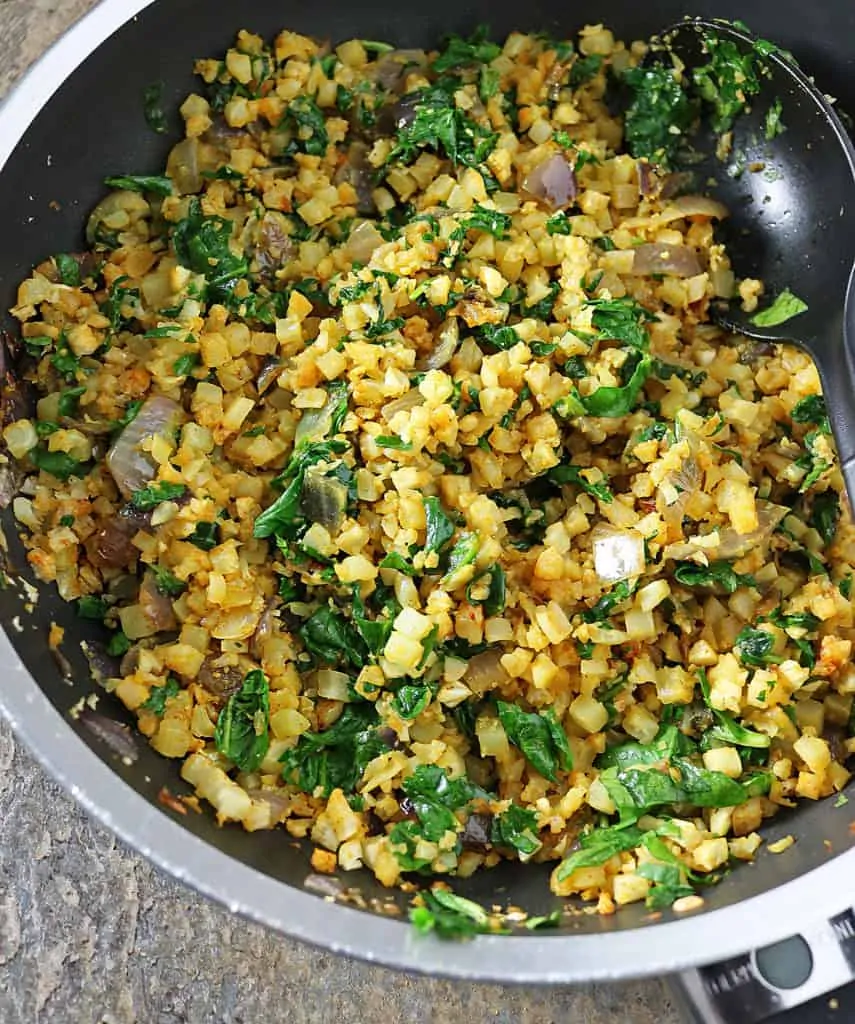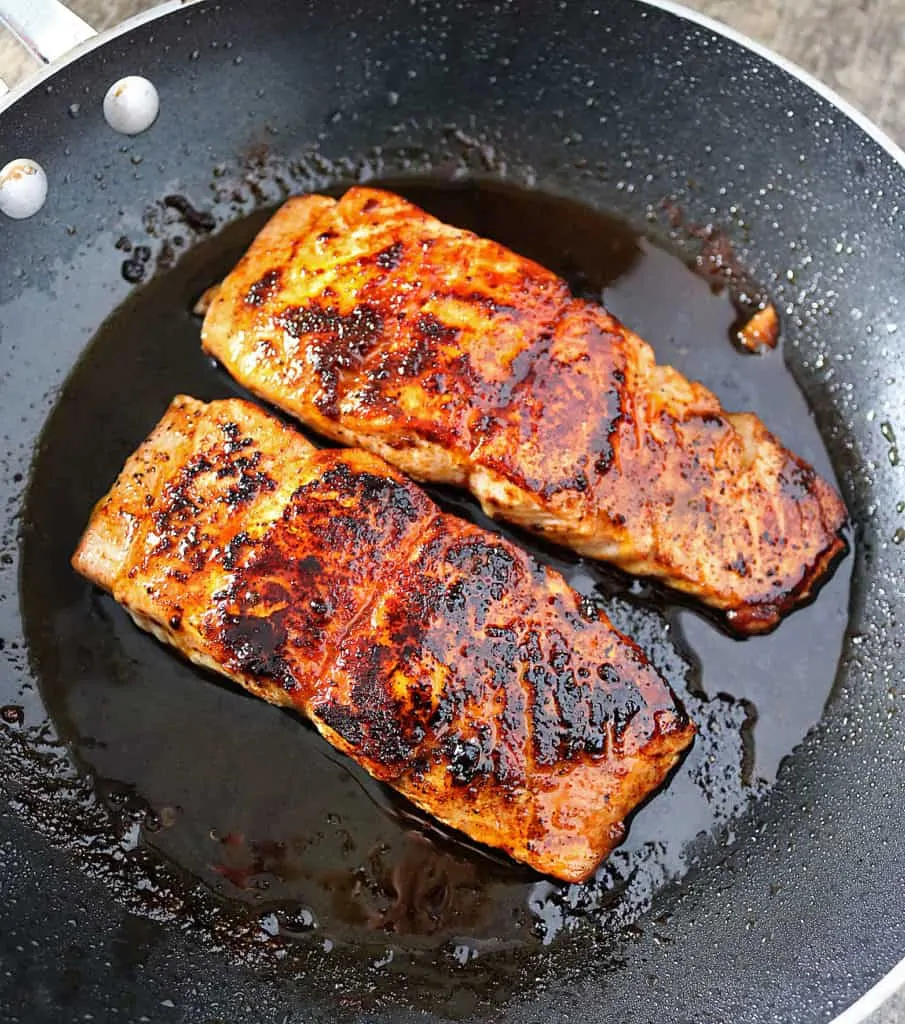 Of course, this version on here is a warm version (though my daughter will argue that by the time I was done photographing it, it was lukewarm). The version we made during our challenge was a cold dish – for one, we were in the middle of a hot day in Phoenix and, two, we also didn't have access to a stove – part of the beauty of this challenge, I thought.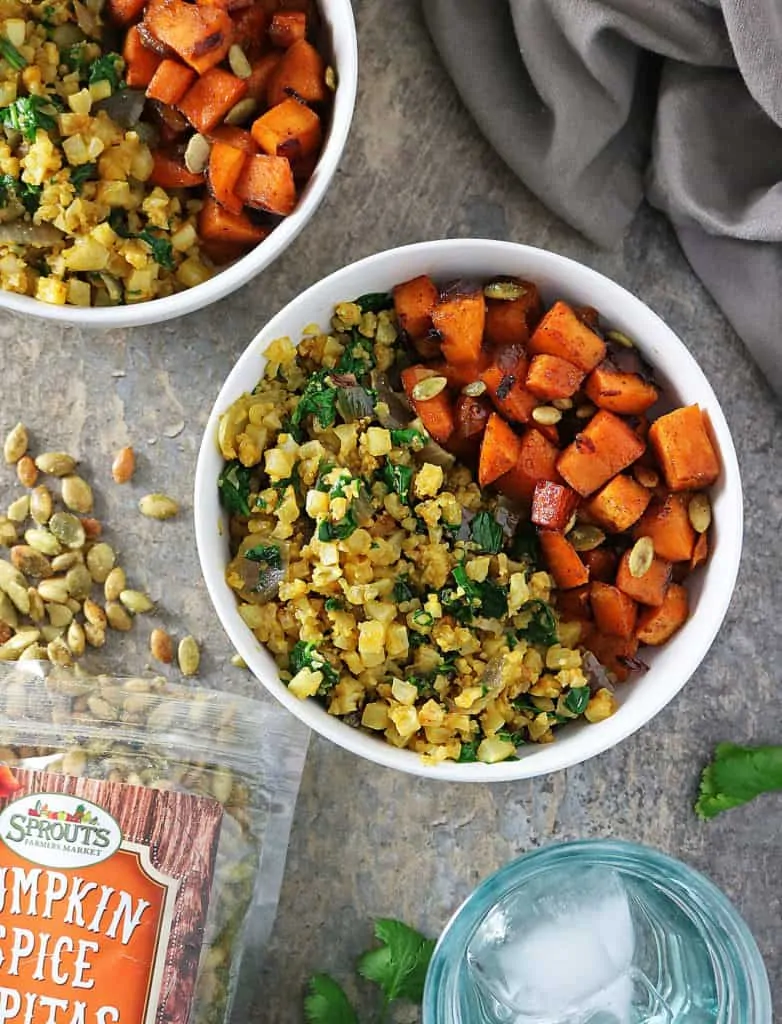 Even though there are three separate elements to these bowls, they all come together very quickly – and you could have them all going at once. I started the sweet potatoes off first and then cooked the cauliflower rice along with the salmon. As this recipe has so many components, I wasn't sure what to call it and settled on "30 Minute Honey Chili Salmon And Sweet Potato Bowls" after eliminating "Honey Chili Salmon And Sweet Potato Caveman Bowls."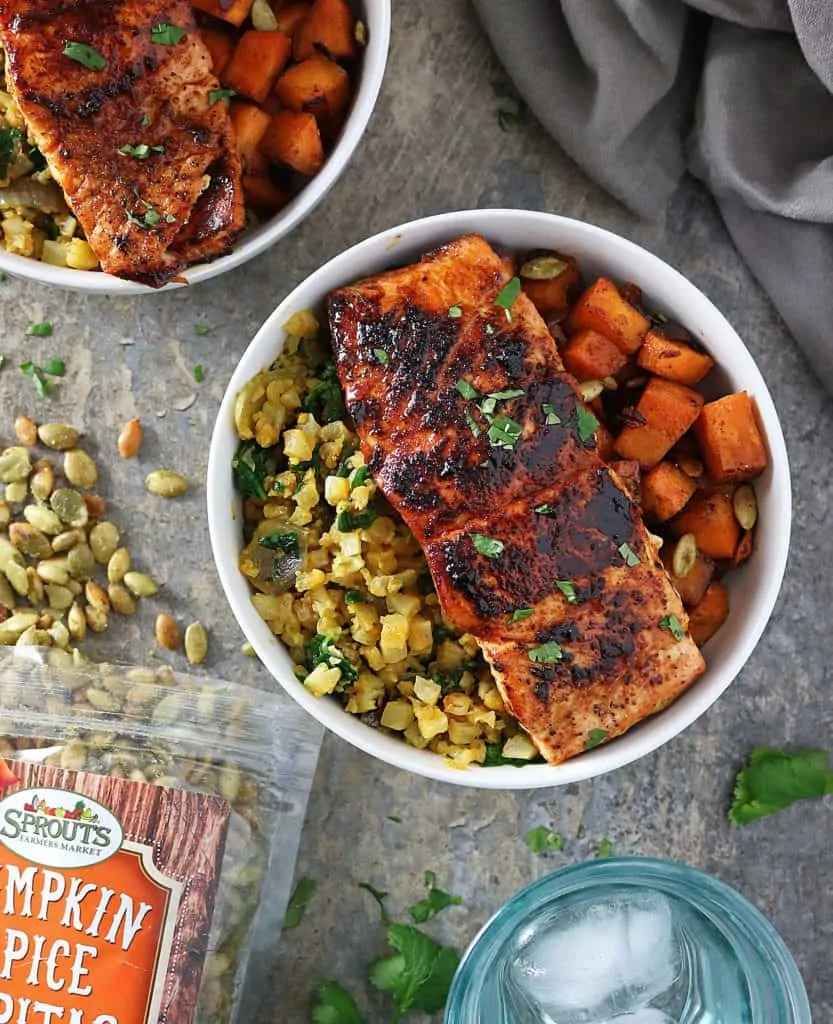 As evidenced in this turkey, honey + chili are one of my favorite combos currently – so I used this combo, along with some ginger, to season the sweet potatoes. The salmon also got a healthy wallop of honey and chili – while I only used turmeric, paprika and gobs of garlic to flavor the cauliflower rice. Just before I moved, I got a surprise package from Sprouts with some of their Fall-themed pumpkin eats such as that bag of Pumpkin Pepitas you see in these pictures. I finally opened these pepitas up and they added such a delish texture and flavor to the sweet potatoes. If pumpkin pepitas are not your thing, at the contest, we used salted pepitas and they worked just as well.
If you are fortunate to have a Sprouts near ya, please do stop by as Sprouts is filled with a wide array of fresh produce, dairy, meat and seafood, delicious freshly-baked goods, thousands of natural, organic and gluten-free groceries as well as eclectic beers and wines, vitamins and supplements, and more – all at fantastic prices! And, if you don't have a Sprouts Farmer's Market near you, no need to fret, as Sprouts has now partnered with Amazon Prime for delivery service. Through Amazon Prime, you can now get your entire grocery shopping list this Thanksgiving season, including fresh organic produce, meat and seafood from Sprouts, delivered right to your door with one hour ($7.99) and free two-hour delivery between 8 a.m. and 10 p.m!
I've been yammering on for almost 1000 words, so I will stop now and leave y'all with the recipe…
Toodles till next time!