I've partnered with Home Made Simple to bring y'all these HeartBeet Bean Tacos, as always, all opinions are my own. Thank you for supporting the brands that keep this blog spinning.
Gorgeous beetroot and filling Pinto Beans are sautéed in onions, ginger, garlic and a tasty blend of spices, piled onto tacos and topped off with creamy guacamole in these tasty (yet messy), vegan HeartBeet Bean Tacos!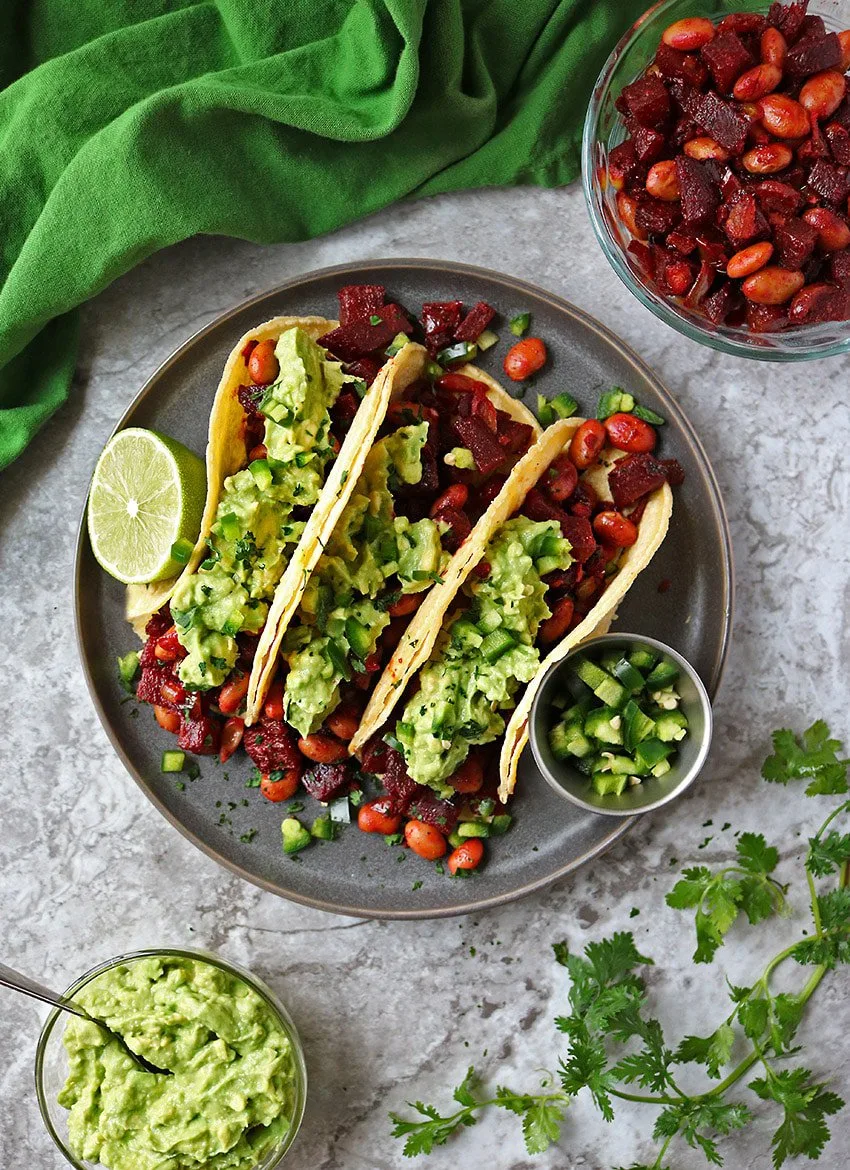 I heart beets in a big way, a few years ago I even had a beet-ified blog year! So, when it came to naming these tacos, heart + beet made sense – right?!


With taste-bud teasing spices like coriander, cumin, turmeric, smoked paprika, fresh garlic, fresh ginger and chili powder, this spicy beetroot and pinto bean filling is delicious enough to enjoy all by itself, or mixed in with some fresh kale to make a salad.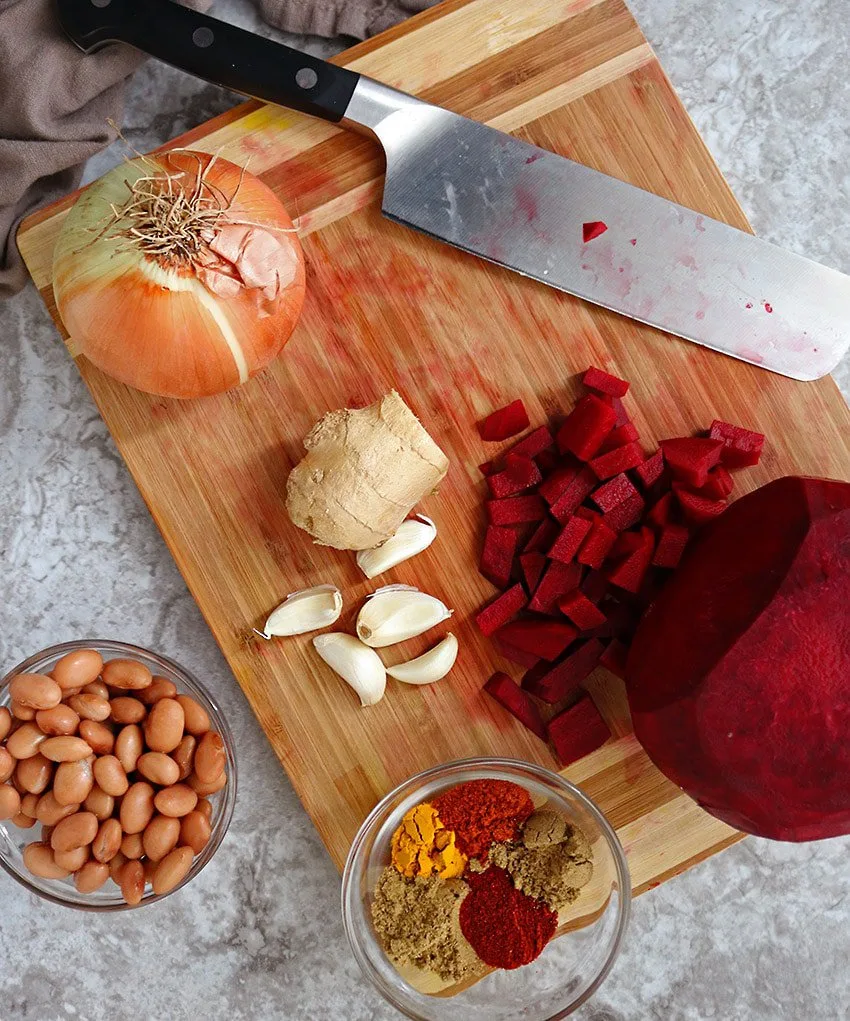 However, piled into a taco with some creamy guacamole, this makes for one heck of a tasty (though messy) vegetarian meal option. My daughter and I have been trying to incorporate more plant-based meals into our week and, for those times, beets are always a favorite.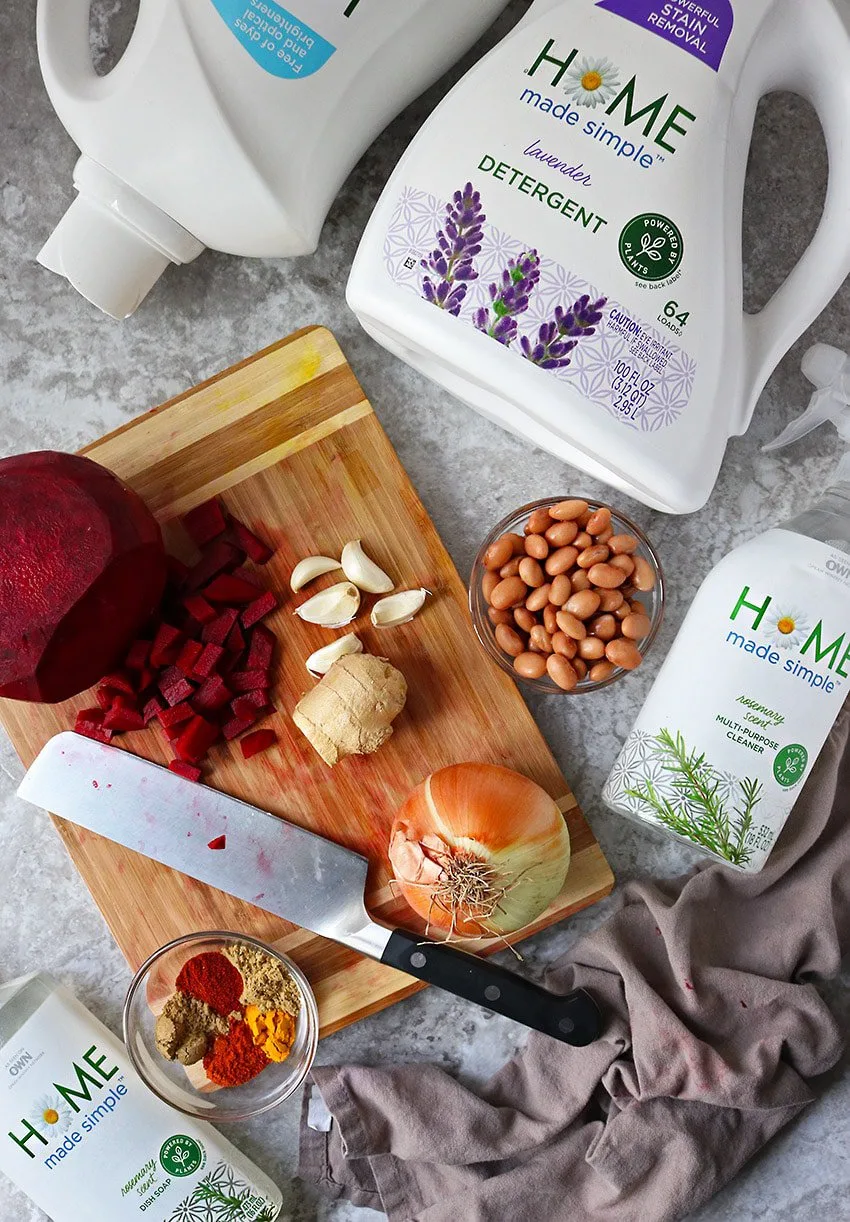 But, beets are messy! No matter if I bake them whole or cut them to use in a curry, they manage to get everywhere and stain everything. Last night my heart skipped a beat when I saw my dog running around with a red streak down the white fur on his chin and chest, only to find he had managed to get a hold of a wayward beet piece!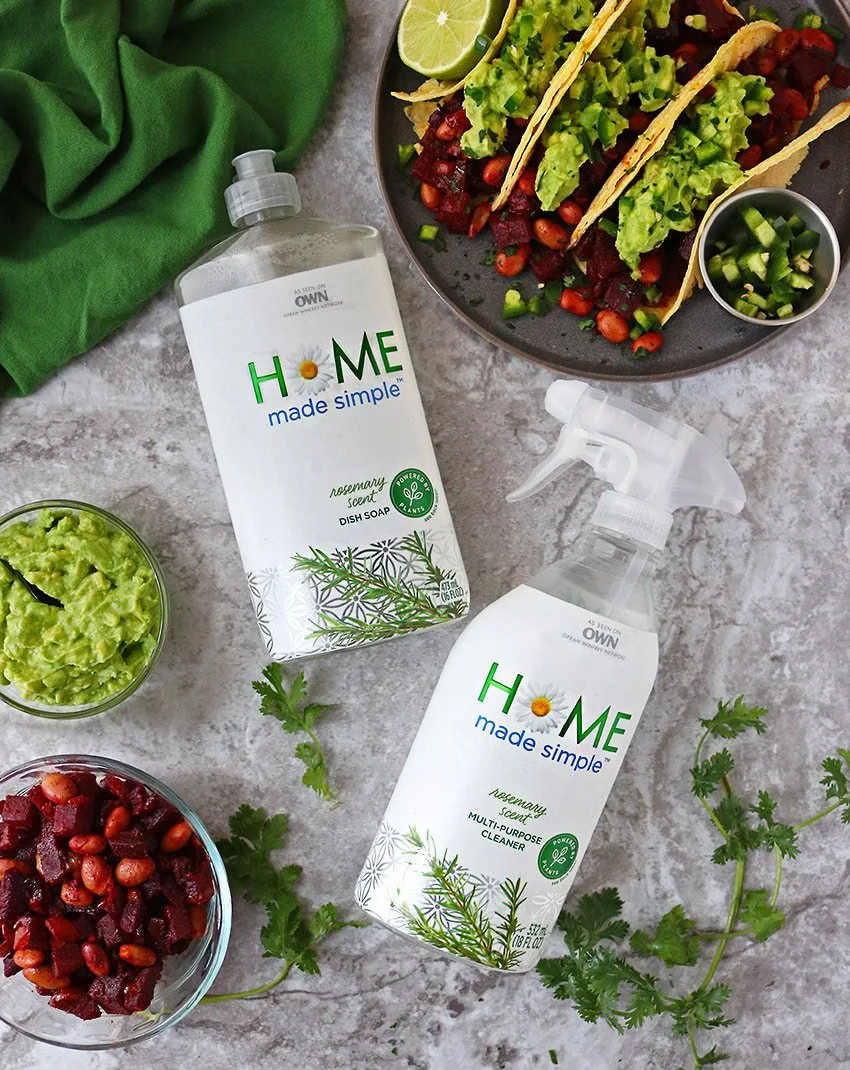 Lately, we have given up dog shampoos and soaps in favor or a mixture of baking soda, plant-based dishwashing soap like Home Made Simple's, apple cider vinegar and lemon juice. I am not a vet and don't intend for this to be taken as medical or otherwise advice of any sort – but, we notice that our dogs seem to smell fresher this way and have less skin and gastro issues, again, this is just what seems to work for our dogs.

After Earth Day, I thought that our little family should not only try and eat plant-based, but look for more ways to incorporate plant-based products into our lives. And that's where Home Made Simple's line of products come into play!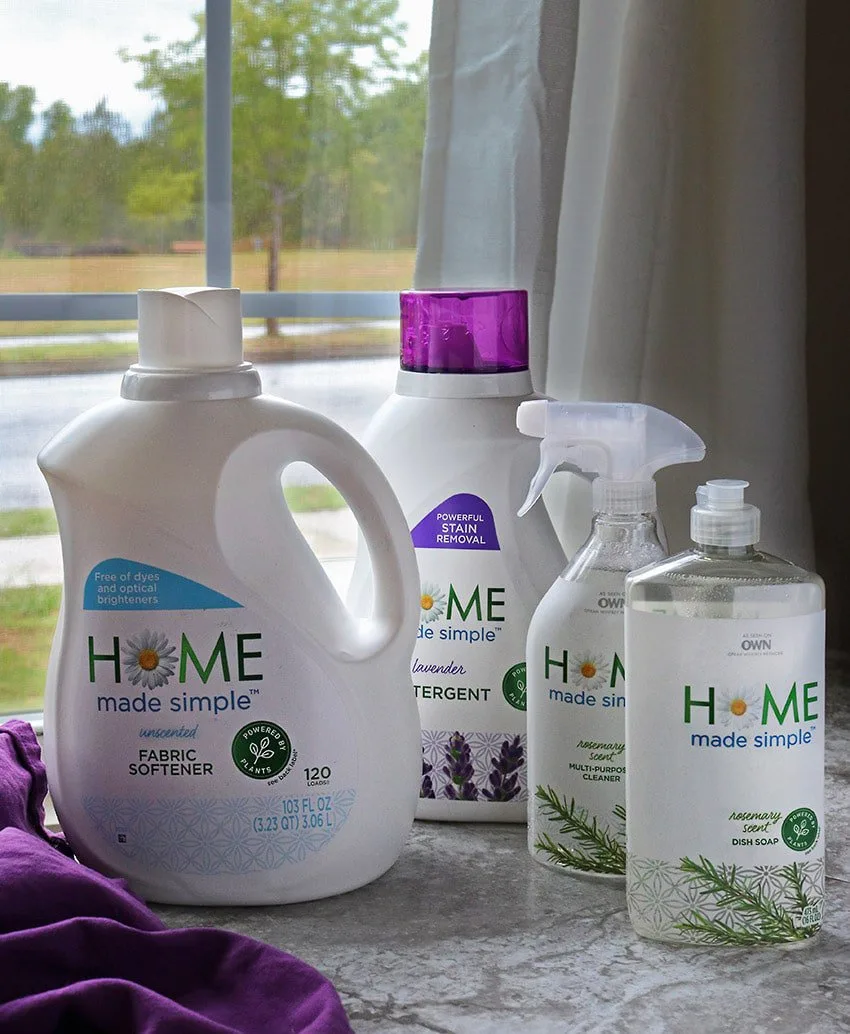 Home Made Simple is a line of plant-based dish soaps, surface cleaners, and laundry products. Inspired by, and made with natural scents (like rosemary, lavender, and lemon), Home Made Simple products use fragrant essential oils that seem to spruce up our home with a clean that excites our senses. You can find Home Made Simple's line of cleaning products at most local Walmart stores or you can order it on Walmart online.
All Home Made Simple Products are:
• made with biodegradable cleaning ingredients,
• formulated without phosphates, gluten, parabens, phthalates,
• packaged in 100% recyclable bottles.
• dye Free, and
• made in the USA!
Home Made Simple Products Include:
Laundry Detergent is tough on stains and dirt, even in cold water, yet gentle on skin. Use with Home Made Simple Fabric Softener for the ultimate pair in laundry care. Available in lavender and unscented options.

Fabric Softener protects all your favorite clothes, even in cold water, while remaining gentle on skin. Pair with Home Made Simple Laundry Detergent for fresher, softer loads, every time.

Dish Soap is tough on grease and comes in lemon, rosemary, and lavender scents.

Multi-Purpose Cleaners that the job done and is safe on hard surfaces around your home (but please, no unfinished wood). Simply spray on hard surfaces and wipe with a paper towel or cloth. Available in lemon, rosemary, and lavender scents.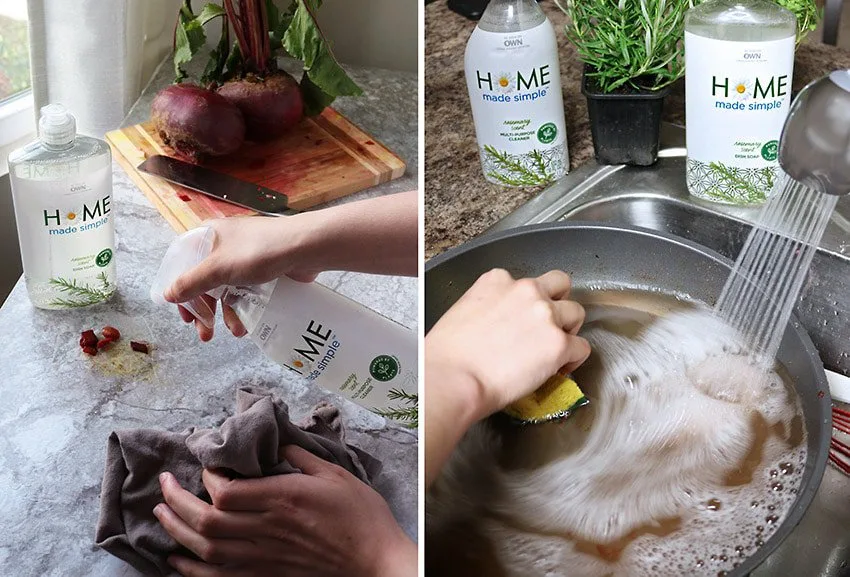 My daughter is not a fan of doing dishes but she didn't complain about washing up our dishes and pans with Home Made Simple's Rosemary Dish Soap after our dinner of HeartBeet Bean Tacos. I have been loving the aroma left behind after wiping counters and cabinets with Home Made Simple's Rosemary Scented Multi-Purpose Cleaner. And, Home Made Simple's Lavender Laundry Detergent does a fantastic job of getting the beet stains out of our napkins and kitchen towels, too!