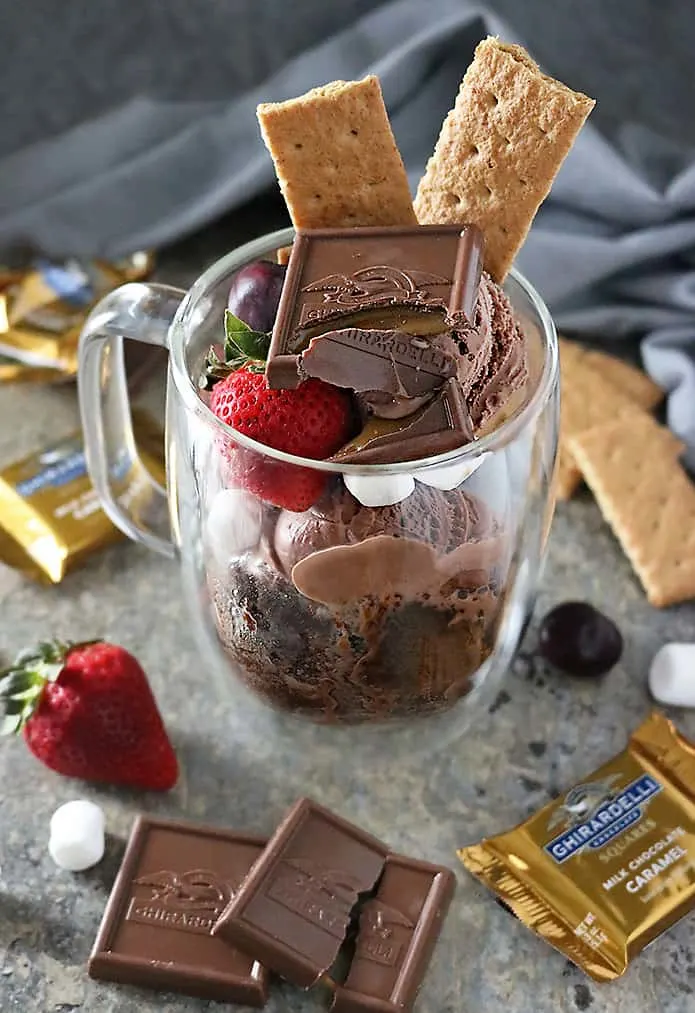 Ready in a jiffy, this Chocolate Caramel S'mores Mug Cake is a delicious, gluten free fix for when that sweet tooth comes knocking! Scrumptious warm or topped with scoops of ice cream, Ghirardelli chocolate and fruit!
Do you recall the marshmallow test? The one in which a marshmallow is placed in front of a child, and the child is told that she or he can have a second one if they can go 15 minutes without eating the first one? The point of the test was to supposedly predict a child's future success based on their instant vs delayed gratification of that marshmallow…
Well…
All I'll say is that I'm glad that test involved marshmallows and not cake! Because, if it involved cake, I'd have failed it – over and over again!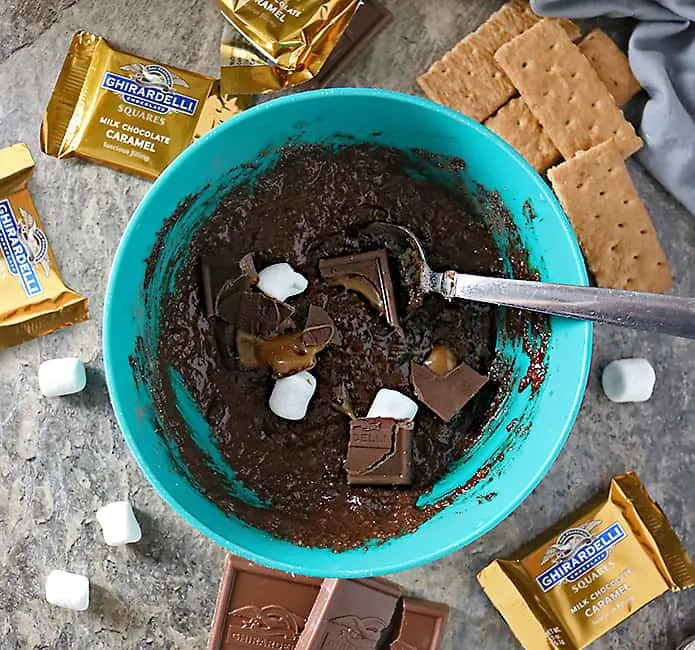 Simply put, I L.O.V.E. cake. Cake with all the butter, sugar, eggs and flour! The thicker the frosting, the better! Yes, when it comes to frosting, size does matter! If I deprive myself of cake for too long, I dream about it. Yes, the absence of cake makes the heart grow fonder, indeed.
But, my love for cake is unrequited – just like my love for milk.
While I'd love to eat cake for breakfast, lunch and dinner 365 days of the year, I'm not a fan of the lethargy and overall blech feeling that follows after a day of over indulging in cake.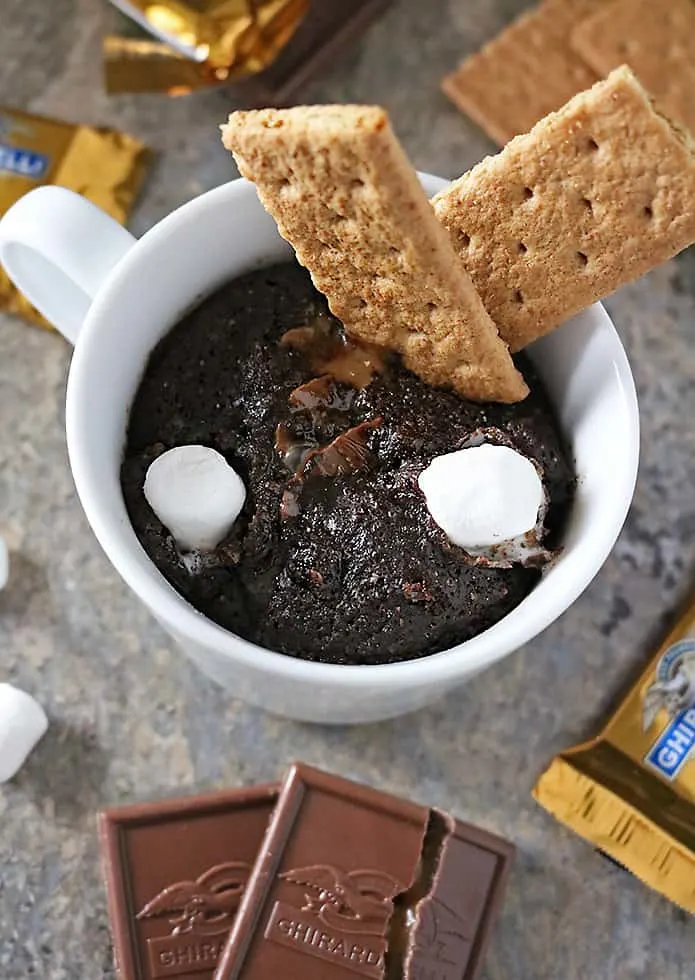 So, I try to space out my cake intake during most of the year. Other times, when that cake craving is just too strong, I whip up perfectly portioned little mug cakes like this Chocolate Caramel S'mores Mug Cake with ALL the toppings!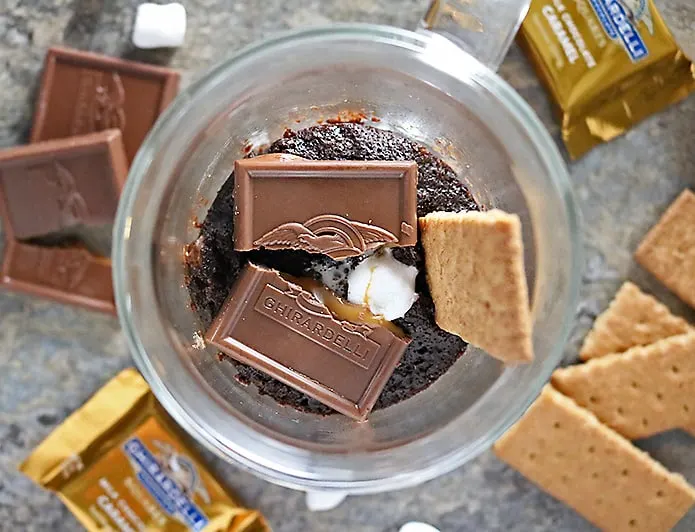 My hats off to the inventor of the mug cake whoever they may be! While they are all over grocery store shelves these days, I prefer those mug cake recipes I've seen on food blogs from The Big Man's World to Running With Spoons.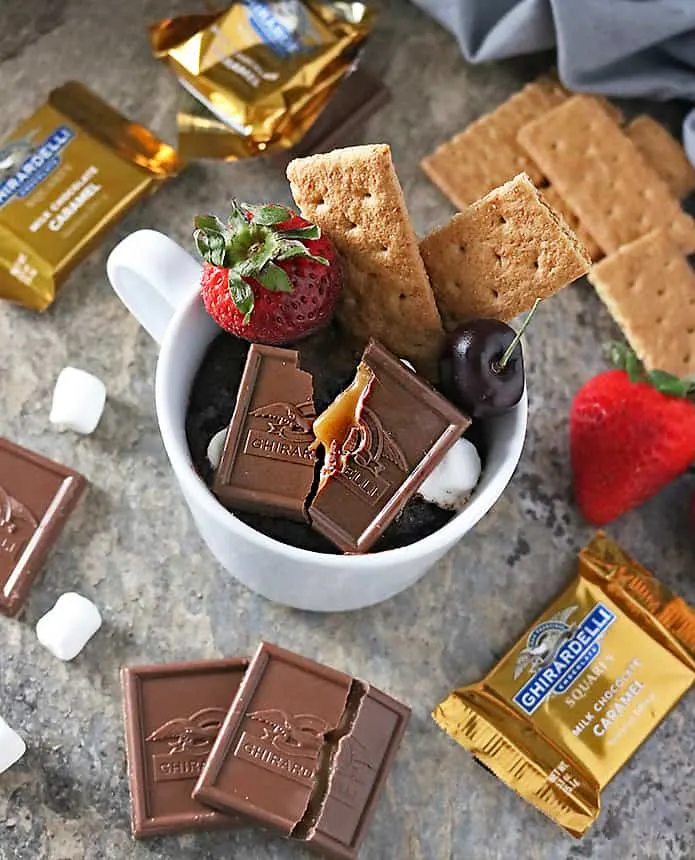 This Chocolate Caramel S'mores Mug Cake is my contribution to the many mug cake recipes out there currently. This recipe is an adaptation from several mug cake recipes I have tried over the years. I like to keep my mug cakes simple and gluten free so I use almond flour and keep the ingredients at 6, plus any add-ins.
These Chocolate Caramel S'mores Mug Cakes have a Ghirardelli milk chocolate square broken up and added into them as well as a few marshmallows. Ready in 60 seconds, these Chocolate Caramel S'mores Mug Cakes are delicious warm.
I like to top my Chocolate Caramel S'mores Mug Cake with some fruit and another Ghirardelli chocolate square and watch that square melt into the top of that warm mug cake. However, my daughter likes to throw in a couple of scoops of ice cream and whipped cream along with some more Ghirardelli and fruit, on her Chocolate Caramel S'mores Mug Cake ~ making hers a S'mores Mug Cake Sundae Extravaganza!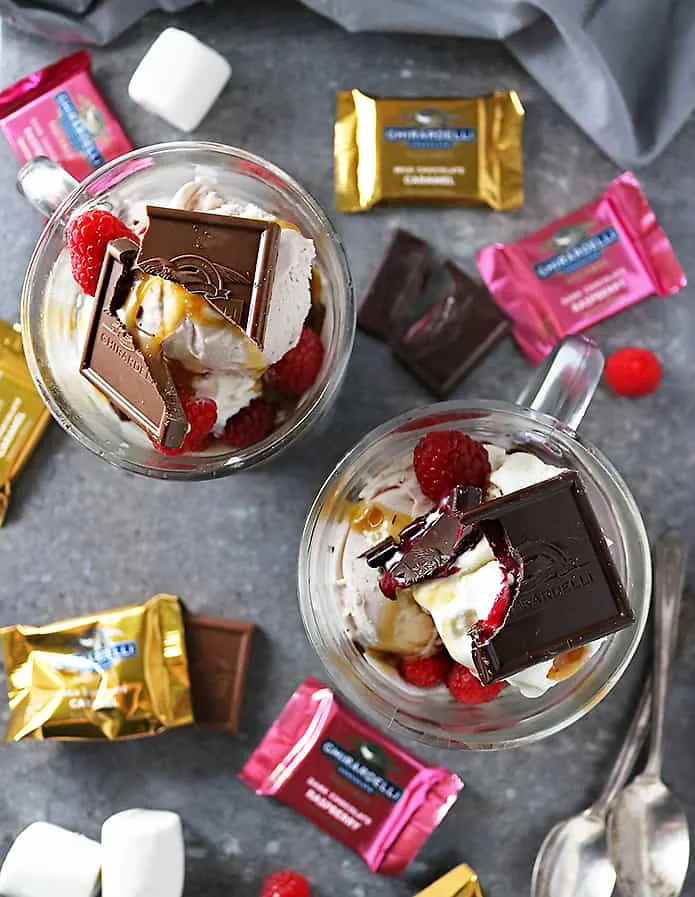 Before I end this post, if you happen to be a S'mores and Ghirardelli chocolate lover, Ghirardelli is teaming up with The Feed Feed to host a spectacular contest. If you'd like to enter (like I did with these s'mores concoctions), click on over and check out the deets.
Check out the super easy recipe below and if y'all do try this, please do tag @savoryspin and #savoryspin on INSTAGRAM and let me know what you think! For more recipes and ramblings, like us on FACEBOOK and follow along on PINTEREST too! Thanks Y'all!